When a product emerges that is created by a team of ex-Apple employees — including one responsible in part for leading the hardware teams behind the iPod and iPhone — that product sells out almost immediately. The latest device to fit the bill isn't a new smartphone or even a tablet; no, this time around it's actually a thermostat. As odd as that sounds, the Nest thermostat is exciting in many, many ways. For starters, the amount of thought that went into just the hardware alone is, well, Apple-like. It's miles ahead of any comparable product in terms of look, form and function. It's sleek yet is based on a classic and familiar Honeywell T87 round thermostat, and it is packed to the brim with technology including, among other things, a vivid color LCD display and Wi-Fi support.
The Nest thermostat doesn't just provide control from your smartphone or web-browser from anywhere in the world, which is impressive in itself — it's a learning product that will adjust to your preferences and habits. It will also adjust to factors like outside weather and other conditions to always make sure the temperature in your home or office is comfortable. Above all else, it will reduce your energy consumption by automatically adjusting your heat and airconditioning usage based on whether or not you are home. Go out for a bit, and the thermostat will lower your heat to save energy. As soon as you walk in, it senses you're home and it will instantly dial up the heat to suit your preferences.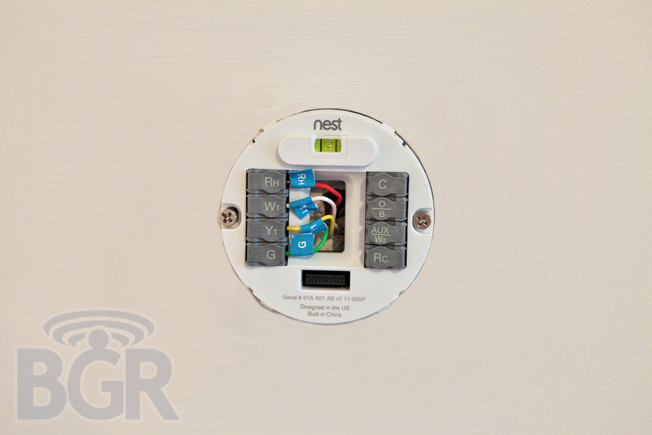 Installing the Nest thermostat was incredibly straight-forward even though I've never installed a thermostat or light fixture before. The directions are very simple to follow and well thought out. After removing the plastic piece of garbage that used to be attached to the wall, I quickly leveled the thermostat thanks to the built-in level on its base, screwed it in, connected the labeled wires to the backplate and connected the front display. There's an outer ring wheel you rotate just like that classic Honeywell thermostat, except this one also doubles as an Apple iPod-like clickwheel, letting you select and enter text or scroll through options.
After you're set up, Nest immediately starts learning your heating and cooling preferences. I installed the unit yesterday evening and since then I've successfully set a schedule from my web-based Nest account and adjusted the temperate from the Nest app on my iPhone, and the unit has performed perfectly. It's hard to believe that I'm excited about a thermostat, but this is much more than a thermostat to me, especially if it can conserve energy. Plus I don't have to get up to change the temperature anymore.
We'll have more on the Nest learning thermostat soon.