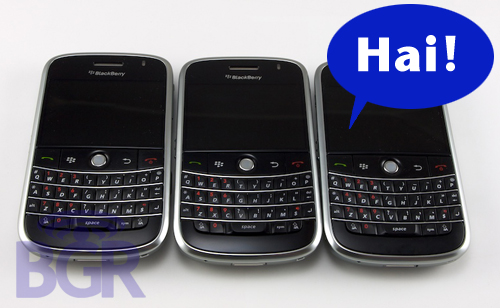 Since RIM completely screwed the pooch on this one (you know, like, delays for seven years?), we're going to try and make it up to you! We're giving away 5 BlackBerry Bolds for your local service provider. The 5 we are giving away are: AT&T, T-Mobile Germany, Rogers, Orange UK, and PCCW HK. The winner of the AT&T Bold won't get their unit until launch since all devices we're giving away are purchased from the respective carriers. You've got to play to win they say. Not so much when you're dealing with a BGR giveaway, though. To enter, just email us a photo of your current BlackBerry. The more damaged the BlackBerry is, the higher chance you have of winning. Get it? Also drop in a comment from the same email with what carrier you'd like. RIM made you mad by making you wait, they might have even had you think impure thoughts. Now you can lay back and relax, 'cause your good friend Boy Geezie and the rest of the folks at BGR are going to hook you up!
Send pictures to blackberrycontest at boygeniusreport dot com
Make sure you comment here in addition to sending in the picture. Also specify what carrier you want!

You can enter as many times are you like, just make sure they are different BlackBerrys
*Highly damaged BlackBerrys are a plus*
We're going to add all pictures to our world-famous gallery. If you don't want your picture included (freak) don't enter.
We'll run this until this Sunday, August 24th at 11:59PM ET
The BlackBerry Bolds in the photo are not the units you will be receiving. You will be receiving a brand new Bold in box that is locked to the requested carrier.
UPDATE: Wow, we've got almost 200 entries already! But! You need to comment also, people.