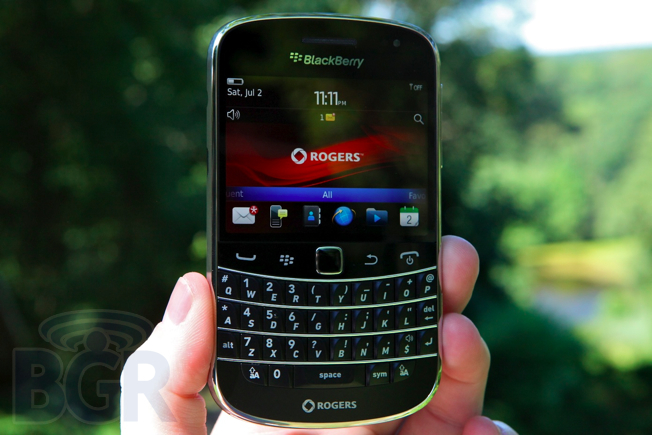 Another BlackBerry out of RIM? We might as well consider them done and finished. Or should we? With a brand new take on BlackBerry hardware and an improved and enhanced operating system in BlackBerry 7, RIM hasn't been sitting still. I have been using a BlackBerry 9900 for over a week, and as a reformed BlackBerry addict, I have some thoughts on this latest flagship smartphone out of Waterloo. Is this the device that's going to save RIM? Is this the phone that's going to make iPhone and Android users switch to a BlackBerry? Can RIM finally compete in the smartphone arena? Will it take RIM 9 months to make a BlackBerry 9900 in white? Is Will.i.am going to haunt me for eternity? Hit the break to find out. (And I sure as heck hope not on those last two.)













Hardware / Display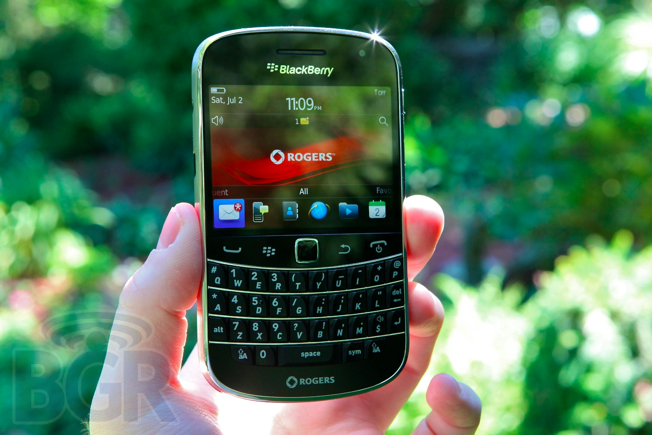 RIM is no stranger to the hardware game, having been major smartphone vendor to really control the entire end-to-end hardware and software experience. Every BlackBerry release seems to show a constant trait — that RIM continues to improve its manufacturing capabilities — and the BlackBerry Bold 9900 is no exception. In fact, this is the finest hardware ever to come out of Waterloo (or Mexico, or Holland, or wherever your phone is made). From the beautiful black fascia to the stainless steel bezel surrounding the top notch components, to the soft-touch finished, carbon-fiber-laced back cover, this is a BlackBerry that exudes quality, and one that any executive would be proud to have grace his or her desk. The high quality materials RIM is using on the BlackBerry 9900 are apparent, I only wish the company would have made the switch sooner. It's the first time metal has made an appearance instead of plastic, and it's the first time I can remember a BlackBerry not feeling hollow, but feeling like a solid high-end product.
This is a BlackBerry that exudes quality.
Starting on the front of the device, you'll see a pure white color accent scheme for the first time ever — even the send and end phone buttons are colorless, and it really works. While RIM isn't a company that is known for focusing on design identity, or even obsessing over little details, the company makes the personality of the Bold 9900 come alive, and it meshes beautifully. Even the symbols on the keyboard aren't a different color (they used to be red), but this new straight-forward color palette really works for me.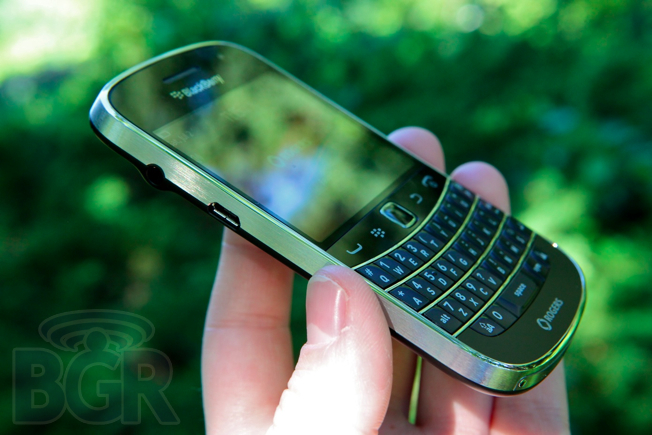 On the top of the phone you'll find a screen lock/unlock button. On the right side there's a volume up button up top, a mute key in the middle and a volume down button — all made out of metal, I might add. Below that you'll find the camera shutter key. On the bottom of the phone you'll see two charging contacts for compatibility with RIM's charging docks, which not only makes a great alarm clock stand, but also reduce wear and tear on the microUSB port. It would have been great to see RIM take this one step further and use a similar technology for USB syncing as well, though it's not that big of a deal. On the left of the Bold 9900 you'll find a microUSB port, and 3.5mm headset jack.
Something I'd like to point out is that the thinness of the Bold 9900 is very competitive. At around 10mm thin, it's impressive. For a device with a capacitive touch display, full size QWERTY keyboard — the best in the business — and technical specifications that bring the once stone-aged company into a near-competitive area, the Bold 9900 is an engineering feat, and one RIM should absolutely be proud of. Something RIM shouldn't be proud of? The fact that the company didn't include an autofocus camera in the Bold 9900. It would be comically funny if it weren't a real sign of how RIM actually thinks — who needs an autofocus camera when we can make the phone thinner!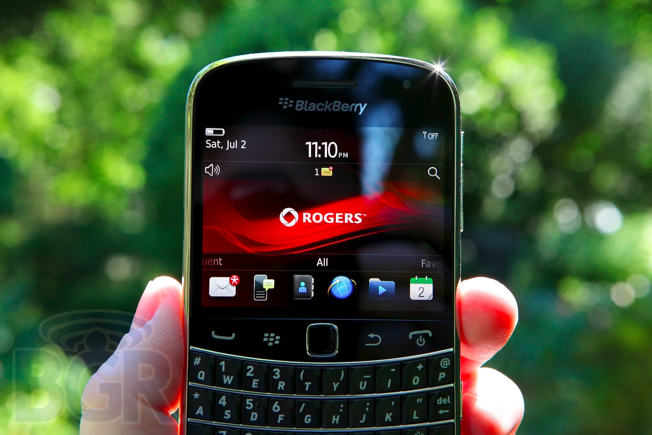 The display on the BlackBerry 9900 is excellent. It's the first higher resolution device out of RIM, featuring a 640 x 480-pixel panel. While that's not up there with Retina and qHD displays, the 2.8-inch touch screen on the Bold 9900 looks absolutely beautiful. It's bright, it's vivid, it's crisp — this is an amazing display. Touch sensitivity and performance on the 9900 is also excellent, with touches being recognized immediately, swipes performing correctly, and flick and pinch gestures working properly in the web browser. It's so good that it almost makes you forget that RIM is responsible for releasing the BlackBerry Storm. Almost.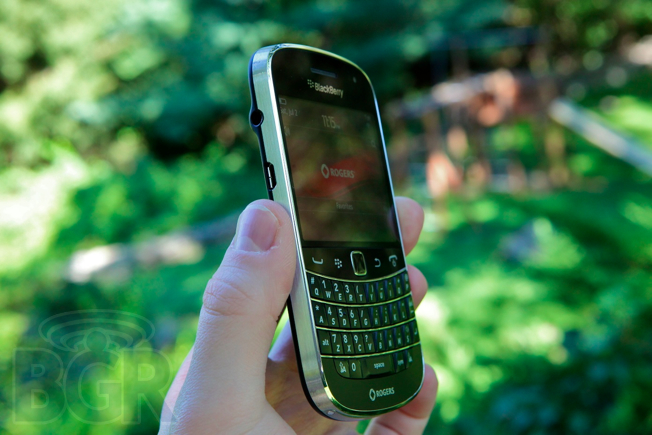 RIM even went step further with outfitting all of its high-end devices with NFC capabilities, and even though the NFC functionality isn't being used in the Bold 9900 at release, the engineering that went into the effort hasn't gone unnoticed. The NFC chip is built into the battery cover with contacts that connect only when the cover it attached to the phone, and it's just an ingenious integration; it makes you wonder why other manufacturers haven't taken this approach.
Keyboard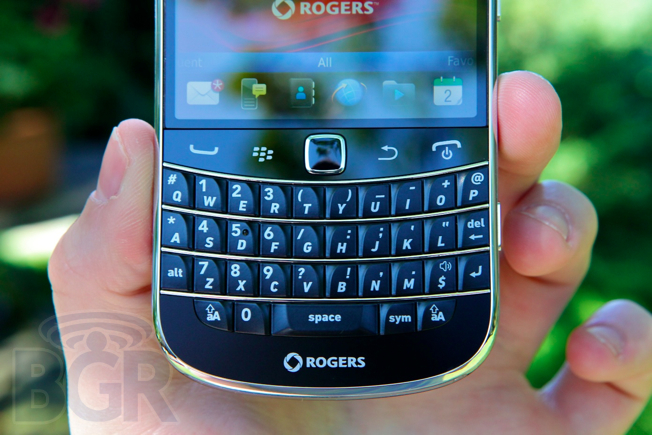 Let's just get this out of the way… the keyboard on the BlackBerry Bold 9900 is the best physical keyboard on any smartphone, ever. I went there. It's not just spacious, it's tactile and it features the perfected RIM layout. It's clickity, but not mushy, and it's firm but not too firm. It's also properly sized without being too big to type quickly — in short, it's the best physical keyboard I have ever typed on as far as a mobile device goes. From currency symbols to exclamation points, the keyboard and keyboard layout on the BlackBerry 9900 is the best in the business. Even the backlighting on the keyboard is nothing short of glowing. Literally.
BlackBerry users will feel right at home, and it's a refreshing change from the many terrible soft-keyboards out there. With that said, soft keyboards have an advantage in a couple of places, but if you're a texter, a hardcore emailer or one of those old school individuals who just can't make the switch to a touch-only smartphone, this is the best you're going to get; and it's really not even open to debate.
OS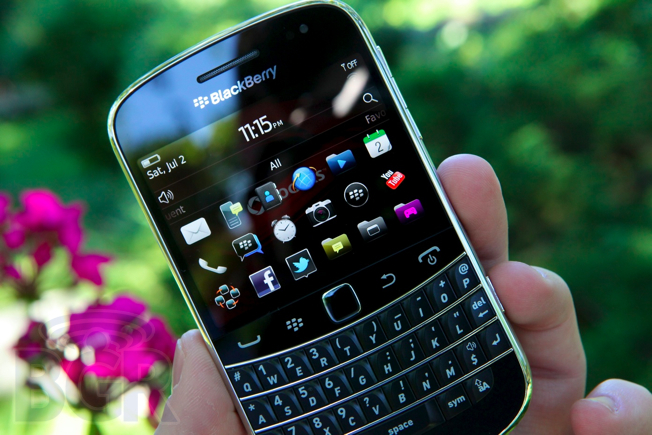 BlackBerry's latest operating system, BlackBerry 7, isn't a drastic change from the previous operating systems out of RIM. In fact, at the very basic level, it's the same. Sure there are some different APIs and enhancements but at the end of the day this is, at the core, the same BlackBerry that you've been used to using.
That's not to say RIM hasn't made improvements in different areas of the operating system. In fact, sources close to me have touted the fact that RIM has been able to strip bloated code from the OS in various places, undoing years of bandaging and complexity — and it does show. Coupled with a reasonably fast 1.2GHz single-core processor, the software on the BlackBerry runs extremely fast. There aren't many slow-downs, and the dreaded BlackBerry spinning clock hasn't made very many appearances on my 9900s.
With that said, the app game on BlackBerry devices is nothing short of a joke. App World is a joke. Third-party applications are a joke. User interfaces are a joke. This is a phone still primarily based on what corporate users of the past once wanted: the best email device in the world coupled with pretty solid personal information management like contacts, calendar, tasks and more. Unfortunately, that's not enough in this day and age to move the needle, and the dated software and operating system show.
While something like web browsing, now based on WebKit, has improved, it's still a ways off from competitive offerings from Apple and Google. Photo and video manipulation still feels like a struggle on the BlackBerry Bold 9900, even with a 1.2GHz processor. Scrolling is faster than on any other BlackBerry smartphone, though there are still random slow-downs and hiccups, something hopefully fixed when the company finally transitions to its QNX-based OS in upcoming devices next year.
Phone / Speakerphone / Audio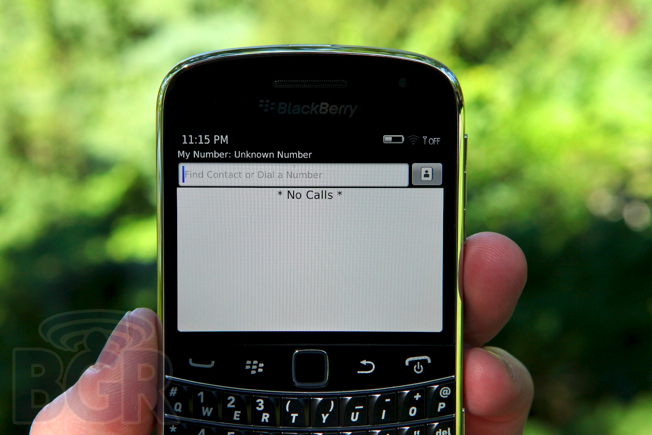 Voice calling on the Bold 9900 was a pretty solid experience. BlackBerry smartphones have been known for their superior RF performance and their ability to serve up solid connections, and the BlackBerry 9900 is no different. The device easily rivaled Apple's latest smartphone and Google's latest Nexus device in that department. As far as the ear speaker goes, however, calls sounded a bit shallow and lacked a low-end that is typically found on most top-tier smartphones.
The speakerphone on the BlackBerry 9900 is above average, though it also lacked the low-end response users look for in a high-end smartphone. Audio was even a bit choppy at times when using the speakerphone function, which was a pretty big disappointment. The sound just isn't full, and the distortion compounds matters.
Playing back audio through the built-in speaker exhibited the same issues that the speakerphone did — the low-end was lacking, though mid and high-end performance was on point with other competitive devices. Max volume is also a bit lower than I was hoping, though the phone performed reasonably well with all things considered. After all, it's not like it has Beats audio built in.
Battery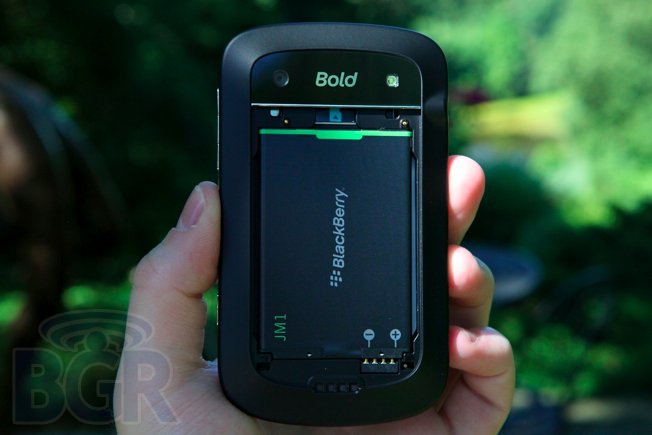 Battery life has been one of RIM's strengths over the years, and that doesn't change too much on the BlackBerry Bold 9900. While the battery is noticeably smaller than previous RIM devices (1,200 mAh compared to 1,500 mAh), and even though the processor speed has nearly been doubled, I haven't noticed that much of a difference as far as battery performance is concerned. That's pretty impressive considering some phones can't last an entire day, and the BlackBerry Bold 9900 has been able to power through almost two full days of on and off usage in my testing; again, this is quite impressive when you take the faster processor and smaller build into account.
With constant emailing, moderate Facebook and Twitter usage, light web browsing and light voice calling, the BlackBerry 9900 chugged along for nearly three days — a ridiculous feat.
Conclusion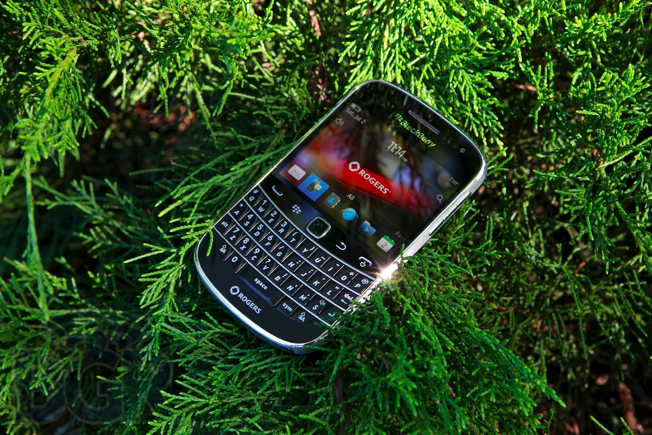 RIM's BlackBerry Bold 9900 is the company's best BlackBerry ever. It combines everything a BlackBerry user and fan used to beg for into one incredible package. A touchscreen with amazing full QWERTY keyboard, an incredibly thin and solid hardware shell with high-end finishes like a stainless steel bezel, meshed with a soft touch rubberized finished backside, complete with carbon fiber insert, make for an almost irresistible offering.
With an improved and enhanced operating system that is speedier than any previous version, this could be the total package you're looking for in a smartphone. Unfortunately, it's still a BlackBerry, and outside of the core areas where a BlackBerry still offers a competitive advantage like email, for instance, I don't see a reason to pick this smartphone over an iPhone 4 or one of the latest Android handsets like the Samsung Galaxy S II or Google's Nexus S. There will always be a market for the current incarnation of BlackBerry smartphones, but that market is shrinking daily and RIM's QNX-based mobile devices can't come soon enough.