Yes, yes y'all. We're back with Act 2. Following up on the much-loved BlackBerry 9700 Review: Part 1, we're here to go over the T-Mobile version of the handset. We'll give you another look at it, and clarify anything that might have changed between our previous not-final unit and what we have now (which is what you'll be getting in stores). And of course give you some awesome pictures to drool over. After the jump, fine friends, is where the goodies are at!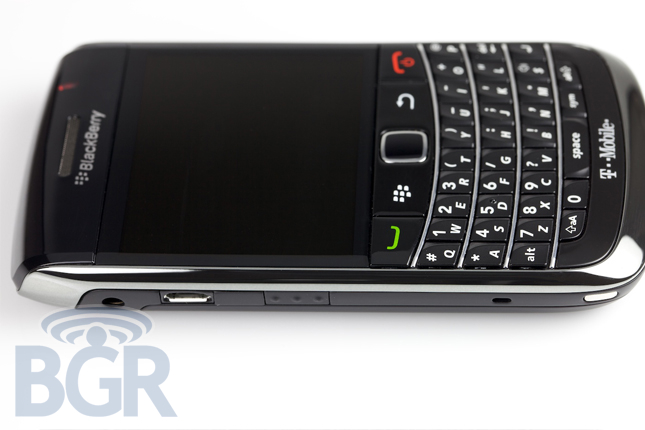 Hardware changes
While not much has changed hardware-wise from a larger viewpoint, there are a couple things we've noticed. First off, if you look at the keyboard and the trackpad specifically, you'll see a very small piece of plastic that's connecting the back and menu keys. This actually broke in half on our pre-release BlackBerry 9700, and while it hasn't affected its use, it got us a little concerned about the build quality. We haven't confirmed whether the retail Bold 9700s use different parts or not, and we haven't heard of this happening to anyone else, but it's just something to look out for.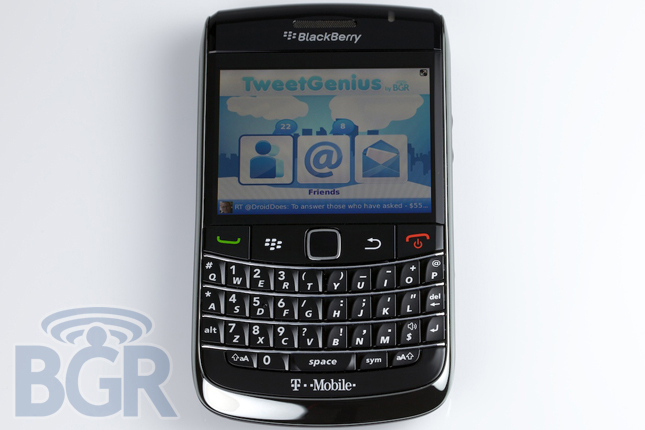 As far as the processor is concerned, we reported that the Bold 9700 was sporting an 800MHz capable CPU. RIM's official specs say it's a 624MHz processor, but we think it might be a newer model than what the original Bold had. It's also quite possible it's under-clocked as well. We'll try and clarify this and report back. Regardless of the actual CPU specifications on the 9700 though, one thing is certain: it's the fastest damn BlackBerry we've ever used. There unfortunately is no internal memory as there was on the previous Bold, and while we believe it's carrier dependent, the T-Mobile unit ships with a 2GB microSD card.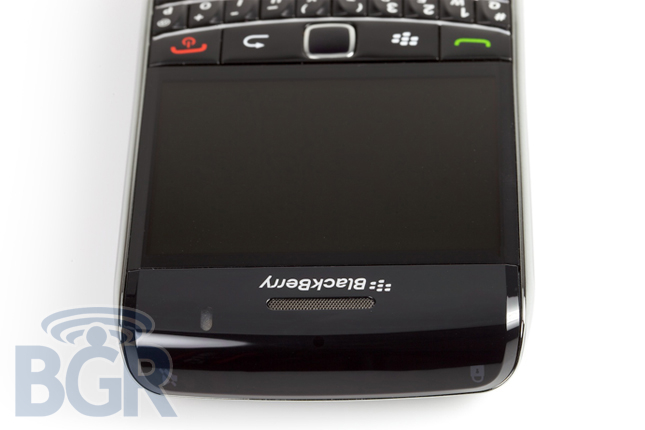 One last thing about the hardware… honestly not a big deal, but since we're comparing the retail unit to the other unit we had, Michael and I both noticed that the lock and mute keys are very easy to press on the retail unit. And that's not for the best as we both accidentally lock / put our Bold 9700s in a mute coma from time to time. Again, not the end of the world, just a change from our other unit.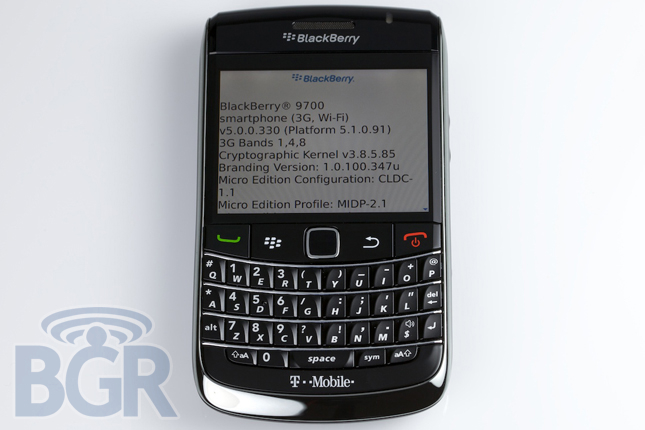 OS changes
OS 5.0 is finally ready to rock. The much-needed upgrade tries to bandage RIM's aging yet nicely skinned operating system, and it seems to do a good job of it on the top layer. While dumb things like gradients, sounds for events, and other little UI improvements may look stupid on paper (read: they are), hey, us BlackBerry folk have to take all that we can get. And even though that's not a lot, it's still something to slightly freshen up this beast. Something we've noticed in the version on the 9700 is that marking messages as read takes a long, long time. This was an issue on a couple beta OS builds for the 9700, so it's surprising to see it on a production OS. Not a show stopper, but something annoying if you mark message read fairly frequently like I do.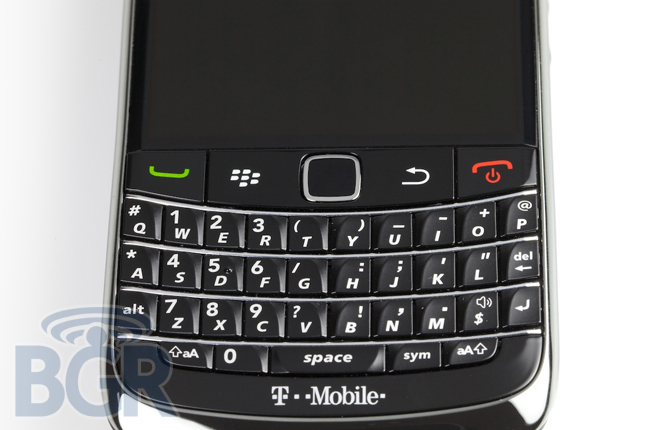 Keyboard changes
Oh those pesky QWERTY keyboards. Some are too small, some are too big, some are spaced too close, some have incorrect layouts — is there a perfect keyboard in existence? Well, if there's one to be found, we're pretty sure it is on the BlackBerry Bold 9700. A beautiful blend of the original Bold keyboard with the Tour's keyboard, it really provides a great typing experience. Keys click but aren't clackity, there's enough spacing to allow a definition between keys yet it isn't boat-sized like its older brother — and it just feels damn good to type on.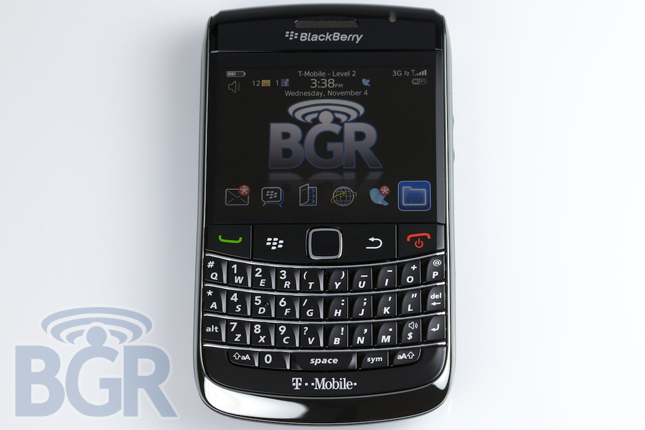 Phone changes
Using the phone as an actual phone is still really pleasurable. Calls are very clear, volume is great, and BlackBerry smartphones in general just rock as phones. There's no fuss, you dial a number and make your call. We're used to AT&T, but to be honest we couldn't tell the difference between the two. This T-Mobile unit is solid and we experienced no dropped calls even in fringe areas, and 3G service was great.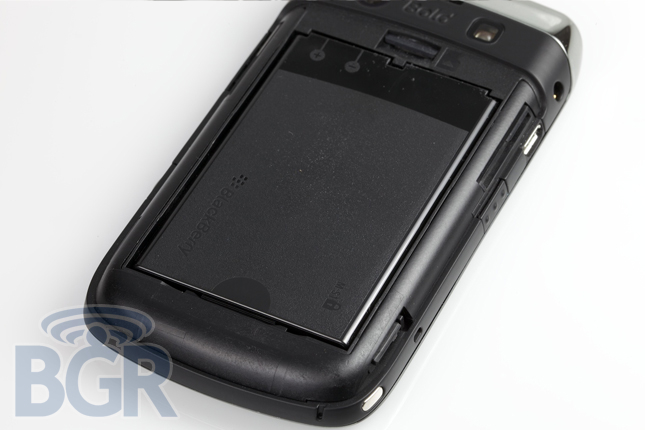 Battery changes
This isn't going to be fair because of T-Mobile's global meltdown yesterday–the day when we were really pushing the 9700 to the floor– so, well, you know, it didn't work. We were on SOS for the better part of a day, but Wi-Fi did stay connected to the outside world thankfully. Unfortunately however, Wi-Fi kind of ransacked our battery. The good news is that even with Wi-Fi on and connected for 12 hours straight with constant email usage, BlackBerry Messenger usage, and very light browsing, we still had around 25% of battery left at the end of the day. It's great, and we're really happy that RIM has further improved their battery life while making a device faster and smaller. We weren't kidding when we said average usage is about double compared to the original Bold, and it looks to stay that way in the retail release.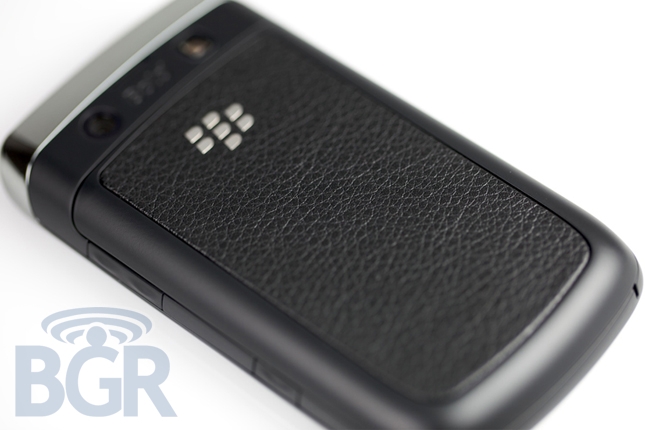 Conclusion
You know, it's sort of like clockwork. Once every six months we proclaim the latest BlackBerry to be the best BlackBerry ever. Well, we hate to disappoint you, but it doesn't look like we're stopping that tradition anytime soon. The BlackBerry Bold 9700, for whatever network it's powered by, is the finest BlackBerry to date. From the gorgeous screen to the perfect keyboard, to the pocketable size and swift processor, the Bold 9700 seems like it can do almost anything you throw at it. With 256MB of RAM, you've got a little more room for applications and data, and the device doesn't ever seem to get bogged down. We have never even gotten a spinning clock (yet). It's that solid.
The BlackBerry platform has its advantages and disadvantages (what, we're not vocal enough about it?), but if you're an existing BlackBerry user or just don't require a media-focused device, the Bold 9700 might be right up your alley.
Rogers, Bell, and TELUS in Canada have pretty much all started to release BlackBerry 9700 units into the wild, T-Mobile's offering business customers a little head start, and AT&T's looks to be near as well.