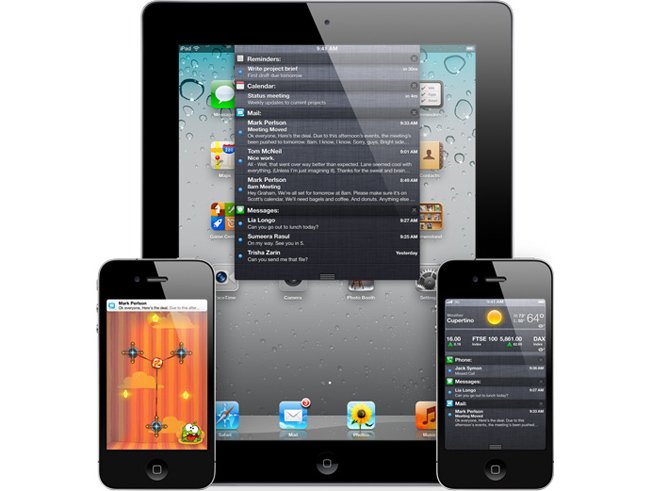 I've been using iOS 5 on my primary iPhone 4 since it was made available to developers yesterday around 5:00 p.m. This is the most solid iOS beta Apple has ever released, so far. What's even more impressive is that Apple seems to have fixed every single gripe I've had with the platform. Little things that drove me insane that were available on other mobile operating systems — like setting a default calendar notification time so you can quickly go into the calendar app, jot down the meeting, location, and time, and bounce out — have now been added to iOS. Hit the break for my thoughts after spending some time with iOS 5.
Notifications, which were probably the biggest issue in people had with iOS, work amazingly well now. Yes, they took a page out of the Android book with the drop down notification "drawer", though in typical Apple fashion, it looks and works better. I love that there's a stock ticker and weather in there, and I love that I can customize what I want to appear in Notification Center. I can choose the type of alert, how many messages to show, in what order, sorted how I want, and whether to show it on the lock screen or not for privacy. That's invaluable to an iOS user. The one thing I'd like to see, however, is the ability to push the notification off the screen like webOS. For instance, you're in an app, you see a message at the top, and want to get rid of it. Instead of waiting for it to go away after a few seconds, ideally, I'd love to be able to swipe it off to the side and continue my task. Notifications from all apps work, by the way — they don't have to be updated because Apple controls those APIs.
iMessage. While I haven't spent much time in it, I have talked with a few friends, and it's pretty ingenious how Apple just extended their SMS / MMS app into a full-fledged messaging service. When you start a new message and type in your buddy's contact information, Apple will quickly check if they're on iOS 5 and automatically switch from green (SMS) to blue (iMessage), and you're off and running. Once you talk to someone on iMessage, future conversations started will show a blue chat icon next to their name as they will be iMessages — brilliant.
Other favorites so far are the ability to finally customize alert tones for email, calendar reminders, and more; email flagging; widgets in the Notification Center; wireless iCloud backups and of course, the ability to use the phone while it's syncing. I'll report back tomorrow with more.