The fall is jam-packed with major new releases for the Nintendo Switch, from Super Mario Bros. Wonder and Super Mario RPG to the Detective Pikachu sequel and a new WarioWare. But even with all of these beloved franchises returning, a tiny puzzle game from Japan is taking the Switch eShop by storm. Suika Game (also known as Watermelon Game) was originally developed for a digital ceiling projector in 2021, but it was so popular that publisher Aladdin X decided to bring it to the eShop a few months later. It failed to make a splash, but this year, the game caught the attention of streamers and is now one of the eShop's best-selling games.
Until recently, the game was only available on the Japanese eShop, but it launched on the U.S. eShop on October 20, 2023, so now anyone can grab it for $2.99. Plus, the developer released an update this week adding English language support and a Halloween theme.
The best way I can think to describe the game is Tetris mixed with Threes (or 2048). You drop a bunch of fruit into a box, and if two of the same type of fruit touch, they merge and evolve into a bigger fruit. The more fruit you merge, the higher your score, but once you cross the big line at the top of the screen, it's game over and you have to start over.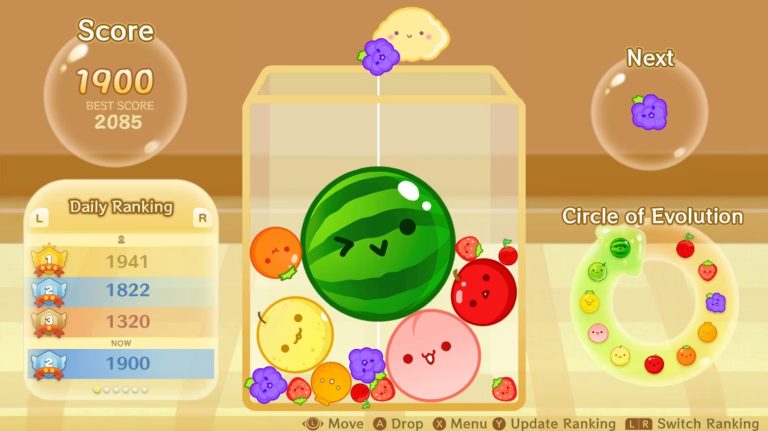 As with most viral video game hits, Suika Game is incredibly simple and, more importantly, very addictive. As soon as you finish one run, you will be tempted to start another. And unlike Tetris or Threes, there's an element of randomness. The fruits have their own physics, so there's always a chance that a grape will roll over and hit another grape even if you didn't plan it.
I have only played it a few times since finding out about Suika Game this week, but the fact that anything could tear me away from Super Mario Bros. Wonder is impressive. Best of all, it costs less than a cup of coffee, and I see myself coming back to it often.
If you want to give it a try before you buy, there's a browser version of Suika Game.