Producing a runaway hit comedy series is one of the ambitions that continues to elude Netflix, which keeps trying to launch new half-hour spins on one of the oldest TV formats — to mixed success. The streaming giant's latest bid along these lines is the newly released That '90s Show, a 10-episode sequel to the similarly named That '70s Show which ran for 8 seasons starting in the late '90s.
After seeing so many of these efforts from Netflix — some abortive, others mildly successful — I tend to think that the complicating factor is the subjective nature of comedy, such that there's not too much that's universally regarded as funny. What's hilarious to me, in other words, might be a cringe-inducing dad joke to you, and all of a sudden, a Netflix comedy like Blockbuster gets canceled before it can even really get off the ground.
That '90s Show reviews
Here, meanwhile, is the official That '90s Show logline from Netflix:
"Hello, Wisconsin! It's 1995 and Leia Forman, daughter of Eric and Donna, is visiting her grandparents for the summer, where she bonds with a new generation of Point Place kids under the watchful eye of Kitty and the stern glare of Red. Sex, drugs and rock 'n roll never dies, it just changes clothes."
The young cast of the series includes stars Kurtwood Smith, Debra Jo Rupp, Callie Haverda, Ashley Aufderheide, Mace Coronel, Maxwell Donovan, Reyn Doi, and Sam Morelos. Also returning are creators Bonnie and Terry Turner — this time, in keeping with the spirit of the series, with their daughter Lindsey Turner — along with showrunner/executive producer Gregg Mettler, and executive producers Marcy Carsey and Tom Werner.
As for the story: Eric and Donna's daughter Leia bonds with an all-new generation of Point Place kids, including a rebellious neighbor named Gwen. They connect with friends who include Gwen's brother Nate, his girlfriend Nikki, plus Ozzie and Jay, to get involved in all sorts of mischief and adventure … just like Leia's parents did back in the day.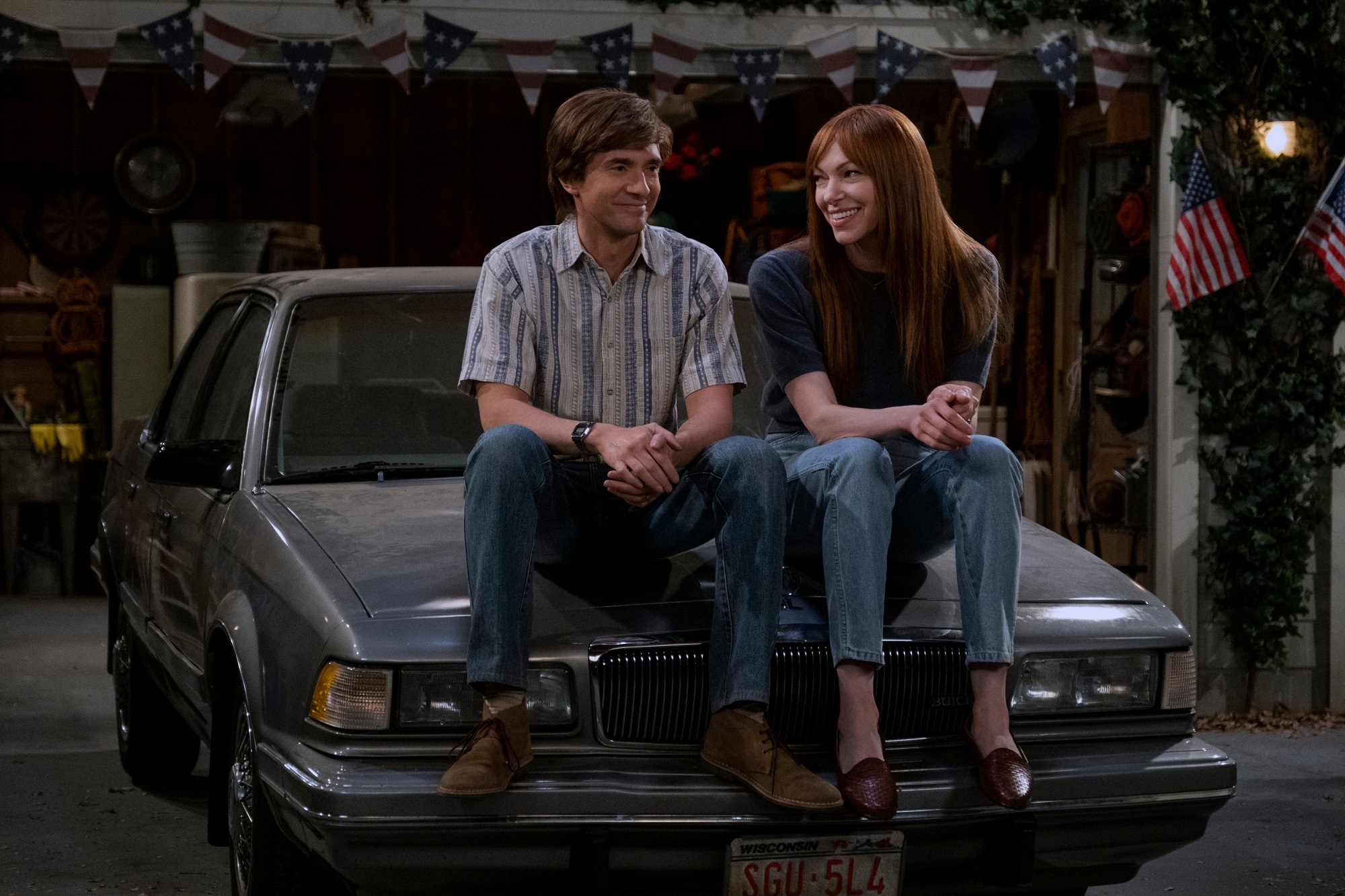 'You can definitely tell this was produced by Netflix'
So far, That '90s Show has something you rarely see from Netflix releases anymore — pretty close alignment among both critics and viewers.
On Rotten Tomatoes, the show currently has a decent 75% critics' score and a 76% audience score. Drill down into what reviewers and audiences are actually saying though, and the assessments are kind of all over the map. "It's a little edgy and occasionally chuckle-inducing and mostly sweet-natured, and it's just OK and quickly forgettable," writes the Chicago Sun-Times' Richard Roeper, with a take that could actually be re-used almost verbatim for so many Netflix comedies.
The Rotten Tomatoes audience reviews, however, are much tougher on the show. "A hard watch," one laments. "The new kids are fine I guess. But the fan service hits fast and leaves faster. You're left with a boring, non-funny, and poor attempt at recreating a masterclass of a show."
Adds another: "You can definitely tell this was produced by Netflix, with all the common social brownie points: Casting based on identities, over-acting or obnoxious characters (which, to the original's detriment, suffered from the same affliction). You can't help but watch this and think about all of the checkboxes that Netflix checked rather than the Wisconsin in the '90s story they should have focused on."