To a big chunk of its user base, Paramount+ might as well be TaylorSheridan+ at this point given how in-demand the Yellowstone co-creator's rapidly expanding universe of shows on the streamer has become. From Yellowstone prequel 1883 to Tulsa King, Mayor of Kingstown, and the new Special Ops: Lioness, Sheridan's shows share common themes of rugged individualism, tough guys bucking the established order, and what the American experience looks like to different people and communities. They're the kinds of shows that critics quite often pan, but fans can't get enough of.
If you're a Paramount+ subscriber and are looking for a few new titles to put on your watch list, though, Sheridan's certainly aren't the only Paramount+ originals worth keeping your eye on. Here are four upcoming Paramount+ titles that are all coming fairly soon and represent exciting additions to Paramount's streaming service. Let's get right into it.
The Gold
Two of my favorite things in the world (as far as streaming entertainment goes) are spy shows and heist stories, and Paramount+'s The Gold certainly fits the bill of the latter.
Inspired by real events that took place in late 1983 in London, The Gold tells the story of six armed men breaking into a security depot near Heathrow Airport and unwittingly stumbling across gold bullion worth the US equivalent of $32 million. From Paramount+'s official synopsis: "According to detectives, what started as a typical Old Kent Road armed robbery became a seminal event in British criminal history that's remarkable not only for the scale of the theft — at the time the biggest in world history — but for its wider legacy.
"The disposal of the bullion caused the birth of large-scale international money laundering; provided the dirty money that helped fuel the London Docklands property boom; united blue- and white-collar criminals; and left controversy and murder in its wake."
The cast includes Downton Abbey's Hugh Bonneville, as well as Jack Lowden — who Apple TV+ fans will recognize as River Cartwright from the fantastic Slow Horses. A heist series set in the UK? Yes, please! Now streaming.
Finestkind
This next upcoming title is actually a movie acquired by Paramount+ and which will be available to stream in November.
It's the crime thriller Finestkind, and it features a stacked cast that includes Tommy Lee Jones, Ben Foster, Toby Wallace, and Jenna Ortega. The film comes from writer-director Brian Helgeland, and it's set in the commercial fishing port of New Bedford, Mass. Foster and Wallace play brothers from opposite sides of the tracks who reunite as adults. "Desperate circumstances force them to strike a deal with a dangerous Boston crime syndicate," Paramount+ explains, while adding that a young woman (played by Ortega) finds herself caught in the middle.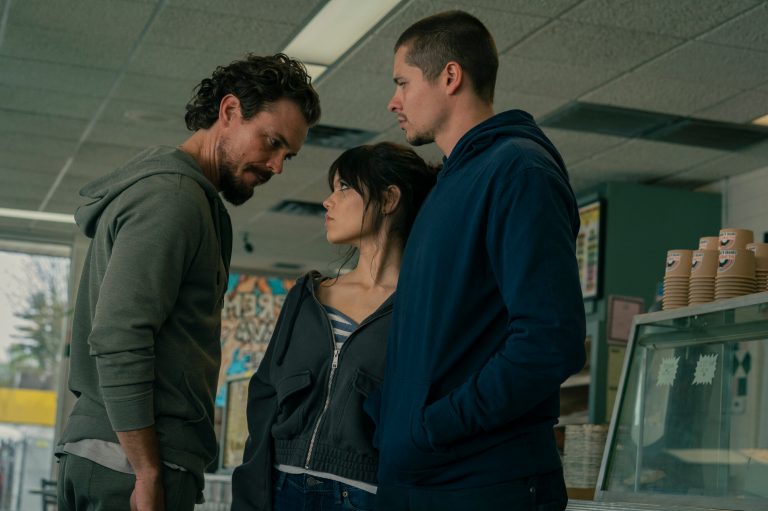 "Along the way, sacrifices must be made, and bonds between brothers, friends, and a father (Jones) and his son are put to the test."
To create the script, Helgeland weaved in personal experiences by drawing on the year after college he spent as a Massachusetts fisherman. "I come from a long line of commercial fishermen and have experienced their hard-working world firsthand," he says. "Through the help of our partners at 101 Studios, Paramount+, and Bosque Ranch, we will be able to accurately capture their endeavors at sea, as well as honor them for their immense contribution to society. I feel privileged for the opportunity to tell this story to audiences globally." Release date: TBA in November.
Colin from Accounts
None of us relishes the thought of ever seeing a cute dog getting hurt, even though that seems to be an increasingly popular launchpad for storytelling. In the case of Keanu Reeves' John Wick franchises, he goes ballistic when the bad guys kill his dog. And in the case of Colin from Accounts, an Australian comedy series acquired by Paramount+ and debuting here in November, a dog injury basically facilitates a meet-cute.
The catalyst for this comedy is more or less: Guy catches a glimpse of hot girl while driving. She gives him a nipple flash. Guy hits dog while mesmerized. "The series is about flawed, funny people choosing each other and being brave enough to show their true selves, scars and all, as they navigate life together," Paramount+ says about the series. Release date: Nov. 9.
Lawmen: Bass Reeves
As for this fourth title also coming to Paramount+ in November, Lawmen: Bass Reeves tells the story of a sort of real-life Lone Ranger.
The latter, of course, was a fictional, mask-wearing former Texas Ranger whose outlaw-fighting exploits were once a staple of American TV in the 1950s and was about as familiar and pervasive as an American cultural icon can get. However, the story of the first black deputy US Marshal west of the Mississippi River — who worked in the post-Civil War Reconstruction era as a federal peace officer in the Indian Territory — unsurprisingly enjoys nowhere near the same degree of familiarity.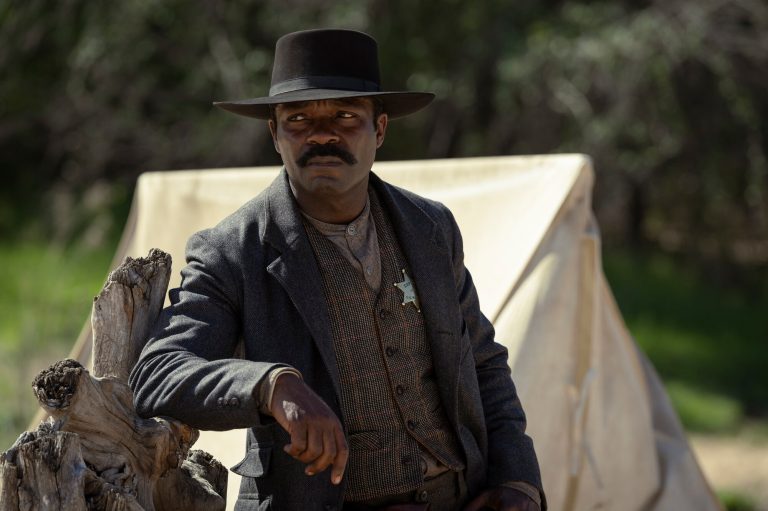 And that's despite the fact that his numerous feats, unlike those of the Lone Ranger, actually happened. During the course of his law enforcement career, for example, he captured over 3,000 of the most dangerous criminals without ever being wounded — despite getting his hat shot off more than once.
Lawmen is being billed as an anthology series that will tell the story of other iconic lawmen and outlaws in future seasons. And, as the name makes clear, Reeves will be the focus at the start. He's played by British actor David Oyelowo who, if you ask me, slips effortlessly into the role of the fearless gunslinger, as you can see in the trailer below, snarling memorable one-liners like "Your wicked days are done." Release date: November 5.