No matter how much you play, no matter how far you walk, you're never going to catch every Pokemon in Pokemon Go. Why? Because of the 145 Pokemon that were available in the game at launch, four of them were exclusive to certain regions. The only way to add them to your Pokedex is to either hatch them from an egg or book a flight, travel abroad, walk around until you find one and then throw a Poke Ball at it.
It's a fascinating–if bizarre–element of Pokemon Go, and now that more than 80 new Pokemon have joined the fray with the Generation 2 update, the number of region-exclusive Pokemon has expanded.
What you're about to see is a crude (yet effective) map, showing where each of the region-exclusive Pokemon can be found. If you're outside of the boundary drawn on the map, you're not going to find that Pokemon: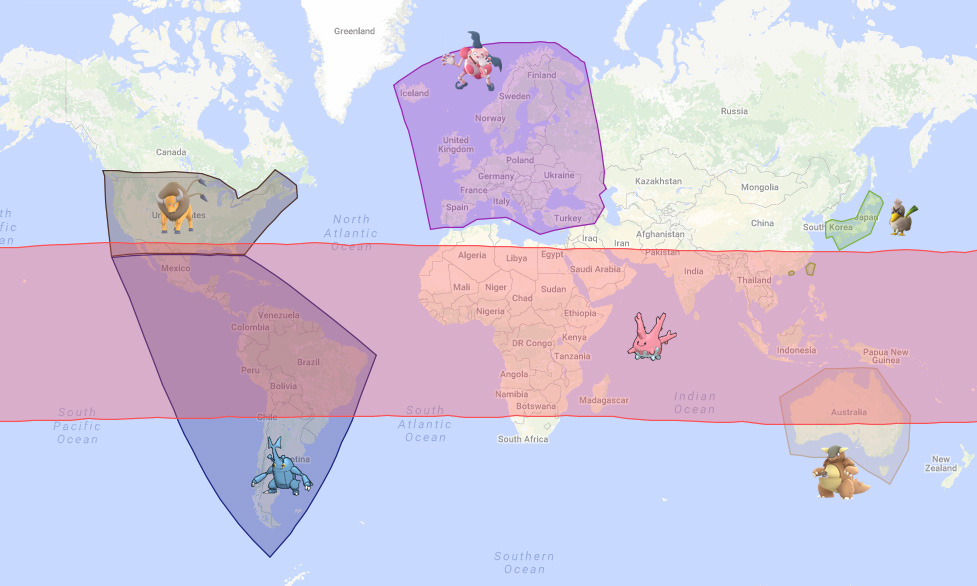 Tauros: United States
Mr. Mime: Europe
Farfetch'd: Asia
Kangaskhan: Australia
Heracross: Central America, South America, parts of Florida and Texas
Corsola: Between 31N and 26S latitudes
The first five aren't all that spectacular, but in order to determine the location of Corsola, The Silph Road Reddit community conducted a poll which garnered over 850 responses. By determining which players saw a Corsola spawn furthest from the equator, the creator of the poll was able to determine where on our planet the Water/Rock type Pokemon could be found. Personally, I'm still reeling over this discovery.
We only have a week's worth of data, and two non-Legendary Pokemon from Generation 2 have still yet to be found, so this might not be the end of the region-exclusive revelations. For now though, it's all we've got.