As goofy as cutting a Dual Sense controller in half looks, for $200, I'm probably going to buy the PlayStation Portal.
PlayStation already confirmed it would be releasing a remote-play device for the PlayStation 5 earlier this year but, today, we finally got a name, a price, and a general release date. In a blog post, the company announced that its first remote-play device would be called the PlayStation Portal. It also revealed that the Portal will cost $199 and be released later this year.
Hideaki Nishino, PlayStation's Senior Vice President of Platform Experience, SIE, also confirmed some details about the upcoming device. According to the company, the PlayStation Portal will feature an 8-inch, 1080p screen that is capable of up to 60 frames per second. For those who were hoping for an OLED screen, get ready to be disappointed since Sony says the Portal will feature an LCD screen instead.
I can also see people getting angry about the lack of 120 FPS support, but I think that's a reasonable expectation considering that this is a streaming device. You're unlikely to be playing Call of Duty Warzone on this thing as opposed to less demanding games when it comes to response time. The company also confirmed that the device works exclusively with your PS5 over WiFi when both devices are in the same house.
PlayStation Portal is the perfect device for gamers in households where they might need to share their living room TV or simply want to play PS5 games in another room of the house. PlayStation Portal will connect remotely to your PS5 over Wi-Fi**, so you'll be able to swiftly jump from playing on your PS5 to your PlayStation Portal. PlayStation Portal can play supported games that are installed on your PS5 console and use the Dualsense controller.
When you're streaming games to the Portal, you'll also want to listen to the audio from the game. In addition to actually having a headphone jack on the device, PlayStation will also be releasing two new products for those who are looking to cut down on latency with audio from the game. The Pulse Elite wireless headset and Pulse Explore wireless earbuds are the company's solutions to this problem.
While the Pulse Elite is a more traditional over-the-ear gaming headset, the Pulse Explore are PlayStation's first wireless earbuds built for gaming. Both will feature lossless audio (interested to see more details about what that means) and work seamlessly with the Portal to ensure little audio latency when streaming your games. They are also PlayStation's audio products to use planar magnetic drivers to deliver elevated sound quality.
Pulse Elite and Pulse Explore will be the first PlayStation audio devices to use custom-designed planar magnetic drivers for an audiophile-level listening experience normally found in premium headphones for professional sound engineers. With Pulse Explore, we're pleased to be one of the first companies to provide wireless earbuds to the mass consumer market using planar magnetic driver technology.
Here's a quick rundown on both the Elite and Explore:
Pulse Elite is our new wireless headset that offers lossless audio and comes with a retractable boom mic and AI-enhanced noise rejection capable of filtering background sounds. A charging hanger is also included with the product for a convenient charging and storage option.
Pulse Explore is our first set of wireless earbuds, providing a premium portable audio experience with dual microphones and AI-enhanced noise rejection capable of filtering background sounds. It also offers lossless audio and comes with a charging case.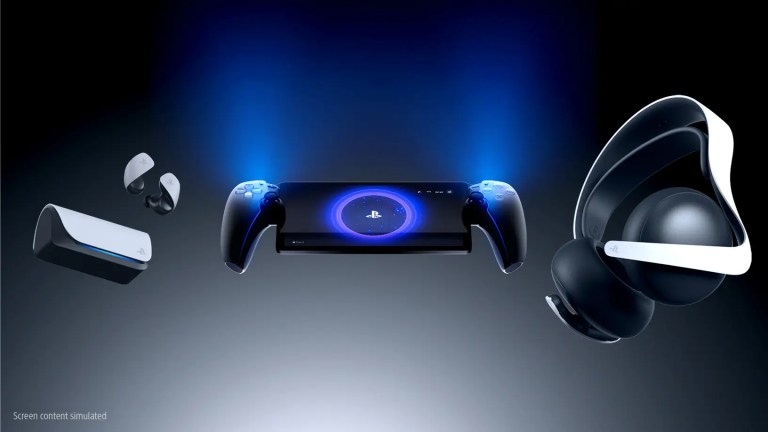 The company says that both audio products support PlayStation Link, the company's new wireless audio technology. In addition to cutting down latency on Portal, both the Elite and Explore can also work with the PlayStation 5, Mac, or PC with the included USB adapter. Sony also says that you can connect a Bluetooth device like a phone while you are also connected to your console so you can take calls, etc.
Pulse Elite and Pulse Explore can simultaneously connect to a PlayStation Link supported device (PS5, PC, Mac, or PlayStation Portal) and a Bluetooth supported device. For example, Pulse Explore can be connected to PS5 (via the USB adapter) using PlayStation Link and also to a mobile phone through Bluetooth at the same time. While playing on PS5, gamers can instantly answer a call and hear it through the same Pulse Explore earbuds.
The Pulse Elite will be available for $149.99 and the Pulse Explore will be available for $199.99. That second one is kind of hilarious considering the earbuds will be just as expensive as the PlayStation Portal itself, but we do live in an age of expensive earbuds, so it's not that surprising. Good audio is important, too!
Sony says that all three products will be launching this year, but has not given exact dates or when preorders will begin just yet. The company is obviously trying to ensure the products are available for the holidays, so I wouldn't be surprised to see releases happening by mid-November at the latest. Now we just need to see if it also releases that PlayStation 5 Slim we just got a look at.