For baseball fans, there are few instances in professional sports more exciting than a home run. Watching a batter get the barrel of the bat to a 99 mile-per-hour fastball on the inner edge of the plate and launch it 400+ feet through the air is always exciting. With one swing, any player in the lineup can completely turn a game around. That's why the Home Run Derby is so ridiculously watchable.
Tonight at 8:00 PM ET, MLB will kick off the All-Star break with the 2017 edition of the Derby on ESPN, where Miami Marlins right fielder Giancarlo Stanton will defend his title at his home ballpark.
The rules of this year's Home Run Derby are the same as last year's and the year before: eight batters will face off against one another through three rounds of a single-elimination bracket.
Batters have four minutes per round, during which they will attempt to hit as many home runs as possible. In the first two rounds, each batter can take a single 45-second timeout. In the final round, each batter has two timeouts — one for 45 seconds and another for 30 seconds. 30 seconds of bonus time is awarded for hitting at least two home runs equaling or exceeding 440 feet.
Giancarlo Stanton, Aaron Judge, Cody Bellinger, Mike Moustakas, Miguel Sano, Charlie Blackmon, Justin Bour and Gary Sanchez will be the eight batters competing for the title in this year's Derby. Judge leads the pack with 28 homers as of the deadline, while Bellinger and Moustakas are tied at 24.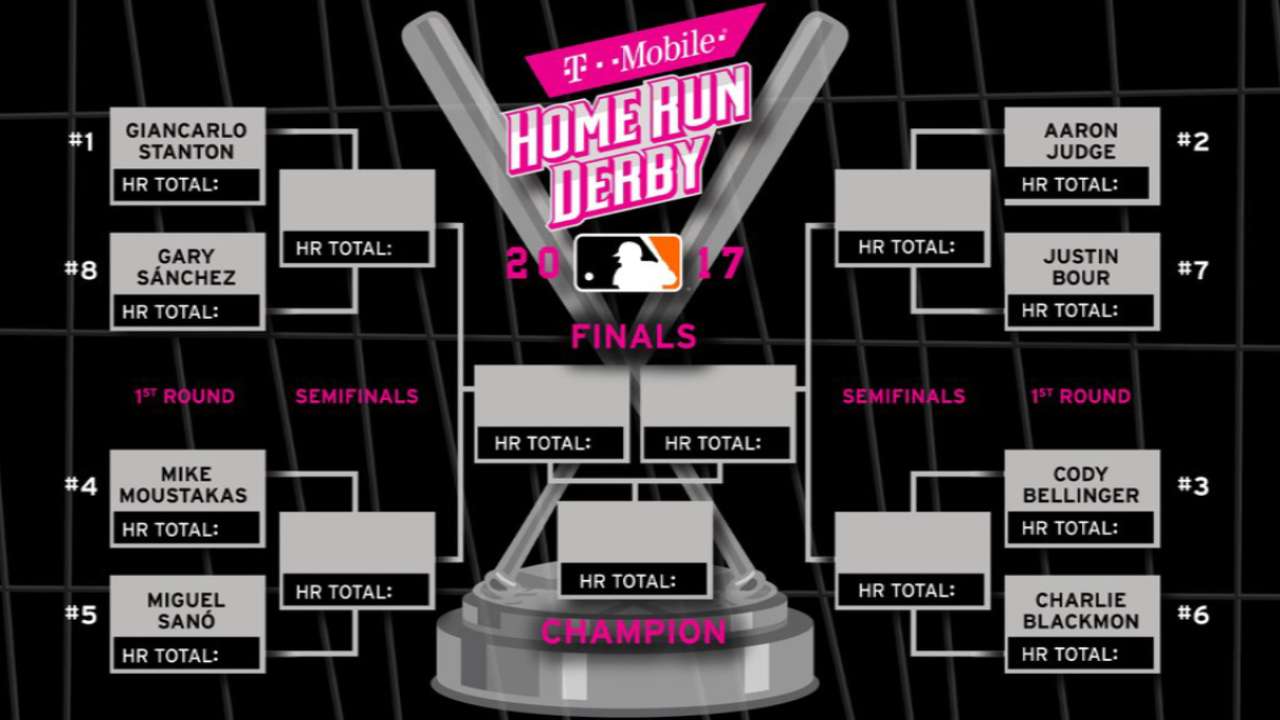 If you want to tune in to the Home Run Derby tonight starting at 8:00 PM ET, you have a few options.
If you have a cable subscription, just flip to ESPN. You can also watch online with the WatchESPN app on your computer, your phone, your tablet or a variety of game consoles and streaming boxes. If you don't have cable, you can sign up for a free trial of a variety of streaming TV services, including DirecTV Now, Sling TV, Hulu Live TV, YouTube TV or PlayStation Vue — all of which feature ESPN.