Marvel pleasantly surprised fans at San Diego Comic-Con (SDCC) last year when it unveiled many projects that were part of the MCU Phase 5 and 6. Kevin Feige took the stage to unveil so many new MCU titles. He also shared release dates for Fantastic Four, Avengers: The Kang Dynasty, and Avengers: Secret Wars. For this year, an insider says that Marvel is getting ready to deliver an MCU slate update at Comic-Con 2023 that's even bigger than last year.
That sounds exciting, but it's not necessarily good news, considering the current environment in the industry. Beware, some spoilers might follow below.
Alex Perez from The Cosmic Circus said on Twitter that Marvel is "gearing for a slate update bigger than last year's." The writer speculated that Marvel will move on with announcements even if the WGA strike has not been resolved.
Perez responded to a tweet that said studios won't be attending SDCC while the writers' strike is still ongoing. The same user speculated that the Screen Actors Guild and Directors Guild might join the strike, as their contracts are up at the end of June.
Expect MCU delays that have nothing to do with the strikes
While such a development might indeed stop Marvel from having a massive MCU event at SDCC, the studio could still be present at Comic-Con. Also, Kevin Feige could announce updated plans for the MCU without necessarily offering release dates for the projects.
After all, Marvel is already working on several MCU Phase 5 movies and TV shows, with others waiting to be released.
Also, let's not forget that Marvel has been on a mission to improve the quality of the MCU. The lukewarm Ant-Man and the Wasp: Quantumania reception should have further mobilized Marvel to clean up the MCU.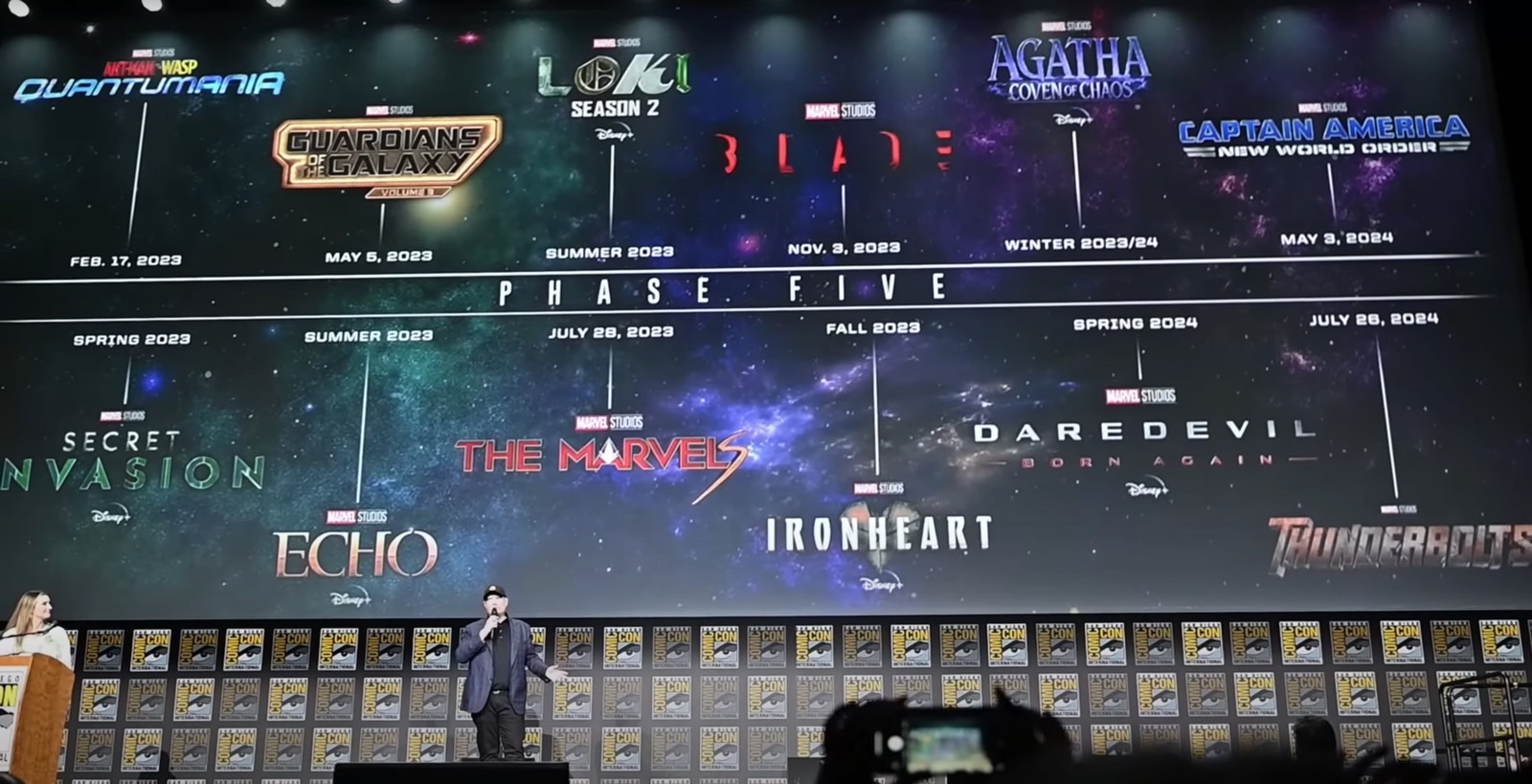 Delays and cancelations could be in order. And Marvel already delayed 2023 projects long before the writer strike and Comic-Con. The Marvels premieres in November rather than July. And Loki season 2 might hit Disney Plus in October rather than the original late-summer time frame.
Add to that the Jonathan Majors situation, which might force Marvel to recast Kang, and you have another reason Marvel could postpone some titles.
These delays will impact future MCU projects and could lead to even more delays. The MCU adventures have to be released in a specific order until we get to Kang Dynasty and Secret Wars. That means Marvel has plenty of reasons to change the current MCU roster. And Comic-Con is the place where it can make announcements related to those changes.
Which MCU projects will Marvel announce at Comic-Con 2023?
One look at the images in this post is enough to remember that Marvel announced almost the entire MCU Phase 5 lineup at Comic-Con 2022. But it only delivered three Phase 6 projects at last year's SDCC. Therefore, Marvel has plenty of gaps to fill, and Comic-Con 2023 might be the place to do it.
The most likely announcements we might get are release dates. Marvel might confirm rumors that The Kang Dynasty won't happen in 2025, which would mean Secret Wars will also be pushed back.
Similarly, I'd expect new release dates for various Disney Plus series that were already announced. It seems clear that not all the 2023 TV shows will hit the streaming service this year.
Also, Marvel might confirm various rumored projects planned for the upcoming phases. Like VisionQuest and WonderMan, to name a few. But Spider-Man 4 can't be one of them unless Sony somehow lets Marvel do it, which I strongly doubt.
Separately, we could see cast announcements at Comic-Con 2023. Like the highly anticipated Fantastic Four cast reveal, which is supposedly ready. But a SAG strike could kill such plans for SDCC, as the actors wouldn't be able to attend the event.
Comic-Con might also be where Marvel announces the new title for Captain America 4. Rumors say the film is no longer called New World Order.
All of that is speculation based on the current rumors concerning upcoming MCU projects. Comic-Con 2023 kicks off in San Diego on July 19th, so we have more than two months before Marvel takes the stage at Hall H. A lot can happen before then, especially concerning the writers' strike.