Whenever I have a spare moment, there's a good chance you'll find me with a book in my hands — and, more often than not, that book is one of John le Carre's many odysseys into the melancholic, riddle-filled world of secrets, spies, and deception. His 26 espionage novels run the gamut from Cold War cloak-and-dagger to the moral ambiguity of the War on Terror, with just enough realism and Old World allure to the prose that it's made this former intelligence officer and agent-runner the undisputed king of the genre.
Befitting that status, his books like The Night Manager and A Most Wanted Man (my personal favorite) have been adapted into movies and TV shows. His first three were written while he still worked for MI-6. The stories offer few heroes, while they abound with grey, gloom, and deceit. His legions of fans also include men and women of the fraternal order to which he once belonged, as well as those of us standing outside the secret world looking in. And, accordingly, le Carre is about to get the documentary he so very much deserves — with The Pigeon Tunnel, coming to Apple TV+ in October, also doubling as the final interview from the English novelist whose real name was David Cornwell.
I should point out, though le Carre aficionados will need no such reminding: The title of the documentary from director Errol Morris comes from le Carre's memoir of the same name. But it's also a phrase that, according to the writer himself, was almost always a placeholder title at one time or another for all his stories.
The "pigeon tunnel" is a reference to a memory from the writer's teenage years, when he accompanied his father on a gambling excursion in Monte Carlo. Nearby the casino was a sporting club, with a shooting range that overlooked the sea. Small tunnels ran under the lawn, through which the pigeons that had lived on the casino roof would flutter along until emerging into the sky over the Mediterranean. Easy targets, all of them, for "well-lunched sporting gentlemen" armed with shotguns. The pigeons that survived flew back to the roof of the casino, starting the grim process all over again.
It's easy, I think, to see why an old spook would find a metaphor in such a scene. From The Spy Who Came in From the Cold to Russia House, Agent Running in the Field, and Tinker, Tailor, Soldier, Spy, le Carre's stories are populated with protagonists at the mercy of bureaucratic inertia — of grifters and conmen, liars, mendacious spymasters, and anguished heroes, many with Dickensian names, who so very often find themselves at the mercy of The Great Game. The very nature of which requires duplicity as a core tenet.
"It's terribly difficult to recruit for a secret service," he says at one point in The Pigeon Tunnel (which debuts on Apple TV+ Oct. 20). "You're looking for somebody who's a bit bad. But at the same time, loyal. There's a type. And I fit it perfectly."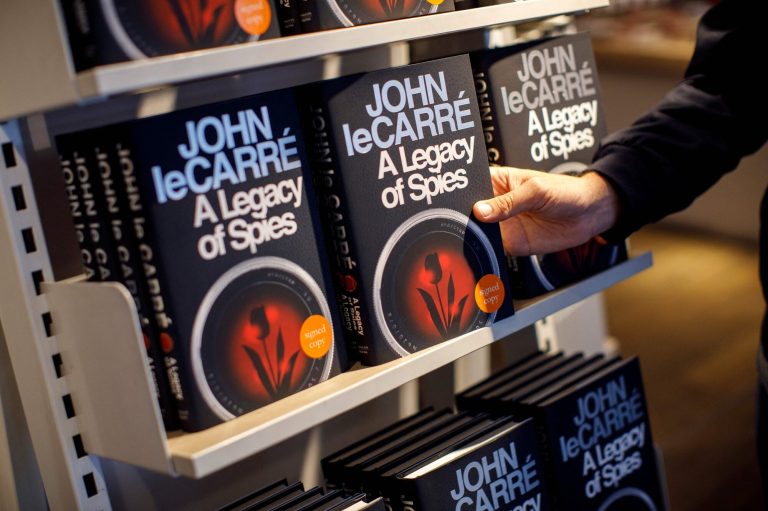 Continues le Carre: "When I was in MI-6, it wasn't enough for me. So what I did was reinvent the secret world. And fill my own people with it."
Graham Greene once raved about The Spy Who Came in From the Cold, with its jaw-dropping triple-cross, that it was the best spy story he ever read. Later books, like A Most Wanted Man, find le Carre putting his elegant pen to use in damning the short-sightedness of modern-day intelligence work, when he has Gunther Bachmann — who leads a secret German counterintelligence unit — bemoan about his own agency's stifling bureaucracy:
"We are not policemen, we are spies. We do not arrest our targets. We develop them and redirect them at bigger targets. When we identify a network, we watch it, we listen to it, we penetrate it and by degrees we control it. Arrests are of negative value. They destroy a precious acquisition. They send you scrabbling back to the drawing board, looking for another network half as good as the one you've just screwed up."
Whenever I think about le Carre, who died in 2020 at age 89, I find myself remembering some of my favorite passages from his novels, perhaps more so than the novels themselves or the characters and the puzzle-box mysteries they contain. When he writes that "A traitor needs two things — somebody to hate, and somebody to love," or "Do you know what love is? I'll tell you: It is whatever you can still betray," or, one spy to another, "We're not policemen … I sometimes wonder what we are," you realize as I'm sure The Pigeon Tunnel will make clear — that once you've read le Carre, nobody else comes close.