The newly released Netflix series Beef is like nothing I've seen from the streaming giant in quite some time — maybe ever. It's addictive, yet also fiercely experimental. There's depth and dark comedy hidden beneath a straightforward premise (which, if you've seen the trailer, is a reference to the road rage incident that sets the plot of Beef in motion). You'll go into it thinking it's one thing, but trust me: You have no idea what you're in for.
I know one thing this show is in for, though. Awards, and lots of them. A24's Beef is easily going to be a contender for Netflix's best series of 2023.
What's Netflix's new series Beef about?
The show, from creator Lee Sung Jin, starts off in the parking lot of a store in Los Angeles — where Steven Yeun's "Danny" almost backs his truck into the sleek SUV driven by Ali Wong's "Amy."
For reasons that become clear over the course of 10 episodes, we're shown how the ensuing road rage encounter is really the manifestation of a cyclone of anger and desperation swirling in both Danny and Amy. The former is a failing contractor with a chip on his shoulder, and Yeun is so good here that his Danny even scarfs down fast food with the desperation of a near-broken man.
As for Wong's Amy, she's a self-made entrepreneur who has (what looks like) a picture-perfect life. She, we come to learn, is trying to sell her plant business to the filthy rich Jordan, played by Maria Bello. In the meantime, she chafes under the thumb of her insufferable and wealthy mother-in-law.
Where Beef pulls off its magic trick is in drawing us into the humanity of two short-tempered and impulsive Angelinos. Eventually, they realize they're two sides of the same coin. They are different versions of each other — and, for that matter, you'll probably see a little of yourself in one or both of them, too.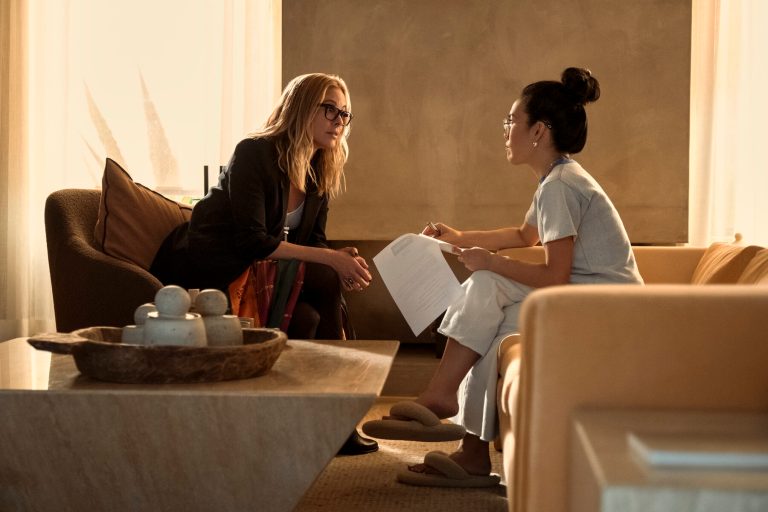 What begins as the story of an angry, random confrontation between two strangers soon enough goes to a much more interesting and even universal place — to the divide between the haves and have-nots. And to the unseen prisons that trap people in lives that they're desperate to escape from, whether the life they live is one of privilege or otherwise. Beef is also about fake positivity and real hunger and everything else swimming beneath the surface — especially the easy trap of falling for a first impression.
Another winner from A24
As noted above, this series comes from A24 — the company behind this year's Oscar darling Everything, Everywhere, All At Once — which is one of many indications that this is also a higher-tier Netflix series than the kind of show you're probably more familiar with from the streamer.
It also started strong right out of the gate, with a perfect 100% critics' score on Rotten Tomatoes. As of this writing, the show is also one of the most popular in the US — #2, for the moment, on the US Top 10.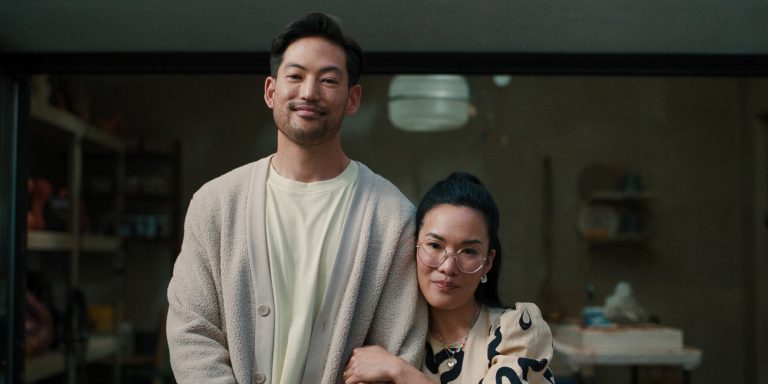 The A24-ness of Beef also extends to things like the art featured in the title cards for Episodes 2 through 10, which comes from original pieces by artist David Choe (he plays Isaac in the show). The art in the first episode is a Renaissance-era painting by Pieter Aertsen titled A Meat Stall with the Holy Family Giving Alms.
Then there are the episode titles, which all come from quotes by famous figures:
"The Birds Don't Sing, They Screech In Pain" (from Werner Herzog)
"The Rapture of Being Alive" (Joseph Campbell)
"I Am a Cage" (Franz Kafka)
"Just Not All At the Same Time" (Betty Freidan)
"Such Inward Secret Creatures" (Iris Murdoch)
"We Draw a Magic Circle" (Karin, from 1961's Through a Glass Darkly)
"I Am Inhibited by a Cry" (Sylvia Plath)
"The Drama of Original Choice" (Simone de Beauvoir)
"The Great Fabricator" (Simone Weil)
"Figures of Light" (Carl Jung)
'A real sense of apathy and loneliness'
I'd be remiss if I didn't also add a note of praise for the show's fantastic soundtrack. It's jam-packed with tunes from the 90s and 2000s, all of which fit perfectly the tension between the two leads here. We're talking songs like The Smashing Pumpkins' Today, Hoobastank's The Reason, System of a Down's Lonely Day, Paula Cole's I Don't Want to Wait, and Limp Bizkit's Nookie.
"The angsty rage to that era of music definitely suited the story and added to the tone of what was happening within these characters' worlds," music supervisor Tiffany Anders said in a Netflix promotional interview. "There was a real sense of apathy and loneliness, a very self-aware and confessional quality to the lyrics."
In addition to Wong and Yeun, the rest of the cast includes Joseph Lee, Young Mazino, David Choe, and Patti Yasutake. Maria Bello, Ashley Park, Justin H. Min, Mia Serafino, and Remy Holt are billed as recurring cast members.
Below, check out more images from the Netflix series that's going to make you think twice about cutting someone off in traffic ever again.