February is shaping up to be a pretty standard month as far as Netflix releases go, with a smattering of high-profile returning favorites — like You Season 4, and later this month Outer Banks Season 3 — while the rest of the month is sprinkled with docuseries, international titles, new reality shows, and much more.
Below, we'll walk through some of the most interesting new releases to check out next week on the streaming giant. They include yet another new love-themed reality series, as well as a slew of new TV shows and movies from around the world that will most definitely appeal to viewers who aren't afraid to take a chance on something new.
Ganglands Season 2
First up is the returning French crime drama Braqueurs (Ganglands, in English), which debuted on Netflix back in 2021. The key characters are Mehdi, a veteran thief, and Liana, a gangland noob who both get caught up in a turf war between drug dealers. They have to work together to survive and save their loved ones — and, suffice it to say, there are a lot of shootouts and dead bodies piled up by the end.
The original 6-episode season clearly performed well enough that Netflix felt a second batch of episodes was in order. Ganglands is the product of creators Hamid Hlioua and Julien Leclercq, both of whom have also been involved in other Netflix projects (the Netflix series La Revolution and the French thriller movie Sentinelle, respectively).
Season 2 of Ganglands arrives on Netflix on February 17.
Perfect Match, The Upshaws Season 3 + more Netflix releases
Moving right along, this next one is for the reality series fans among you.
The 12-episode Netflix release Perfect Match, coming on February 14, brings together single stars from Netflix's other unscripted series like The Mole, Too Hot to Handle, Love is Blind, and The Ultimatum, among others. They're dropped into a tropical paradise in an attempt to find love, which is pretty standard stuff — until you learn the twist.
The most compatible couples get to break up other couples and send them on dates with newly arrived singles to the show's villa. "Will they create better matches, or will they create chaos?" Netflix's promo language teases. Um, I think we know the answer to that one, don't we?
And on a somewhat related note: Continuing in that same lighthearted, un-serious vein, Season 3 of the charming Netflix comedy The Upshaws — about a Black, working-class family in Indianapolis — will also arrive next week (on February 16), bringing with it a whole new season's worth of laughs.
Bennie Upshaw, played by Mike Epps, is the head of the family and works as a mechanic in order to provide for his family. And speaking of his family, they include his wife Regina (Kim Fields), two young daughters (Khali Spraggins, Journey Christine), and firstborn son (Jermelle Simon), as well as the teenage son (Diamond Lyons) he fathered with another woman (Gabrielle Dennis). Wanda Sykes also adds her comedic talent to the show, playing Bennie's sardonic sister-in-law.
Additional Netflix releases to check out
In addition to the titles listed above, meanwhile, several other Netflix releases coming next week include a handful of international titles — both movies as well as new TV series. Those include:
Re/Member: In this Japanese horror movie, a group of high schoolers is stuck in a time loop, and the only way out is to find the scattered remains of an unknown victim to break the curse. Release date: February 14.
The Law According to Lidia Poet: This 6-episode Netflix release that dramatizes the story of Italy's first female lawyer is set in Turin during the late 1800s. Lidia Poet has just been handed a defeat by the Turin Court of Appeals, which declares her admission to the bar association unlawful. Prevented from practicing law just because she's a woman, Lidia secures a job at her brother's law firm, helps defend criminal suspects, and prepares an appeal of the court's ruling in her case. Release date: February 15.
A Girl and an Astronaut: The plot of this 6-episode series feels a little like it wants to be a Polish Interstellar. Basically, two friends who are also F-16 pilots compete for a spot on a space mission (they're also in love with the same woman, Marta). Niko wins the spot and comes back 30 years later not having aged at all. Release date: February 17.
Full Swing: From Netflix's official synopsis for this 8-episode docuseries, Full Swing "follows a diverse group of professional golfers on and off the course across a relentless season of competition — enduring a high-stakes schedule week in and week out on the PGA Tour. The cameras will follow golf's biggest events for the first time ever including The Players, the Masters Tournament, PGA Championship, US Open, The Open Championship, and the FedExCup Playoffs." Release date: February 15.
Unlocked Korean drama
Finally, Korean-language content remains one of the biggest and most consistent draws on Netflix around the world, with Korean series like Squid Game remaining among the streamer's biggest of all time.
We've prepared a guide of some of the best existing K-dramas to watch on Netflix, including gems like Vincenzo and Crash Landing on You. On February 17, Netflix will add another release to its collection in this genre: The movie Unlocked, and here's what you need to know about it.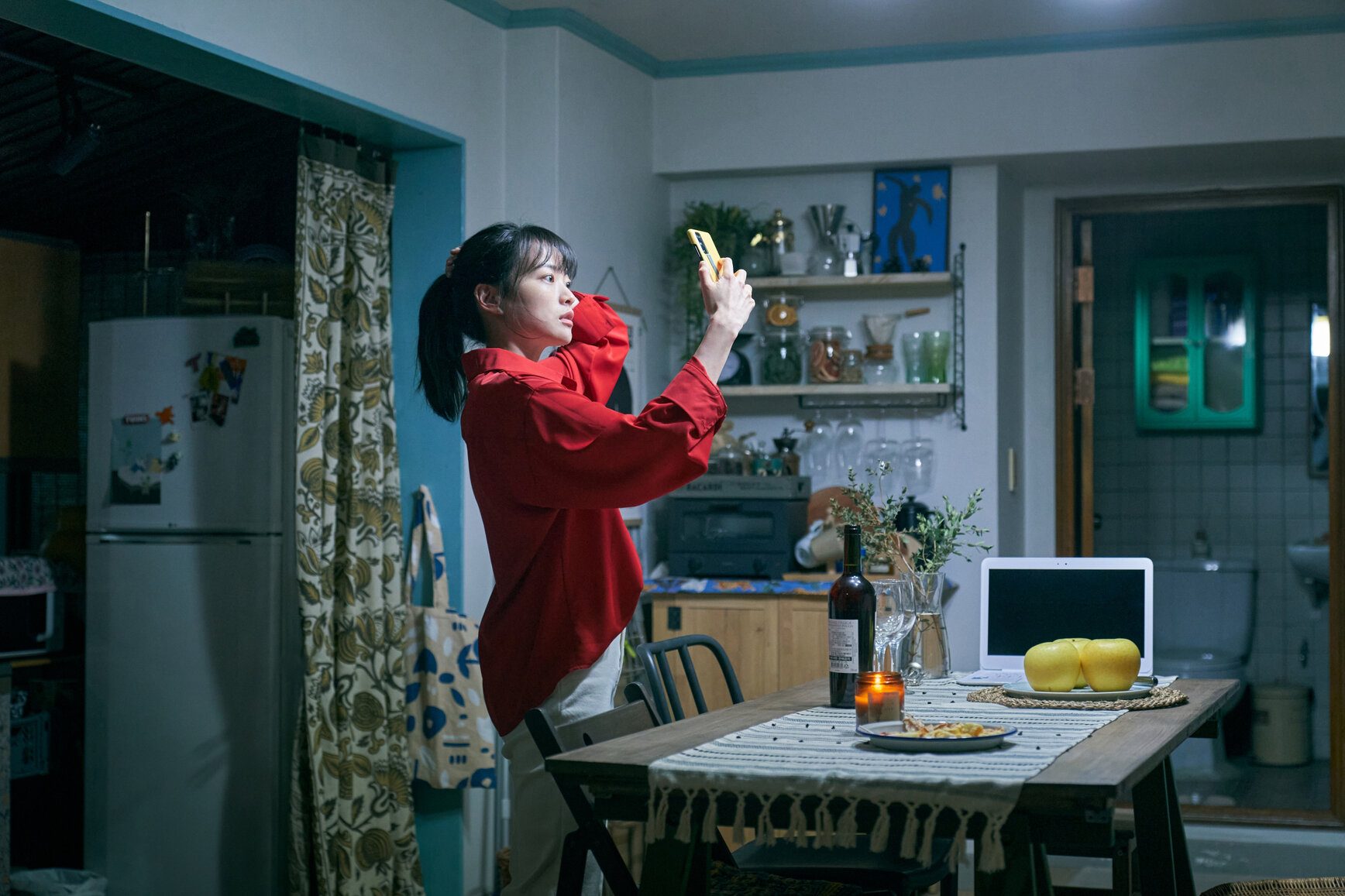 The plot basically follows all the terrifying ways a young woman's life comes undone when she loses her phone containing all her personal information. From Netflix's official synopsis:
"On her way home from work, Na-mi (Chun Woo-hee) loses her smartphone, containing everything about her. Jun-yeong (Yim Si-wan) finds Na-mi's phone and returns it to her, but after installing spyware. By tracking her everyday life, he learns all he can about Na-mi — her whereabouts, hobbies, tastes, work life, finances, and social network — and approaches her by concealing his true identity.

"In the meantime, police detective Ji-man (Kim Hie-won) finds traces of his son Jun-yeong at a murder crime scene and secretly investigates Jun-yeong, suspecting the worst."