Did you think smart home devices were going to be another fly-by-night trend when they first started to emerge? Don't worry, there were plenty of other people who thought the same thing. Hey, we all make mistakes. In this roundup, we'll show you all the best smart home device deals and sales in September 2022.
We can still remember all the "hot takes" when smart home devices first started picking up steam. Who wants a connected coffee maker? Why would anyone need to turn off a lamp with a phone?
---
Featured deals in this article:
---
Well, at this point we can safely say that smart home gadgets are clearly not a fad. In fact, the exact opposite is most definitely the case. You can find pretty much anything and everything with built-in connectivity these days.
And smart home gadgets like the popular ones on Amazon aren't going anywhere anytime soon. Especially not with the incredible smart home device deals we found for September 2022.
Prime Day 2022 might be behind us, but there are still plenty of excellent deals out there!
Are you new to the smart home gadget space? Or is your home already littered with connected devices?
In either case, there are always cool new things being released all the time. On top of that, long-time best-sellers are constantly being discounted over at Amazon. That means something you passed up before might be a steal right now while it's on sale.
In this post, we've rounded up 10 different smart home devices Amazon shoppers can't get enough of right now.
Best smart home devices on sale now
The TP-Link Kasa Mini Wi-Fi Smart Plugs everyone loves so much are the new version of the model that has been a best-seller for as long as we can remember. They're more compact than ever before and they retail for $30 per 4-pack.
That is already about the same for a 4-pack as you'll pay for one rival smart plug. In fact, Amazon's own smart plugs retail for $25 each! As good as TP-Link's price is, however, you can save even more if you buy a set right now. Thanks to a limited-time sale, your cost per smart plug is only $6.25. That's a new all-time low price!
Or, if you're not tied to the Kasa brand, you can spend even less.
Get Esicoo Wi-Fi smart plugs with thousands of 5-star Amazon reviews for $4.69 each. Plus, they still work with both Alexa and Google Assistant just like the Kasa plugs. At under $5 apiece, you won't find a better deal on top-rated smart plugs.
More great deals for September 2022
Oh, and what about the insanely popular MyQ smart garage door opener? It's selling for $29 right now on Amazon, which is more than fair. But if you use a recurring promotion, you'll end up getting yours for free.
Amazon's Key promotion constantly comes and goes, so you'll have to keep an eye out for it. Once it returns again, you'll be able to get get a $30 Amazon credit for buying a $29 device and trying Amazon Key delivery.
The only problem is the Key promotion is that as I mentioned, this promo keeps coming and going. If it doesn't work for you this week, however, you should definitely check that page again next week to see if it's back.
Those deals are great, and there are so many more great sales going on right now at Amazon. You can save $10 on the newly upgraded SwitchBot Curtain that transforms any curtains into smart curtains. Plus, get the SwitchBot Hub Mini so you can control your curtains with your voice or smart home system. Just like the SwitchBot Curtain, the hub is also $10 off right now
Better yet, the new Wyze Cam v3 Spotlight home security camera with color night vision is on sale with a slight discount. Or, save a whopping 30% on the Wyze Cam v3 + Cam Plus bundle! This awesome smart camera almost never goes on sale!
You can also pick up a best-selling Govee Smart Bluetooth Meat Thermometer for just $22.99, which is a terrific deal.
Top 10 smart home devices on sale in August 2022
Scroll through all 10 of our picks below to see more of the best smart home devices on Amazon.
---
TP-Link Kasa Mini Wi-Fi Smart Plugs
Insanely popular TP-Link Kasa Mini Wi-Fi Smart Plugs are the #1 best-selling smart plugs out there among BGR Deals readers and it's not even close. Of course, it's pretty easy to figure out why.
These awesome smart plugs include all the features you'd expect. They're all durable and an app that is a cut above most rival offerings. The most popular model sells for $15 each, but Amazon's awesome deal recently offered shoppers a nice big discount.
They sold out fast back then and they've continued to sell out pretty regularly ever since. Now, they're finally back in stock again for even less than they cost last year on Black Friday. In fact, these best-selling smart plugs just hit a new all-time low price!
Of note, this is the newest model that's even more compact than the previous version.
Amazon's current deal on TP-Link Kasa Mini Wi-Fi Smart Plugs could sell out yet again now that the cat's out of the bag. This deal first popped up last month and it was scheduled to end earlier this month. It did end… but now it's somehow back!
---
Esicoo Wi-Fi smart plugs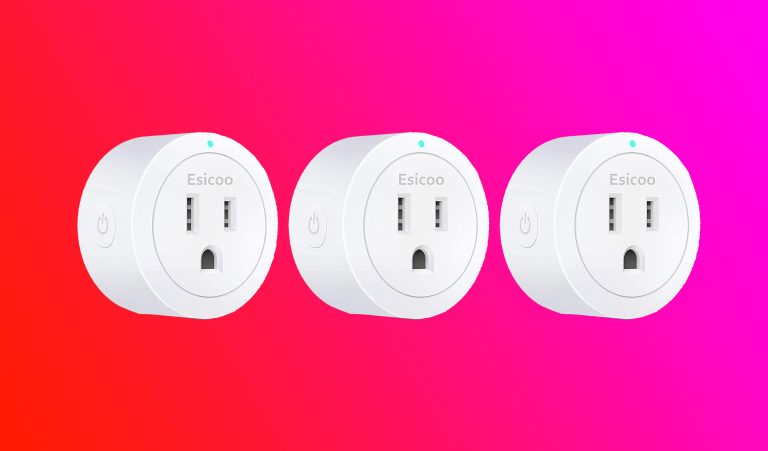 If you want reliable plugs that are remarkably affordable, this is as good as it gets. These Esicoo Wi-Fi smart plugs work with every major voice assistant and smart home platform, and Amazon shoppers love them. Smart plugs are must-have smart home devices, and this is as cheap as it gets.
This best-selling option works with Amazon Alexa, Google Assistant, and popular smart home platforms
The free companion app for smartphones lets you control your plugs from anywhere
Works with iPhone, Android phone, or tablet
No hub required
Control your plugs manually or set schedules, timers, and rules
Create groups to control more than one plug at a time
Easy to install and easy to operate — the perfect addition to any smart home setup
---
Wyze Cam v3 Spotlight home security camera
Wyze's awesome next-generation Wyze Cam v3 Spotlight home security camera has all the key features that made the original and second-generation models so popular. That includes nice clear 1080p video, motion and sound detection, two-way audio, and 14-day rolling cloud storage for free (that's right… FREE!).
Plus, you get a companion app for iOS or Android that's streamlined and easy to use. It also integrates with smart home platforms and even supports popular voice assistants like Alexa and Google Assistant.
Then, on top of all that, it has a fantastic new feature that colorizes night vision recordings! That way, they're clearer, more vivid, and up to 25 times brighter. How cool is that?!
Other home security cameras are equipped with standard night vision that works pretty well, to an extent. But anyone who has seen night video captured by those cameras knows that it's not exactly crystal clear.
In fact, plenty of footage recorded at night isn't even clear enough to make out a person's face. Doesn't that sort of defeat the purpose?
The upgraded Wyze Cam v3 Spotlight is terrific, and it's definitely a steal at its full retail price of just $52. Grab one now, however, and you'll pay even less than that. It's not a massive discount, sure, but this model rarely goes on sale. In fact, the last time it went on sale, the discount only lasted for a few hours.
We wouldn't be surprised to see this deal disappear very soon. But when it does, the Wyze Cam still costs so much less than rival models at $52. It truly is the best home security camera on Amazon despite costing a fraction of what big brands charge.
---
Chamberlain MYQ smart garage door opener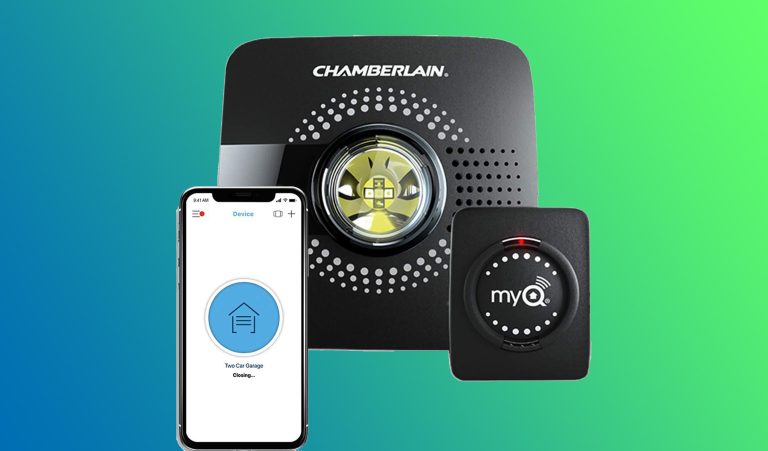 The MyQ smart garage door opener is back in stock right now after having sold out recently. It used to retail for $40, but now it's just $29 even when it's not on sale. Sometimes, however, there are extra discounts you can take advantage of.
Even if you miss out on snagging one with an extra discount, there's still another way to save. On top of any other deals, you can often take advantage of a special promotion.
The MyQ works with Amazon's Key service for in-garage deliveries, and you can get a $30 Amazon credit if you enter the promo code KEY30 when placing your first Amazon Key order.
If you're able to catch this promotion when it inevitably comes back, you'll basically end up getting a MyQ for free. How amazing is that?!
This is one of the best smart home devices out there, so you're getting a great deal either way.
---
SwitchBot Curtain
Anyone who has seen them knows that smart curtains and smart blinds are awesome. Unfortunately, they can also be excruciatingly expensive. That's why the SwitchBot Curtain smart curtain controller is so awesome.
This brilliant Amazon find works with just about any setup you might have. The only curtains that won't work are the kind that has grommets. It takes about 30 seconds to install a SwitchBot Curtain on any curtain rod.
That's not an exaggeration. You'll probably spend more time finding your step stool than you're going to spend setting up your SwitchBot Curtain.
After that, all you need to do is install the app and you'll be able to open and close your curtains right from your smartphone or using timers!
The SwitchBot Curtain retails for just $99, which is a phenomenal value. It's on sale right now though, and it's a steal at the discounted price.
If you want the full experience though, you'll need one more gadget that happens to be on sale right now at a new lower retail price. Definitely pick up the $39 mini hub so you can connect everything to your smart home setup.
---
Govee Smart Bluetooth Meat Thermometer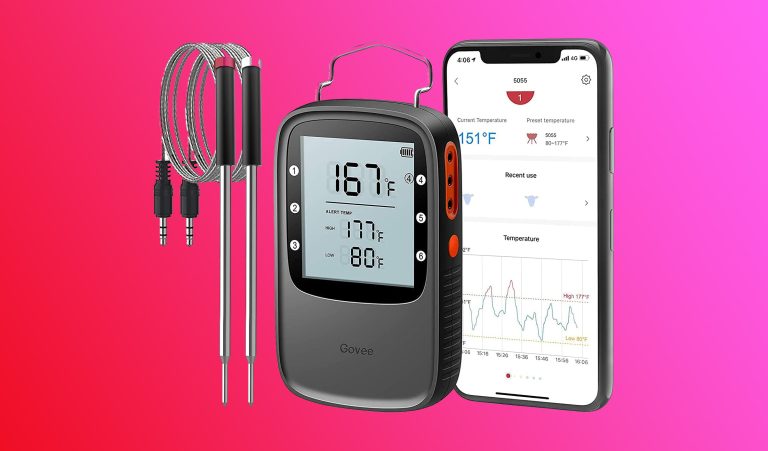 I cook steak and other meats perfectly every single time. But I'm definitely not a professional chef or even really an amateur chef. If I'm not a whiz in the kitchen, how do I cook my dishes perfectly every single time?
Well, I just found a little gadget that makes it almost impossible to cook anything but perfect steak. It's called the Govee Smart Bluetooth Meat Thermometer, and it's one of the best purchases you can make for your kitchen and grill.
All you do is pop in a probe before you put meat on the grill or in the pan. It stays in place the entire time you cook. The gadget connects wirelessly to your smartphone and relays internal temperature readings in real time. Then your phone alerts you when it reaches the target temp so you can stop cooking. How brilliant is that?!
There are plenty of similar products out there, but this one is particularly popular for a few reasons. First, the long-range connectivity works at a distance of up to 196 feet.
It also costs much less than most rivals thanks to a new lower retail price and an extra discount. You'll receive the Govee Smart Bluetooth Meat Thermometer itself along with two temperature sensors that run into your grill or onto your pan if you're using a cooktop.
Also, if you want four sensors instead of two, there's a different deal you need to see.
The top-rated Soraken Wireless Meat Thermometer with 4 Probes retails for $50. It's a best-seller at that price, but there's a big discount right now for Prime members. That means if you hurry, you can pick one up at the lowest price of the season.
---
Kasa Smart Light Switch HS200
---
Best-selling Philips Hue bundle
---
August Wi-Fi Smart Lock (4th Gen)
---
Lumiman Smart WiFi Light Bulb
---
BroadLink Smart Home Hub-WiFi Remote Control IR Blaster
---
Go here to see this month's best deals online!