Another jam-packed week of iOS game releases has arrived on the App Store, headlined by the Pokemon Go clone Jurassic World Alive. Just like Pokemon Go, you'll walk around the real world, running into dinosaurs out in the wild that you can capture and use in player-vs-player battles. But if that doesn't sound interesting to you, there are ten other games to keep you busy, including a Goosebumps game and a neat top-down shooter.
Feist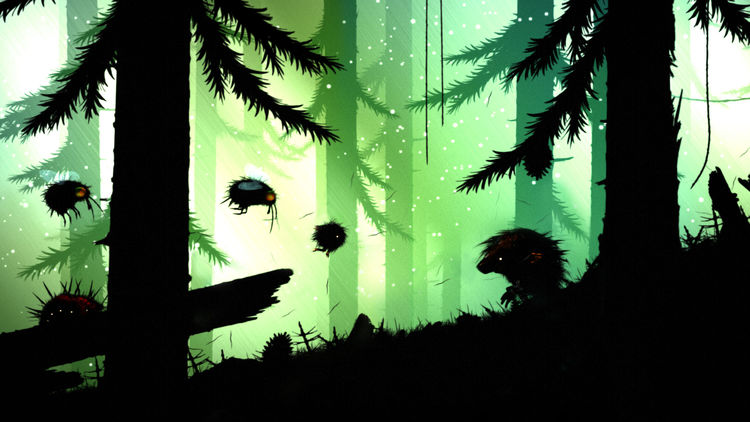 Feist is a multi-award winning, beautifully handcrafted action game. It follows the story of a fragile little fur creature and its desperate attempt to rescue its mate from the clutches of a pack of malicious predators. The journey to the heart of a mysterious forest soon becomes a savage and merciless fight for survival as everything in this mesmerizing but deadly environment wants to eat you.

Key Features:
• A desperate and merciless fight for survival
• A striking visual style
• A rich and vivid world full of strange beasts
• A dynamic gameplay. All elements play together and contribute to the game beyond their core function
• Enemies with surprising emergent interactions, a complex AI and a set of versatile abilities
• Gorgeous natural environments and an enchanting, spooky atmosphere
• A true labor of love full of details
• A haunting soundtrack by Tomek Kolczynski
• Full gamepad support
• Game Center achievements
• Fully translated to French, German, Italian, Spanish, Portuguese, Russian, Simplified & Traditional Chinese
---
Flame Knight: Roguelike Game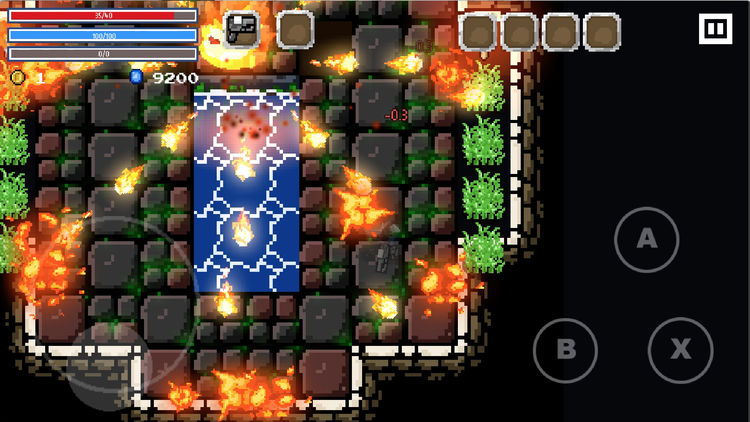 This is a science fiction themed arcade shooting game, providing you the most heady shooting experience together with classic Roguelike features such as dungeon questing, gathering and mining.

One day, an exotic starship from outer space crashed on Earth. Inside the starship, people have found a functional portal in which human adventurers could use to teleport, but the destinations were unpredictable. It could be a distant outer space dungeon, an uncharted dark cave, or the cargo hold of a ghost ship …

You're going to explore random maps like a hunter, fighting fiercely against all kinds of unknown creatures or giant Bosses, while collecting many special weapons and prized talismans. The only way to get the fun is to play it!

Game Features

– Arcade game with heady shooting experience
– Various interesting weapons with different functions
– Dual-wielding system allowing you to equip different guns on both of your hands to fit multiple attack strategies.
– Roguelike RPG themed game with randomly generated maps
– Featuring classic Roguelike elements such as exploration and gathering in dungeons and caves
– Numerous hidden secrets for you to find out
– Mining system allows you to unearth and claim all kinds of talismans
– Character leveling system which you can spend attributes to powerup your character
– Various items to expand the gaming experience
– Vintage tile-based pixel art graphics
– Stay tuned for more
Download Flame Knight: Roguelike Game
---
Gardius Empire
Enter the Legendary World of Gods and Heroes!
Embark on an outstanding visual experience and battle-riddled adventure to re-write the fate of the Gardius Empire.
Prepare for the ultimate battle for the throne.

Summon and collect powerful mythical heroes!
– Strategically create your ultimate army by choosing heroes of various attributes.
– Evolve and upgrade your heroes to increase combat power.

Immerse yourself in a larger-than-life battle!
– Battle for the throne in celestial wars. Conquer the Royal Palace, and become supreme Commander!
– Hunt monsters and mine natural resources with and against other players worldwide.

Upgrade and build your own empire!
– Collect resources and upgrade your base and army.
– Customize your base by discovering and unlocking new content.
---
Goosebumps HorrorTown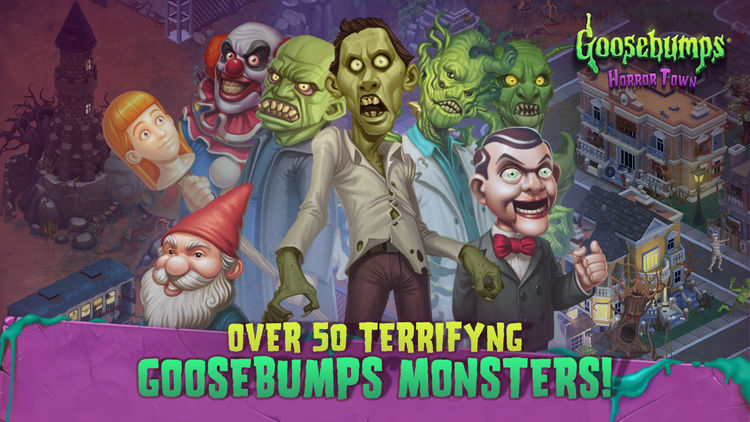 R.L. Stine's "Goosebumps" monsters have come to haunt your phone! In Goosebumps HorrorTown, you can build a town and fill it with the scariest of monsters from the hit horror series.

Gather a scary assortment of sinister creatures and terrify townsfolk, or play as humans to defend against the monsters! Collect resources, scare humans, investigate monster activity and explore the map to unlock new areas and adventures.

As monsters, you can scare humans to obtain materials and add new Goosebumps monsters. As humans, you can spy on monsters to find out what's going on in their town (if you dare).

The game features original content that will terrify and delight Goosebumps fans, with animations and missions for humans and monsters alike. The more experience you gain, the more you unlock new content, grow your town and discover chillingly fun new adventures.

KEY FEATURES
+ Build & manage the town of terror!
+ Create a complete collection of Goosebumps monsters!
+ Over 100 playable characters!
+ Craft and sell new items!
+ Scare humans to collect special materials!

Are you ready to brave the horrors of Goosebumps? Download today, and enter HorrorTown…
Download Goosebumps HorrorTown
---
Jelly Dance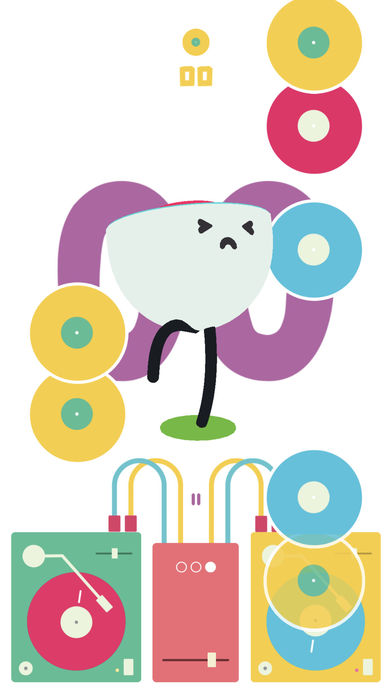 Match hip hop beats with classic turntables in this cute and clever deejay ryhthm game with simple one hand tap and play!

Unlock multiple characters, songs, and classic dance moves like The Running Man, The Charleston, and Grade-6-home-room-dance-side-step. Go old school to new school and there and back again.

Forewarning, you're going to need mad DJ skills to keep your people cutting them rugs on the dance floor. Yes, this is a dance, dance revolution indeed.

And lest ye forget, remember folks, you've got to get up to get down

Jelly Dance features:

• AR Mode (put characters anywhere)!
• 6 un-lockable characters
• Each character has unique song (old school to new school).
• Super awesome dance moves and animations
• Animated sticker packs
• Haptic Feedback
• Gamecenter leaderboards
• Gamecenter achievements
• iPhone X optimized
• Animated sticker pack for iMessage
---
Jurassic World Alive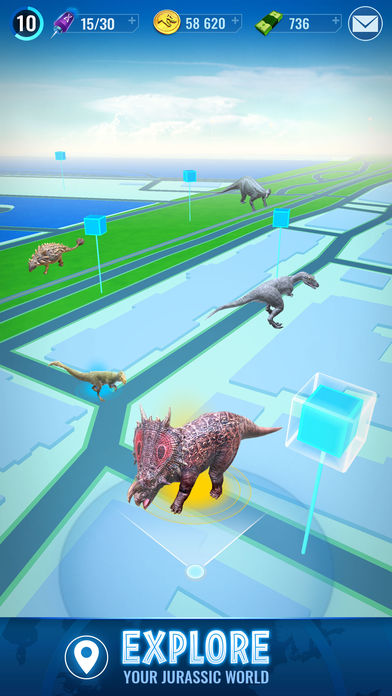 They're ALIVE in our world!

Dinosaurs have returned to rule the Earth. They have fled Jurassic World on the unstable island of Isla Nublar… and they're roaming free in your cities and neighborhoods.

As a brand-new member of the Dinosaur Protection Group (DPG), your mission is to save dinosaurs from a second extinction. Explore your surrounding area to find your favorite dinosaurs – including new breeds that are more awe-inspiring and terrifying than ever before. Activate augmented reality (AR) to interact with these unbelievable creatures in the real world.

Track these magnificent animals with a drone and collect DNA samples needed to level up and create hybrids in your Lab. Then, assemble the perfect dinosaur strike team and take on dangerous threats in real-time PVP arena battles!

EXPLORE your world with location-based technology and discover dinosaurs on a map. Identify behavior patterns to track specific species in their natural habitats.

COLLECT rare and powerful breeds by flying a drone with precise accuracy. Capture DNA samples and maintain a full roster of thriving prehistoric animals.

CREATE hybrid creatures by combining the genetic traits of multiple species to develop their strengths and abilities.

BATTLE a strike team of dinosaurs to defend against threats to your mission and challenge others in real-time PVP competitive arenas.

EARN rewards such as in-game currency and battery life for your drone by finding Supply Drops on the map.

SHARE your legendary dinosaur collection with friends by posting your AR images and videos to your social pages!
---
Justice Royale
Justice Royale is a fast paced Brawler with RPG elements, completely built for the mobile environment!

Swipe and tap your way through out the city, battling reckless bicyclists, oblivious tourists, dangerous subway performers and much more.

The city is depending on you to bring justice and balance to these mean streets, can you answer the call? #GetYourGloves

Features:
• Intuitive gesture-based controls give you an unparalleled gameplay experience!
• Play through episodic levels!
• Battle for experience points in survival modes!
• Challenge a dangerous enemy in a 1 on 1 battle at night!
• Customize your hero's appearance.
• Unlock new skills for your hero by earning experience points!
• Unlock audio tracks for the main menus!
---
Ninja Dash – Ronin Jump RPG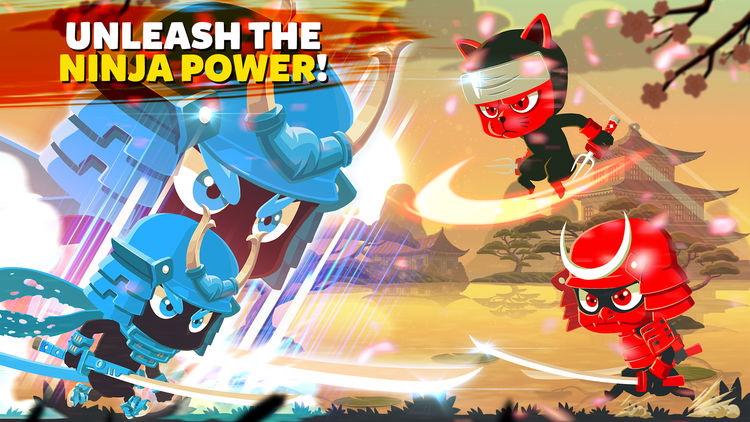 Your ninja training is over and it's time to become the ultimate warrior ninja you're meant to be! Take your katana, grab some shurikens and step into the Ninja Dash world!
A new ninja fighting game that brings your a real arcade fight experience mixed with RPG and idle elements: Jump, slash and kill the demons; upgrade your warrior and craft weapons; follow the ninja path and recover the stolen Master Sushi! Gambatte!

NINJA DASH FEATURES

– Addictive HACK n SLASH ACTION in an new Japanese arcade fighting game!
– RPG elements: get resources a & CRAFT your own Samurai WEAPONS!
– Different NINJA WARRIORS to choose & LEVEL UP!
– TWO FINGERS control: Tap to Jump, dodge, slash and Smash the Devil ninjas!
– NONSTOP ACTION with new Game modes! Challenge mode, Boss Battles…
– Chain COMBOS together, RUN & KILL all the Monster, get a Super Soup & become GIANT!
– TRAIN your SHINOBIS in the Sensei's Dojo and be UNSTOPPABLE!

Download now Ninja Dash RPG Ronin Jump for FREE and be the Hero that will stop the Devil Shogun and end this Samurai War!

Ninja Dash is a real ninja fighting game, a true arcade game experience that will hook you up for hours! Master your assassin skills and be the ninja arashi that will defeat the devil ninja army! Jump now into this addictive adventure: take your katana and slash the demons, jump and dodge their shurikens attacks, Run and revenge your Sensei!

Classic arcade fighter gameplay that feels fresh in your hands. An easy control system that brings you an addictive hack n slash game experience:
Just a simple Two finger tap control, easy at first, but it's hard to master! A challenge appropriate for a samurai warrior. Jump and dodge the enemies attacks or hit and slay them with your blazing ninja katana. Your ability is the only weapon here, performance amazing parkour trick, defeat the ninja demons and recover the master sushi!

Performance a double jump, dodge the enemy attack and fall over their heads! Move like a shadow and fight the monsters as a legendary japanese warrior.
Escape from dangerous situations using ninja skills and break through the enemy castle and defeat the region boss!

The path to become a ninja is not only smashing enemies and jumping over the rooftops. During this samurai war you will face differents challenges and Gamemodes in every region:
– NINJA REVENGE: Slay all the devil ninja shadows in the level, claim your reward and gain experience for level up your heroes!
– STEAM BOMB: Transform yourself into a flying ninja chicken and escape the battle jumping and dashing through the japanese sky!
– NINJA SHOWDOWN: Try to survive the horde of demons during this is a non stop rush! An infinite battle in an endless ninja runner mode where your katana will be your only friend!
– EPIC BOSS BATTLE: Fight and complete all the missions and start de samurai siege against the Shogun castle! Are you ready for the Final fight?

Seems that you've mastered the Ninja warrior skills so, you need an appropriate sword for your level! Collect some materials and craft a legendary katana sword, or visit the store and buy some special gear for your next fight and finally get your ninja revenge!

Loot the villages, gain rewards and get resources for crafting new weapons and assassin armours. Any ninja who want to become a samurai master must wear the best outfit in the region! Get the ultimate blazing sword or epic sais and level them up to increase their damage power. Collect the region relics and gather the ultimate ninja gears and customize and upgrade your ninja shadow with helmets, armours, bracelets and other japanese shinobi items!

Download now Ninja Dash RPG Ronin Jump for FREE and Face the fighting challenge that all warriors must complete to become a Ninja assassin!
Download Ninja Dash – Ronin Jump RPG
---
Space Drift!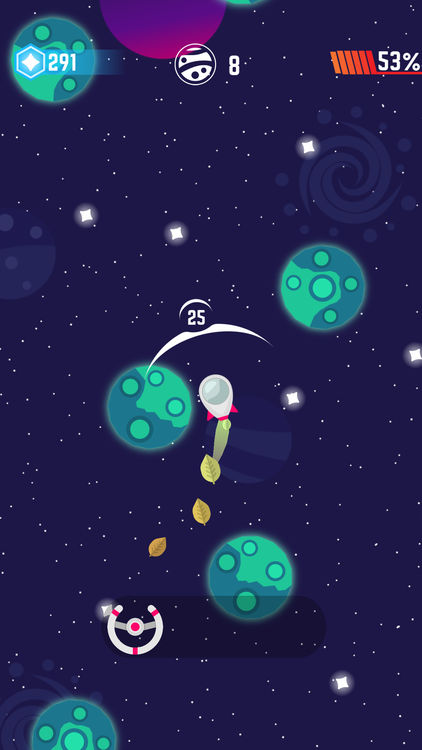 Space Drift is an endless flyer with an open world. Follow the arrow of the radar to find and explore new planets. You will have to learn how to operate a rocket, which is not easy. Be careful, the space is full of dangers. You will be surrounded by a huge number of asteroids. Be prepared to avoid the flaming comets and escape from deadly projectiles aliens. Do not forget to collect the stars, on your way. And hurry up, because the amount of fuel is limited!

Features:
– 7 colourful planets
– Infinite open world
– Unique spaceships
– Effective trails
– Sudden obstacles, that will not let you relax
---
Space Pioneer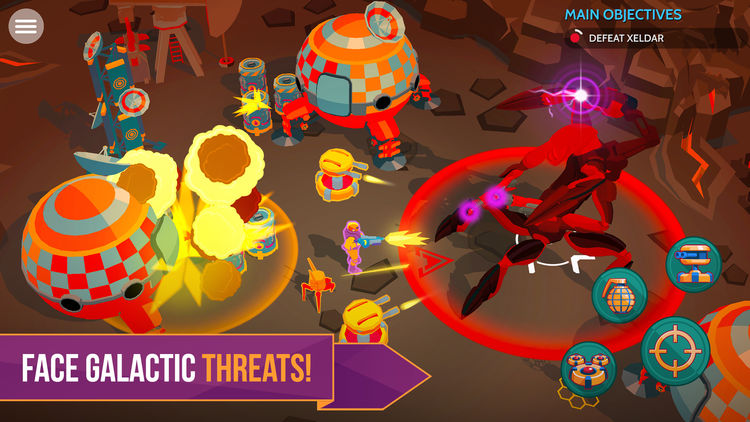 Use the latest hi-tech weapons and skills to crush your enemies and earn loot to unlock awesome new gear and upgrades. Lock and load!

DISCOVER NEW GALAXIES & EXPLORE INCREDIBLE WORLDS
Explore strange new worlds with your trusty robot sidekick. Make your way across fantastical planets from the icy tundra to the lush jungles brimming with flora and fauna.

ARTISTIC LOOK & FEEL
Unique art & music direction creates vivid pastel worlds you've never seen before.

ACTION-PACKED GAMEPLAY
To make it through hordes of aliens, you need to be a skilled, versatile hunter. Fast top-down shooting action will test your combat reflexes and tactics to the max – never let your guard down.

DYNAMIC OBJECTIVES SYSTEM
Recover stolen disks, defend probes, repair crashed craft and complete missions to earn loot and unlock awesome gear and skills. Every time you play missions have new objectives, enemies and additional challenges.

INFINITE GALAXY
The endless universe has countless hostile galaxies to conquer. Combined with a dynamic objectives system, the gameplay is truly infinite in Space Pioneer.

UPGRADE YOUR WEAPONS AND SKILLS
Get even more firepower for your machine gun, shotgun and flamethrower. Earn loot to upgrade the weapons and gear including gun turrets, rifles, blasters and mines. Unlock dozens of combat skills to give you the fighting edge.

ANNIHILATE GIANT BOSSES
From aggressive robots and giant mechs to venomous hornets, face-off against massive bosses, each with unique offensive and defensive capabilities, including reinforced shields and powerful beam blasts.

STOP THE HORDE
Battle it out against increasingly tough waves of ferocious aliens in horde modes to obtain tasty loot and experience in three difficulty levels: normal, hard and hell. There is no easy mode in Space Pioneer.

BUILD YOUR OWN SPACE BASE
Customize and upgrade your base to increase your resource production and power up your equipment.
---
Super One More Jump
Simple to learn one button controls. Hard to master levels. Test your muscle memory, concentration and sanity!

Features:

– 150+ Hand-crafted levels
– 80 2-Player Co-Op Levels
– Insanely-hard challenge levels! (no seriously, enter at own risk..)
– Daily endless mode : One new level every day!
– Circuit mode: How many cycles can you do?
– Original music soundtrack by Batterie

Customise your character with easily unlockable themes & avatars from some of our favorite pixel artists:

– Toby Dixon(@tbdxn)
– Ilija Melentijevic (@iLkKke)
– Cocefi (@chickysprout)
– Sven 'ptoing' Ruthner (@the_ptoing)
– Mister Hk (@mr_hk_)
– Stephane Boutin (@JGSBoutain)
– Helm (@helm_ll)
– Anders Gullmarsvik (@itchabop)
– Ian Cid (@skydevilpalm)

How to Play:

– Tap anywhere on the screen to JUMP
– Time your JUMPS between platforms using power-ups, patience and skill
– First play the levels, then when you are READY take on our daily endless challenges and compete for daily leaderboard glory!
– Collect all three level diamonds to show your mastery