PUBG Mobile might be the talk of the mobile world (and understandably so), but the sleeper hit of the year might be hidden in this week's list of new free games on the App Store. I'm talking about Shadowgun Legends, which looks like someone shrunk down Destiny and put it on the iPhone. If you always wanted to know what it would be like if you could take Destiny on the go with you, do yourself a favor and give the new Shadowgun a try.
Cartoon Network Match Land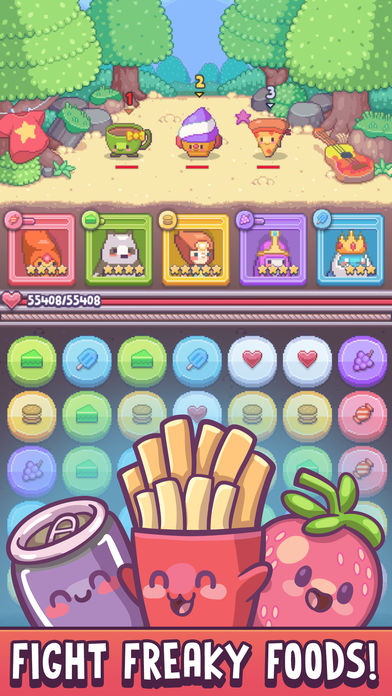 Build a team of your favorite Cartoon Network characters to conquer a unique match 3 adventure in Cartoon Network Match Land!

MATCH 3 WITH A TWIST
Once you make a match, you can keep on matching until the timer runs out. How many matches can you string together? Plus, you can move pieces diagonally to put a whole new angle on classic match 3 gameplay.

FOOD FIGHT FRENZY
Battle a horde of sentient food items to keep the Cartoon Network Food Festival running. Punch a pizza! Clash with cupcakes! Fight some french fries!

YOUR FAVORITE CHARACTERS
Choose your heroes from 20 different Cartoon Network characters with unique abilities. And keep your eyes peeled for CN cameos among the customers and shop owners!

UPGRADES GALORE
Level up your heroes, then evolve them into much more powerful versions. Earn gold from 20 different food shops you can unlock and upgrade.

LUNAR SEA SPIRE ARENA
Get even more gold, gems, tokens, and other goodies in the Lunar Sea Spire, an entirely separate arena mode that lets you test your team's true power for awesome rewards.

Match your way to victory in CARTOON NETWORK MATCH LAND!
Download Cartoon Network Match Land
---
Crazy Defense Heroes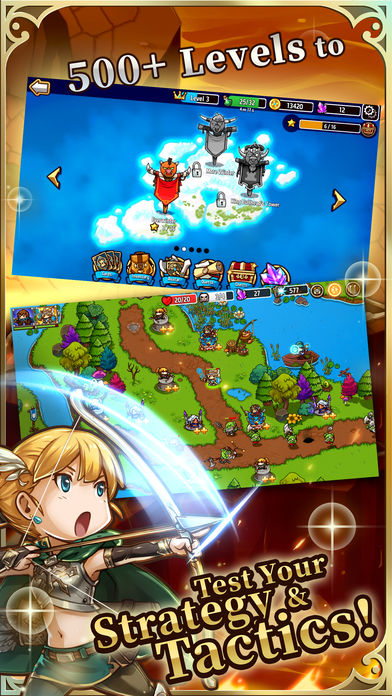 • From the developer of 『Crazy Kings』!
• Create your army and battle hordes of evil in this glorious combination of Tower Defense, RPG, and Collectible Card Game!

Construct towers of power in preparation for an onslaught of monster hordes, master several spells, and deploy your champions into battle!

The world teeters on the brink of catastrophe as evil tyrants invade weaker kingdoms in their quest to steep the world in eternal darkness. But one hero has been prophesied to purge the realms of their evil : you. Crazy Defense Heroes unites the strategic deck building of Collectible Card Game with the mechanics of Tower Defense!

• COLLECTIBLE CARD GAME MEETS TOWER DEFENSE! •
Over 90 cards to collect! Use Hero Cards to deploy your champions into the battlefield, Tower Cards to cover strategic points of control, and Spell Cards to blast those baddies into smithereens!

• 500+ LEVELS TO TEST YOUR METTLE AND MIND FOR TACTICS! •
March your troops through lush forests, chilling tundra, rolling hills, arid deserts, and more to battle fearsome hordes of minotaurs, undead, and even dragons!

• BUILD A POWERFUL CLAN WITH WORLDWIDE PLAYERS! •
Connect with friends and make new ones! Chat and engage with Clan members to exchange strategic information! Exchange and gift resources to help each other achieve higher goals!

• TEST YOUR SKILLS WITH DAILY AND WEEKLY CHALLENGES! •
Take on especially challenging daily raids and weekly missions! With greater risks come greater rewards, so sharpen your steel and ready your engineers to set up your towers to cull the impending hordes.

• CONQUER BATTLEFIELDS AND SCAVENGE THE SPOILS OF WAR! •
Without provisions, the war is lost! At certain levels, you get the opportunity to unlock Scavenging spots. Collect and scavenge for resources to replenish your supplies.

• AUTO-PLAY FEATURE! •
You don't always have to be around to play the game! A simple AI can play the game for you, deploying towers and heroes, and auto-casting spells. You can enter and exit auto-play mode seamlessly! Perfect for emergencies or players who have a busy schedule.

• 20+ UNIQUE, UPGRADEABLE HEROES READY TO BREAK SKULLS! •
Unlock unique allies to join you on your noble crusade! You can upgrade them and turn them into powerful, awe-inspiring champions at your beck and call!

• CUSTOMIZE YOUR MAIN AVATAR! •
Equip your main hero with an assortment of gear — from helmets, armor, shields, boots, accessories to weapons.Your character's equipment determine their stats, such as attack power, defense, movement speed, and health regeneration.

• AN ARSENAL OF SPELLS AT YOUR COMMAND! •
Summon a dragon to rain fire on your foes, freeze your enemies in blocks of ice, or heal your champions with recuperative magics!

• TOWERS OF POWER! •
Build defensive towers and brace yourself for an onslaught of monstrous hordes! 7 essential towers and 12 specialized towers to build, each with their varying attack range and utilities.

• KINGLY REWARDS AWAIT YOU IN QUESTS AND CHALLENGES! •
Join players from around the globe in epic battles and grand challenges for draconic hoards of treasures and rewards!

• A UNIQUE VISUAL EXPERIENCE! •
A fantastic art style to feast your eyes on!
---
Idle Tuber Empire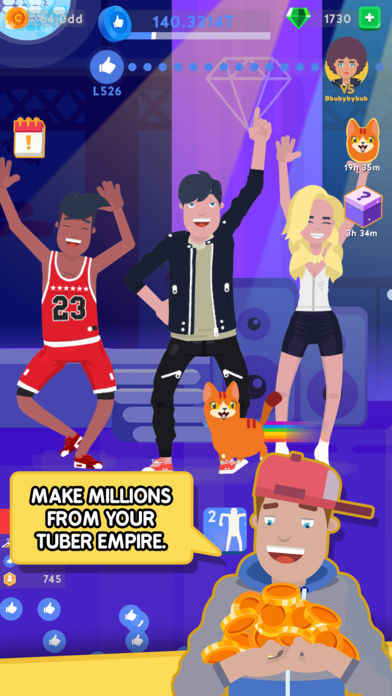 Want a taste of the celebrity Tuber lifestyle? Take on the world as you journey to stardom, making mega money and earning likes as you go. Dope!

And the profits don't stop there. Build an entourage to collect cash for you whilst you're away, so you can come back later and make it rain, baby! Become an online tycoon as you pimp your wardrobe with hundreds of fresh styles, and compete with your homies to top the global Fametube streaming leaderboard. Who will get the most likes? #SquadGoals

Can you create the most profitable Idle Tuber Empire of all time in the greatest idle sim?

FEATURES
– LIVE STREAM your celebrity story and earn cash and likes to get rich and famous. Lit!
– HIRE and automate an entourage to get likes for you – and work with a celebrity YouTube influencer (for realz)!
– DOMINATE fellow Tubers in popularity contests to see who can reach the most likes.
– CUSTOMIZE your wardrobe and become a style icon. Nice!
– UNLOCK the latest dance moves and wow your entourage to earn more cash.
– FEED cookies to a crazy cat for bonuses and progress even faster! Daaayum.
– AMAZE FANS in challenges to prove your popularity. Show those punks who's boss!

Stop slouching, start swiping. Get out there and show everyone what you're made of!
---
Nano Golf: Puzzle Putting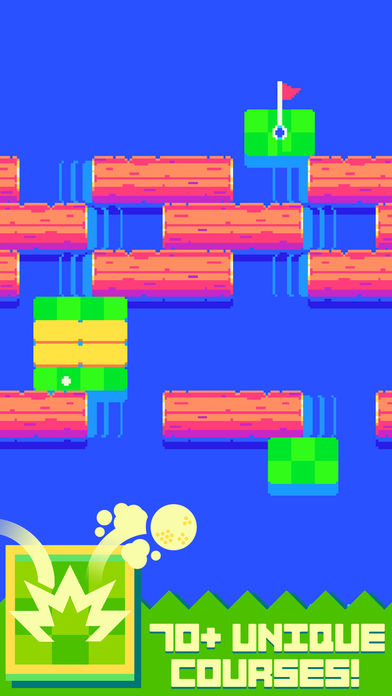 Travel the world beating courses in this puzzling golf action game!

Features:
– Puzzling golf action!
– Easy one-handed controls.
– 70+ unique courses.
– Travel to crazy worlds.
– Dodge deadly traps.
– Epic boss stages.

-Important information-
This game contains third party advertising and cross promotion for other nitrome games, both which can be removed via a one time In App Purchase.
Download Nano Golf: Puzzle Putting
---
PUBG Mobile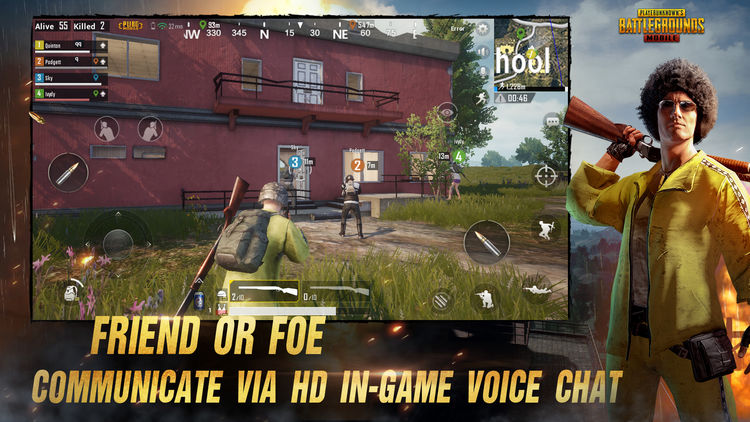 Officially licensed PUBG MOBILE, the original battle royale style game is coming! Unreal Engine 4 brings smooth, next-generation graphics to your mobile device, and produces a graphical and audio experience that perfectly recreates the PC version.

【Game Features】
1. Officially licensed PUBG on Mobile
An authentic port of the PC version. 100 players are dropped on an enormous 8×8 km battlefield. Players fight to survive and eliminate each other through strategy and skill. The last one standing wins! Winner Winner, Chicken Dinner!

2. Realistic Graphics and HD Audio
Unreal Engine 4 brings a phenomenal visual experience with detail rendering, an expansive HD map, and realistic scenes.
High-quality audio with 3D sound effects and 7.1 channel surround sound makes players feel like they are on the real battlefield.

3. Realistic Shooting
With a large selection of firearms, melee weapons, and throwables with realistic ballistics and trajectories, this is the perfect combat experience on mobile.

4. Travel in Style
Drive one of a variety of vehicles to escape from your foes or to stalk your prey.

5. Team-Up with Friends and Use Voice Chat
Invite friends to team-up, head into battle together and collaborate over voice chat.

6. Fair Gaming Environment
Armed with powerful anti-cheating mechanisms and optimized for many devices, ensuring a fun and fair environment for players.

*Recommended specs for getting the most out of PUBG MOBILE: iPhone 6 or above
---
Shadowgun Legends
Download the best mobile RPG shooting game for free now!

Experience an epic story campaign, competitive and cooperative multiplayer, and an innovative social hub, all in one game!

In the futuristic world of Shadowgun Legends, humanity is under attack from a deadly alien invader. The last line of defence are the Shadowguns, legendary warriors and heroes. You are a young Shadowgun recruit with limitless potential who can turn the tide of war. So what are you waiting for? Join the fight and show the galaxy who's boss!

GAME FEATURES

THRILLING STORY CAMPAIGN
Save humanity from an alien invader in an epic Story Campaign spanning over 200+ mission on 4 diverse planets

CO-OP MISSIONS AND RAIDS
Join forces with friends and defeat giant enemy bosses for glory and legendary loot

REAL-TIME PLAYER VERSUS PLAYER TEAM BATTLES
Fight your rivals in unique multiplayer game modes and diverse PvP arenas

RPG ELEMENTS AND CUSTOMIZATION
Choose from over 200 unique weapons including Handguns, Assault Rifles, Sub-Machine Guns, Heavy Machine Guns, Shotguns, Sniper Rifles and Rocket Launchers. From plasma beams to good old-fashioned lead bullets.
Collect over 200 armor pieces and build your armor sets. Fortified juggernaut, sleek infiltrator or something else entirely? The choice is yours!
Make your Shadowgun stand out with 150+ cosmetic items
Pick your own skills and create your own playstyle – no classes, no restrictions!

INNOVATIVE SOCIAL FEATURES
Interact with other players, visit vendors, accept missions, party hard and much more in game's persistent Hub
Chat with friends, create battle squads and form guilds

UNIQUE REWARD SYSTEM – FAME
Become a celebrity of the Shadowgun Universe
Get rewarded for how you play the game. Your every action is appreciated with our unique fame system. The more famous you are the more the world will react to your actions!

Play the best RPG Shooting Game for FREE! Join the fight now!

Shadowgun Legends is a groundbreaking mobile game that blurs the lines between console and mobile gaming.

Dive into this free feature-packed FPS RPG and battle a terrifying alien menace, the Torment, who are rampaging across the Galaxy destroying everything in their path.

As a new Shadowgun recruit you will create your ultimate rockstar warrior with hundreds of weapons, dozens of combat skills, thousands of armor pieces, and a wild collection of cosmetic items and skins. As your fame grows you will indulge in the wild celebrity lifestyle of the most famous warriors in the Universe and carve your name into mankind's history.

When you're not mastering shooting skills you can unwind with your friends in the Shadowgun's neighbourhood, where you'll hang out with other players, hit the bar, chat, interact with NPCs and most importantly…party!

You can enjoy all this with MADFINGER Games' renowned cutting edge visuals, intuitive controls and wicked sense of humor.

At MADFINGER Games we've always challenged ourselves to push the boundaries on mobile devices, and we're proud of our console quality first person shooters. From our cutting edge graphics to our precise control system, over 180 million players worldwide have been blown away by our innovative approach and dedication to quality. Now we're taking things to the next level. Shadowgun Legends is the ultimate persistent world shooter in the palm of your hand, a hardcore gaming experience that you can take with you anywhere.
---
Space Station Simulator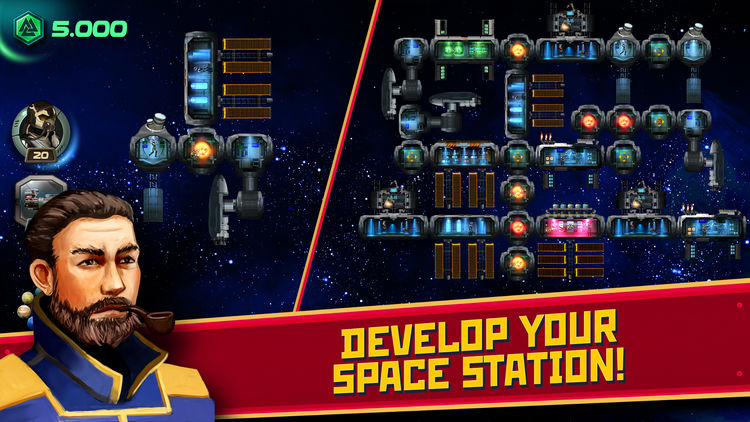 If you are dreaming of space from childhood, then our simulator of the space station you will surely like! At your disposal is a small orbital station with one robot, who is sad without any work and only from you depends its future. You as the captain will have to deal with its development, dumb personnel, the construction of new modules. In the game you can bet on peaceful coexistence, for example, on extracting resources and recycling it or you can act with fire and sword, plundering interplanetary caravans and other players!

Features:
Developing your own space station
Participating in star wars with other players
Fantastic flights into space.
Building a huge fleet of ships
Download Space Station Simulator
---
Tiny Pixel Farm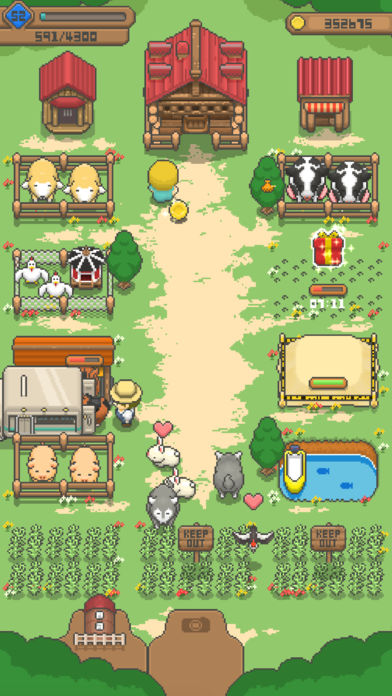 A simple, free ranch game you can play on a single screen!

A Cute Pixel-Art Ranch
Manage a miniature stock farm on a single screen.
No obnoxious dashing all over the place on errands.
Run your very own ranch filled with a jumble of little characters bustling around.

How To Play
Take the weed-ridden, out of commission ranch you inherit from your grandfather and turn it back into the lively farm it used to be with lots of animals and guests.

Animal Areas
Clean up an animal area and populate it with the animals of your choice. There are different facilities for different types—sheep, cows, pigs, and more. Design a ranch rich in diversity.

Wild Animals
Once you get some life back into your ranch, wild animals such as wolves, foxes, and rabbits may show up. Increase your friendship level and get them all.

Overnight Guests
Your ranch has overnight accomodations. Depending on what animals and facilities your ranch has, different guests will come to stay. Level up your guest rooms and attract them all.

Store
You sell everything from livestock to animal products here. Customers will periodically stop by to make purchases. Level up your store to get more customers and earn coins faster.

Encylopedia
Lists your farm animals, wild animals, guests, and fish. Collect all the characters!

Ranch Hands
You can hire six ranch hands and assign them to the guest rooms, animal areas, and silo. As they level up, they learn to help with more jobs such as harvesting, cutting grass, and collecting room fees from the guests. Station them where you like and leave the work up to them.
---
World Zombie Contest
Merge the Zombies and create awesome Zombie Army!
It's the simplest Click & Merge Game!

[Simple formula for creating the Ultimate Zombie Army!]
1. Merge Zombies.
2. Level-up Zombies.
3. Defeat monsters with Zombies.
4. Repeat from step one if your Zombie gets killed.
Simple, right?

[Features]
– Unique! Fun! Zombie + Clicker Game + Merge!
– Finger has mind of its own! 100% Addictive!
– Easy! Fun! Simple Clicker control!
– Convenient! Fun! Just let it run and the Zombies will merge on their own!
– So much contents! Fun! Over 900 Stages, 70 Monsters, and 60 Zombies!
– Diverse! Fun! Personality, Invention, Research, Ambush, Dispatch, Showdown, and much more!