A lighter week for free games on the App Store, but not without a few gems that should help carry you through any downtime you have over the next few days. Battlejack kept me up an hour past my bedtime last night, so if you only download one game, make that the one. If you don't see anything that piques your interest, don't forget to check out our full archive of free iOS games.
Battlejack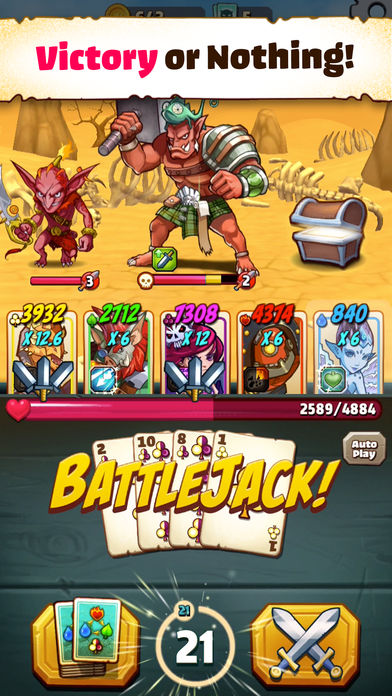 Collect hundreds of legendary heroes. Slay epic Titans with your guild. Engage in high risk, high reward battles with a unique blackjack-inspired card battle system.

VICTORY OR NOTHING
All the exploring, collecting, customizing fun of a fast-paced RPG, with a blackjack twist!
Score a 21 to unlock a massive boost to all heroes. But be warned: the greedy will be punished! Will you play it safe, or will you defy the odds?

COLLECT LEGENDARY HEROES
Fight and collect hundreds of unique heroes from the enemies you slay! Mix and match to create the perfect team, from an unlikely troll-YAAAARRR!-pirate alliance to a cute unicorn- kitten squad: the possibilities are endless!

SLAY EPIC TITANS WITH YOUR GUILDS
Fight Titans with your guildmates, and help each other climb to the top of the leaderboard!
As the goblin proverb says: If you want to wipe fast, fight alone; if you want to wipe far, fight together. Or something like that.

EVOLVE AND EQUIP HUNDREDS OF HEROES
Why settle for a fire mecha when you could have a mega-powerful-lava-spitting-shredder-of-doom-and-death?! Go all-in: Fuse, upgrade and customize your heroes to make them even stronger and cooler!
With the right combinations, your newbish starting weaklings will become mighty gods of battle!

EXPLORE FANTASTIC WORLDS
Free the mythical tree Yggdrasil from the forces of chaos, in an epic adventure to restore elemental balance in the world of Midgard! All of this while killing time waiting for your bus or sitting on the toilet. Ain't modern gaming awesome?
---
Bitgram
Bitgram is an addicting and minimalist puzzle game that will challenge your brain!

Bitgram features a brand new concept: each shape can only be of two colors and can only be placed on the opposite color.

Easy to learn and relaxing to play: place as many shapes as you can, just like on a tangram and reach a high score!
---
Cat Bird!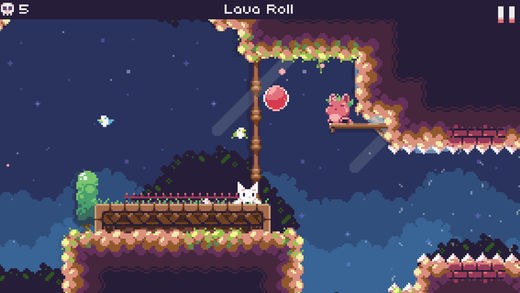 A cute-tastic journey across worlds.

Help Cat Bird on his challenging platform adventure on an epic quest to get back home.

Venture through unique worlds hovering across pits, traps, enemies, and saw blades. Beware of the mighty guardians that block your path.

Join the journey and open your inner meow!

Featuring:
+ More than 40 challenging levels.
+ 3 Epic bosses to challenge.
+ Stylish and stunning pixel art graphics.
+ Achievements and Leaderboards to compete with others.
+ Test your skills in Time Trial mode.
+ Beautiful Soundtrack
+ Show off your abilities with ReplayKit(iOS 9+)
---
Clans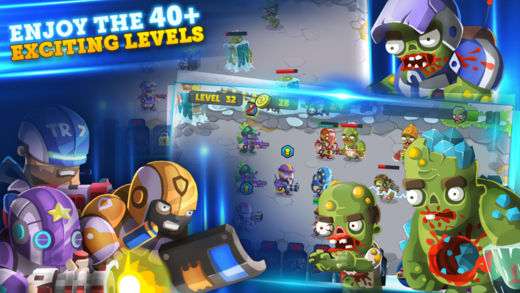 Join the new worldwide action-strategy adventure as you build your soldier clan, fight off unruly zombies that have taken over the town, and compete to become the ultimate Clan!

Features:
● Build your clan of amazing soldiers, supercharge them with upgrades, and devise the ultimate plan to protect your territory.
● Go head-to-head with rival zombie clan with various attacks, like freezers and bombers, to claim your territory.
● Battle across 40 crazy levels with ultra-challenging endless zones.
● Power through multiple quests on your epic journey to keep you on the edge of your seat and earn gems and gold!
● Strategize with your zombie library. You can view details of each type of zombie to help you plan your strategic moves and tactics to wipe them out!

NOTE: Clans is free to download and play, however, some game items can also be purchased for real money. If you don't want to use this feature, please disable in-app purchases in your device's settings.
---
Rainbonauts
It's Tetris-inspired gameplay with a colorful twist that's out of this world!

Your mission as a Rainbonaut (rainbow + astronaut) is to power the galaxy by making rainbows. With two equally awesome game modes, you can play endlessly or travel through the galaxy mission by mission, unlocking powerful heroes to join your crew as you go!

Feature Round-Up:

• Conquer 60+ missions or compete for achievements and high scores in endless mode

• Collect powerful Rainbonauts like tricky unicorns, snacky sharks, and gravity-altering sloths

• Unlock new worlds with cat bombs that explode into black holes or gummy bubbles that trap anything that falls in their way

• Check leaderboards to keep up with your friends and other players

• Capture your craziest rainbows anytime with 3D touch

• Select art by the ultra talented Shiroi Room and music by the super-kawaii Maturbo

• The galaxy is always expanding! New Rainbonauts, tiles, missions, and achievements are added regularly
---
Vulkasus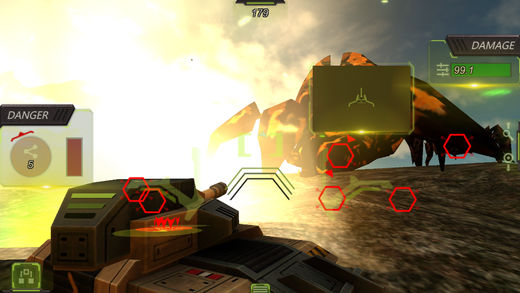 Lone wolf at the farthest corner of the new world

Pilot the newest model of Vulkasus tank in fierce battle fields in the quest of finding and killing the bug queen to stop the invasion in this classic sci-fi warfare.
Riding with you is Siri, the AI operator, to help guide you through intense war zones riddled with cunning enemies such as alien insects and pirates.
Upgrade your tank as you conquer deadly frontiers.
Ride on.

Features
– 100 levels
– Bugs
– More bugs
– Giant bugs
– Space pirates
– More space pirates
– Asteroids
– No internet connection required after download