If there's a better way to celebrate Halloween than with a fresh new batch of paid iPhone and iPad apps on sale for free for a limited time, we don't know what it is. Just to be on the safe side though, we've included not one, not three, but five hot Halloween sticker packs for iMessage on today's list. You'll definitely want to check them all out, and there's plenty more to enjoy as well.
MUST SEE: These hidden iOS 10 features will change the way you use your iPhone
These are paid iPhone and iPad apps that have been made available for free for a limited time by their developers. There is no way to tell how long they will be free. These sales could end an hour from now or a week from now — obviously, the only thing we can guarantee is that they were free at the time this post was written. If you click on a link and see a price listed next to an app instead of the word "get," it is no longer free. The sale has ended. If you download the app, you will be charged.
SaveAgram
Normally $1.99.
Download videos and photos from Instagram with ease! Simply enter the Instagram link, press 'Download Instagram', and the video and or photo is saved. The photo & video can then be viewed or saved to the Camera Roll for use in other apps!

Features:
• Downloads videos in full HD
• Downloads photos
• Simple, slick interface
• Small app size, lightweight
• Fast downloader
•Videos and Photos are saved to the Camera Roll, making them easily shareable across applications (Messages, Mail, etc.)

To use with the official Instagram app, select Copy Share Link. Then paste the link to download!
Dayless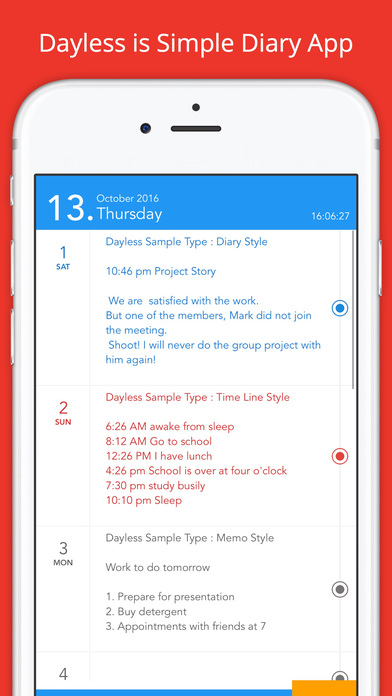 Normally $0.99.
'Dayless' my own story

'Dayless' pursues simplicity, intuition, speed.
Make a your own note briefly and simply!
'Dayless' collects notes and makes your own memory collection.

Write about life with 'Dayless'
Items & Storage & Inventory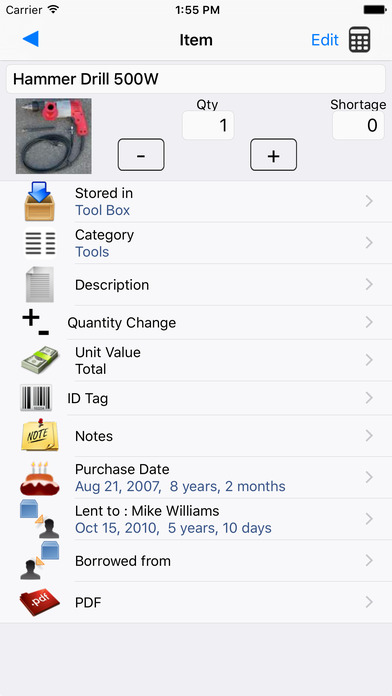 Normally $4.99.
Catalog the items you hold dear, associate them with categories and storage places. Keep track of items you lend or borrow, as well as how many are currently in your possession.
Conceptualize and hierarchize your storage spaces.
*** "Items & Storage is a great tool to keep you and your possessions organized no matter what your living circumstances." – cooliphoneipadapps.com

*** "Nice application to help keep track of where you have stored things as well as things borrowed, lent, and that you may be running low on." – appcast.com
eStorage allows you to catalog any items you want to: household items, tools, goods, documents, collections, etc. There's no limit to how many item categories can be entered. Each new item can be given a name, description, value (useful for insurance), picture and quantity (set to 1 by default).

The bar code reader featured in the app enables you to easily add its ID to an item, and recover the information related to an item (Iphone 3GS/4/5 and new iPad).

The items can be associated with the categories you choose: clothes, computer hardware, files, tools, materials, etc. (you can of course create any category you need).

In order to easily keep track of lent or borrowed items, eStorage gives you the opportunity to register the information (person, date) related to such operations.

To help you easily retrieve your stored items, eStorage enables you to associate them with a storage location: geographic reference, room, piece of furniture, drawer, suitcase, etc.
Storage spaces can be organized into several hierarchical levels, like living room / closet / shelf / box, for example

eStorage comes with powerful search engines allowing you to instantly retrieve any item, information about it, its lent/borrowed status and storage space on the one hand, or all the items stored in one place or belonging to the same category on the other hand.

For users wishing to accurately monitor their item storage levels, eStorage also enables precise quantity management for each item, including the setting of storage shortage alerts to quickly spot items whose quantity is below the predetermined level.

eStorage allows you to export the data (items and storage locations) as a CSV file (which can be imported into most spreadsheet programs) or as PDF files, sent by e-mail. This allows you to view and manipulate the data on your computer.

Universal application with full resolution support for iPad.
iOS 7.1 or above, Retina Display optimized.
Download Items & Storage & Inventory
90 Seconds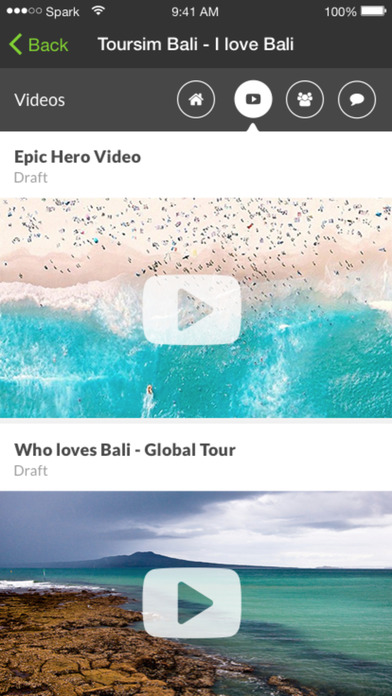 Normally $0.99.
Create fast, affordable video content anywhere on the planet with 90 Seconds, The World's Cloud Video Production Platform.

The 90 Seconds iOS application provides real-time connectivity and collaboration to the 90 Seconds platform. With the 90 Seconds app you can:

Communicate with your team in real time,

View and review videos,

Keep up to date with what's been going on with the activity feed,

View your projects and jobs,

Use your location to find jobs near you and;

Talk to support.
Mad Truck 2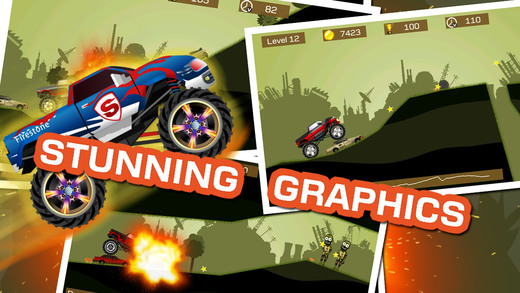 Normally $1.99.
Mad Truck 2 – drive the big mad truck on the mountain road to reach the destination in the limited time. There are many barriers(woods, stones, drums, scrap-car, zombies) on the road. It is crazy with big challenge.

Game instructions:
– Drive by pressing on the right or left side of the screen.
– Tilt the device to control the vehicle in mid-air.
– Also support Joy Stick control.
– There are 50 levels to go, you need find the real direction in some difficult levels.
– Many different trucks in the shop.
– Collect coins to buy new trucks, wheels and more time.
– Hit drums and zombies to get high scores.

Features:
1. Universal version for iPhone and iPad.
2. Different levels, 50 unique maps.
3. Some models of vehicles in shop.
4. Awesome physics, with bouncing, crashing, flying, exploding and more!
5. Tilt controls, accelerometer supported.
6. Game Center supported.
iAV Player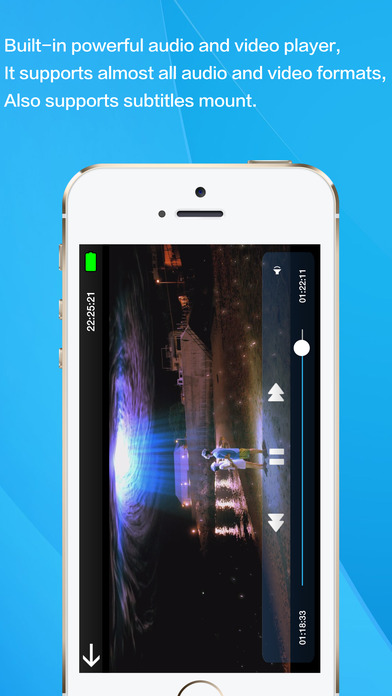 Normally $1.99.
iAV Player is a powerful media player.

– Support almost all video formats: avi, mkv, wmv, flv, mp4, m4v, rm, rmvb …etc
– Wifi File transfer to/from PC/Mac
– WebDAV service for manage files
– Import Photo/Video from Camera Roll
– Full screen, full functional photo viewer
– Support Image files: jpg, png, gif, bmp
– Support creating custom folder
– Zip and Unzip file
iHalloween stickers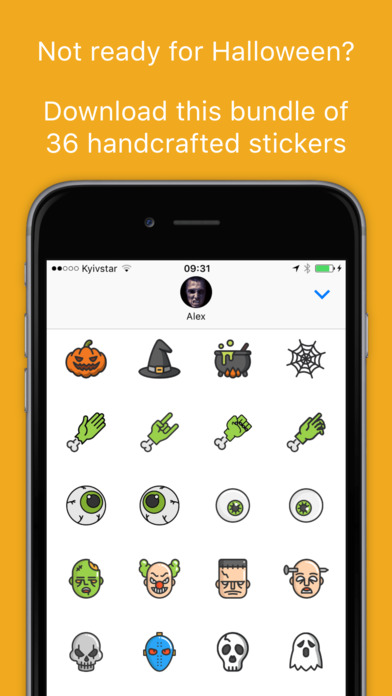 Normally $0.99.
Prepare your iPhone to be ready for Halloween party…
This bundle of stickers includes 20 handcrafted images like Halloween banners, Scary stickers, Pumpkin Jack, Zombies, Ghosts, Masks and a lot of other things that are related to Halloween.

Quick tips on using Sticker apps:
– To use a sticker within a conversation, you simply tap to send or you can touch and hold to place them on top of bubbles, other Stickers, or even photos. It feels just like peeling and pasting a real traditional sticker.
– iPhone and iPad users (running iOS 10+) and Apple Watch owner (running watchOS 3+) can receive stickers. On Apple Watch, you can send any of the stickers you recently sent from iPhone or iPad. You can receive stickers on earlier versions of iOS and other platforms but they're received inline as images and don't support being pasted on top of text, photos, etc.

Express yourself in new ways with great Halloween stickers, that you can put anywhere in your chat.
Pumpkin
Normally $0.99.
Hello! It's a free package of stickers for Halloween. Add a holiday in your posts.
This set contains 25 stickers with different emotions of pumpkin. Download now because at the time of Halloween package will be paid!
Freaky Folks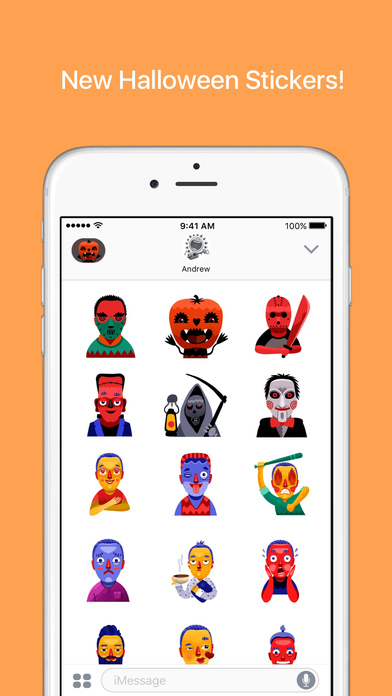 Normally $0.99.
Meet Freaky Folks!

Add more emotion to your text with stickers by Andrew Lebedinsky!
You can peel and place them on anything in your conversation – bubbles, images, or even other stickers.
Animated Emoji Characters
Normally $0.99.
HIGH QUALITY ANIMATED 3D EMOJIS CHARACTERS.

[FREE FOR A LIMITED TIME!!!]

Your favourite emojis are now in various avatars to spice up your messages. This pack contains emojis in following avatars:
Beer, Bomb, Chef, Doctor, Gentleman, Nerd, Sleepy, Soldier, Ts, Bat, Cat, Chicken, Cow, Devil, Hulk, Pig, Robot, Santa.

So start decorating your dull and boring messages with these high quality 3d animated emoji characters.
Download Animated Emoji Characters
Vampire stickers
Normally $1.99.
Vampire stickers for iMessage

This sticker pack is delivered to you by meltem and MojiLaLa.

Vampire stickers are designed by meltem in Turkey and powered by MojiLaLa.