It felt like it might never end, but the Black Friday and Cyber Monday sales are finally over. We have to go back to a world where everything is full price… except for our daily selection of free apps, of course. That's right, Black Friday or not, we've still got a bunch of paid apps on sale for free to choose from today.
MUST SEE: Report says the new 4.7-inch iPhone 8 will be more exciting than you think
These are paid iPhone and iPad apps that have been made available for free for a limited time by their developers. There is no way to tell how long they will be free. These sales could end an hour from now or a week from now — obviously, the only thing we can guarantee is that they were free at the time this post was written. If you click on a link and see a price listed next to an app instead of the word "get," it is no longer free. The sale has ended. If you download the app, you will be charged.
Photo Sticker Lab PRO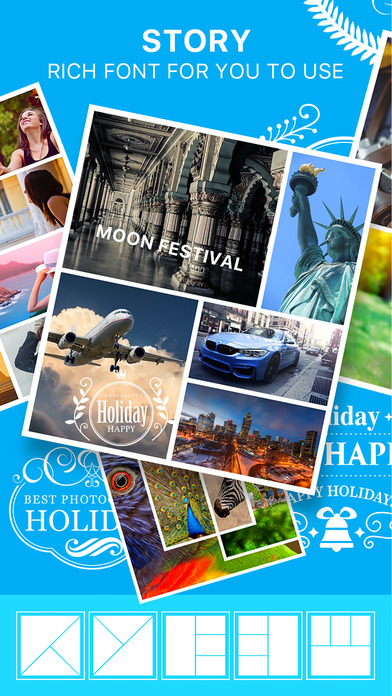 Normally $2.99.
Photo Sticker Lab is a new way to express yourself. Add real-time text and filters directly to your camera! In only a few seconds you can add captions, quotes, doodles or anything else you can think of to your camera and share quickly and easily with your friends.

– CREATIVE STICKER
580+ awesome stickers, realistic hairstyles, pirates accessories and so much more.

– AMAZING FONTS
120+ Add custom typography directly to your camera with very artistic fonts. Choose from a huge selection of powerful fonts that will make your photos awesome and engaging.

– LIGHT EFFECTS
280+ Create beautiful photos with real-time filters. We know how much filters are important to you and we worked hard to design the most beautiful filters you've ever seen. There are so many types of them: vintage, artistic and funny! With a single tap, you can transform a soulless pic into a work of art!
Download Photo Sticker Lab PRO
The Lost Ship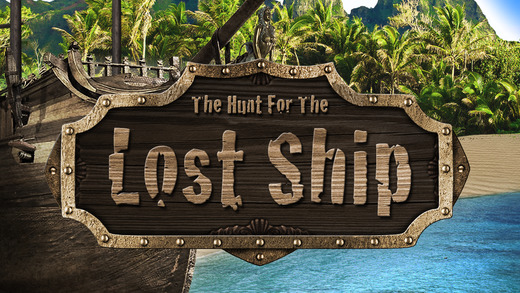 Normally $0.99.
Embark on your own treasure hunt in this beautifully designed classic point and click adventure game. Explore old trails, puzzles, and structures left behind by a castaway crew as you hunt for their lost pirate ship that was blown on to an island centuries ago.

Uncle Henry has been hunting lost treasures for as long as you can remember. His stories of adventure excited your imagination as you were a child growing up. Now with your newly acquired archeology skills, he has been reaching out from time to time for your help in tracking down some of these difficult to find treasures.

In his latest quest, he has been hunting for the treasure map known to be in the lost pirate ship "Queen Anne's Revenge". Thought to have sunk off the coast of the American shores, Uncle Henry has discovered new information that the ship was really blown on to an island when it was caught in a hurricane while sailing through Caribbean waters.

You must hurry and help him on this amazing adventure before anyone else finds the location of the lost ship!

This captivating adventure game has:
– Custom designed beautiful HD graphics!
– Custom composed soundtrack and sound effects!
– A built-in hint system for when you get stumped
– A dynamic map to show the screens you have visited and current location
– A camera that takes photos of clues and symbols as you discover them
– Dozens of puzzles, clues, and items
– Auto saves your progress
– Available for phones and tablets!
– Translated to 16 languages!
AVPlayer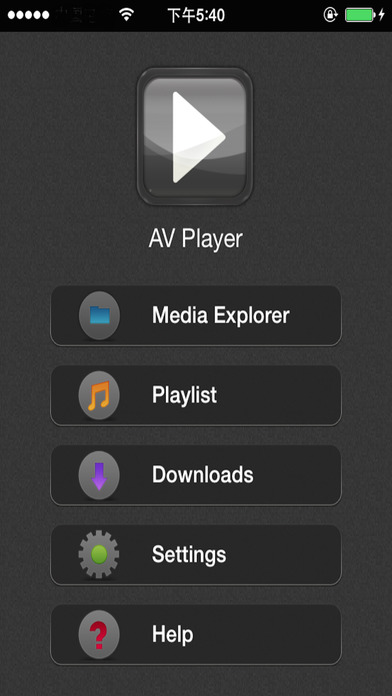 Normally $2.99.
AVPlayer can play almost any file format movies and stream directly on iPhone/iPod/iPad. Just transfer the media files to your ios devices using iTunes File Shareing or over Wi-Fi,then it can be played at once. With built-in downloader and FTP/Samba client, it is not just a local movie player,it is a "Movie Player & Streaming Media Player". You can also stream/download media files from most of all UPnP/DLNA media servers to your ios devices.

Features:
1. Supports almost any video formats: WMV, AVI, MKV, RMVB, RM, XVID, MP4, 3GP, MPG…
2. Supports almost any audio formats: APE, FLAC, MP3, WMA, RM, ACC, OGG,FLV…
3. Supports smi, srt, ass, ssa, sub txt subtitle.
4. Use iTunes to sync movies to AVPlayer.
5. Easily Wi-Fi transfer to download media files from PC to your ios devices.
6. Built-in Open Url Client to support HTTP, FTP, MMS, RTSP, SMB, RTP streaming.
7. Built-in UPnP Client to stream/download media files from most of all UPnP/DLNA media servers.
8. Built-in FTP Client to stream/download media files from FTP Servers(Note: stream only for PASV mode).
9. Built-in Samba Client to stream/download media files from Samba Servers.
10.Built-in file manager supported: move files from folder to folder,file delete,file rename,folder creation,folder delete.
11. Built-in file downloader. You can download files from FTP/Samba/UPnP Servers, and resume or pause downloads.
12. Multi playlist supported: you can create playlists and media file to playlist, and every folder is automatically made as a playlist.
13. "Open In" feature supported: open video and audio files from Mail email attachments and Safari Web browser.
14. AVPlayer://URL scheme.
15. iPad 2 dual core decoding supported.For iPad 2,the dual-core A5 chip can be used to decode at the same time.
16. TV out support.
17. AirPlay supported(Note: only for QuickTime plugin).
18. Built-in photo viewer supports jpeg, jpg, png, bmp…
19. It can play music in the background mode, so that build your playlist allowing you to use it as a music player.
20. You can set a password for your folders, just click the button on the right.
21. Gesture control: Double click to enter/exit full screen, single click to hide/show buttons,left slide to seek backward, right slide to seek forward.
File Manager & Virtual USB Drive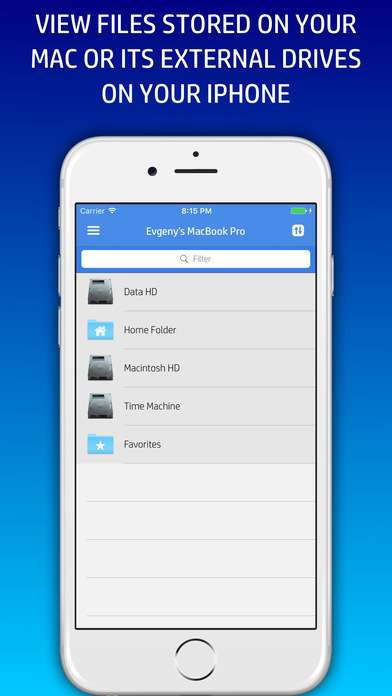 Normally $3.99.
Remote • Drive turns your iPhone or iPad into virtual USB drive, and allows you to easily transfer any file between it and your Mac.

Use Remote • Drive to utilize constantly increasing storage space on your iPhone or iPad. Take photos, videos, documents and other files anywhere you go. Using built in document and photo viewers, and video player, you can view files directly from your Mac, or download them to your device for offline usage. Stop loosing and buying new USB drives, and stop worrying about your sensitive information getting to the wrong hand.

FEATURES:
– Photo viewer for all photos stored on your Mac or any of its external drives
– Video player that supports virtually all popular video formats
– File vault with passcode protection for your sensitive files, photos or videos
– Transfer files to and from your Mac using Wi-Fi with no limits
– Document viewer that supports Microsoft Office documents, PDFs and more
– "Open in" feature allows you to open files in other apps on your iPhone or iPad
– Super easy setup
Download File Manager & Virtual USB Drive
Toca Hair Salon 2
Normally $2.99.
Cut, curl, color and style – any way you want!
Our bestselling app Toca Hair Salon is back in an even better version, with new characters, new tools, new accessories and even more hairstyling fun!

In this kid-friendly, super-creative app, you get to run your very own hair salon, with six fun characters to choose from. Cut, colour and style any way you want, using lots of different tools – from a simple comb and scissors to a curling iron and a straightener. Trim mustaches, spray mohawks bright pink and give someone the curls they've always wanted!

Whoops – did you accidentally snip off too much hair? Make things right with our special tonic G.R.O.W. and then top it all off with hats, glasses and other fun accessories. Once you and your customer are happy with the way they look, don't forget to take them to the camera booth for a snapshot!

What's new in Toca Hair Salon 2?
– 6 completely new characters
– New tools: razor, curling iron, a crimper and a straightener
– More realistic colour spray effects – combine to make new shades!
– New accessories: hats, glasses and much more
– Cool new photo backdrops
– Smooth and beautiful animations
– Better and more realistic hair styling – make any style you want!
Rapid Photo Transfer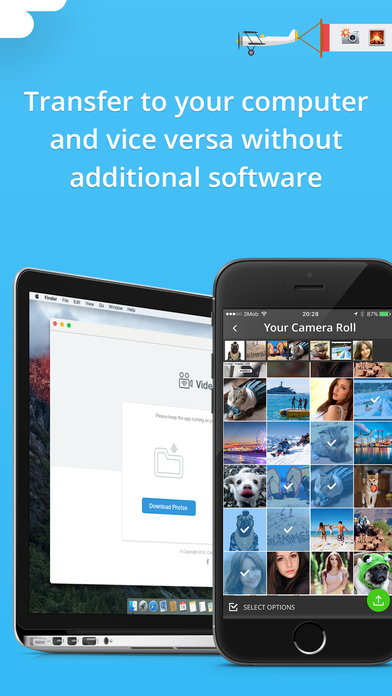 Normally $2.99.
Rapid Photo Transfer is the best transfer app on the AppStore. It allows you to transfer, backup and share your videos and photos (including Live Photos) privately, quickly and in full resolution. Free space on your device with Rapid Photo Transfer.

We've created Image Transfer app – one of the best transfer apps on the App Store with more than 5 million downloads. This experience and feedback from our customers allowed us to create Rapid Photo Transfer with advanced transfer technologies, beautiful interface and helpful features.

Here are some of our features:

. Transfer photos and videos to computer and vice versa without additional software
. Live Photos support. You can share with friends or backup your live photos as .mov, .gif or even .jpeg+.mov format.
. Fast and handy transfer to the connected cloud drives: Dropbox, GoogleDrive and Flickr.
. Incredible share features. You're able to share transferred photos right after they were transferred: via email, iMessages or just copy short URL and share it wherever you want.
. Free space on your device. You're able to delete transferred photos and keep your iPhone storage clear.
Shotella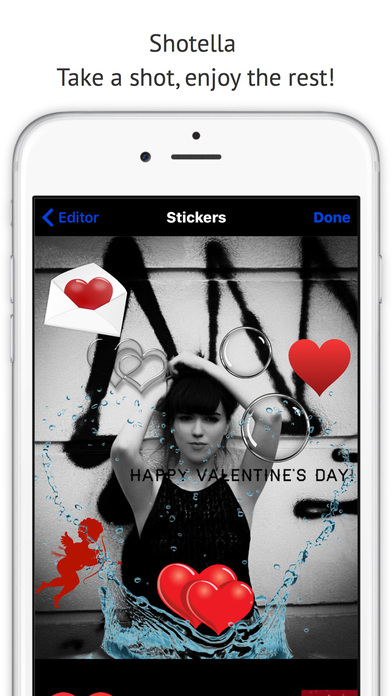 Normally $0.99.
Take a shot and Capture the moment. Then edit it in seconds. Whatever your skill level, you'll be able to create photo masterpieces right in the Shotella app. You don't have to wait to get back to your Mac to do it. Shotella can help you to make beautiful edits. You can take control and decorate your photos with stunnig stickers. Choose from a delightful collection of stickers, overlays & artwork to add onto your photos.

Beautiful, moody, or fun. Tap to experiment with enhanced photo filters. If you don't like how it looks, you can always just revert to the original. Create unique looks and make your photo stand out with filters and editing tools.
Create awesome profile pictures for Facebook, Twitter, Instagram, Tinder or any social app.

Expressing yourself has never been more fun!
SignerStudio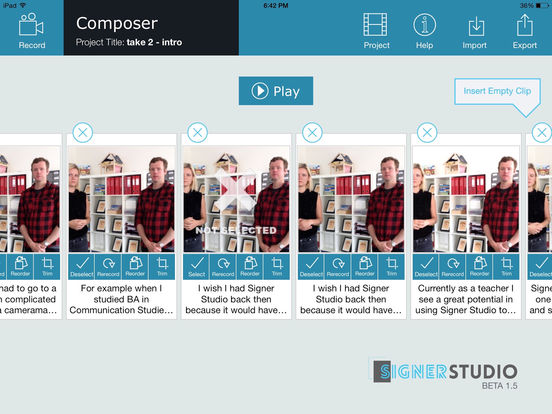 Normally $3.99.
A Complete Video Studio in an App

Signer Studio is a complete video production studio in an app. Signer Studio includes advanced video recording with an intelligent prompter and a video editor that integrates subtitle creation. Projects can be exported in multiple ways, from Facebook to Final Cut Pro.

Motion Activated Recording

Signer Studio uses patent pending motion activated recording. The camera detects when you start and stop signing and perfectly trims and chops up your presentation into manageable segments. No need to fiddle with the record button. No need to trim off the start and end of clips. Your presentation is segmented and ready for editing and export.

Revise, Reorder, Re-sign

Signer Studio excels at letting you revise your presentation. Want to change the order of two sentences? Just drag them into place. Want to re-sign a sentence or two? Just tap a button and re-record only that segment.

Editing sign language video in Signer Studio is like editing text in a word processor. That's why we call it a "Sign Processor".

Intelligent Prompter

When you have a prompter, you can organize your presentation beforehand and record it in one go. No need to memorize long sections of your presentation. No need to re-record multiple times. The prompter is even intelligent so that it advances at the right time.

Add Subtitles

In Signer Studio, each clip is associated with text. You can use that text as a prompt or as a subtitle. You can export subtitles overlaid on your video or export them separately as .SRT for upload to YouTube or Vimeo.
Weekly Challenge Pro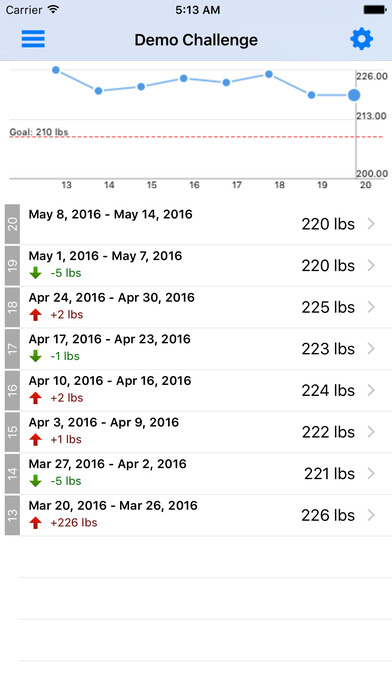 Normally $0.99.
Want to improve your health, lose some weight, get an elegant body shape or, vice versa, become a hefty bodybuilder? Challenge yourself and achieve that!

The plan is simple: once a week measure your results, then spend the week to come striving to improve them. Continue this until you are done. The app helps you keep the data on all the challenges and see how better or worse your results have become in a vivid chart.