If you purchase an independently reviewed product or service through a link on our website, we may receive an affiliate commission.
Nobody likes moving. In fact, it is widely agreed upon as being one of the most annoying things for any person to have to do. Packing up all of your stuff and heading out is often times a logistical nightmare. It's even worse if it isn't just your stuff too. But there are things to help you out as you're moving. A moving truck is one as are a bunch of your friends who you will probably pay in pizza and beer (if they haven't wised up to the fact that nobody likes moving). But even something as simple as a door stop can make your experience that much easier. Rather than having to try to kick open a door as you're carrying a couch through it, a door stop will keep it open for you. There are obviously many other scenarios where a door stop is a good idea, so if you don't have any at your home, it's probably a good time to get some. Below, we've highlighted our favorite door stops, so the door staying open isn't something you have to worry about on moving day.
Best Pack of Door Stops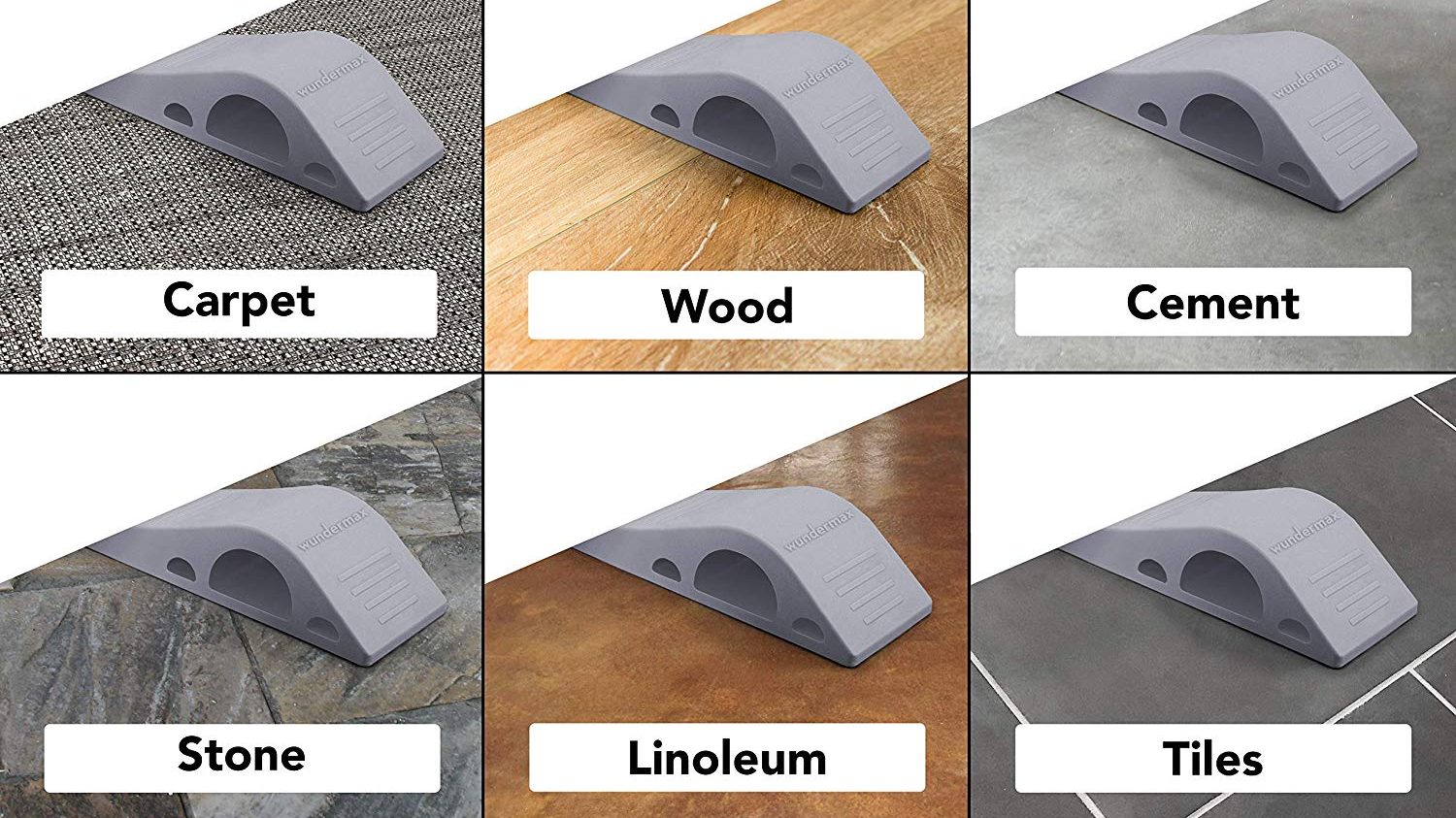 Obviously, if you're moving stuff out of one room and into the hallway or out through the front door, you're going to need multiple door stops. Luckily, there's the Wundermax Door Stopper Rubber Door Stop Wedge Pack of 3. These are made from premium quality rubber, are REACH-certified and odorless. They have been rigorously tested and approved by SGS. This set also comes with three free holder hooks, so you can easily store your door stops when they aren't being used. These hooks keep them in place and off the ground. You can get these in packs of three, four, or six and you can get them in gray, black, orange, red, white, or get a multicolored pack. Each one is uniquely sloped to provide an ultimate gripping power to the door, along with the anti-skid base. This will work on every kind of floor, including carpet, wood, cement, stone, tile, and linoleum. They can hold even the heaviest of doors, as they measure 4.8″ x 1.6″ x 1″. These will fit under any door hanging from 0.1″ to 1″ off the floor. These come with a money-back guarantee, so you can give them a try before deciding to keep them.
Wundermax Door Stoppers - Rubber Security Wedge for Bottom of Door on Carpet, Concrete, Tile, L…
List Price:
$15.99
Price:
$12.90
You Save:
$3.09 (19%)
Available from Amazon, BGR may receive a commission
Best Step-On Door Stop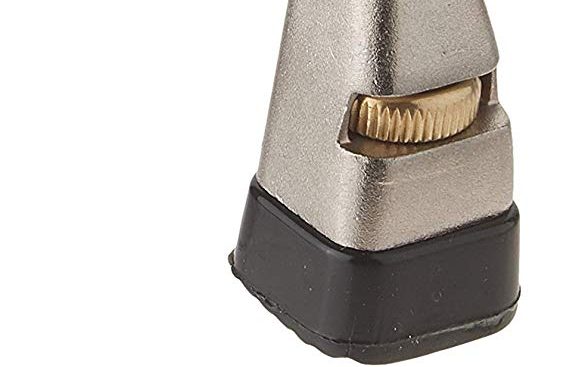 If you're worried about losing your loose door stop or if you have a pet that may chew on it, you can opt for the Tenby East-Step Door Stop. With its easy-to-use design, it's innovative and comes in four different colors: satin nickel, chrome, brass, and antique bronze. All you'll need to do to make it work is step on it and the sturdy spring mechanism will release downward. You don't need to bend down and you won't need to lift it up when it's down. The rubber tip that is touching the ground and keeping the door open is adjustable, so you'll be able to fit it to your door's measurements. This is made from high quality materials so it will last a long time. The rubber tip works on all kinds of surfaces like hardwood, concrete, tile, or carpets. Installation is extremely simple and everything you need to do it is included. These have matching screw holes, which is an update from previous models.
Tenby Easy-Step Door Stops, 4-Inch, Satin Nickel
Price:
$11.99
Available from Amazon, BGR may receive a commission
Best Decorative Door Stop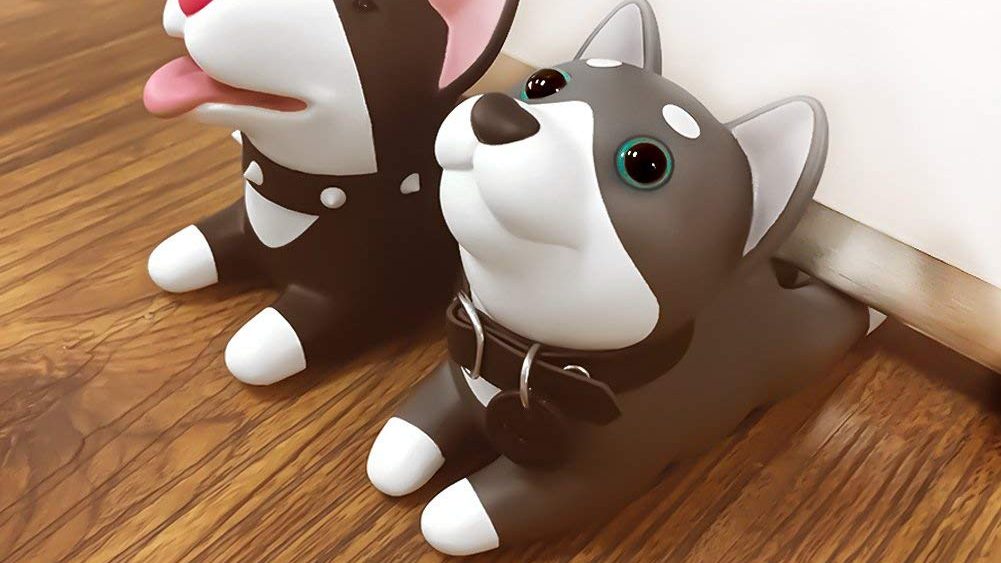 For a little bit of whimsy in your home, reach for the DomeStar Dog Door Stop. This adorable line of door stops is in the shape of dogs, meaning you'll be able to choose between a husky, bull terrier, corgi / shiba inu, or a mouse. All of them have heart-shaped noses, rotating heads, bright eyes and a name tag on a PU leather collar. These will work under doors that have between 0.35″ and 1″ of space at the bottom. Each one measures 5″ x 3.5″ x 2″ and weighs three ounces. Underneath each of them is a foam strip that prevents them from sliding on hardwood, tile or linoleum. It should be noted that these aren't meant to stop heavy doors, so you may want something stronger for those. You can also use these as decorations for your room or car. This is a must purchase for any dog lover to keep in their home.
DomeStar Door Stop, Cute Dog Door Stopper Husky Door Stop Decorative Door Stopper Animal Door W…
List Price:
$18.20
Price:
$11.99
You Save:
$6.21 (34%)
Available from Amazon, BGR may receive a commission