If you purchase an independently reviewed product or service through a link on our website, we may receive an affiliate commission.
Anybody who currently owns or has owned a dog in the past knows what kind of messes they can make. From getting into a garbage bin and rustling through the trash to having accidents indoors, it can take some training to have them housebroken. Going through that training can take some time but it is often very worth it. You'll quickly know what kind of chewer your dog is after you've brought them home. There are softer chewers who like to enjoy their toys and there are aggressive chewers who may tend to rip and shred anything in their path. If you're sick of buying expensive toys only to see your dog rip the stuffing or pieces off, you need to consider toys that are designed specifically for aggressive chewers. These tend to last longer and will often times provide benefits to your dog's teeth. While no toy is indestructible, some can come pretty close. We've done our homework and have found five of the best options for your and your pup. Take a look at our picks and stop picking up stuffing from your carpets.
Make your dog's breath smell better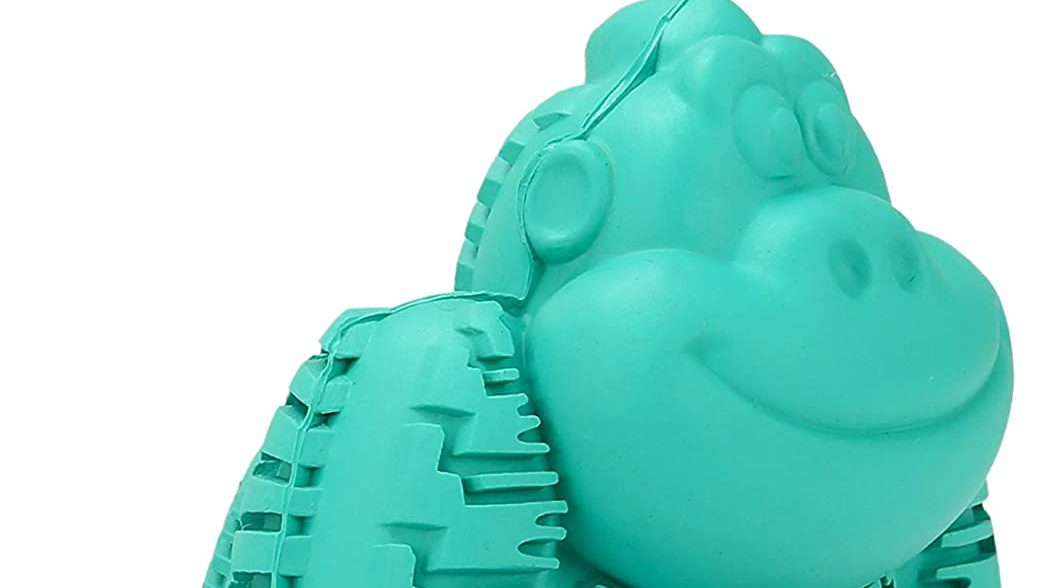 You can choose between a gator and a gorilla when you pick the Arm & Hammer Super Treadz Gorilla and Gator Dental Chew Toys for Dogs. This is extremely durable, as it is made from all natural rubber to withstand chewing. The shape will keep a dog enticed for hours and distracted. It is designed to freshen breath, stimulate gums, and reduce tartar and plaque buildup as your dog plays with the toy. It is infused with baking soda to help safely fight against bad breath. There is a hole in the bottom of the toy that allows you to put treats inside to advance the activity. It can be washed in the dishwasher and it comes in either mini or large sizes.
Key Features:
Freshens breath and stimulate gums
Reduces tartar and plaque buildup
Made from all natural rubber
Arm & Hammer for Pets Super Treadz Gorilla Dental Chew Toy for Dogs - Dog Dental Chew Toys Redu…
List Price:
$10.99
Price:
$7.85
You Save:
$3.14 (29%)
Available from Amazon, BGR may receive a commission
Play fetch and don't have a chewed ball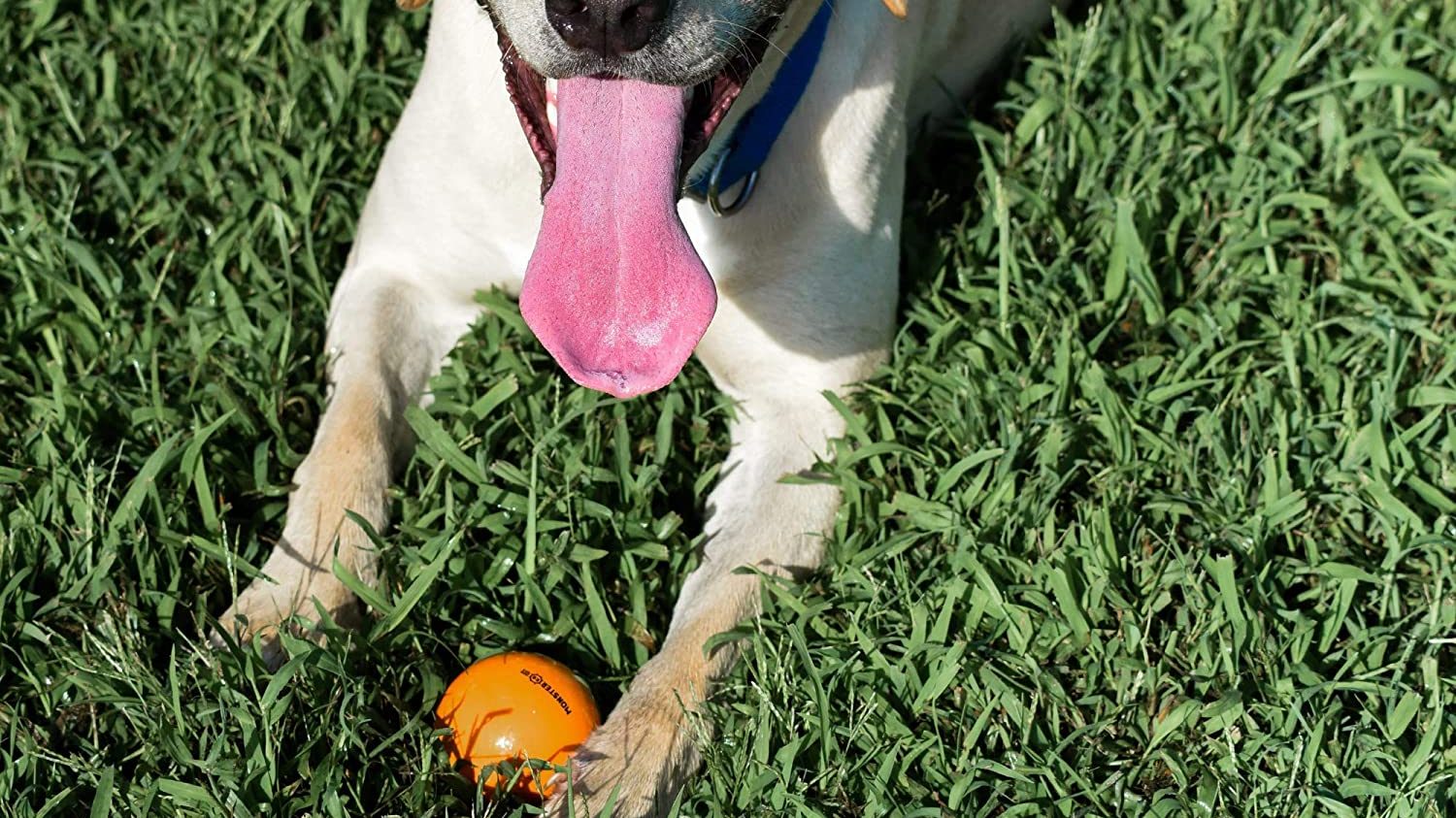 By adding the Indestructible Dog Ball from Monster K9 Dog Toys into your playing repertoire, you're going to get a lot of games of fetch in. This is made from a unique rubber formula that compares to the strongest rubber compounds on Earth. It is a solid and heavy-duty ball that is puncture-resistant. About the size of a baseball, this ball is ideal for medium to large sized dogs. It is 100% safe and non-toxic for the dog and will provide hours of fun.
Key Features:
Made from unique rubber formula
Puncture-resistant
Size of a baseball
Monster K9 Dog Toys - Ultra Durable Solid Ball - Lifetime Replacement Guarantee
Price:
$17.95
Available from Amazon, BGR may receive a commission
Pick the flavor your pet will love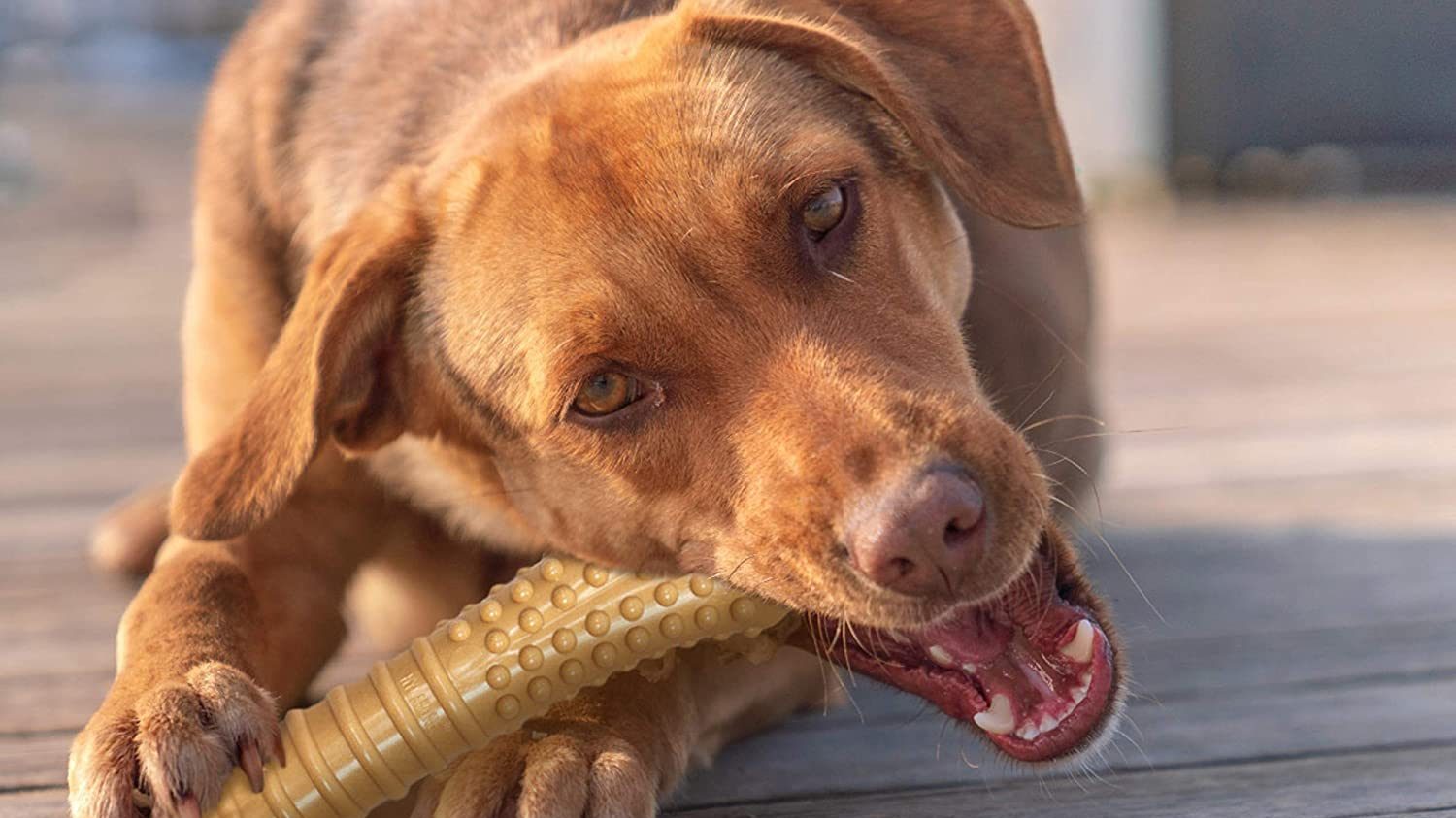 Tried and tested, the Nylabone Flavored Durable Dog Chew Toy can withstand a lot of force. It comes in multiple different sizes and flavors to best suit your specific dog. It ranges in size for dogs that are up to 15 pound to dogs that are over 50 pounds. This toy is offered in bacon, chicken, original, and peanut butter flavors. It is a tough and durable nylon bone that works well with aggressive chewers. The raised bristles help clean the dog's teeth to control plaque and tartar.
Key Features:
Tough and durable nylon bone
Comes in multiple sizes and flavors
Raised bristles clean the dog's teeth
Nylabone Power Chew Dog Bone for Aggressive Chewers Tough Chew Toy for Dogs, Peanut Butter, X-L…
Price:
$10.30
Available from Amazon, BGR may receive a commission
Get real ingredients for your dog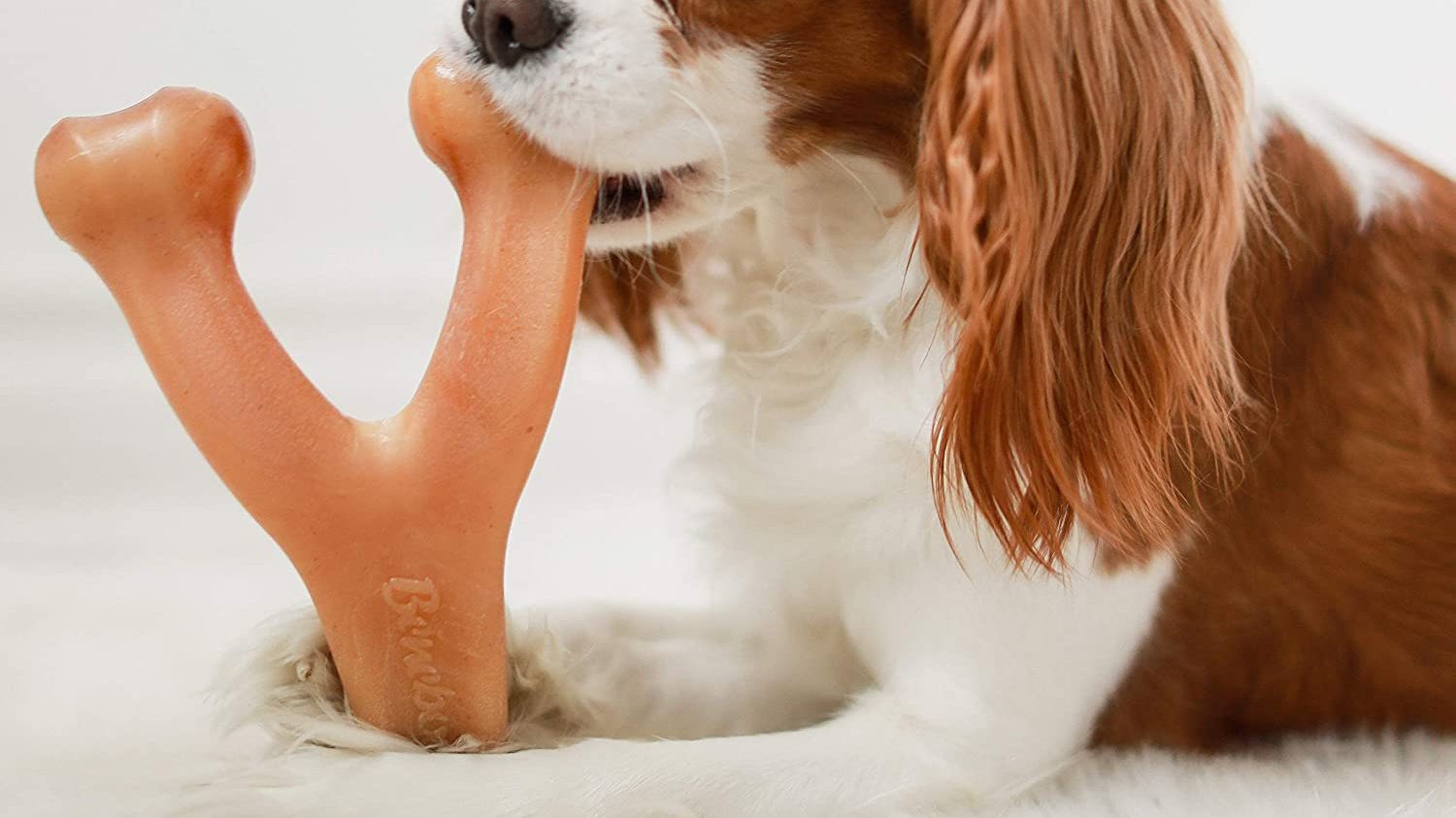 The Benebone Real Bacon Durable Wishbone Dog Chew Toy for Aggressive Chewers comes in multiple sizes for many breeds of dogs. You'll get chews that have either real bacon, real chicken, or real peanut in them. These are tougher than normal bones and are built to last for weeks. The Wishbone is easy to pick up and chew, as the paw-friendly grip makes it easy to get a good chew.
Key Features:
Tougher than normal bones
Have real ingredients in them
Easy to pick up and chew
Benebone Wishbone Durable Dog Chew Toy for Aggressive Chewers, Made in USA, Large, Real Bacon F…
List Price:
$17.41
Price:
$11.59
You Save:
$5.82 (33%)
Available from Amazon, BGR may receive a commission
Fill up the toy with treats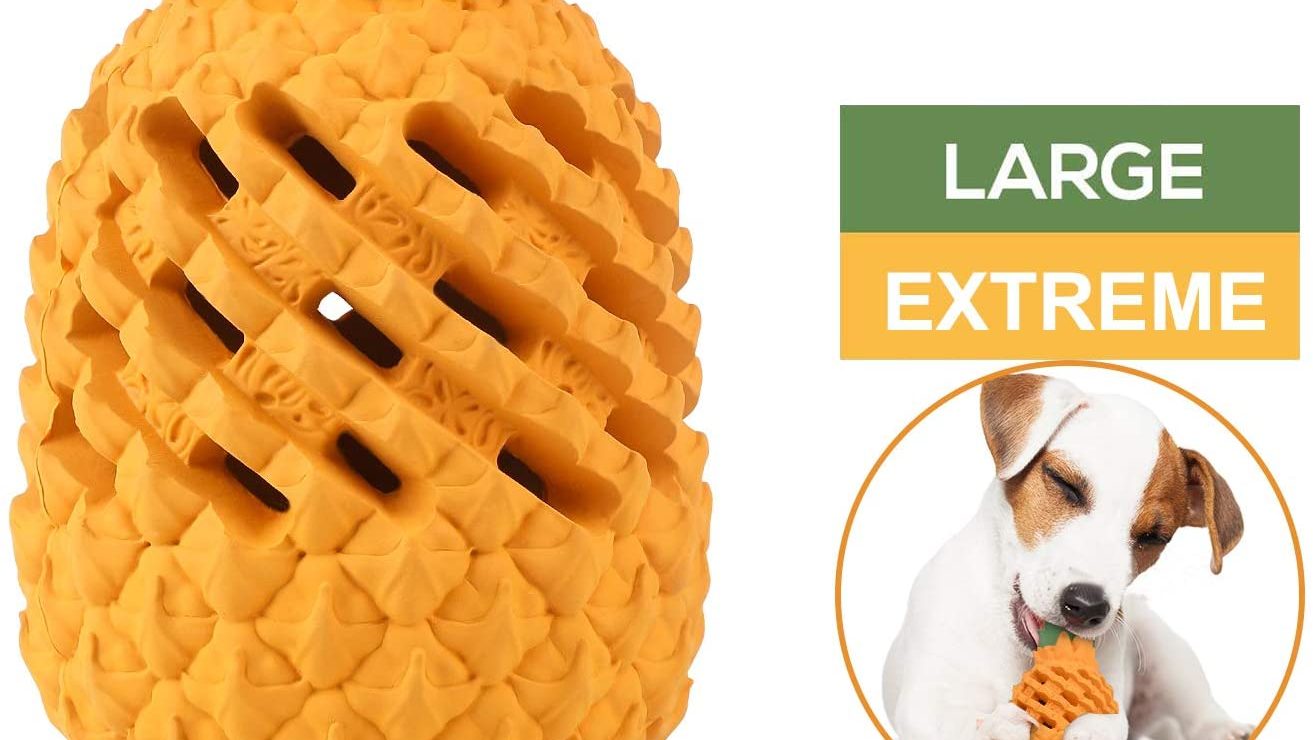 Your pet will love the WENXUAN Pineapple Dog Chew Toys for Aggressive Chewers. It comes in the shape of a pineapple and is made out of non-toxic, food-grade rubber that isn't brittle. It comes in x-small, small, large, or x-large to best suit the size of your dog. It improves dental hygiene and has a hole in the bottom, so you can fill it with food or treats.
Key Features:
Comes in four sizes
Looks like a pineapple
Hole in the bottom for treats
Pineapple Dog Chew Toys for Aggressive Chewer- Lifetime Replacement, Indestructible Interactive…
List Price:
$17.94
Price:
$15.99
You Save:
$1.95 (11%)
Available from Amazon, BGR may receive a commission