If you purchase an independently reviewed product or service through a link on our website, we may receive an affiliate commission.
Spending long hours in your workshop perfecting your abilities can really become beneficial. Whether you're crafting, soldering, woodworking, building, drilling, or hammering, you can create a lot of useful items in your home. But while you might be making a chair out of wood or making a sconce out of metal, there are likely to be pieces of debris or scraps flying around. You're going to want to protect yourself with some goggles and you're going to want to protect your clothing with a work apron. A canvas work apron provides you with storage while you're working with intricate parts, but it also keeps you safe too. It's a necessity when it comes to proper workshop attire, so you might as well find the right one for you. Below, we've highlighted our favorite options, so you can spend those long hours in your workshop until your family tells you that they miss you and you should come out of there.
Best Shoulder Apron
Draping an apron over your neck can give you sore muscles and develop a crick. But with the revolutionary design of the ecoZen Lifestyle Woodworking Shop Apron, that's not an issue. This hangs over your shoulders like overalls, so the weight is evenly distributed across. This 16-ounce waxed canvas apron is handcrafted and reinforced with grommets and rivets to ensure that it lasts a long time. The tool pockets are double stitched and the thick top and bottom hems make them all durable. This even has a safety glasses strap and a metal tape holder. This is surprisingly flexible and it won't trap dust and it prevents oils from soaking into your clothes. It will stay on well without slipping off. It's fully adjustable, so it will fit someone who is small or someone who requires an XXL size apron.
Woodworking Shop Apron - 16 oz Waxed Canvas Work Aprons | Metal Tape holder, Fully Adjustable t…
List Price:
$45.95
Price:
$39.95
You Save:
$6.00 (13%)
Available from Amazon, BGR may receive a commission
Best Apron for Phone Storage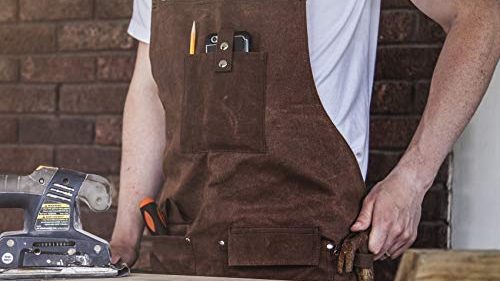 Nowadays, it's super rare for someone to go somewhere without their phone. So why would you go to the workshop without yours? Keep your phone safe with the Texas Canvas Wares Waxed Canvas Heavy Duty Work Apron. This premium, 16-ounce waxed canvas apron is water-resistant with reinforced pockets and steel rivets and grommets. This also has dual hammer loops, an entry assist device, and a quick release buckle. The phone pocket has a unique strap with two snaps to keep your phone secure. Your phone won't fall out while you're leaning forward. The cross-back straps keep it secured to your body and allows you to customize the fit. The flapped design of the pockets will make sure they don't fill up with sawdust. The apron measures 27″ wide and 34″ tall for a universal fit. It is backed by a 100% satisfaction guarantee.
Waxed Canvas Heavy Duty Work Apron With Pockets - Deluxe Edition with Quick Release Buckle Adju…
Price:
$54.95
Available from Amazon, BGR may receive a commission
Most Versatile Apron
Providing you a multitude of uses, the Hudson Durable Goods Heavy Duty Waxed Canvas Apron allows for a range of adjustments during use. This rugged and water-resistant apron is reinforced with gun metal rivets and grommets as well as double stitched pockets and thick hems. The adjustable cross back straps design protects your neck from soreness. It is recommended for adults who are 5'2″ and taller. This has large pockets on the front that are easy to access, as well as a pencil/phone pocket and a kangaroo-like pouch for your hands. There are four different versions of this apron and it can be used for carpentry, woodworking, using machinery, tattooing, brewing, or by blacksmiths or baristas alike.
Hudson Durable Goods - Waxed Canvas Apron - Black Apron for Men and Women - With Pockets & Cros…
Price:
$28.99
Available from Amazon, BGR may receive a commission
Best Apron for Larger Users
Some aprons are more form-fitting than others, so if you happen to be a larger person, you need to be aware of this. When you pick up the Bucket Boss Canvas SuperShop Work Apron, you'll be covered. This fits up to a 52 waist and it has an adjustable belt and a quick release buckle. It features padded and adjustable shoulder straps, so if they aren't sitting quite right, you can fix them. This is a heavy-duty apron that's made of canvas construction and it features three pockets for you to store items in. It comes in a sleek brown color that will fit in well with your surroundings.
Bucket Boss - Canvas SuperShop Apron, Aprons & Vests (80300), Brown
List Price:
$22.99
Price:
$19.74
You Save:
$3.25 (14%)
Available from Amazon, BGR may receive a commission
Best Apron for Pocket Storage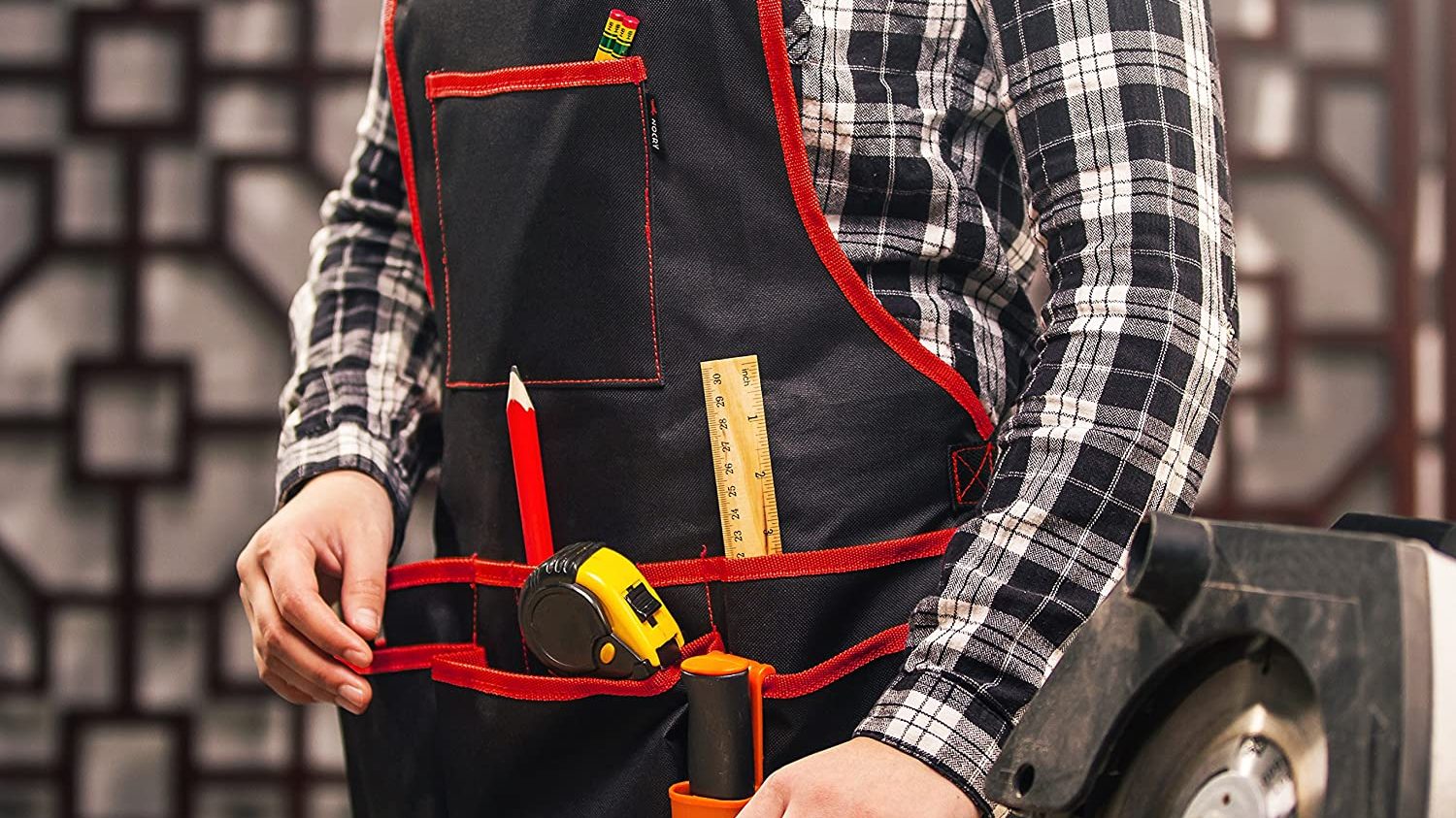 For a no-nonsense option, check out the NoCry Professional Canvas Work Apron. This is made from high quality materials and a waterproof 600D Oxford canvas. The straps are double sewn for extra durability. There are 16 tool pockets, so you can quickly organize your hammers, screws, pencils, knives, pliers, screwdrivers, nails and any other tools from your toolbox. It is ergonomically designed to evenly distribute weight on both shoulders. It is backed by a lifetime guarantee, so if something were to go wrong, you can get a replacement or a refund without a problem.
NoCry Professional Canvas Work Apron - with 16 Tool Pockets, Fully Adjustable, Waterproof & Pro…
Price:
$15.99
Available from Amazon, BGR may receive a commission