If you purchase an independently reviewed product or service through a link on our website, we may receive an affiliate commission. Learn more.
The Apple Watch Ultra is the newest addition to the Apple Watch lineup. It's also the most expensive model Apple sells right now, at least when you compare prices for the base models. $799 is indeed a lot to pay for a smartwatch, though most people who own one would argue that it's more than worth the price. And today, there's an Apple Watch Ultra sale that drops it back down to an all-time low price.
Head over to Amazon and you'll find several different Apple Watch Ultra configurations listed at $749 instead of $799. Then, on top of that, a few SKUs have an extra $19.01 discount that's taken off at checkout. That means you can get a brand-new Apple Watch Ultra for just $729.99.
Apple Watches are by far the most popular smartwatches in the world. In fact, there's no close rival from any other brand. And while Apple doesn't share sales data, the Apple Watch Series 8 is believed to be the best-selling model by a landslide.
There are some very impressive Apple Watch Series 8 deals available right now. And if you want an Apple Watch SE or Apple Watch Series 7, you'll find a few great sales in our roundup of the best Apple Watch deals.
But now, a new sale popped up on the flagship Apple Watch Ultra.
The Apple Watch Ultra is the largest and toughest watch Apple has ever made. It features a huge 49mm display and a titanium case. It's aimed at extreme sports and can endure extreme weather, but most Ultra owners aren't really extreme athletes. They just want the best Apple Watch model that has ever been released.
If you've been considering the Apple Watch Ultra but the high price has given you pause, today is your lucky day. There's an Apple Watch Ultra sale over at Amazon that drops it back down to the lowest price ever.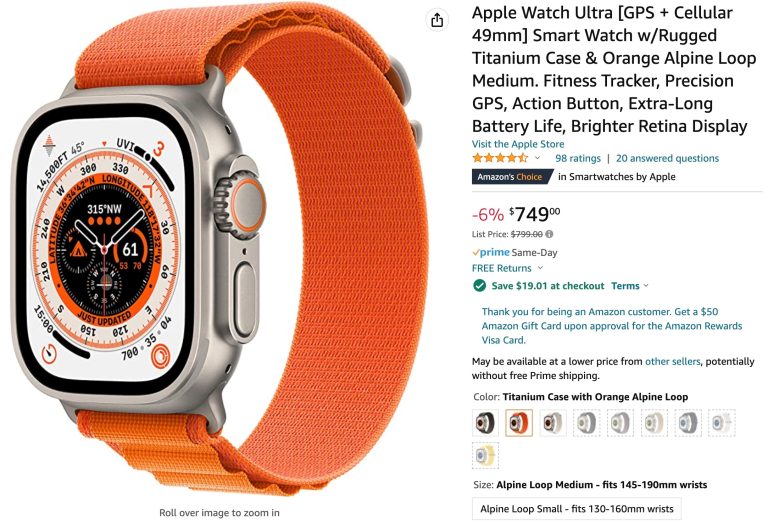 Normally priced at $799, the Apple Watch Ultra starts at the same price as the Apple Watch Series 8 in stainless steel with a Modern Buckle band. All things considered, that price is more than fair. But Amazon has a special sale running right now that makes your final price just $729.99.
You'll see several configurations listed at $749 today. Then, as you can see in the screenshot above, a few models have an extra $19.01 discount that's applied at checkout.
This is the lowest price ever for the Apple Watch Ultra, matching the sales we saw last year ahead of the holidays. We doubt these deals will last very long though.