As most of you have probably heard, the high-end watch phone company Vertu recently went out of business. That's actually way too elegant of a statement — after being sold three times since initially being offloaded by Nokia, the brand's original owner, the company couldn't meet obligations. It stiffed workers on two months of pay and retirement accounts, and then held a liquidation auction where the Vertu sold off everything from office desks to printers.
For of a lot of phone enthusiasts, Vertu wasn't just a company that made products that couldn't compete on so-called speeds and feeds. Some go as far as to say Vertu peddled overpriced steaming piles of garbage. But, that is not the case at all. And I argue that Vertu's positioning in the market wasn't outlandish, it was necessary.
When Vertu burst onto the scene in 2002, the company had one line of handsets, and they called it the Signature line. These ranged in prices from around $6,000 for a stainless steel model to $35,000 for a platinum phone. More variants included yellow gold with pavé diamonds to one-offs reaching $400,000. This was a tri-band GSM phone with a monochrome display. It featured ruby jeweled-bearings under each key on the keypad. The ear pillow was made of ceramic, the display was covered in sapphire crystal. All of the packaging was gorgeous, and the pièce de résistance? A decided button on the side of the phone that connected you immediately to high-end concierge service called Vertu Concierge, twenty-four hours a day, seven days a week, for free. All the company's phones were also hand-assembled in Hampshire, England.
What's so interesting about Vertu to me, as a fan of the company and as someone who has owned one of almost every model the company made, is how successful Vertu actually was. You would think from what I wrote above that there just aren't that many suckers out there willing to spend $10,000 on a phone, but you'd be wrong.
First off, Vertu had an easy, say, seven-year period without having to worry about being kicked out of the technological arena with the world-changing iPhone and then the follower, Android. Owned by Nokia at the time, Vertu featured customized versions of different Symbian-based OSes, adding a Vertu take on the very popular Nokia E71, for instance, with a full QWERTY keyboard. The company made a flip phone, a touchscreen phone, updated Ascents with cameras. Finally, over time, after the sale by Nokia, Vertu eventually made its way to Android.
The partnerships the company featured were incredible. From Ferrari, to Bentley, to the Racetrack Legends series featuring Le Mans and Nürburgring, to Bang & Olufsen. Vertu made handsets for a lifestyle. Jet-set clients, world travelers, experience-seekers and some of the wealthiest people in the world.
The overarching point of this recap, however, is that Vertu sold a ton of phones because of its market positioning. How many phones would you think Vertu sold since the company launched around 15 years ago? 10,000 phones? Hold on, some of them obviously weren't $25,000. Some were around $5,500. So maybe 50,000 phones when you factor in markets like Russia or China, right?
Try close to 500,000 phones. At an average selling price of $6,000 (which I would say is quite low), that's around $2.7 billion of revenue.
Seems a bit less like a hot garbage fire now, doesn't it? When we get into the arguments of whether a Vertu should cost $7,500, it most certainly shouldn't if we're looking at it from a raw parts perspective, even including exotic metals and skins like rose gold and crocodile or stingray. But does your plastic Louis Vuitton handbag cost $2,500 in materials? (yes, Louis Vuitton is plastic). Does a full black ceramic Audemars Piguet Royal Oak Perpetual Calendar cost $85,000 in materials? You don't equate cost and value with other luxury items, so why do that with a phone company that is in fact a luxury goods company, selling a luxury vision to discerning and, might I add, very happy customers?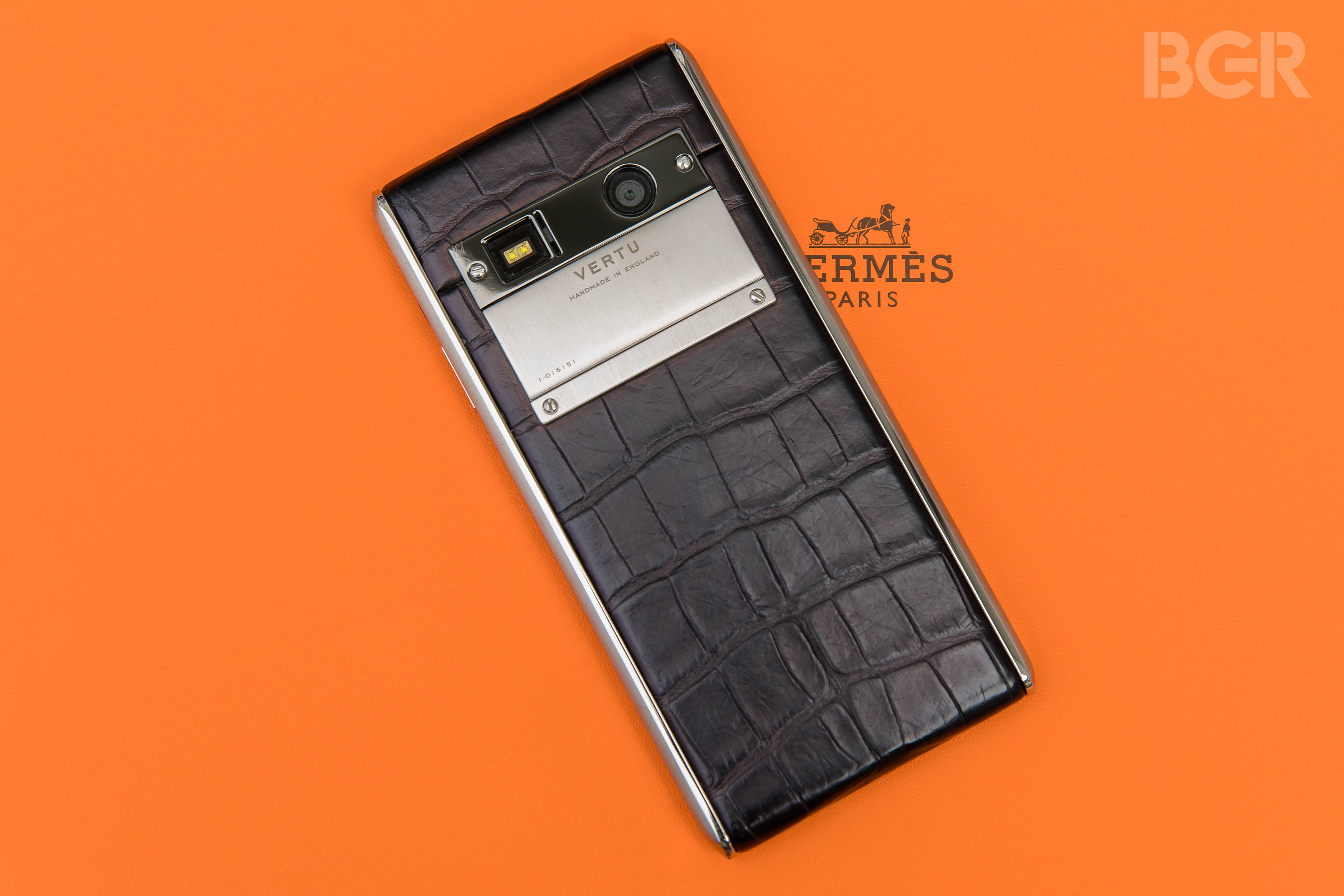 While Vertu didn't necessarily push existing manufacturers in specific directions constantly, having this incredibly high-end portfolio of products really did set the trend for a bunch of what you're seeing now. A focus on manufacturing and care, on the inside and out. Sapphire-covered screens. OLED displays. Incredible, high-quality speakers. Laser-drilled keypads. LiquidMetal alloy. 360 degrees of branding, packaging, and experience. Carbon fiber. Boutiques and service centers across the world. Wonderful OS customizations. Oh man, the OS.
I have to say that I don't believe there is a single manufacturer who has customized Android better than Vertu. It just feels like you're using something special and luxurious. It's tasteful — everything from the way the phone turns the display off when you lock it, to the exclusive clocks, the London Symphony Orchestra-commissioned ringtones (I'm pretty sure I bought some of these phones in the past just for the ringtones and incredible sound). It's truly is a wonderful software package.
I recently jumped back into the Vertu world just for a moment, when I saw some distressed pieces appear, and it really brought back a ton of memories. It might sound silly in this context, but the experience matters so much. Just as Apple's experience is unmatched, Vertu had that for the ultra high-end market. From the moment you took the phone out of the expensive (and quite heavy!) packaging, to hearing that beautiful London Symphony Orchestra start-up tone through those incredible speakers, to calling someone and hearing the most vivid and clearest call quality — that is what Vertu executed on so amazingly.
That's why we need a Vertu. Even though we have an Apple, which is currently pushing the smartphone industry further than any other company, we need a brand that can afford to take risks on materials at the high-end. Not a real garbage fire, like Essential, which claims to make a small batch high-end product that is actually just glue and screws.
I want Vertu back, damn it.