Normally, when we hear anything from any of the big four carriers about its network, it's about how it's the best in the country and all the competition should be quaking in their boots. T-Mobile is the best of the lot at talking smack, and CEO John Legere has no problem trash-talking rival CEOs on Twitter, nicknaming his competitors "Dumb and Dumber," or calling Comcast and Charter "irrelevant and irrelevant squared."
But in the cold hard light of day — namely, a regulatory filing with the FCC to try and get the T-Mobile merger with Sprint approved — things suddenly look very different. When it comes to pleading for permission to merge, T-Mobile suddenly doesn't have the best network in the country, and rather than destroying the competition, it turns out that T-Mobile has barely made a dent.
The Public Interest Statement filed with the FCC is T-Mobile and Sprint's chance to put forwards their case for why the merger should happen.The document follows exactly the same line of reasoning that the companies put out when they first announced the merger: A combined T-Mobile and Sprint will be the only company that will be able to build out a 5G network in a timely fashion, and without the merger, neither company will be able to effectively compete against Verizon or AT&T.
From reading the public interest statement, you'd think that T-Mobile was a company on the verge of bankrupcy, not a network that's nearly doubled its revenue in five years, turned around its brand identity and seeing faster subscriber growth than any other network. From the filing:
To date, T-Mobile and Sprint, individually, have not been able to materially erode Verizon and AT&T's wireless market share or overcome their scale advantages. New T-Mobile, however, will be able to go toe-to-toe with the two larger rivals to the benefit of competition and consumers.
Remember Xfinity Mobile and the soon-to-launch Spectrum Mobile, which John Legere called "irrelevant" and "irrelevant squared" just a few months ago?
Many significant companies, particularly Comcast and Charter, but also DISH, TracFone, and Google, have successfully entered or are on the verge of entering the wireless market, demonstrating the intensity of current competition in the sector. Indeed, renowned economists Professor Steven Salop and Dr. Yianis Sarafidis find that, "a conclusion that there will be higher risk of coordination after this merger cannot be supported" by the totality of the evidence and economic analysis.
Things are apparently even more dire when you look at network infrastructure. Both T-Mobile and Sprint have been bullish about their 5G plans from the very beginning, with T-Mobile keen to engage in the usual trash-talk of Verizon and AT&T's plans. "The best way to launch a new technology is new, clear spectrum like 600 MHz, then re-use other spectrum bands for 5G over time," said T-Mobile CTO Neville Ray just months ago, in a blog post making the case for why T-Mobile is the best positioned to roll out 5G. "We are in a best position to execute on this strategy, and will drive the network evolution to 5G."
That optimism appears to have gone missing in the Public Interest Statement:
Although T-Mobile will build a nationwide 5G network, as shown in the map below, its broad coverage is based on deployment of the 600 MHz spectrum, which lacks the bandwidth to deliver upon the full data rate and capacity gains possible for 5G. The map below also demonstrates that T-Mobile's lack of access to significant, unused mid-band spectrum and large amounts of high-band millimeter wave spectrum across the entire U.S. would continue to limit its ability to support the most demanding, high capacity 5G applications….T-Mobile, therefore, has limited overall capacity and ability in the near term to serve a large number of simultaneous customers with high bandwidth applications as compared to its competitors.
To be clear, T-Mobile and Sprint aren't wrong that combining their networks would make it faster and easier to roll out 5G; it's just that to make that argument, both networks are having to roll back years of public statements about how they're poised to demolish the competition at a moment's notice. Frankly, it's strange to read a document put out by a mobile network that includes maps showing just how terrible coverage might be: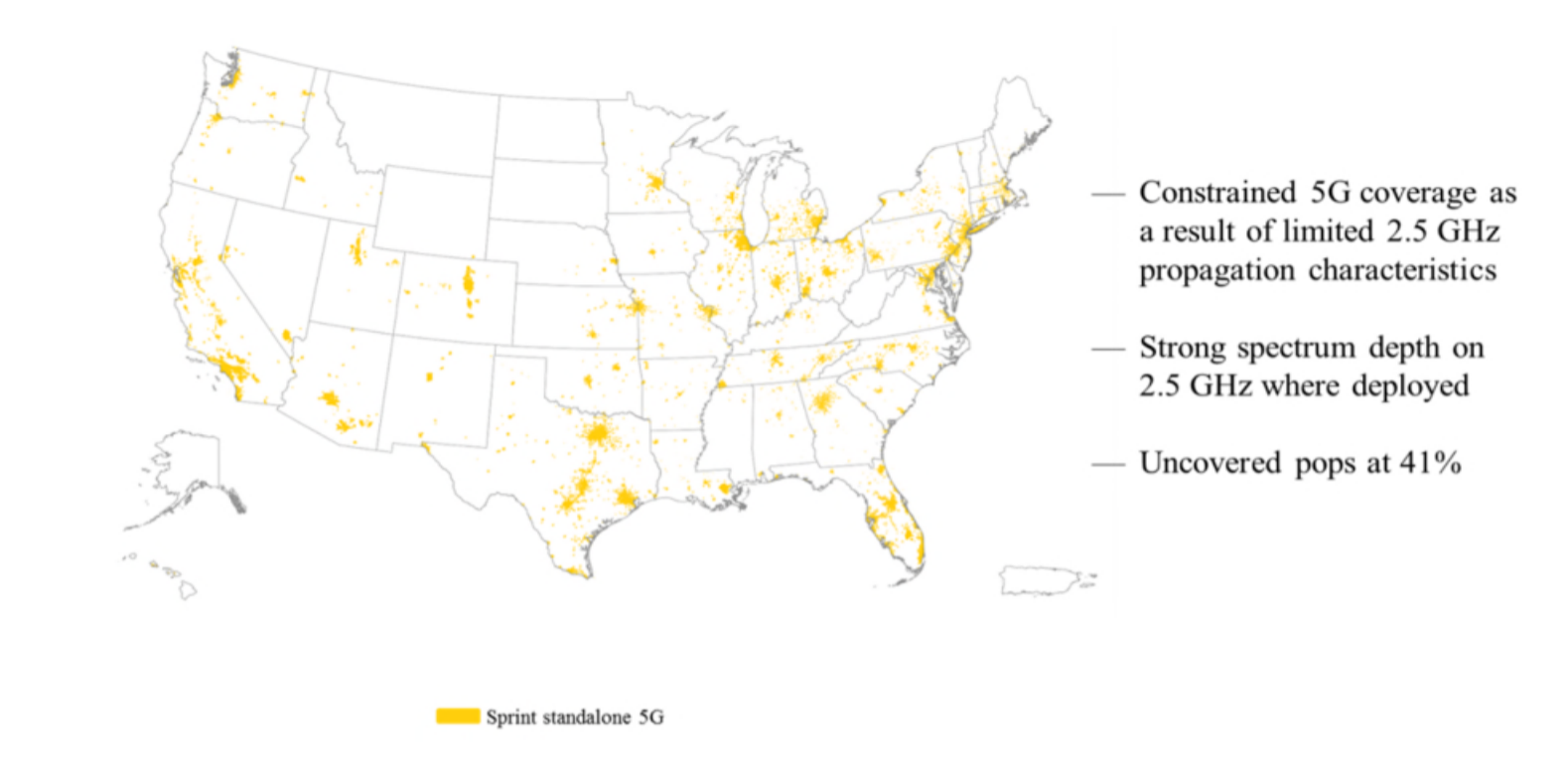 The filing also touches on the job effects of the merger. Since one of the key drivers behind any horizontal merger of this type is the ability to save money by consolidating duplicate functions — for example, consolidating neighboring T-Mobile and Sprint retail stores into one — it would be easy to conclude that the merger would end up costing jobs. The Communications Workers of America union estimates job losses at 20,000 from the merger.
In the filing, New T-Mobile estimates it will add 3,600 new "direct" employees as the result of the merger. It's worth bearing in mind, however, that a significant number of T-Mobile's stores (several thousand of the ~6,000 total retail stores, but there's no public data I can find) are T-Mobile franchise locations, and the employees of those stores aren't employed directly by T-Mobile, and thus wouldn't be included in those numbers.
The filing itself is hundreds of pages long and there's still more details to be teased out of it, but thus far, it's easy to see T-Mobile's overall angle: Currently, we suck, but if this merger goes through, we can make America's wireless networks great again. It's a good story; we'll just see how well regulators and investors buy T-Mobile's dramatic U-turn.