Dua-lens cameras on smartphones are a big thing right now. Apple was hardly the first company to use a dual cam in a smartphone, but every other smartphone maker coincidentally jumped on the trend right after Apple. The iPhone 7 Plus, launched back in 2016, was followed by tons of devices that packed dual-lens shooters. Then Samsung introduced a dual camera Galaxy Note 8 late last summer, and Apple's iPhone 8 Plus and iPhone X that followed featured upgraded dual camera experiences.
The Galaxy S9+ just became the first Galaxy S family member to feature a dual-lens camera on the back, which promises spectacular low-light photography and slow-motion video recording technology. But the most sophisticated dual-lens smartphone camera tech that's on display at the Mobile World Congress isn't on the Galaxy S9+. It's not made by Samsung and, sadly, it's not even found on any new commercial product.
Right at the end of its short press conference at MWC 2018 on Monday, Sony teased a camera tech innovation preview during its "one more thing" moment. The ultra-high sensitivity camera, which can "see the unseen," features two lenses and a new Sony fusion image signal processor that supports real-time processing. The purpose of Sony's dual cam isn't to add bokeh blurring to your pictures, although it'll supposedly be able to do that too. Instead, Sony is focusing on taking pictures and recording video in extremely dark conditions. The dual camera, which is on display at Sony's booth on prototype devices that are actually hidden from view, delivers "unprecedented ISO sensitivity 51200 for photos and ISO 12800 for video." That's the kind of camera tech that's only available with interchangeable lenses, Sony said.
As I said before, the camera isn't ready for mass consumption — and there's no dual cam in the just announced Xperia XZ2. But the camera is being developed for the Xperia line going forward. Sony's press materials say the tech is "coming soon," but Sony execs were not ready to share any actual launch timelines.
Now that you know what Sony's working on in the camera department, I'll try to explain how amazing the technology is.
To demo it, Sony built a tiny world inside a tank of total darkness. We've got a massive castle by the river, a tiny village next to it, a windmill operating at night, and a sky full of stars.
Here, let me show you what that looks like on a photo taken with the iPhone X. Remember, Apple's iPhone X has a dual camera of its own and offers low-light photography that's better than any other iPhone. All the images that follow aren't altered in any way aside from being watermarked and resized.
You can see the lights are turned on everywhere, but not much else. It's even worse if you try to record video without a flash.
I then asked to use the flash, just so I can show you guys everything else the iPhone X's dual camera fails to capture. Here's the same scene again.
Now let's check out Sony's new dual cam tech in the following image.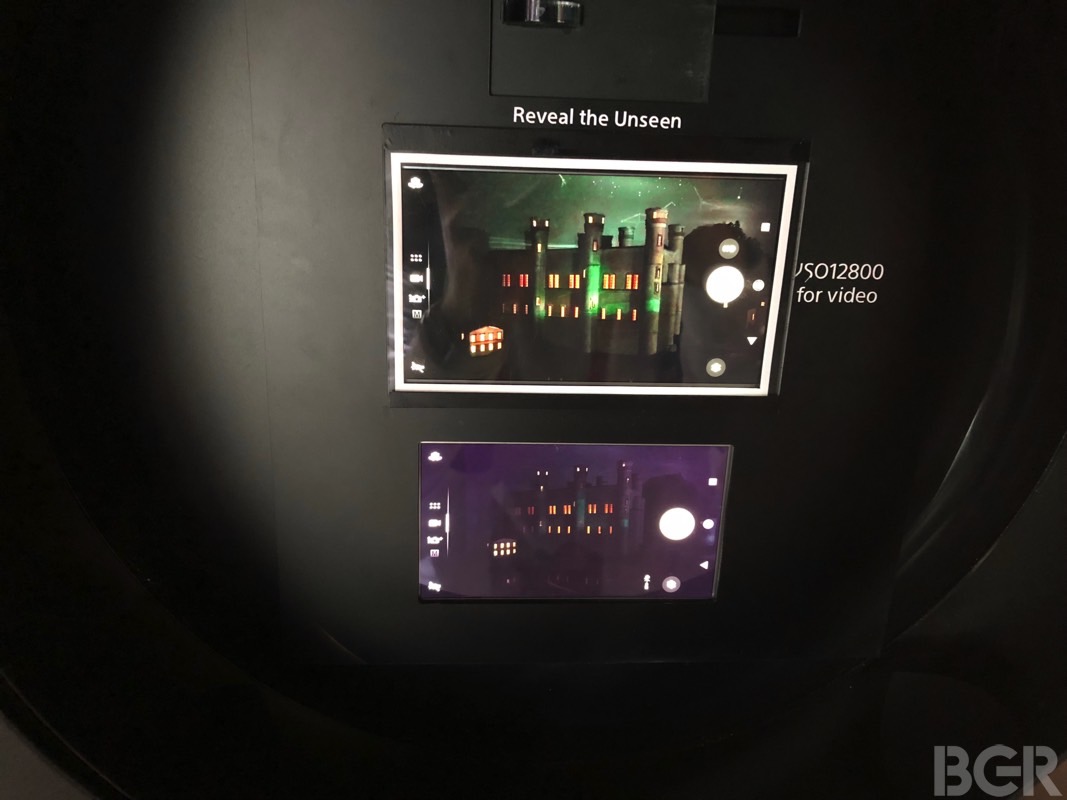 We have two Xperia phones in recording mode in the image below. The one on top uses the prototype camera tech, while the one on the bottom uses a single-lens regular Xperia camera.
On the bigger screen, you can notice plenty of details from the scene. In fact, the photo above doesn't do the experience justice. During the test, I was asked to check whether I could see the windmill rotating, the water moving, or the sky. Yes, yes, and yes for the dual camera. Not so much for the regular single-lens camera.
Here's what that dual camera setup looks like.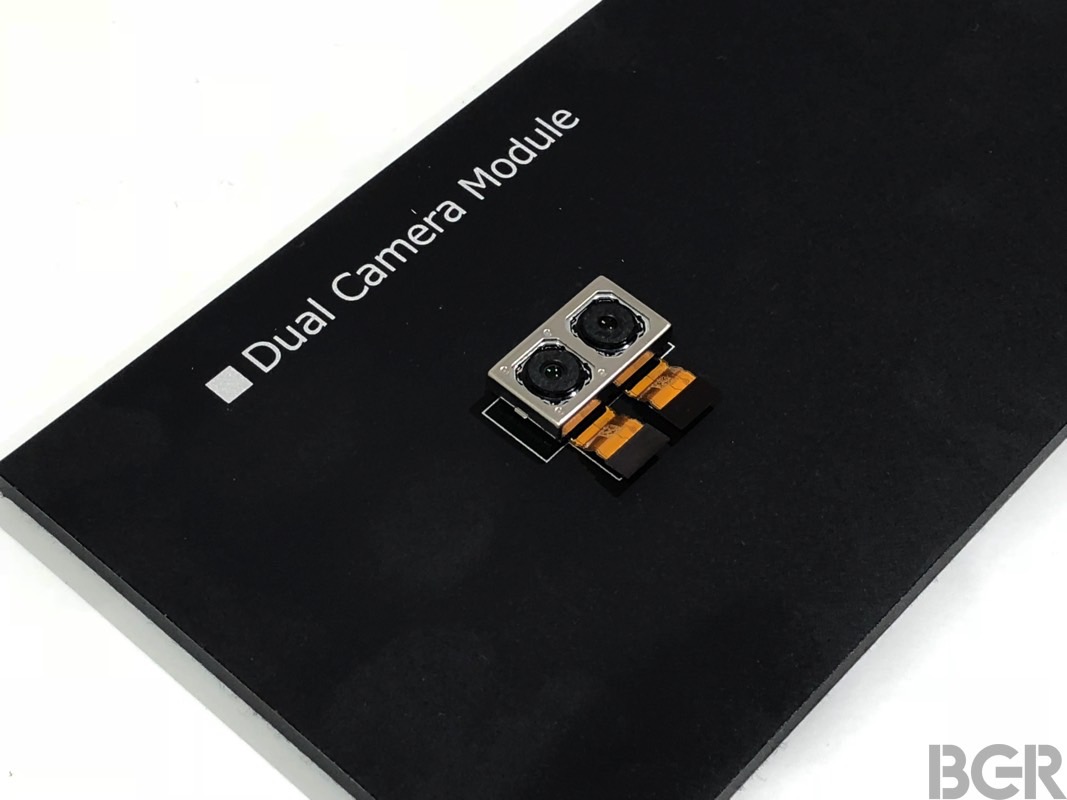 And here's Sony's tiny fusion image processing chip that powers the camera.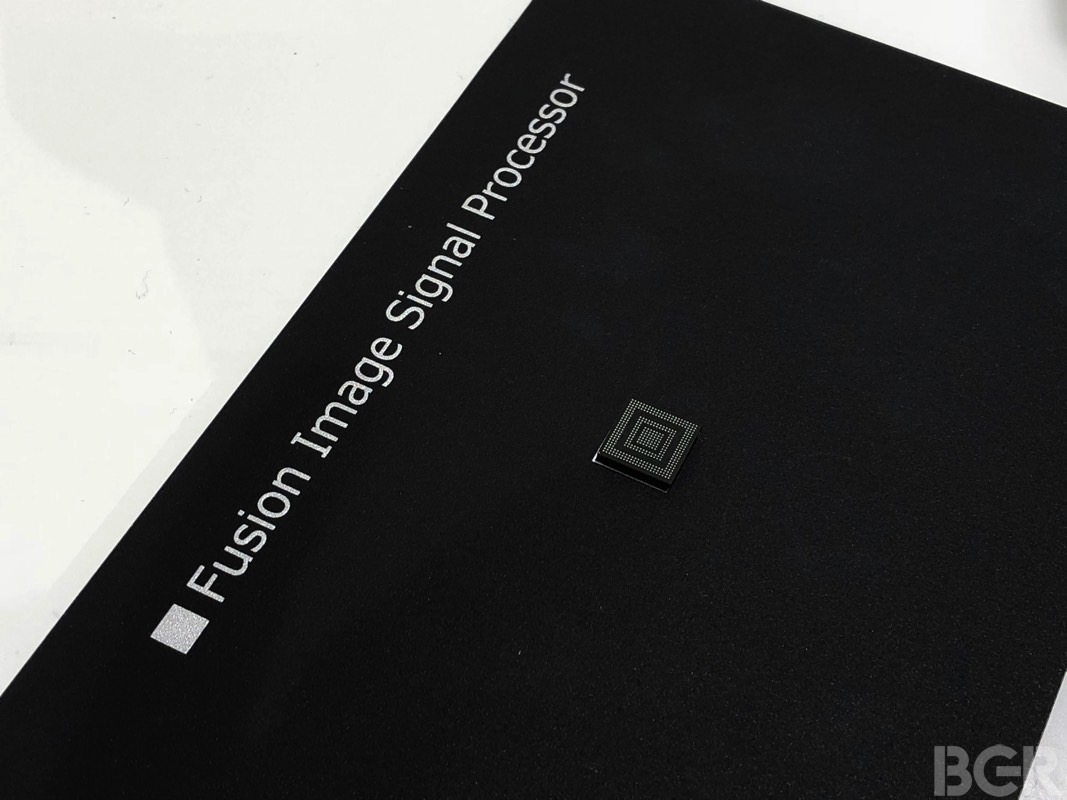 Here's how big these are compared to the Xperia XZ2.
Sony is currently testing the technology and making sure everything "is done right," vice president of marketing Don Mesa told me during a brief chat after Sony's event. "We want to make sure these cameras talk well with each other and really achieve something that can push the boundaries of the camera technology," he said, adding that Sony takes great pride in its technology and plans to offer the best experience possible from a dual camera.
That's exactly what you expect to hear from marketing professionals. But what I actually experienced during the demo isn't something the iPhone X can pull off, and that's saying something.
Recent history shows that Sony's MWC concepts usually hit the market about a year later. The Xperia Touch projector and the Xperia Ear Duo are examples of that "technology done right" approach. And if Sony is developing this particular type of sophisticated camera tech, everyone else in the business is probably paying attention.