WWDC 2017 is underway and, as expected, Apple has already made a number of exciting announcements. With six big announcements on the docket, Tim Cook began with some tvOS news, announcing that Amazon is finally coming to the Apple TV later this year. Following that, we saw the introduction of watchOS 4 and a preview of what Apple is planning to deliver with the next iteration of macOS, High Sierra.
Of course, WWDC this year isn't just about software, with Apple giving us a sneak preview of a brand new desktop: the iMac Pro. Apple is positioning the iMac Pro as the most powerful Mac ever released, and the specs we've seen thus far seem to justify that claim.
Here's what we know so far. The iMac Pro comes with a 5K display and a sleek Space Grey design that even goes down to the keyboard itself. Performance wise, Apple claims the iMac Pro is more powerful than the existing Mac Pro and ships with an 8-core Xeon processor. And if you really want to trick things out, you can customize it and enjoy 10 cores or even 18 cores. The iMac Pro can support up to 128GB of RAM and ships with 4 Thunderbolt 3 ports.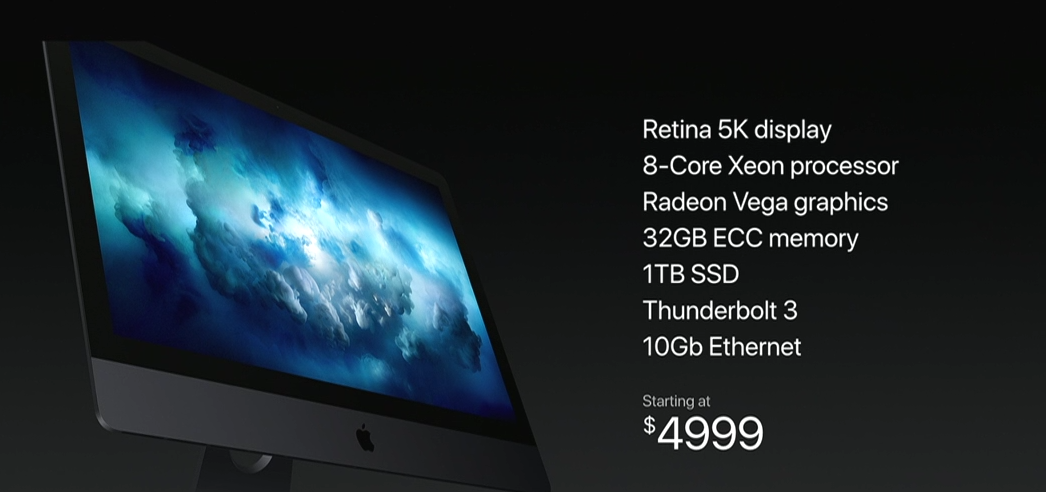 The starting price is $4,999 and will ship in December of this year.
Apple's press release reads in part:
The all-new iMac Pro, with its gorgeous 27-inch Retina 5K display, up to 18-core Xeon processors and up to 22 Teraflops of graphics computation, is the most powerful Mac ever made. Featuring a stunning new space gray enclosure, iMac Pro packs incredible performance for advanced graphics editing, virtual reality content creation and real-time 3D rendering.

Featuring next-generation Intel Xeon processors up to 18 cores, iMac Pro is designed to handle the most demanding pro workflows. With an all-flash architecture and all-new thermal design, iMac Pro delivers up to 80 percent more cooling capacity in the same thin and seamless iMac design. And with a new space gray enclosure and gorgeous 27-inch Retina 5K display with support for 1 billion colors, iMac Pro is as stunning as it is powerful.

iMac Pro comes with the new Radeon Pro Vega GPU, the most advanced graphics ever in a Mac. Featuring a new next-generation compute core and up to 16GB of on-package high-bandwidth memory (HBM2), iMac Pro with the Vega GPU delivers up to an amazing 11 Teraflops of single-precision compute power for real-time 3D rendering and immersive, high frame rate VR. And for half-precision computation, ideal for machine learning, iMac Pro delivers up to an incredible 22 Teraflops of performance.
With so much criticism directed at Apple for ignoring creative professionals, it's nice to see that Apple is planning to release incredibly enticing pro-oriented device.
Make sure to check out our WWDC 2017 hub for the latest news from Apple's keynote.