A lot of "wireless" tech inside practically any smart device that's currently available in stores, but there's still one magical wireless feature that's still not widely available. We connect wirelessly to Wi-Fi and cellular networks. Bluetooth and NFC are also wireless technologies that allow us to transmit information across short distances. And we can recharge devices wirelessly, as long as we place them on wireless-charging surfaces that are hooked up to a power outlet via a wire. True, long-distance, wireless charging is the next big thing that we expect from device makers, something that will forever fix battery life worries. It may be a while until an iPhone's battery can be recharged wirelessly from across the room, but the time has come to do that with other devices that you might be more than familiar with, including Amazon's Echo Dot and Google's Home Mini smart speakers.
Neither the Dot nor the Mini have built-in batteries, and they need to be plugged in for Alexa or Google Assistant to be able to answer your queries. But Israeli firm Wi-Charge has cooked up the Wireless Power Kit in the image above that turns either device into an always-on, always-powered smart speaker that can be operated freely around the house, even in areas where there's no power outlet in reach.
Turning these devices into wireless speakers that don't need to be recharged using regular chargers will also help you get rid of those unsightly wires that can be a pain to hide. Wi-Charge tech works with multiple devices at the same time, as long as each one is hooked up to a receiver — the following demo shows the tech in action.
As exciting as this type of long-range wireless power tech is, there is one drawback. You need to place the Echo Dot or Home Mini on a special kind of dock, which works together with Wi-Charge power transmitters to recharge the speaker via infrared light. That dock is somewhat bulky, and it'll get noticed. Of course, we're still in the early stages of long-range wireless charging, and it's likely these components will be reduced in size in the coming years. Maybe device makers will build long-range wireless charging tech right inside smart products of the future.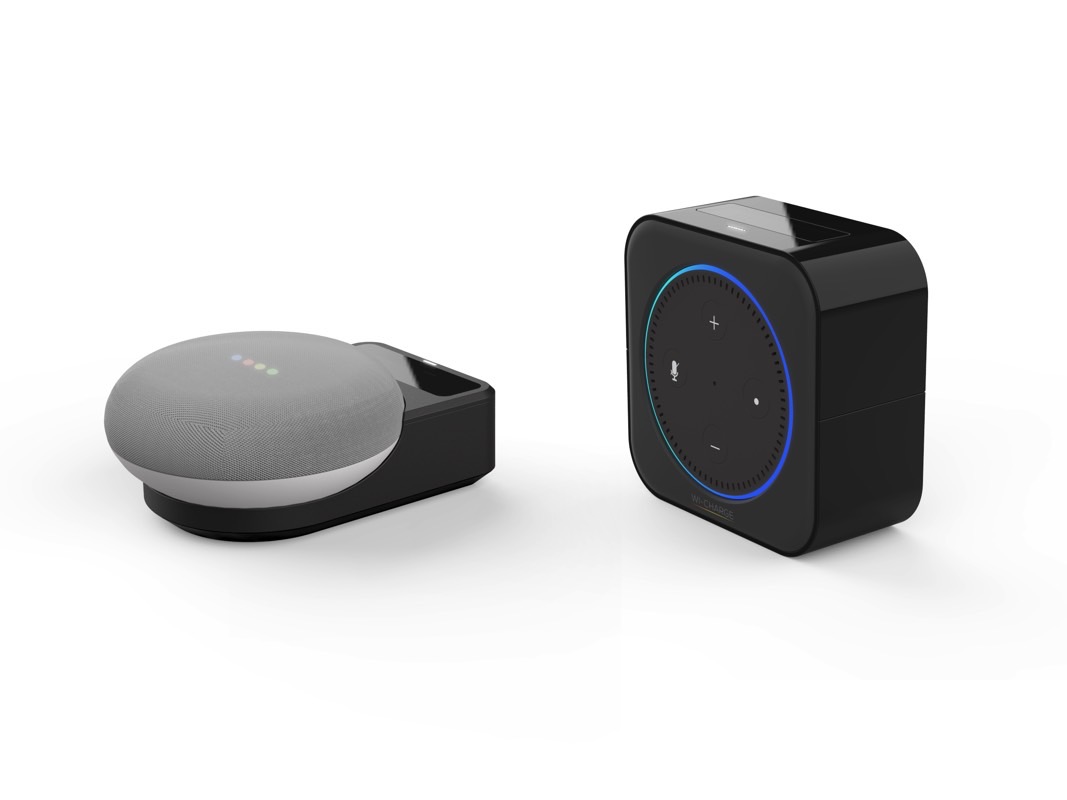 Wi-Charge also announced that it is partnering with various OEMs to help them bring wirelessly powered devices to market, including smart home speakers, home security devices, phone charging solutions, and other devices.
The technology reminds us of rumors that claimed last year that the iPhone X would feature some sort of built-in long-range wireless charging tech. That didn't happen, as the technology is still in its infancy. But Wi-Charge can be used on iPhones and even iPads with the help of cases or accessories that feature built-in receivers.
As for the turning the Echo Dot or Home Mini into wireless speakers, it's unclear how much the kits will cost or when they'll be available to consumers.