WhatsApp has bet a lot on group features over the past months. The app created the Community feature, expanded the number of members in a group, how many people can join video and audio calls, and more.
Now, WhatsApp wants to fix that tons of group people create for a specific purpose and never use again. With the Expiring Groups function, imagine you are preparing a birthday party. After the party happens, the group doesn't need to be available anymore. While some people will naturally leave the group, many others will just let it dust in the corner of WhatsApp.
According to WABetaInfo, this new Expiring Groups feature is currently under development. The publication was able to discover this function after WhatsApp submitted version 23.5.0.71 to Apple's TestFlight. WABetaInfo explains how this feature will work:
In particular, WhatsApp is now working on a new feature called "Expiring groups" that will allow users to set a certain expiration date for their groups, for a future update of the app. Once the expiration date is reached, users will be prompted to clean up the group.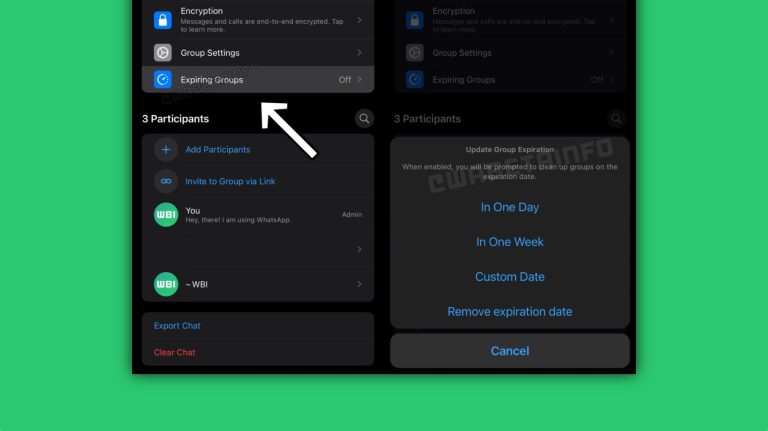 Once Expiring Groups is available, when you enter a group setting, this option will be available. Once you click Expriing Groups, the app will ask you when you want the group to expire: in one day, a week, a custom date, or to remove an expiration date.
WhatsApp notes that when this feature is enabled, users will be prompted to clean up groups on the expiration date. As of now, it's unclear when the app is planning to release this feature to all users, but since it's already under development, it could take a few more months.
That said, BGR will let you know once we learn more about upcoming WhatsApp features and when the app announces they're coming to all users.