Ever since I got my Apple Watch Ultra, I've been wondering when Apple was going to announce more hiking-related features. Today is the day!
Earlier today, Apple hosted its WWDC keynote and announced watchOS 10, the next generation of the operating system for the Apple Watch. While there were plenty of other great features, the ones that jumped out to me were the new features for those who love hiking.
Since the Apple Watch doesn't yet have Emergency SOS via satellite like the iPhone does (we can dream), I can be more anxious to head out on the trail with just my watch. Even if it's a small trail that I'm doing a run on, I'll hesitate to only take my watch since, if I lose cellular connection, I'm out of luck if I have an emergency and don't have cell reception.
With watchOS 10, Apple is adding some great features to reduce this connection anxiety. The Compass app will now show you the last place you had a cellular connection with your provider as well as the last place you could make an emergency call with any provider.
The Compass app on Apple Watch is a helpful tool for exploring the great outdoors. With watchOS 10, Compass automatically generates two new waypoints: A Last Cellular Connection Waypoint will estimate the last place with cellular reception, which may be useful for checking messages or making a call. In case of emergencies, a Last Emergency Call Waypoint will estimate where on the route their device had the last connection to any available carrier's network so that an emergency call can be made.
The company also seems to be keen to take on the popular hiking app AllTrails by adding a topographic map that includes nearby trails and trailheads.
When preparing routes, a new Elevation view uses altimeter data, offering a three-dimensional view of saved waypoints. And starting in the U.S., Apple Maps displays a new topographic map featuring contour lines, hill shading, elevation details, and points of interest. Users can also search for nearby trails and trailheads, with place cards that include detailed information, like trail length, type, and difficulty.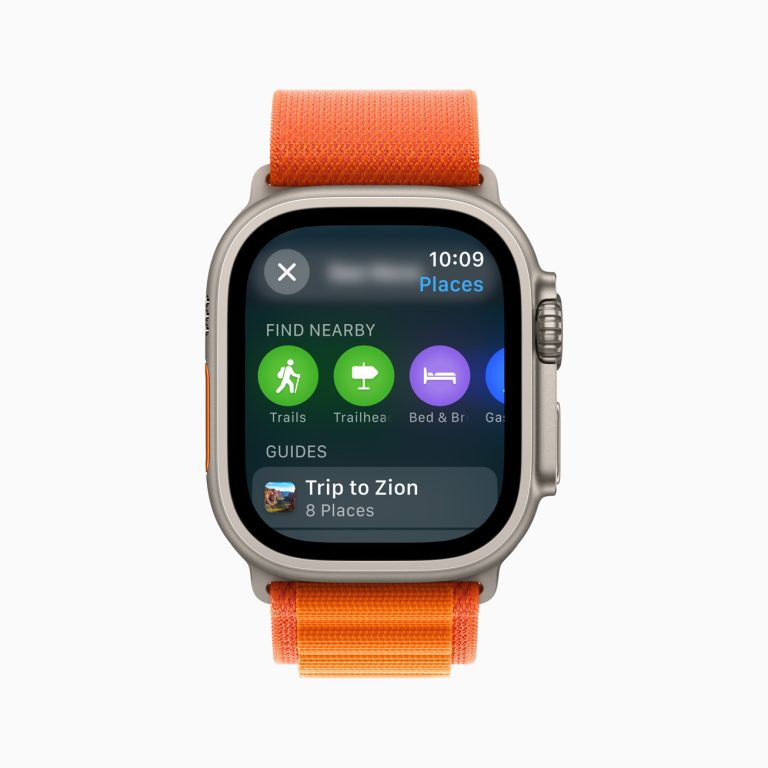 Google announced similar features for Android at Google I/O back in May, so it appears that both companies want a piece of what apps like AllTrails offer. While I'm excited to see what Apple does here, I think I'm going to be sticking with AllTrails for a while. For anyone who is serious about hiking, AllTrails already has the features and coverage that you'd need when taking on a day hike or an overnight backpacking trip.
Apple's features will certainly improve over time, but I can't imagine switching from AllTrails for a while. What I'd really love to see is for Apple to open up Apple Maps to integrate other services like AllTrails so trail data would just explode on the platform. Open up those APIs, Apple!