Twitter is working on the ability to make video and audio calls in a future update of the app. The information was shared by the company's designer Andrea Conway on her business account. Although she didn't share much other than a screenshot, we can look at the UI and see how it will work.
It looks like Twitter video and audio call features will be available in the DM section. Interestingly enough, the new interface is pretty different from what users have to go on at the moment. A phone icon and the information button will be added in the upper right corner.
Twitter is also planning to integrate the gallery, GIF, and audio sections into a "plus" button in the bottom left corner of the messaging tab.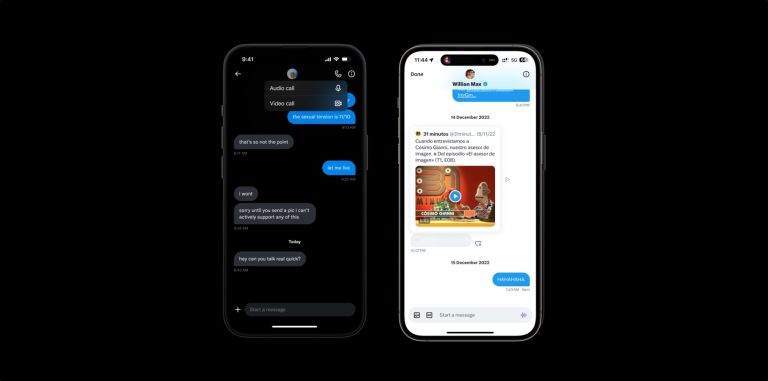 Twitter users will be able to choose between audio and video calls. In the call itself, users can mute their microphone and the other person's audio and turn off the camera. It's also possible to use both front-facing and main cameras for the calls.
At the moment, it's likely that calls won't be encrypted or even end-to-end encrypted. In May, Elon Musk's company introduced encrypted DMs but only for Blue subscribers. That said, we don't expect any encryption for these upcoming features just yet.
In addition, since Twitter is limiting features to Blue subscribers, it's also likely that audio and video calls will be exclusive for paying platform members. More recently, Tweetdeck became a Blue feature.
This "announcement" comes a few days after Meta released its Twitter competitor, Threads. While the app has much to add, Twitter must feel the pressure of potentially losing users for this new platform. Besides Conway's post on the new features, the company's CEO Linda Yaccarino wrote a day ago about how Twitter is unlike any other platform as you can "watch history unfold, discover real-time information all over the world, share your opinions," and more as this is people's "public square."
While new features are always appreciated, the point of audio and video calls on Twitter is unclear, especially when many other apps do it better with more functionality and more privacy in mind. It feels like when Meta wanted to add Stories to all its platforms and eventually killed it in most spaces.
BGR will let you know once we learn more about upcoming Twitter features – or when they become available to users.