Threads is actually getting some new features this week! Hooray for regular updates! Instagram CEO Adam Mosseri was true to his word when he said that Threads would be updated regularly with features and bug fixes. It feels like every few weeks — rather than saving it all for a big release — the company is rolling out at least a small update as their teams are finishing new features and making improvements to the performance of the app.
This week is another small update week. In a post on Threads, Meta CEO Mark Zuckerberg announced that the app will be getting three new features this week. The first has to do with DMs, but it's probably not the feature you actually want, which is for Threads to actually support direct messaging natively in the app. Adam Mosseri has promised that messaging in Threads is coming in the future, but that's not what we're getting this particular week.
Instead, users will now be able to share a post to your Instagram DMs. So, if you're scrolling through Threads and find something you want to share with a friend who happens to have an Instagram account, you can share the post through a direct message on Instagram rather than having to text them. This is obviously a way to keep direct messaging within Meta's apps since, of course, the company would rather you DM Threads on Instagram than iMessage, Google Messages, or anything that isn't something Meta owns.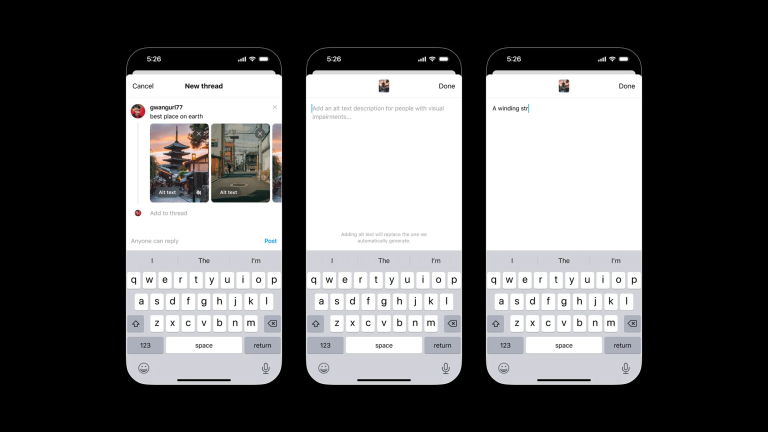 The company is also rolling out custom alt-text for photos and videos. This is a feature that probably should have been available at launch as the lack of it surely caused issues for users with accessibility needs, but it's good to see Threads is finally adding it. Hopefully, the company will take note from X (formerly known as Twitter) and allow users to remind themselves to add alt text every time they post an image or video!
Here are all of the changes coming to the Threads app on iOS and Android this week:
Directly share a post to your Instagram DMs
Custom alt-text for photo/video
New mention button to easily mention someone's account in your Thread
There are a number of smaller updates coming this week as well, such as the ability to see all of the Threads that you've liked in your profile, sort the accounts that you follow, and a new mention button to make it easy to tag accounts when you are writing a post. Instagram CEO Adam Mosseri also revealed that it is rolling out support for rel=me links to enable users to verify their identity on supported platforms — like the fediverse social media app Mastodon.
Post by @mosseri

View on Threads
Threads has been adding a lot of features since its launch just over a month ago. Since launch, the company has already added a Following list that only shows you posts from accounts you follow, translations, the ability to subscribe to unfollowed users, and the ability to follow users right from their posts.
That's just the start, however. The company has a ton of features that it has promised, like direct messaging, a web app for the desktop, and the ability to delete your Threads account without deleting your Instagram account. We'll see when those make their way to the app, but if the current pace continues, it doesn't feel like we'll be waiting forever.