The iPhone is a great camera out of the box. Just set the phone up and start taking photos and recording videos without worrying about any advanced settings. However, if you do want to take your photo skills to the next level, all sorts of iPhone photo tricks can help you improve your game. And the iPhone's Camera app holds settings that can also enhance the pictures and clips coming out of your handset.
One of those image settings can come in handy when you don't want to miss a shot. But it can also ruin photo quality, as the iPhone might devote less time to processing the image.
Called Prioritize Faster Shooting, the setting is straightforward. It does what it says; it enables faster shooting, especially if you take lots of burst photos. The setting lets the iPhone capture more shots per unit of time, which can be useful if you're following certain events and want to capture everything. But it might not be worth taking so many shots if the quality of the resulting images has to suffer.
The setting comes enabled by default, and I just turned it off after seeing Tom's Guide tip. Looking back, I can think of at least one instance where one of my iPhone photos wasn't looking that great.
I remember thinking I had snapped a pic of a sports clothing item to research later. It all happened so quickly that I couldn't tell what I was trying to shoot by the time I got home. The image was out of focus and missed what I wanted to capture. Was it Prioritize Faster Shooting? I have no idea, and I might never know. I deleted that image long ago.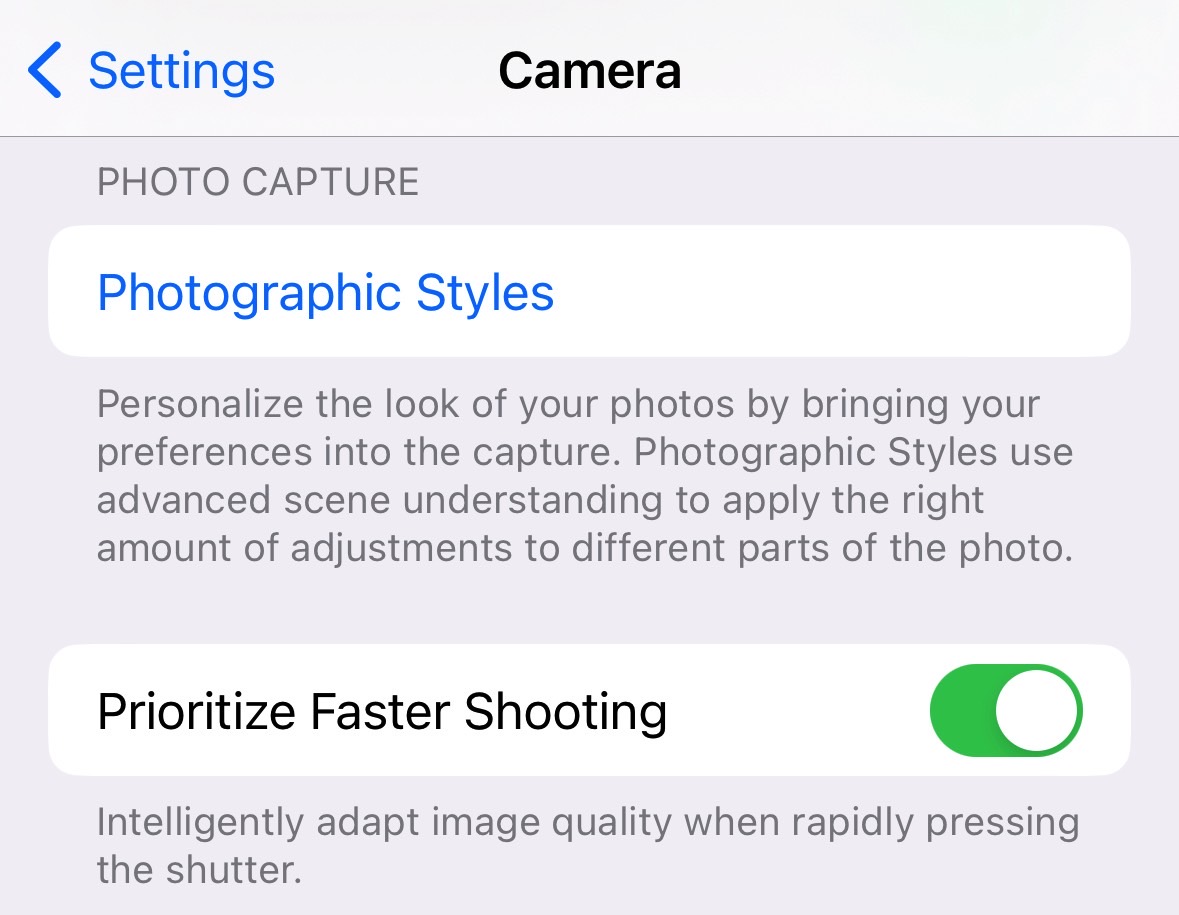 However, I won't make the same mistake again, as I've just disabled the feature.
As with other iPhone camera settings, it's incredibly easy to do it too. Just go to the Settings app and scroll down to the depths of it to find the Camera menu. I know, for all the talk about cameras during iPhone events, Apple doesn't give the app a prime placement in the Settings app.
Once there, scroll until you find Prioritize Faster Shooting and toggle it off. You can reenable it later if you need this setting in your life.
If you can't find the setting, do not panic. You're probably rocking an older iPhone or still on older iOS software. According to Apple, Prioritize Faster Shooting is available on iPhone XS/XR or later and iOS 14 or later.
You either have to update the software or get a new iPhone to take advantage of Prioritize Faster Shooting. Remember that you can improve your photo skills considerably through experience and using the right settings. But you also need great hardware for that. Older iPhones or older iOS software might get in the way of that.