Even though foldable phones routinely make the news, with two devices expected to be unveiled at some point in the coming months, Samsung and Huawei are hardly the only companies working on such technology. Microsoft is also developing a Surface Phone that might be even more exciting than what Samsung and Huawei are working on. That's the mythical Surface Phone, or Andromeda, that keeps appearing in reports. A new finding proves that Microsoft hasn't killed Andromeda, although that doesn't mean a Surface Phone is coming soon.
Italian blog Aggiornamenti Lumia (AL) has an in-depth article on Microsoft's Andromeda advancements, as the site discovered various Andromeda references in new language updates explicitly made for Andromeda OS (or Windows Core OS – WCOS).
These screenshots show the Andromeda name mentioned out in the wild in files that pretty much everyone could find, just as AL did.
Furthermore, the evidence indicates that Andromeda devices would also work as phones, thus further fueling the rumor that Andromeda is indeed a Surface Phone kind of a mobile device.

But how do we know that Andromeda devices are supposed to fold? Well, the following screen shows that Andromeda OS would allow you to customize your computing experience and turn screens on and off as you see fit.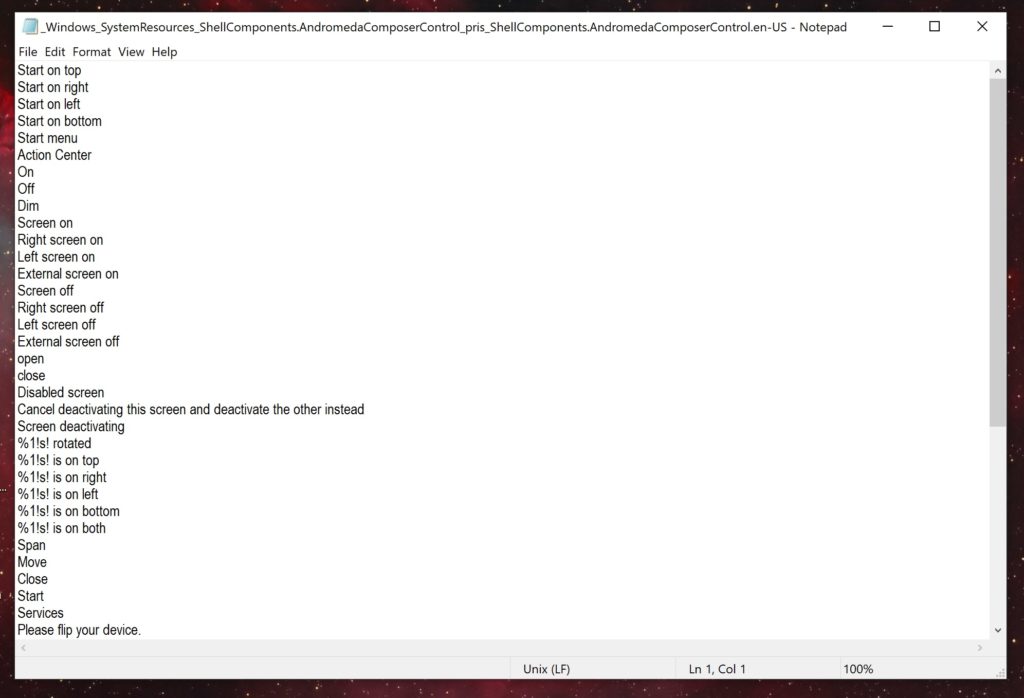 According to this image, the operating system can discern between left and right screens, as well as external screens.
The blog also discovered a list of legacy Windows 10/Mobile apps and features that would work with Andromeda, including Windows Hello (screen unlock and fingerprint sensor), mobile hotspot, calling and vibrations support, NFC, Windows Timeline, and others.
Look what's coming next 🙃 #wcos #windowsinsiders pic.twitter.com/jMX07RirqL

— Aggiornamenti Lumia (@ALumia_Italia) July 16, 2018
Finally, AL also discovered that other apps are getting support for Andromeda (WCOS), including email, calendar, and photos, seen in these tweets.
https://twitter.com/ALumia_Italia/status/103870188046822195sur
Microsoft's Tuesday event seems so low-key, given that there's no actual live-streaming, that it's not likely to see any Andromeda announcements. But it sure's interesting to see out in the wild all this language update for Andromeda devices right now — read the full AL post at this link.