More than anything, I'm still shocked that Nintendo nailed mobile gaming on its first try. While Super Mario Run is technically the second real smartphone app from the illustrious company (Miitomo came first), it's one of the most polished games I've ever played on a mobile device, and deeper than I expected.
Super Mario Run is split into three modes, the first of which — World Tour — will be most familiar to Mario fans. World Tour is made up of 24 levels, each more difficult than the last. Although they look like any given level from New Super Mario Bros., the way that you traverse them has changed significantly.
In Super Mario Run, Mario runs from left to right automatically. By tapping the screen, you can make Mario jump, spring off of enemies, wall jump or spin in the air as he descends. It seems simple at first, but you'll quickly realize that tapping rapidly on the screen without paying attention will get you killed every time.
Completing all 24 levels isn't difficult — you'll be done in less than an hour if your charge through them — but the real challenge begins when you go back and try to collect all five Challenge Coins. Once you finish a level after picking up every Challenge Coin, a new, even more demanding set of coins will appear in the level.
At the end of every world, you'll face off against a boss in either an airship level or a castle level. The bosses are uninteresting, to say the least, but these levels help break up the mode and keep things fresh.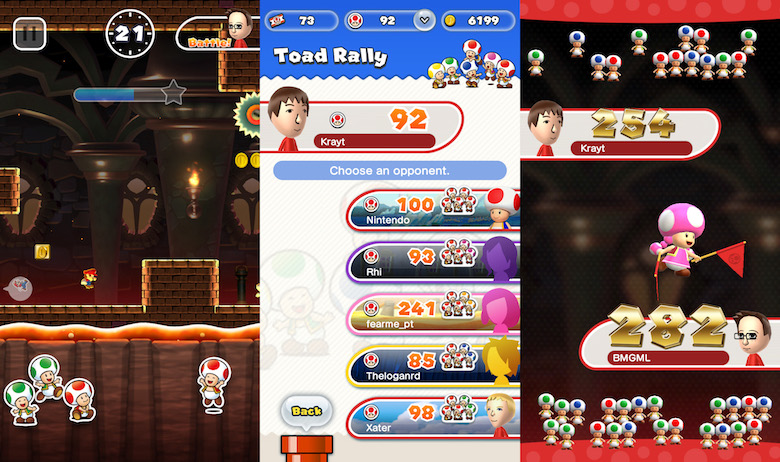 Once you've finished with the World Tour mode, you'll have collected a few dozen Rally Tickets that you can use to participate in the game's second mode: Toad Rally. In Toad Rally, your goal is to collect more coins and pull off more impressive moves than an asynchronous opponent in order to attract Toads to your Kingdom (that's the third mode, but we'll get to that a little later).
(FYI: By completing worlds in World Tour mode, you'll unlock the levels from that world to play in Toad Rally. Trust me, you'll want to do this before you dive into Toad Rally, or else you'll be playing the same three levels over and over. As I said above, it'll only take you 45 minutes or so to beat World Tour anyway).
When you choose Toad Rally from the menu screen, you'll be presented with five potential opponents, each with a number above their name. The higher the number, the more difficult the opponent will be the beat, so be sure to pick someone that's within a few points of your current score. This is especially important because if you lose, some of the Toads you've gathered to live in your Kingdom will be taken away.
When it comes to the actual gameplay of Toad Rally, the only real difference between it and World Tour is that the level cycles back around when you reach the end, rather than providing you with a flag pole to jump on. The faster you charge through the level, the more opportunities you'll have to grab coins and excite the audience of Toads that slowly fills up the bottom of the screen.
Of course, it wouldn't be a mobile game if you couldn't use all the coins and Toads to unlock cool swag. Enter: Kingdom Builder, the game's third and final mode. In Kingdom Builder, you can use the coins you collect while playing World Tour and Toad Rally to buy decorations and special houses for your Kingdom. The more Toads that live in your Kingdom, the more items that you'll be able to purchase.
Kingdom Builder is also the mode in which you can unlock new characters to play through the game with, such as Luigi and Toad himself. This is where the time sink comes in, and it's a pretty brilliant one.
Super Mario Run is not the best smartphone game I've ever played. In fact, I'll probably spend more time with Fieldrunners Attack! (another great mobile game that just hit the App Store) than I will with Mario this weekend, but Nintendo's first mobile Mario game is everything it needed to be — a solid platformer with surprising depth and addicting hooks that will keep players coming back.
Super Mario Run is available now on the App Store. It's free to download, but will cost you $9.99 to play anything beyond the first three levels. An Android release is expected sometime in 2017.