While nothing is official until Apple makes it so, there's little doubt in most industry watchers' minds that we know practically everything there is to know about the upcoming iPhone 7 Plus. It's going to look eerily similar to the iPhone 6 Plus and 6s Plus, but with a few minor design tweaks. It'll also feature a new dual camera setup and upgraded specs but apart from that, it will for the most part be a faster iPhone 6s Plus. To be frank, the iPhone 6s Plus is a great smartphone but a pretty lousy phablet, and we likely shouldn't expect much more from the new iPhone 7 Plus.
When it comes to phablets, Samsung is still ahead of the pack. And with the brand new Galaxy Note 7, the company's lead in the phablet market has only grown.
UPDATE: The Galaxy Note 7 has been discontinued due to a serious safety risk. Learn more here.
I have covered this topic several times in the past, so I'll elaborate briefly before we dive in. In a nutshell, Apple's larger iPhone is just that: a larger iPhone. Apple put no effort whatsoever into developing new features that make use of the device's larger size. Apart from optical image stabilization and a 1080p display, an iPhone 6s Plus is just a bigger iPhone 6s.
Of course, people wanted iPhones with bigger screens and so in 2014, Apple finally made iPhones with bigger screens.
Samsung took a different approach to the phablet market, which it helped establish back in 2011. It wasn't the first company to sell an oversized smartphone with a large display, but there's little doubt that Samsung almost singlehandedly popularized the category.
What is perhaps most interesting about Samsung's approach to phablets as it compares to Apple is that Samsung recognized right out of the gate that there was so much more that could be done with a larger canvas on a smartphone. Having all that extra space enables a wide range of new and useful features, and they can dramatically enhance the user experience.
Samsung gets it, and the Galaxy Note 7 is the latest reminder that the world's top smartphone vendor by shipment volume is also the best in the business when it comes to phablets.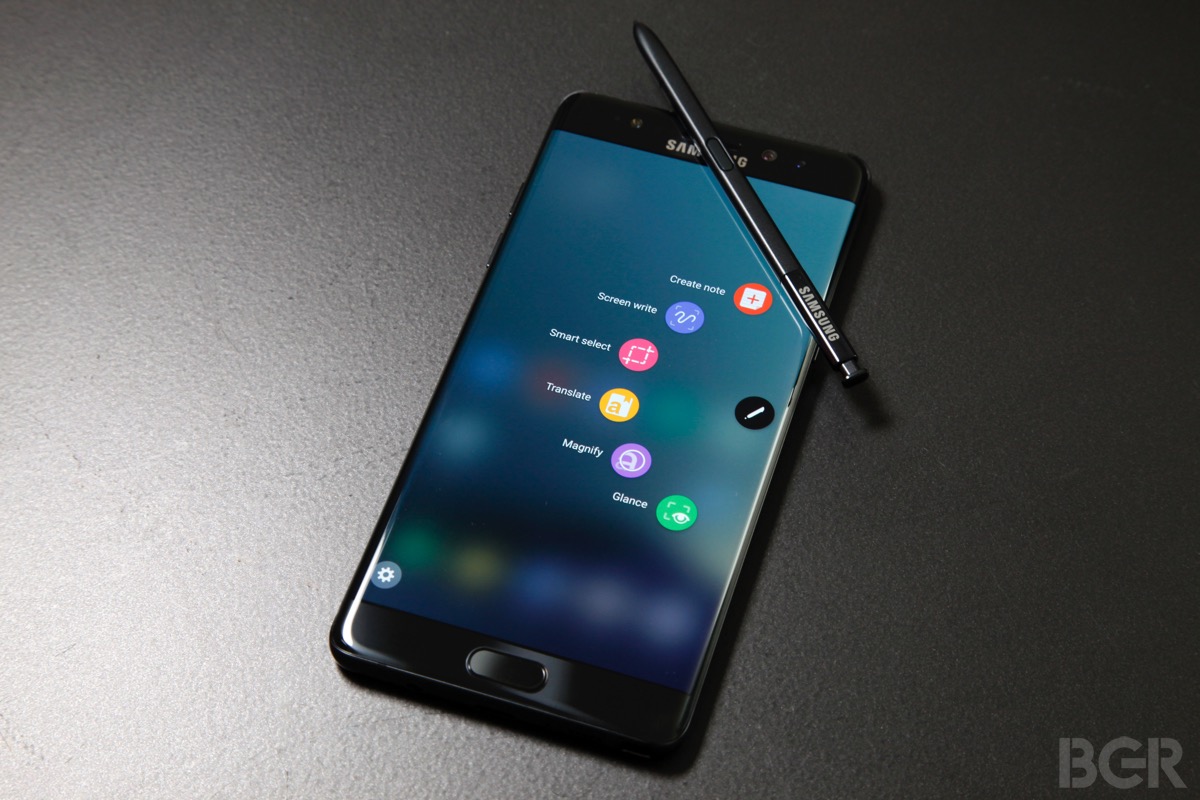 Before we get into what makes the Galaxy Note 7 a great phablet, we need to discuss what makes it a great smartphone. And that begins on the outside.
Until last year, Samsung's flagship smartphones were a regular source of disappointment for me and many others. A truly good high-end smartphone offers top-notch performance as well as a sleek design and premium materials. Samsung has always had the performance part nailed, but the company's phone designs were uninspired and their plastic housings looked and felt cheap.
In 2015, that changed. The Galaxy S6 marked a huge turning point for Samsung; the phone's design and build were finally on par with its performance. Samsung used all glass and aluminum construction that felt fantastic in the hand, and the device had a sleek design to match. Subsequent flagship handsets like the Galaxy Note 5, Galaxy S7 and Galaxy S7 edge all featured similar designs, and now the Galaxy Note 7 takes things to a whole new level.
As an aside, yes, Samsung skipped the "Galaxy Note 6" name and went directly to 7 in order to better align the Note series with its Galaxy S lineup.
Like this year's Galaxy S7 and Galaxy S7 edge, the new Galaxy Note 7 features a similar design to its predecessor but offers further refinements… and those refinements are deeply appreciated. At 153.5 x 73.9 x 7.9 mm, the new Note 7 is narrower, thinner and marginally shorter than the Galaxy Note 5 despite having the same size screen. That display — a new 5.7-inch Super AMOLED panel with quad HD resolution and a pixel density of 518 ppi — is absolutely stunning.
Samsung's smartphone screens have been best-in-class for years now. It's gotten to the point where we take them for granted, which I suppose is a good thing. It speaks to Samsung's consistency in this key area. Each time Samsung launches a new flagship phone we wonder how a screen could possibly get any better. Then, the next Samsung flagship comes along and proves that it is indeed possible.
Plainly put, you won't find a better display on any smartphone. Graphics and images are crisp and clear on the Note 7, blacks are deep, colors are vibrant and the contrast is outstanding. Once again, we're left wondering how Samsung could possibly improve on this display.
The one issue some may have with the new Galaxy Note 7's screen is the fact that it is curved on either side. The curved edges are one of my favorite things about the phone, and plenty of people agree. While Samsung doesn't report shipment figures for its smartphones, rumor has it that the Galaxy S7 edge has been a big seller for the company.
Not everyone likes the curves on Samsung's newer phones, however. That said, if you're one of the people who has historically not been a fan of phones like the Galaxy S7 edge, give the Note 7 a chance before you dismiss it.
The phone features front and rear Gorilla Glass 5 panels that curve much more sharply at their edges. The result is a phone that's incredibly comfortable to hold despite its large size, but there is also less visual distortion on the edges of the screen when you look directly at it. That distortion has been a complaint that I hear often among users, so it's nice to see Samsung address it.
Corning's Gorilla Glass 5 will also make the Note 7 far more likely to survive drops, which is a good thing considering how fragile Samsung's glass phones have been compared to the competition. The phone will also survive spills and even dunks thanks to IP68 water- and dust-resistance.
Beneath the Note 7's gorgeous display is an oblong home button with an embedded fingerprint scanner. Above the screen is an unmissable Samsung logo, an ear speaker, a primary front-facing camera, and a secondary camera with a separate infrared blaster. Those last two components combine to make up the phone's iris scanner, which is a first for widely available smartphones.
In addition to fingerprints, PINs, patterns and passcodes, the Galaxy Note 7 offers iris scanning as a means of security. The setup is relatively simple and after the initial setup, you can use eye scans in place of other means of security to unlock your phone or gain access to the new Secure Folder.
The Secure Folder, by the way, is an awesome new feature on the Note 7 that gives users a special folder with an extra layer of security in which they can store files, photos, videos and even instances of apps. That means you can have a main instance of Gmail for your personal email and then a second protected instance in your Secure Folder for your work email.
To access those emails and any other files in the Secure Folder, you'll need to authenticate again with a password, fingerprint scan or an iris scan. This way you can unlock your phone and let a friend or family member use it without having to worry about your private files being accessed.
There is a caveat with the new eye scanning feature, though. While actual iris scans are impressively quick — at times, the eye scanner unlocked my Galaxy Note 7 review unit before the iris scanner screen even had time to display on the phone — unlocking the phone with an eye scan takes longer than other methods because the iris scanner is not enabled when you wake the phone. Instead, you have to wake the Note 7 and then swipe the screen to the right to activate the iris scanner. This was done to prevent iris scans from unlocking the phone when the user wakes it to view notifications on the lock screen.
Also of note, the phone warns several times during the setup process that contact lenses and glasses can impact the iris scanner, but I haven't had any problems with either type of lens.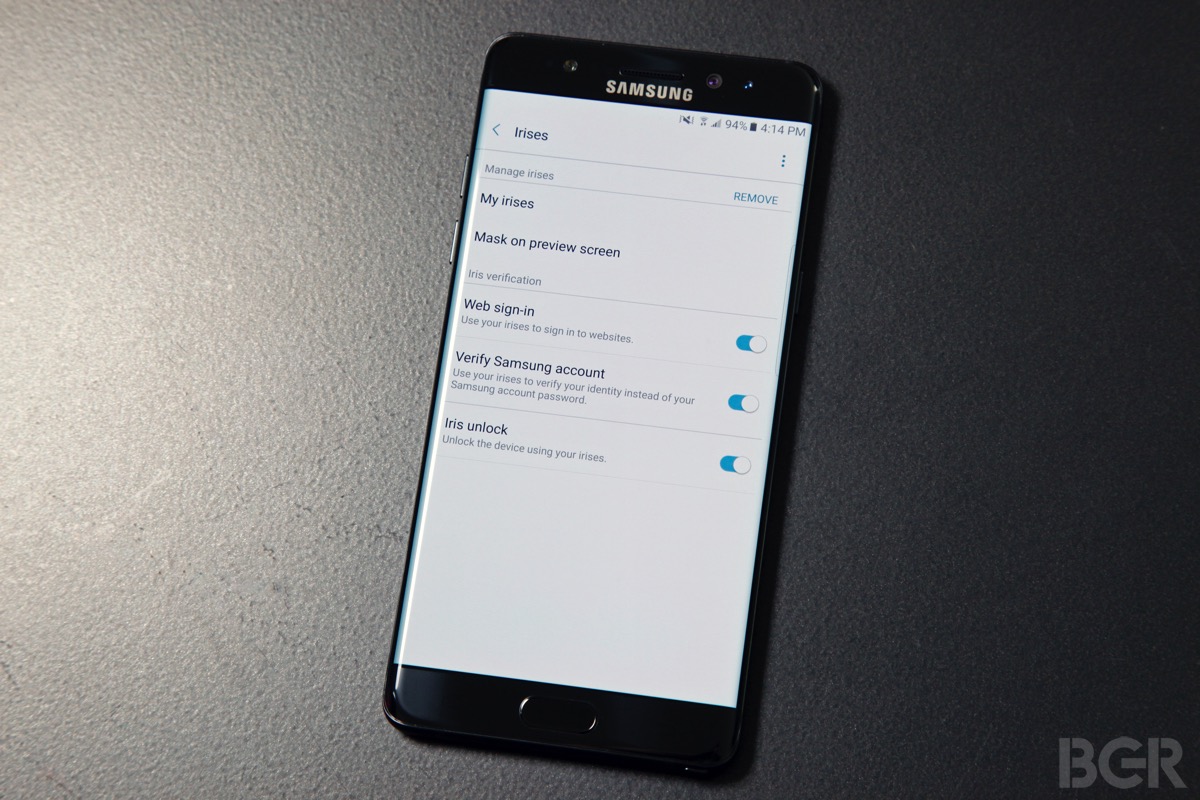 Moving past the face of the Galaxy Note 7, the right metal edge is home to a power button while the left edge holds volume up and down buttons. The top of the phone has a SIM and microSD card slot as well as a secondary microphone for noise cancellation, and the bottom edge has a headphone jack, a USB Type-C port, a primary mic, a speaker and the new and improved S Pen stylus.
Around back you'll find a second curved Gorilla Glass 5 panel that mirrors the front exactly, though it doesn't have any oleophobic coating so it's a magnet for grease and grime. Beneath the inevitable layer of filth you'll find another shiny Samsung logo in case you missed the one around front, "Galaxy Note7" branding, a large camera lens with a separate LED flash and sensor cluster.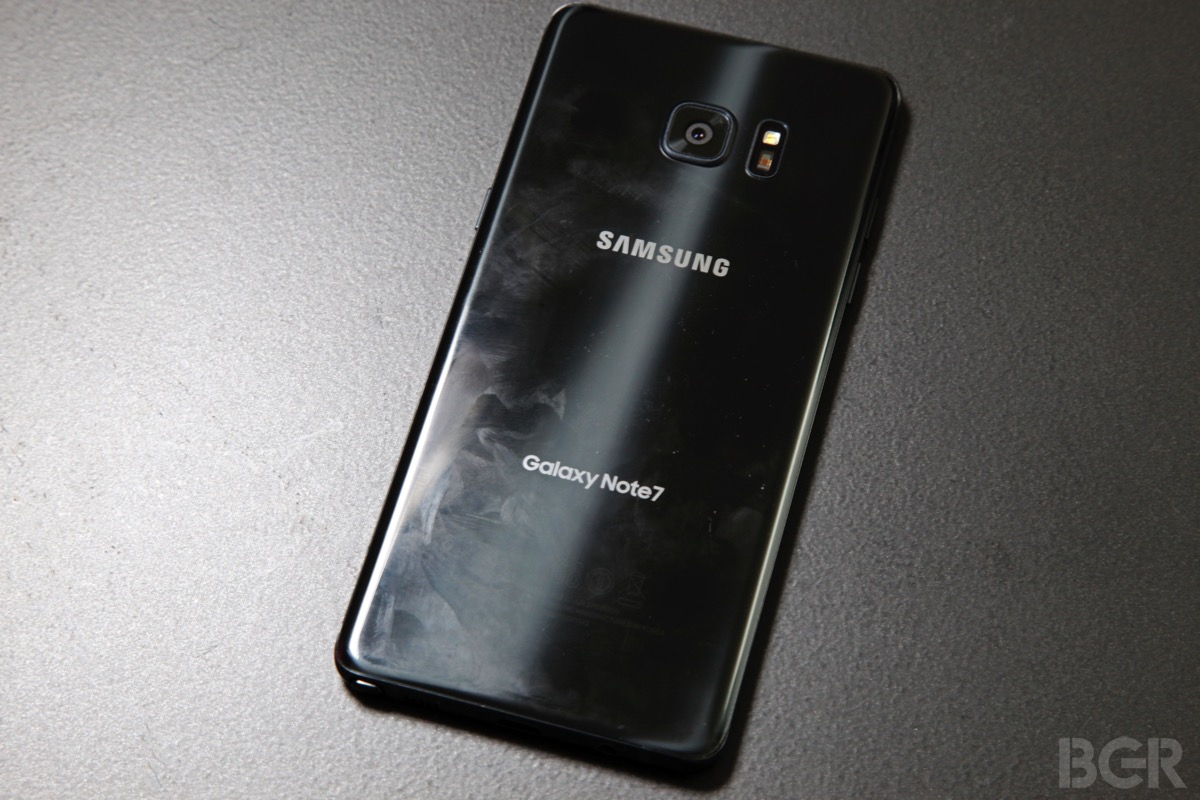 The camera on the Galaxy Note 7 is of particular interest, not just because it's the best smartphone camera in the world, but also because it's the exact same camera as the one found on the Galaxy S7 and Galaxy S7 edge.
Samsung has historically included an improved camera with each new flagship model. But with the Galaxy Note 7, Samsung chose to make no changes to the camera hardware found on the S7 and S7 edge. On one hand, why not use the same camera? Samsung's 12-megapixel Dual Pixel camera takes the highest quality photos we've seen from a smartphone camera thus far, with stunning clarity, fantastic color reproduction and impressive low light performance. But on the other hand, Samsung's rivals won't stand still. The company's lead in this all too important area could narrow or even be closed entirely when the new iPhone 7 and iPhone 7 Plus are released next month.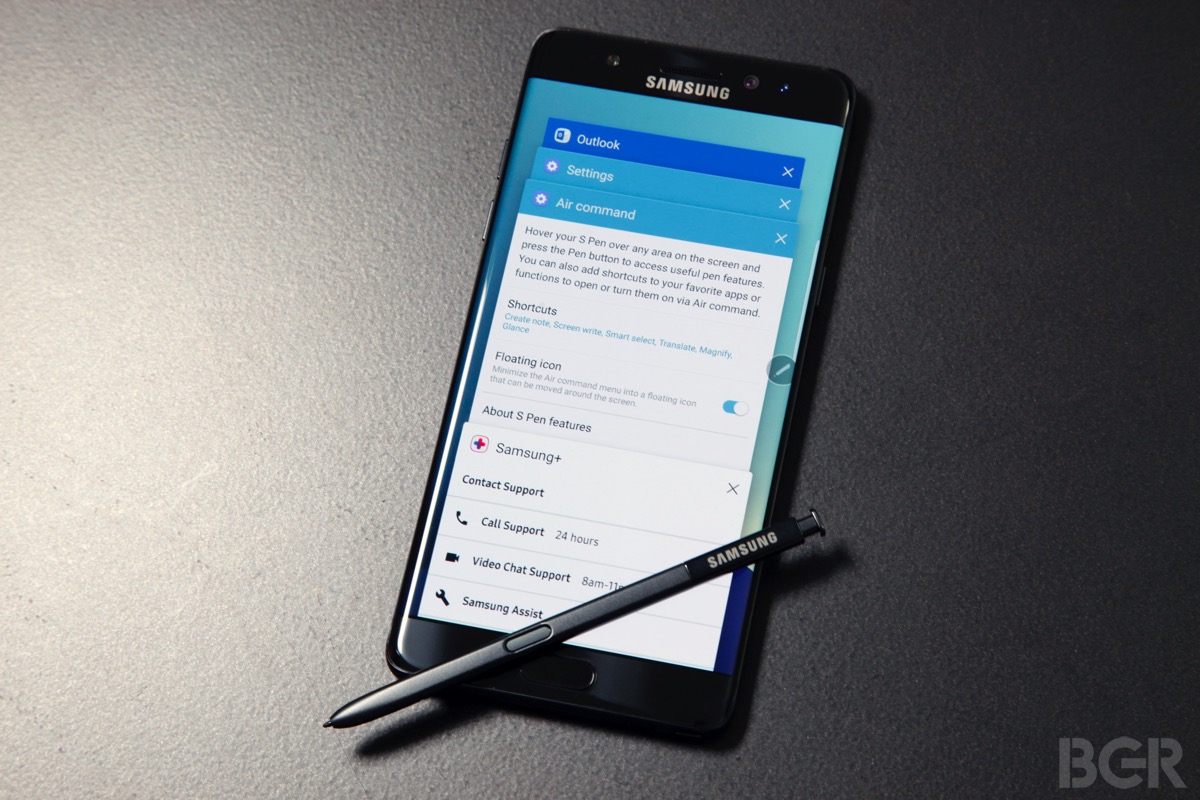 Inside the sleek new smartphone, we find a quad-core Snapdragon 820 chipset running the show. The processor combines two 2.15GHz cores with two 1.60GHz cores to offer power when you need it and battery conservation when you don't, which is certainly appreciated considering the huge 2K display that the Galaxy Note 7's 3,500 mAh battery must power.
Where performance is concerned, the Snapdragon 820 and Samsung's tuning leave users with a phone that is easily on par with the top handsets in the world. The user experience is as smooth as you'll find on any Android phone, and the handset managed an average AnTuTu score of 141,434 in my tests. That's not quite good enough to beat the Moto Z Droid, but it's still among the top scores in the world.
The phone's huge battery provides more than enough juice to carry most users through a full day, and then some. In fact, the battery lasted for a full day even while I was testing the phone for this review, when my usage was far heavier than normal. Samsung says the battery is good for up to 14 hours of internet use on either LTE or Wi-Fi, or up to 18 straight hours of video playback.
To compliment the large battery and impressive battery life under normal circumstances, Samsung also added two different power saving modes in addition to wired fast charging technology as well as wireless fast charging. How fast is "fast"? I haven't conducted any scientific tests but anecdotally, the Galaxy Note 7's 3,500 mAh battery seems to fill about as fast as the 1,715 mAh battery in my iPhone 6s… using wireless charging. It's even faster when using the wired fast charger Samsung provides.
Beyond that you've got 4GB of RAM along with 64GB of internal storage. Samsung decided not to give shoppers any options this year when it comes to capacity, instead inviting them to use a microSD card if they have a need for more space. Of note, people who preorder the Note 7 and even people who purchase one after it launches can choose either a free Gear Fit 2 or a free 256GB Samsung microSD card, while supplies last.
I recommend the memory card, which has a higher retail value but also leaves you with a 320GB smartphone that costs the same price as a 64GB iPhone 6s Plus.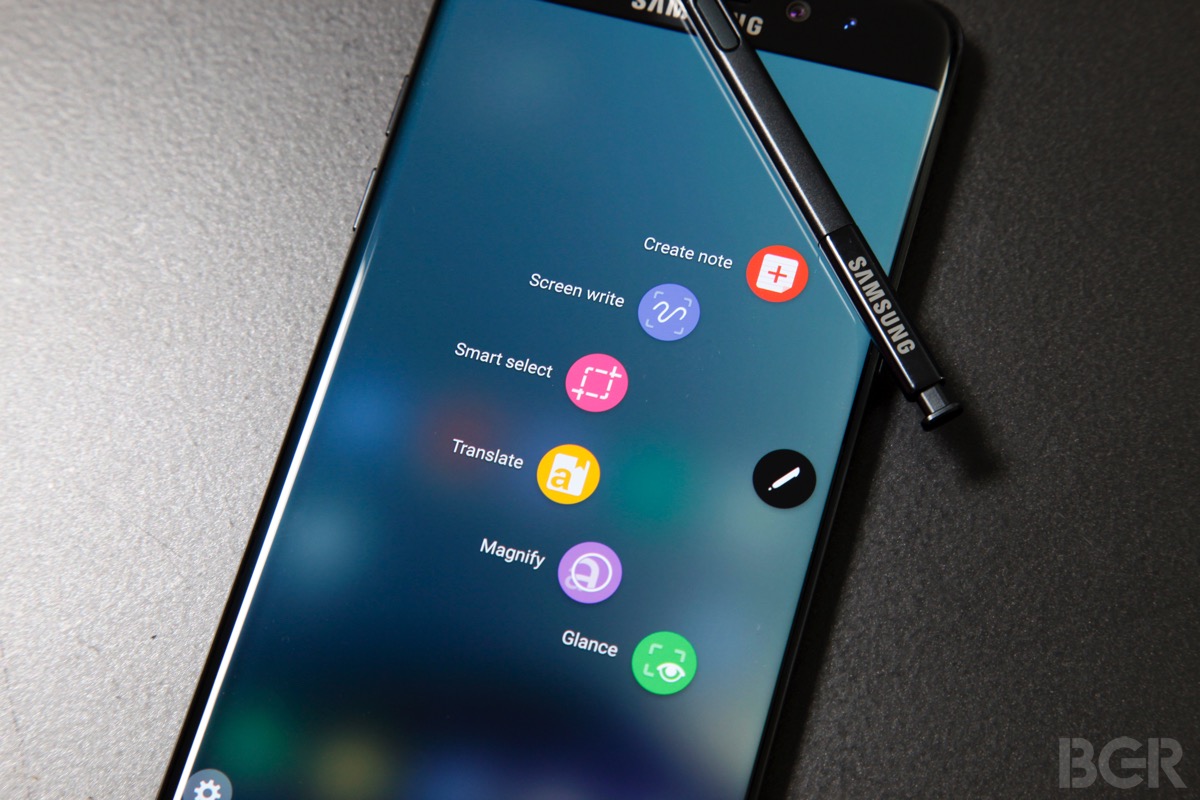 Samsung's TouchWiz software has received further refinements on the Galaxy Note 7. Even though the phone ships with Android Marshmallow 6.0.1, which also powers last year's Galaxy Note 5, there are plenty of visual and functional differences. The most significant among them revolve around the phone's S Pen stylus and the software suite that supports it.
The S Pen itself has been redesigned and improved, with a smaller tip that feels almost like a real pen when you use it to jot notes on the Galaxy Note 7's screen. Speaking of notes, Samsung's confusing setup consisting of three different note-taking apps has thankfully been nixed and replaced with a single Samsung Notes app that covers all the bases and features a sleek and simple interface based on Google's Material Design UI.
You can begin to enjoy the Note 7's new S Pen features before the phone is even unlocked. By removing the stylus while the handset is asleep, a Screen Off Memo function is launched that lets you jot down a memo on the phone's dark display. This feature is nothing new, but that's not the end of it — on the new Galaxy Note 7, you can pin those notes so that they appear on your Always-On Display, or AOD.
For example, you can jot down a quick shopping list and then pin it to your screen. This way, your list is available right on your sleep screen and you don't have to wake and unlock your phone as you make your way through the super market. Instead, you can just take your Note 7 out of your pocket and double-tap the pinned note icon on the Always-On Display.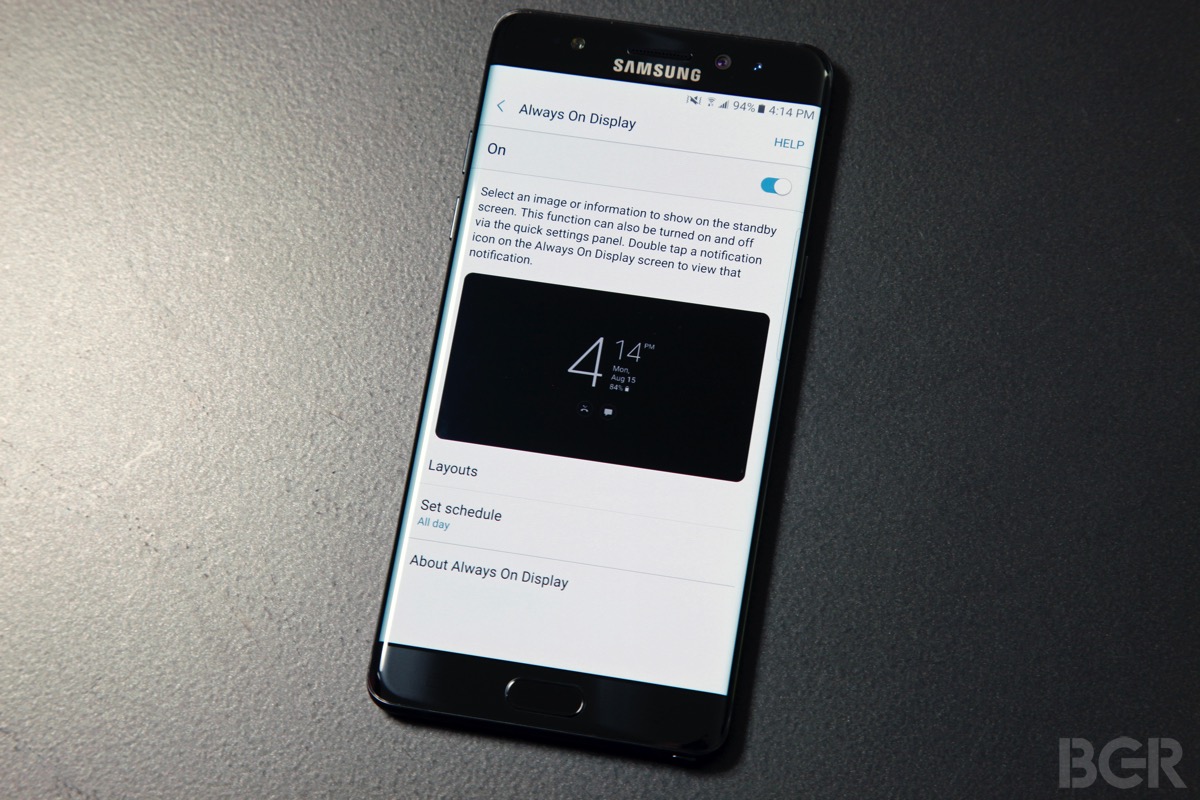 Other new S Pen features are accessible through the Air Command menu that opens when you hover above the display and tap the button on the stylus. Notable additions include a magnify function that moves a magnifying glass above the display as you hover so you can zoom in on text, a translate feature that translates selected text from one language to another, and a glance feature that keeps an app open as a thumbnail at the bottom of the screen and lets you preview it full screen simply by hovering over it with the S Pen.
Another very cool new S Pen feature that I have a feeling is going to be a fan favorite is the integrated GIF maker. With the Smart Select feature accessible through the Air Command menu, you can select any video playing on the screen. As the video plays, record and stop buttons let you choose the exact portion of the video that you want to turn into a GIF. Once you've recorded the video, an in-built editor lets you tweak it until it's perfect, and the clip can then be saved and shared as a GIF.
Here's a great quick video from CNET that shows how it works:
With the Galaxy Note 7, Samsung has taken a huge step forward in nearly every area you can imagine.
The hardware is a big improvement over last year's model even though the design of the phone looks practically the same from afar, aside from the curved glass face. The symmetrical curved glass on the front and back of the device help it fit far more comfortably in the hand than any other similarly sized phone in the world. In fact, it's more comfortable than some smaller phones, too.
Samsung's historical strong points are strengthened even further with this new phablet. The display on the Galaxy Note 7 is positively stunning, featuring fantastic clarity and vivid colors that jump off of the screen. The device also packs plenty of muscle, with tons of power when you need it and smart features that conserve battery life when you don't.
Other features like wired and wireless fast charging as well as two different power saving modes help ensure that your Note 7 always has juice when you need it. As a fun little FYI, the phone will last more than 140 hours on a full charge while using Samsung's "max" power saving mode. That's almost six days.
Finally, the Galaxy Note 7 is supported by the ever-expanding and ever-improving Samsung ecosystem. There's a new and improved $99 Gear VR headset launching alongside the Note 7 as well as a $350 Gear 360 camera that can shoot 360-degree video. Then you've got all of Samsung's on-device apps and services, including one that I don't think gets the attention it deserves: Samsung+. The app includes plenty of resources such as guides and diagnostic tools, and it also has a video chat feature that connects users directly to Samsung's support team when you need help.
The end result is a device that delivers a more comprehensive experience than any rival smartphone in this class. It will instantly become the best phablet on the market when it launches on August 19th, and I would be willing to wager that it'll still be the world's best overall phablet come September, even after Apple releases its next-generation iPhones.
Apple hasn't yet begun to concentrate on fully utilizing the extra space afforded by a phablet to offer smart features that differentiate its Plus models in any meaningful way. It will at some point, mark my words. But until then, Samsung's Note smartphones remain the undisputed kings of the phablet category.
There's the Galaxy Note 7, and then there's everything else.
Samsung's new Galaxy Note 7 will be released this Friday, August 19th, in the United States and several additional markets around the world. The phone carries a full retail price of $850, though pricing varies by carrier. Each U.S. carrier also offers monthly installment plans, which have been detailed in this post.