Though the smartphone market was nearly as massive a few short years ago as it is today, it was a terrible business to be in unless your company's name was Apple or Samsung. There were simply no other phone vendors that could figure out how to make any real money selling smartphones. Try as they might — and oh, how they tried — rival phone companies spun their wheels while Samsung and Apple pulled in all of the smartphone industry's profits.
Today, things are different. Galaxy phones and iPhones are still the most popular handsets by a wide margin, but other companies have managed to put a serious dent in Apple and Samsung's combined market share. Gaps in the market have been exposed and several companies are taking advantage. Most notably, Chinese vendors have found success selling high-quality phones at surprisingly low prices.
But price isn't the only area of the smartphone market where there is an opportunity to strike. There's also an innovation gap just waiting to be filled, and Lenovo's new Moto Z Droid and Moto Z Force Droid are the latest phones that will attempt to fill it.
The LG G5 is a perfect example of a terrific idea executed poorly. People want smartphones that are sleek and slim, but they also want more power and exciting new features. There's only so much companies can stuff into such slim packages, so LG had an idea: Why not create a system that keeps the main phone slim and sleek but allows users to extend the device's functionality using special attachments that integrate perfectly?
The idea was smart but the execution is sorely lacking. There are two big problems with the LG G5: first, the phone's modular design requires users to remove the phone's battery and reboot anytime they want to switch modules. Second, LG's module selection was almost nonexistent at launch. Even now, there aren't very many add-ons to choose from.
Motorola's approach with the brand new Moto Z Droid and Moto Z Force Droid is completely different — and it's so much better. But before we dive into the Z and Z Force's modular features, let's take a look at the phones themselves.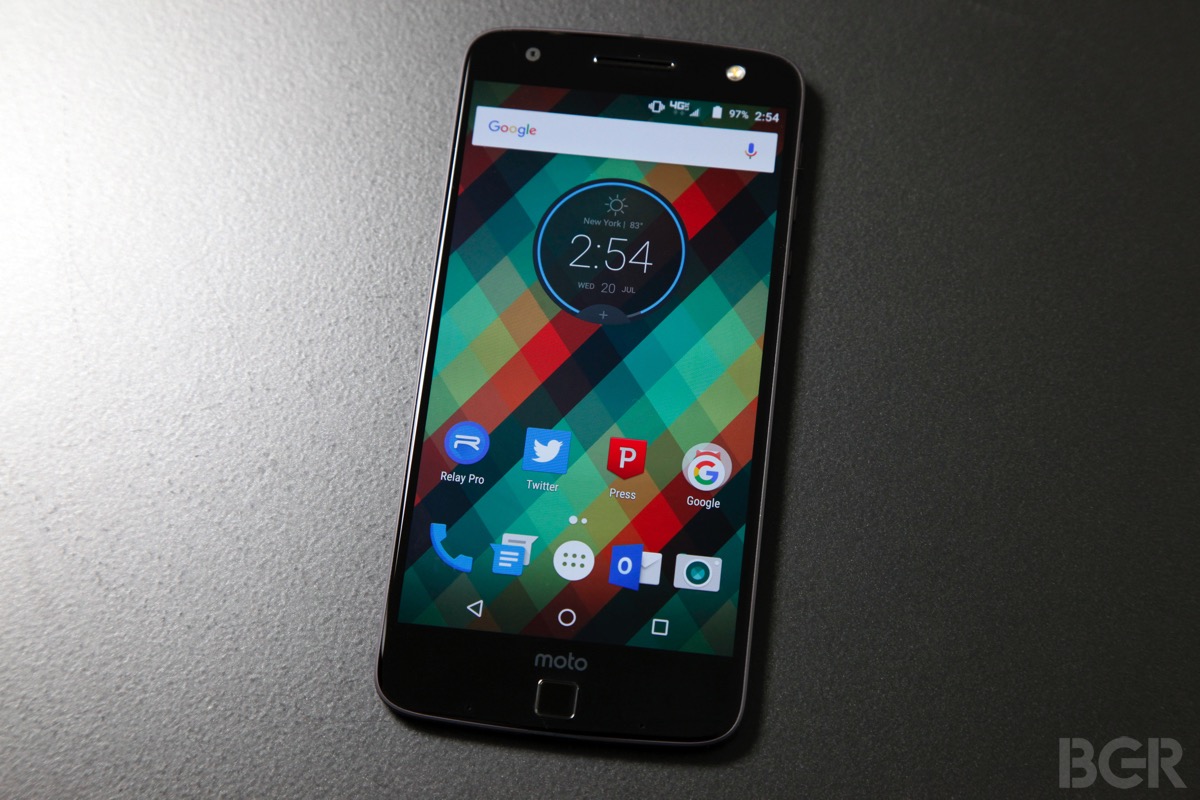 First, and just to get this out of the way, "Moto Z Droid" and "Moto Z Force Droid" are terrible names for smartphones. My guess is that a branding battle between Lenovo/Motorola and Verizon reached an impasse when Motorola refused to let the phones launch without "Moto Z" branding and Verizon obviously couldn't let go of "Droid." Motorola's deal with Verizon makes it the carrier's exclusive Droid partner, and so Moto Z Droid and Moto Z Force Droid were born.
It seems like it's not a big deal in the grand scheme of things, but branding is important. Imagine the original iPhone had launched as the "iPhone Z U-verse" or something equally ridiculous because AT&T needed to have its mark on the phone.
Fortunately, the names are really the only ugly things about Moto's new flagships.
The new design of the Moto Z series is nothing short of gorgeous. The thinner Moto Z Droid in particular is an incredible feat. At just 5.2mm thick, it's the thinnest flagship smartphone on the planet by a sizable margin. It feels incredible in the hand, since the slim housing does a great job of shrinking down an otherwise large phablet.
Motorola's Moto Z Droid measures 153.3mm tall by 75.3mm wide, which is only marginally smaller than Apple's monstrous iPhone 6s Plus. But the 6s Plus is 7.2mm thick — nearly 40% thicker than the Moto Z.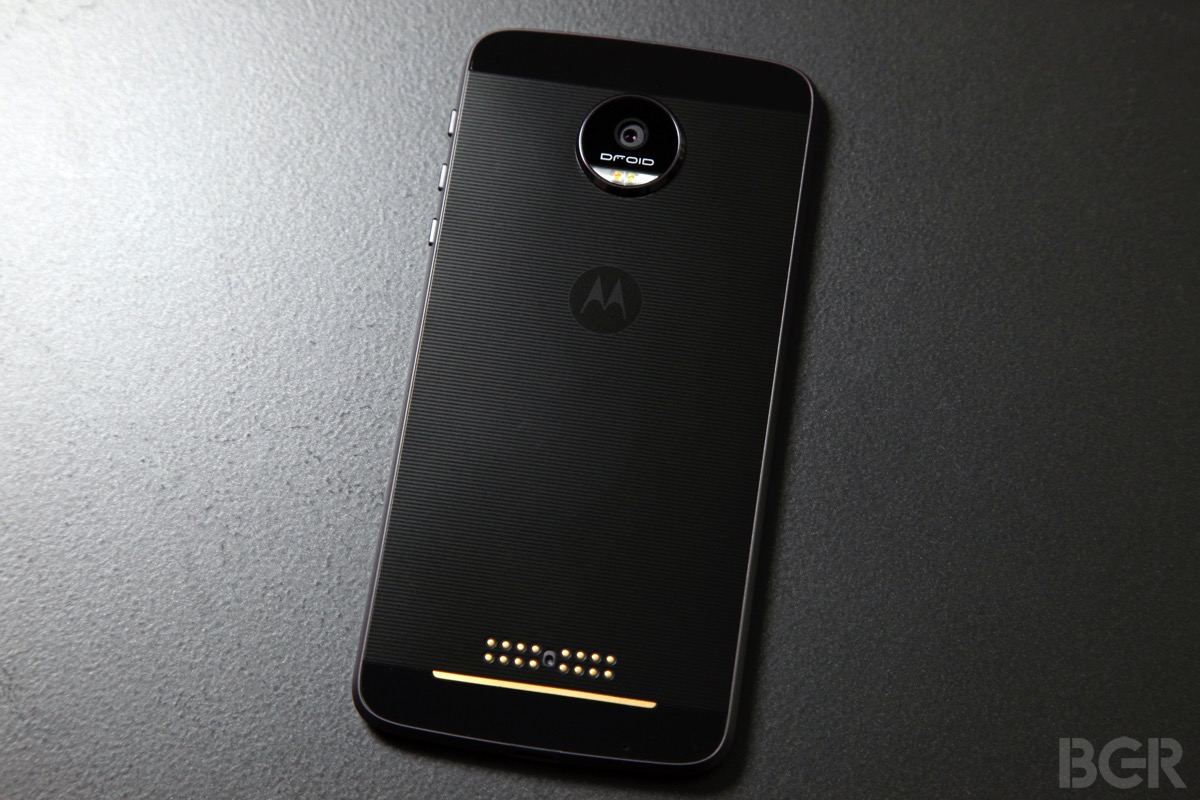 Unsurprisingly, the design and build quality of these phones is second to none.
Motorola's recent flagship phones have been all about design and customization. Users were invited to choose from a wide range of different colors and materials online, including real woods and leathers. The resulting phones were sleek and unique, but Motorola moved away from that model with the Z and focused instead on premium metal and a bold new design.
Of note, that bold new design is decidedly masculine, which isn't uncommon for smartphones in Verizon's Droid line.
The Moto Z Droid is built entirely of metal and glass, and you'll struggle to find a smartphone that feels more solid and premium in your hand. The front is a single sheet of 2.5D Gorilla Glass that has five interruptions — one for the speaker near the top of the phone, a second for the LED selfie flash next to it, a third for the static home button (it's a raised button with an embedded fingerprint scanner, but it's stationary and you can't press it), and a fourth and fifth for two small openings near the bottom where dual microphones reside. Notably, the fingerprint scanner is lightning-fast and extremely reliable.
The Z Force Droid ditches Corning's Gorilla Glass in favor of Moto ShatterShield, a five-layer system that Motorola guarantees won't shatter when dropped. It features an exterior glass layer with a "proprietary hardcoat designed to guard against dents and abrasion," as well as a second crack-resistant layer for added strength.
I repeatedly dropped the phone face down onto concrete, tile and wood from heights of well over six feet, and so far I haven't seen so much as a chip, let alone a crack. In fact, the phone even cracked the grout in my kitchen and stuff wasn't damaged in any way. Motorola guarantees its ShatterShield screens for four years.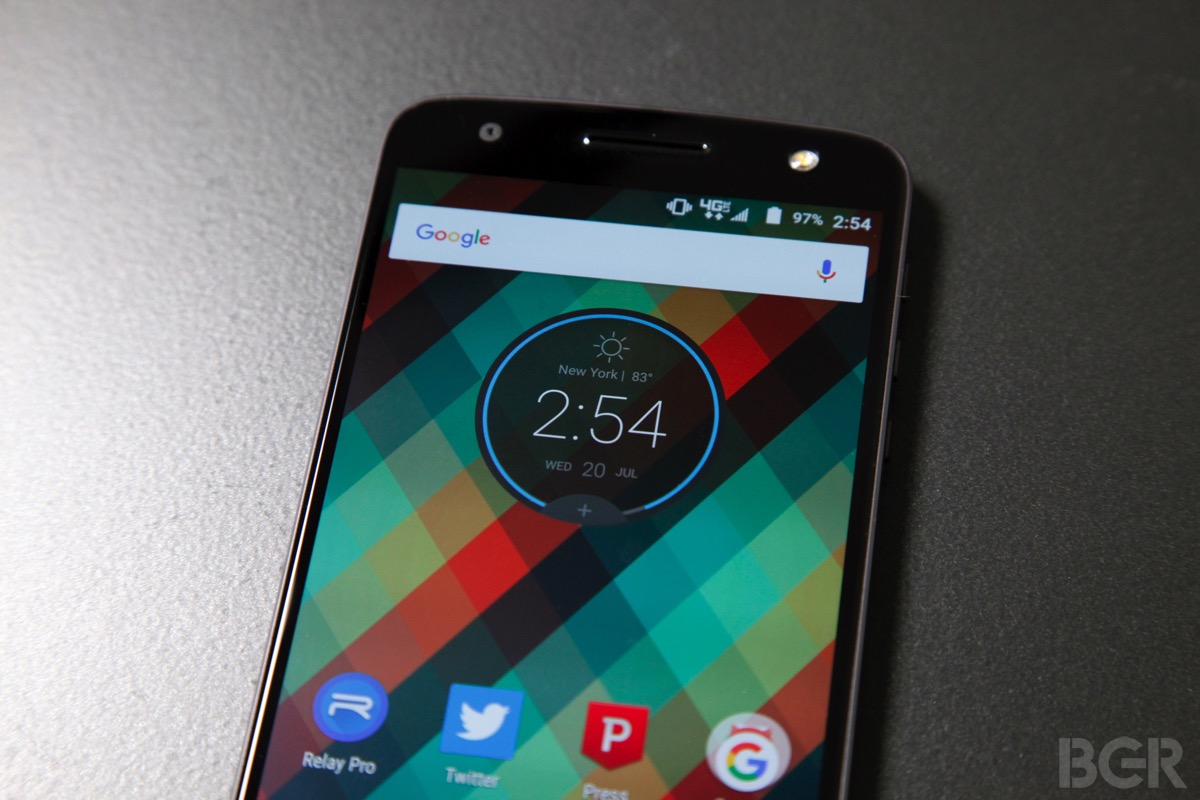 The display on the Z Droid and Z Force Droid is a 5.5-inch AMOLED panel with 2K resolution (2560 x 1440). That works out to a pixel density of 535 ppi, and it addresses one of the two biggest problems many users have had with recent Moto flagship phones. The screens on phones like the Moto X were good, but never great — and never anywhere close to being on par with flagship phones from other vendors like Samsung.
Motorola's Moto Z Droid display still isn't quite as good as the panels you'll find on phones like the Galaxy S7, but it's far better than anything you've ever seen on an older Moto phone. Blacks are deep, colors pop and the contrast is dramatically improved compared to earlier Motorola handsets.
The edges of the phone are all metal, with a third mic and a SIM/microSDXC tray on the top edge and a USB Type-C port on the bottom. Three metal buttons sit near the top of the phone on the right edge — volume up, volume down and power/sleep — and there is nothing on the left edge of the Moto Z Droid. A "water repellent nano-coating" protects against splashes and minor spills, but the new Moto phones aren't IP68 rated like some rival handsets so you cannot submerge them in water.
Around back, you'll find a large "camera bump" near the top that houses the lens, flashes and sensors. Near the bottom are the copper contacts utilized by the phone's modular mechanism, which we'll discuss shortly.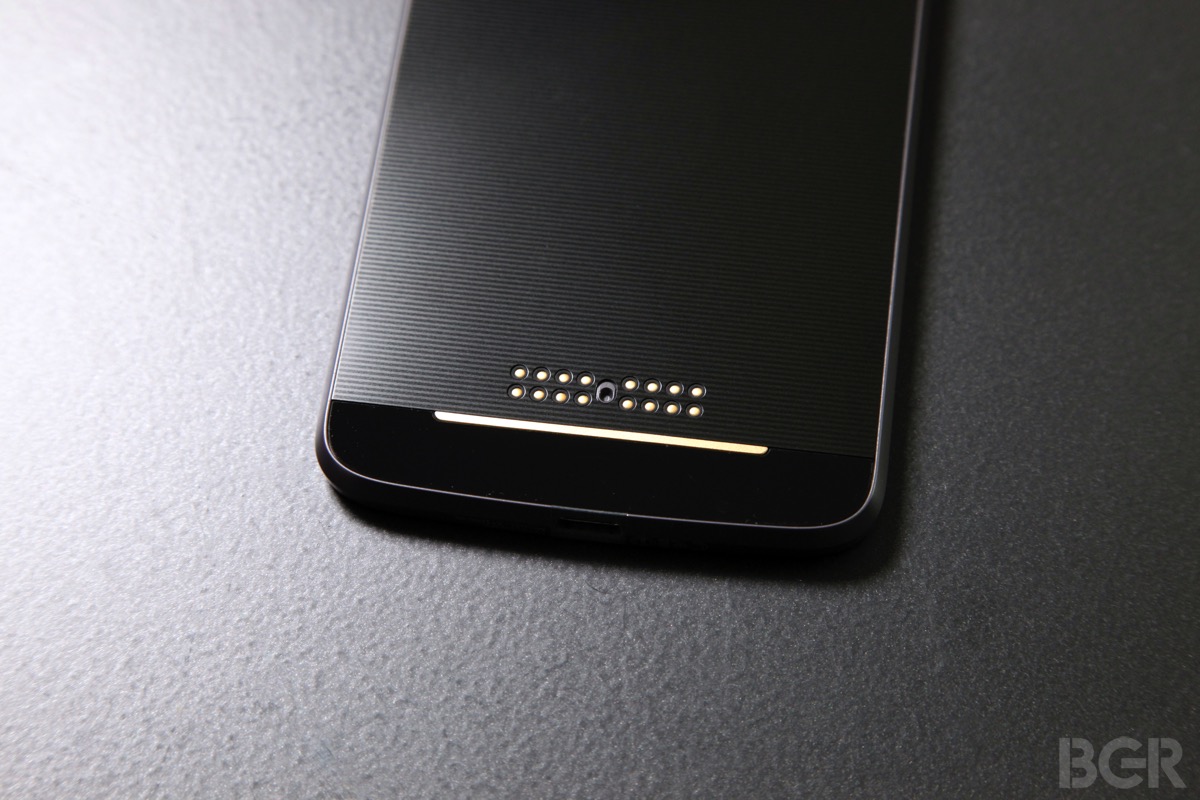 If you were paying attention, you'll notice that something was missing from my description of the phone's hardware. That's right, there's no 3.5mm headphone jack. Like Apple, Motorola chose to ditch the standard audio jack in order to make the phone thinner and free up room for other components. Bluetooth headphones will obviously work with the Z and Z Force, and both phones also ship with a USB-C to 3.5mm audio adapter.
Inside, the Moto Z Droid packs a large 2,600 mAh battery that Motorola says will supply up to 30 hours of "mixed usage." In my testing, I was able to get more than a full day of usage that was obviously a bit heavier than normal since I was reviewing the phone. The Moto Z Force Droid has an even larger 3,500 mAh battery rated for up to 40 hours of mixed usage, and it would take some serious effort to burn through it in one day.
Further enhancing the phones' fantastic battery life is support for Motorola's proprietary "TurboPower" charging, which is Moto's take on the fast charging tech almost every flagship phone ships with these days. The company says its new phones can soak up 8 hours worth of battery life in just 15 minutes using the special USB-C charger included in the box. I haven't verified that claim but I can certainly confirm that the huge batteries on these phones fill remarkably quickly.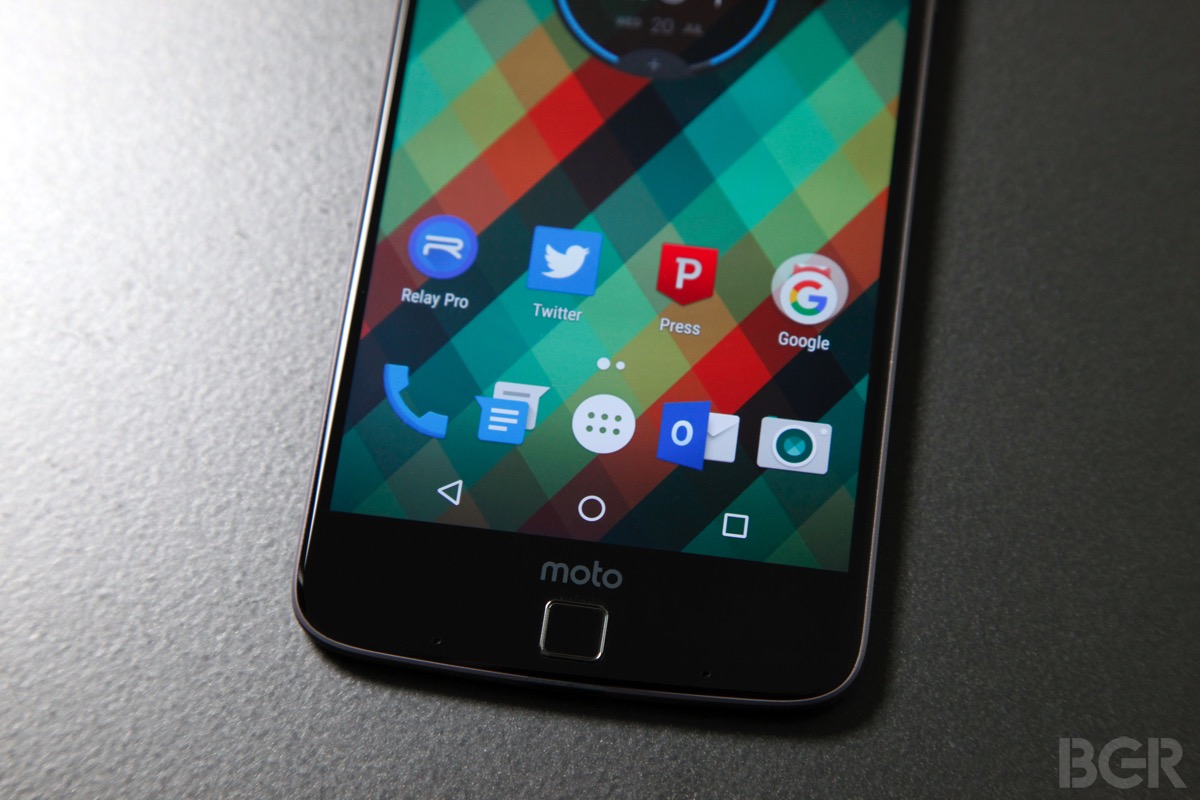 Moving back to the phone's modular features, this is one area where the Moto Z Droid and Moto Z Force Droid really shine.
The concept here is the same as it is with the LG G5. You have a phone that's compact and comfortable to use, and you can then expand its capabilities by attaching any one of a number of modular accessories. In the case of the Z and Z Force, Motorola calls them "Moto Mods." The main difference between Moto Mods and LG's modular attachments is the mechanism they use to connect to the phone.
With the G5, the user is forced to pop out the phone's battery in order to change modules. This means shutting the phone down completely and then waiting for it to boot back up again each and every time you want to switch to a new module or remove a module and go back to using the phone on its own. But with the Moto Z Droid and Z Force Droid, attaching a module is as simple as slapping it onto the back of the phone.
Motorola's terrific design uses a series of strong magnets to fix a Moto Mod attachment to the back of the handset without the need to remove the battery or even fasten anything. Simply place a Mod onto the back of the phone and you're done. In fact, the magnets are so strong that some slimmer Mods such as the Tumi battery pack can actually be a bit difficult to pry off.
Motorola gave me three different Moto Mods to test and all three worked as advertised. The Tumi Power Pack adds 2,200 mAh of battery life, which Motorola claims is good for about 22 hours of usage. The JBL Soundboost Mod adds about half as much battery life to the phone but also includes stereo speakers and a kickstand. The sound quality is far better than the integrated speakers found on any smartphone in the world, and it makes watching movies on the phone's large 5.5-inch quad HD display an absolute pleasure.
The third Moto Mod I tested was by far my favorite. Built in-house by Motorola, the Insta-Share Projector attaches to the back of the phone and adds a surprisingly clear projector that beams a display up to 70 inches onto any surface. It also automatically adjusts the projection angle to compensate for the position of the phone relative to the surface on which the screen is being projected.
The built-in battery in the Insta-share Projector lasts for an hour of continuous projection and there's also an integrated kickstand to prop the phone up. The projected image will mirror your phone's display so you can give a presentation, share a photo slide show or even watch a movie that you're streaming on Netflix. Now if only there was a way to combine the projector with those killer JBL speakers…
Lenovo and Motorola have more Moto Mods in the pipeline, as do the companies' partners. There will also be a hardware developer kit available beginning in August for just $125, and it'll let anyone build devices that are compatible with the Moto Mod system.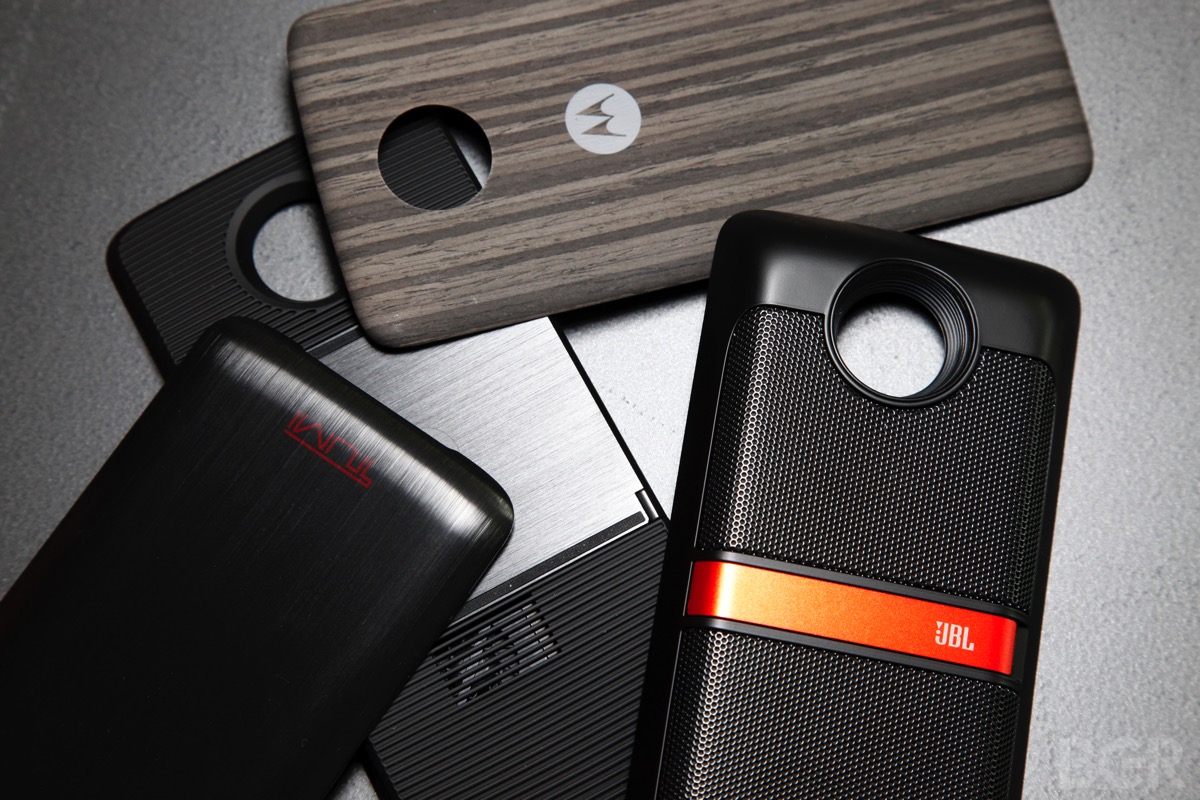 A Qualcomm Snapdragon 820 processor with a 2.2 GHz quad-core CPU powers the new Moto Z models, and it's assisted by 4GB of LPDDR4 RAM and either 32GB or 64GB of UFS storage. The combination provides more than enough power and speed to facilitate an Android 6.0 Marshmallow experience that is as smooth as you'll find anywhere.
In terms of performance, I like to remind readers that benchmark test results aren't always an accurate reflection of how a device performs in the real world. They do a good job of measuring performance when a phone is pushed to its limits, but that doesn't necessarily translate to typical, everyday usage.
Benchmarks do provide a decent way to compare one phone to others while handling a heavy load though, and the Moto Z Droid averaged a score of 149,155 in AnTuTu tests that I ran. That score comes in second only to the HTC 10, which is the most powerful smartphone in the world right now.
Motorola's Android builds have been as close to stock as you'll come across in recent years. Instead of slapping a proprietary layer of software on top of Android like Samsung, HTC and others do, Motorola leaves the interface unchanged for the most part. Its custom features are accessible in a special Moto app, where you can pick and choose which Moto-specific functionality you want to enable.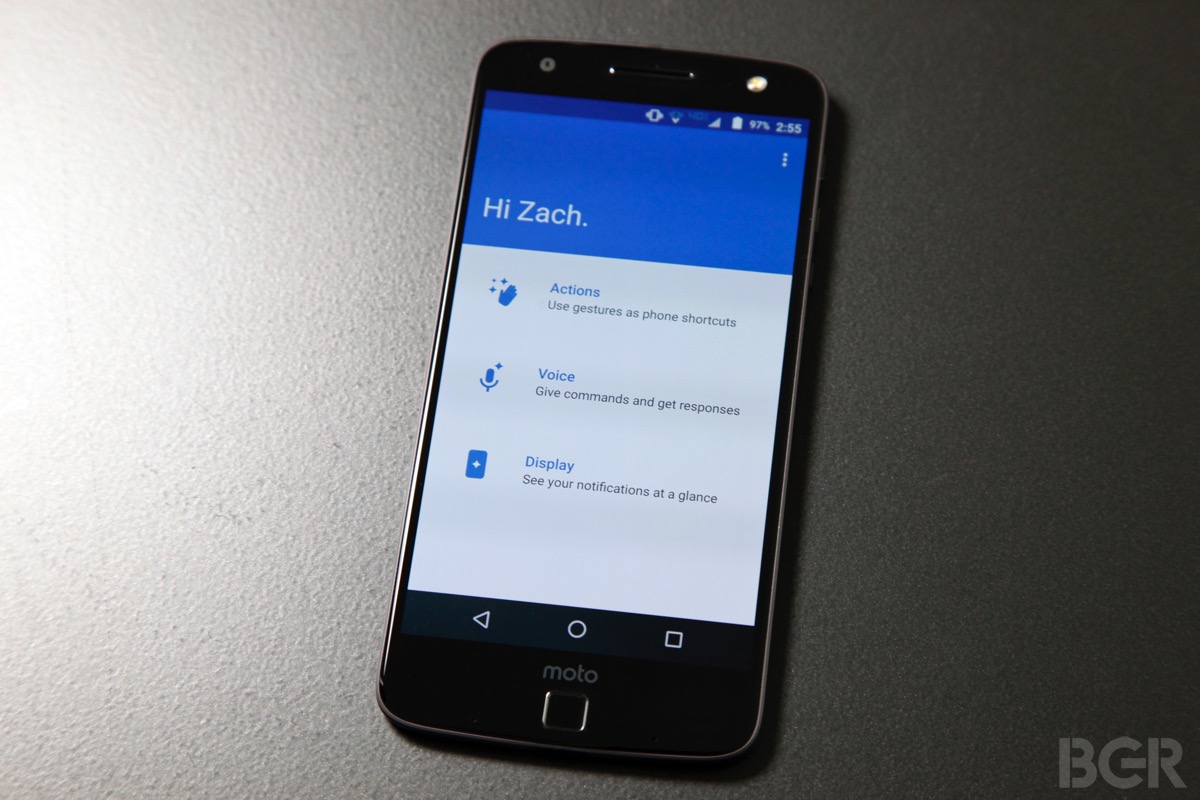 There are also some additions to the Android Settings app, and the nifty Command Center widget that Moto fans know and love. Beyond that, Android purists will be quite pleased with the Android experience on the Moto Z Droid and Moto Z Force Droid… once they get past all the Verizon bloatware, of course.
The Moto app has three main sections, each of which let you configure special Moto Z Droid features.
In the "Actions" section, you can choose which motion gestures you'd like to enable or disable. Examples include "Approach for Moto Display," which turns on the phone's standby screen as you reach for it so you can see the time and notifications; "Chop Twice for Flashlight," which lets you turn the camera LED on or off with two quick chop gestures; and "Swipe to shrink screen," which is my personal favorite. The Moto Z has a large display that can be difficult to use with one hand, so a swipe up from the bottom will shrink it down to a more manageable size.
The second section is labeled "Voice," and it gives you access to the phone's Moto Voice features — features that many people will likely pass on since Google Now is so comprehensive. And finally, a "Display" section lets you pick and choose what notifications and other information appears on the standby screen when the phone is locked.
Beyond that, users have access to all the great features Google baked into Android Marshmallow… and they're available for the most part exactly as Google built them. There are a couple of Google apps that Motorola replaced with its own software, and my favorite among them is the camera app.
Motorola's camera app is simple when it needs to be and complex when the user wants it to be; a special "Professional mode" gives the user complete control over settings like shutter speed, white balance, ISO and even focus. The camera also has Motorola's "Best Shot" feature baked in, which snaps multiple photos with each tap of the shutter button and lets you choose the best among them.
Of course, more important than the camera software is the quality if the photos captured by the Moto Z Droid's camera.
When discussing the phone's display, I noted that the Z Droid's 2K AMOLED screen addressed one of the two biggest complaints users had about Moto phones. Camera quality was the second, but Motorola has made great strides with the Z Droid and Z Force Droid.
The thinner of the two new Moto phones sports a 13-megapixel rear camera with an f/1.8 aperture, optical image stabilization, laser autofocus and 1.12um pixels. The camera on the Z Force Droid is even better, swapping out the 13-megapixel sensor for a 21-megapixel model and adding even more efficient and accurate phase detection autofocus into the mix.
Both cameras capture photos that are clear with accurate color reproduction. Thanks to OIS and fast autofocus, photos are also generally free of excessive noise and blurring, and videos are nice and stable unless you really jerk the phone around.
In ample lighting, I would have difficulty distinguishing pictures captured by either of the two new Moto phones and the Galaxy S7, which has what is by far the best smartphone camera in the world in my opinion. In lower light, however, the difference becomes a bit more apparent, though I did find that the Z Force Droid's low-light performance seems to be a bit better than the slimmer model.
The bottom line is that these phones feature cameras that are in a completely different league than earlier Moto phones. They can easily go toe-to-toe with the best camera phones out there like the Galaxy S7 and the HTC 10, though the S7 is still the reigning champ in my book.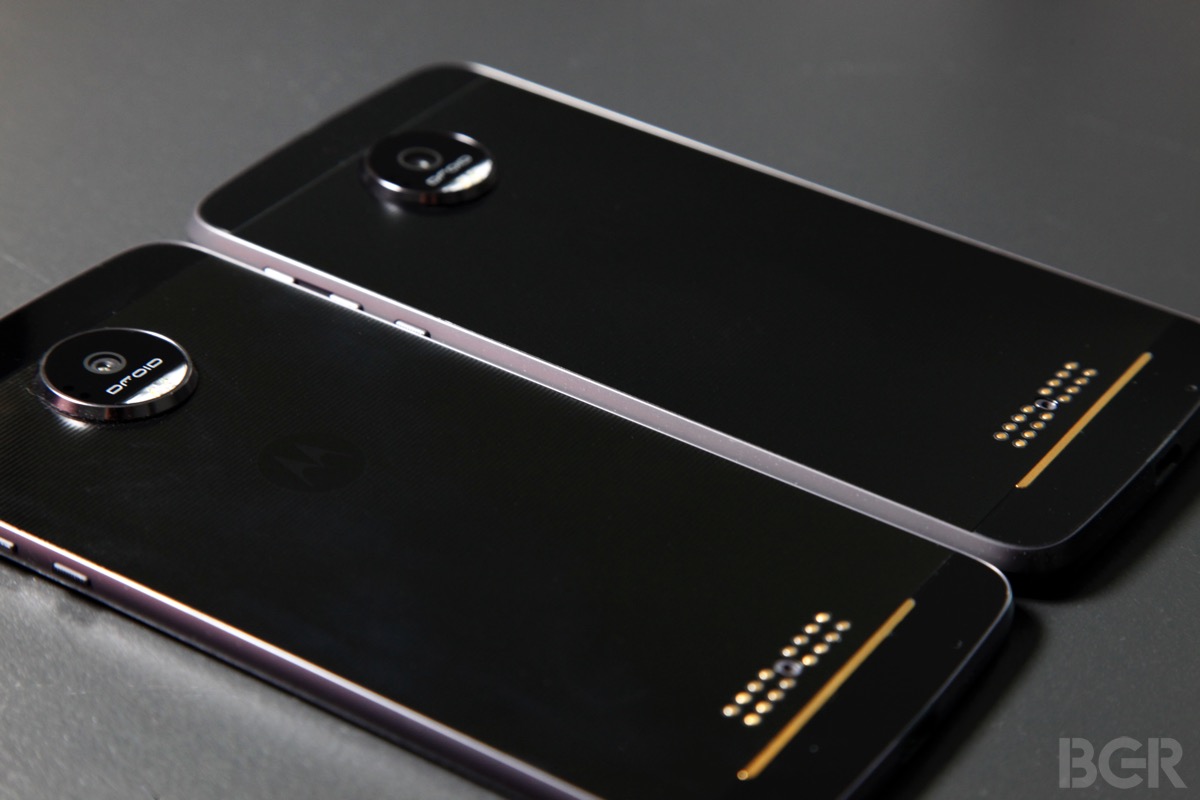 Before we wrap things up, let's quickly run down all of the differences between the Moto Z Droid and the Moto Z Force Droid:
The Z measures 153.3 mm x 75.3 mm x 5.19 mm while the Z Force measures 155.9 mm x 75.8 mm x 6.99 mm
The Z weighs 136g while the Z Force weighs 163g
The Z has a 13MP camera with laser autofocus while the Z Force has a 23MP camera with phase detection autofocus
The Z has a Gorilla Glass face while the Z Force has a ShatterShield display
The Z has a 2,600 mAh battery while the Z Force has a 3,500 mAh battery
Motorola has created a situation similar to the one Apple created with the iPhone 6 and iPhone 6 Plus, but the key difference here is that both phones feature the same size screen. There are clear advantages to choosing the Z Force Droid over the Z Droid, and those advantages are significant.
On paper, the choice is obvious. Once you hold that 5.2mm-thick Moto Z in your hand though, it can be very difficult to let go.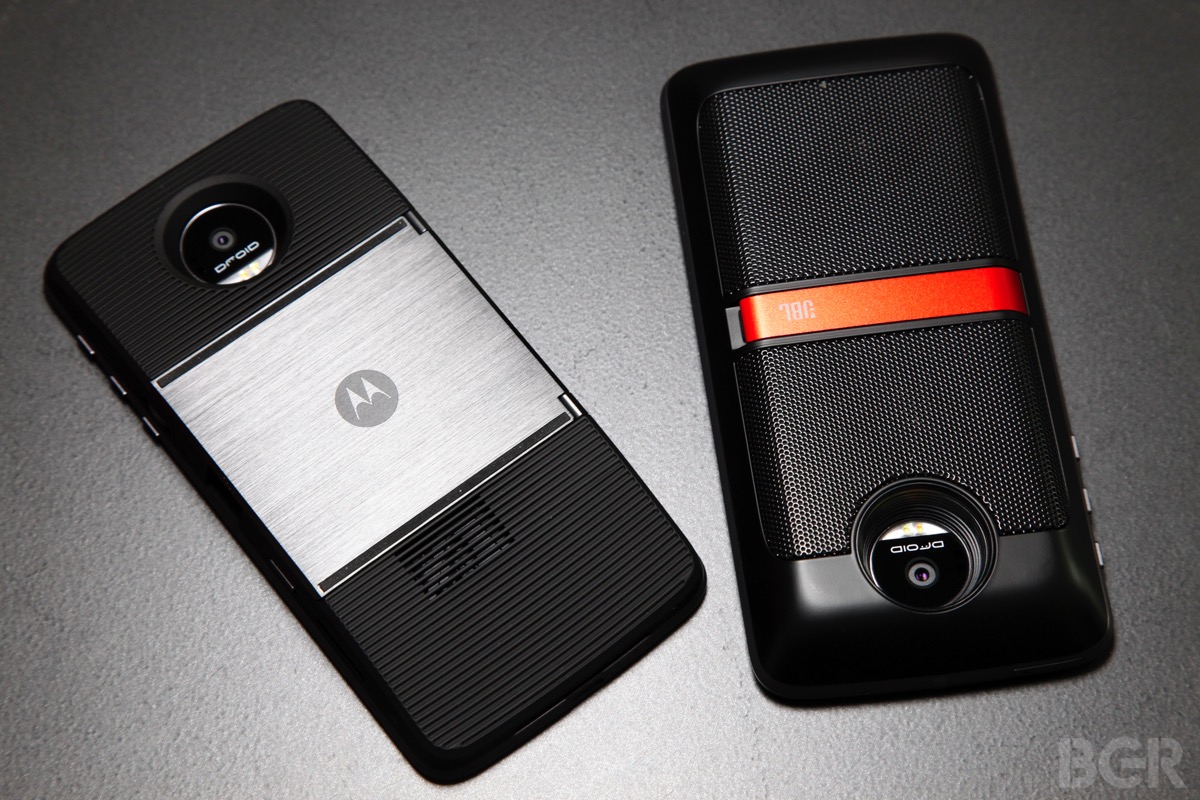 Motorola Mobility has endured a bizarre and turbulent ride over the past few years. It split from Motorola Solutions back in 2011 and was acquired by Google for a whopping $12.5 billion a few months later. Google held onto it for a couple of years before selling the company and most of the assets gained from the initial purchase to Lenovo for just under $3 billion.
Now, as a division of Lenovo, Motorola is making the best phones of its long and storied existence.
I have a long history with Motorola. I've owned and used every major Motorola cell phone since the days of the StarTac. I scooped all of the new phones the company was working on back in 2008 and 2009 when it first mounted a comeback after smartphones began to kill off the RAZR. I also gave the world its first live look at the original Droid, the smartphone that would cement Android's position as a true competitor to the iPhone, BlackBerry and Symbian.
It's been a wild ride and it's taken us here, to the two most impressive smartphones Motorola has ever built. I can't call them my personal favorites since the original RAZR will always hold a special place in my heart. But they're easily my favorite Motorola smartphones to date and, to be frank, they're far and away my favorite smartphones of 2016 so far. They also complement other Moto phones perfectly; Motorola's low-cost handsets like the Moto G have become some of the company's best-selling phones ever.
Motorola has managed to build phones that feature a better design, better materials, better build quality, better relative battery life and better performance than just about anything else out there. The look is incredible, the feel is as impressive, and the major pain points from earlier Moto phones have been addressed with a great AMOLED display and two different dramatically improved cameras.
The biggest problem people will have with these phones right out of the gate is the fact that they're Verizon Wireless exclusives for the time being. That's great news for Verizon subscribers, but everyone else will have to wait a while longer before Lenovo starts selling the phones unlocked in the US in September.
The other big problem people will have is choosing between the two models. The Z Droid is insanely sleek and slim but the shatterproof screen, bigger battery and better camera on the Z Force Droid will be difficult to pass up.
As for Verizon customers, they'll be able to pre-order the Moto Z Droid and Moto Z Force Droid on Verizon's website beginning immediately ahead of the phones' release next Thursday, July 28th. The Moto Z Droid starts at $26 per month or $624 outright, while the Moto Z Force Droid starts at $30 per month or $720.
There will also be several Moto Mods available at launch online and in Verizon stores. The JBL SoundBoost speaker costs $79.99, the Insta-Share Projector is $299.99, TUMI and Kate Spade Power Packs will range from $59.99 to $89.99, and a variety of Incipio back plates will sell for $14.99 each.