Samsung fans, prepare to be disappointed.
The company's big MWC 2017 press conference is about to begin, but we met with Samsung last week and we already know everything the company plans to unveil on stage on Sunday in Barcelona. When the show is over in an hour or so, you will be disappointed. I'm not suggesting the three new devices Samsung is about to unveil are bad devices. In fact, quite the opposite: I've spent time with the brand new Galaxy Book 12, Galaxy Book 10 and Galaxy Tab S3, and they're all impressive gadgets in their own right. But Samsung fans around the world have been eagerly awaiting one announcement in particular — the Galaxy S8 and the Galaxy S8+ — and they'll still be waiting once today's press conference has come to a close.
It's a shame, but it's not entirely unexpected considering all of the leaks and rumors up to this point. Samsung isn't expected to take the wraps off its new flagship smartphone duo until late March ahead of they're April 21st release. In the meantime, you've got three fresh new Samsung devices to fawn over, and we'll give you your first taste of the Galaxy Book 12, Galaxy Book 10 and Galaxy Tab S3 right here.
Samsung on Sunday unveiled not one, not two, but three brand new tablets. The first is a new high-end Android slate called the Galaxy Tab S3 that will go head to head with Apple's iPad Pro. Rounding out the company's new lineup for the first half of 2017 is the high-end Galaxy Book 12 and the mid-range Galaxy Book 10, two Windows 10 hybrid devices that marry the productivity and versatility of a laptop with the portability of a tablet.
Beginning with the Galaxy Tab S3, Samsung has undoubtedly turned up the heat on its hardware. This premium tablet features a design that is very similar to Samsung's flagship smartphones. Glass front and back panels are fixed to a metal mid-frame, and the result is a device that feels just as high-end as an iPad.
The Galaxy Tab S3 is an Android 7.0 Nougat tablet powered by a quad-core Qualcomm Snapdragon 820 processor. The display is a QXGA AMOLED screen that measures 9.7 inches diagonally, and it's absolutely stunning.
Other highlights from the specs include a 13-megapixel rear camera, a 5-megapixel front-facing camera, 4GB of RAM, 32GB of storage, microSDXC support up to 256GB (up to 2TB, really, but the largest available cards right now are 256GB), integrated 4G LTE connectivity, and a large 6,000 mAh battery with fast charging support and a USB Type-C connector.
The Tab S3 also includes a next-generation S Pen in the box, though it's a standalone stylus that isn't stored internally like it is on Note series tablets. Changes this time around include an even more paper-like writing experience thanks to a new rubber tip, and new tilt detection that widens strokes when you tilt the pen as you write or draw.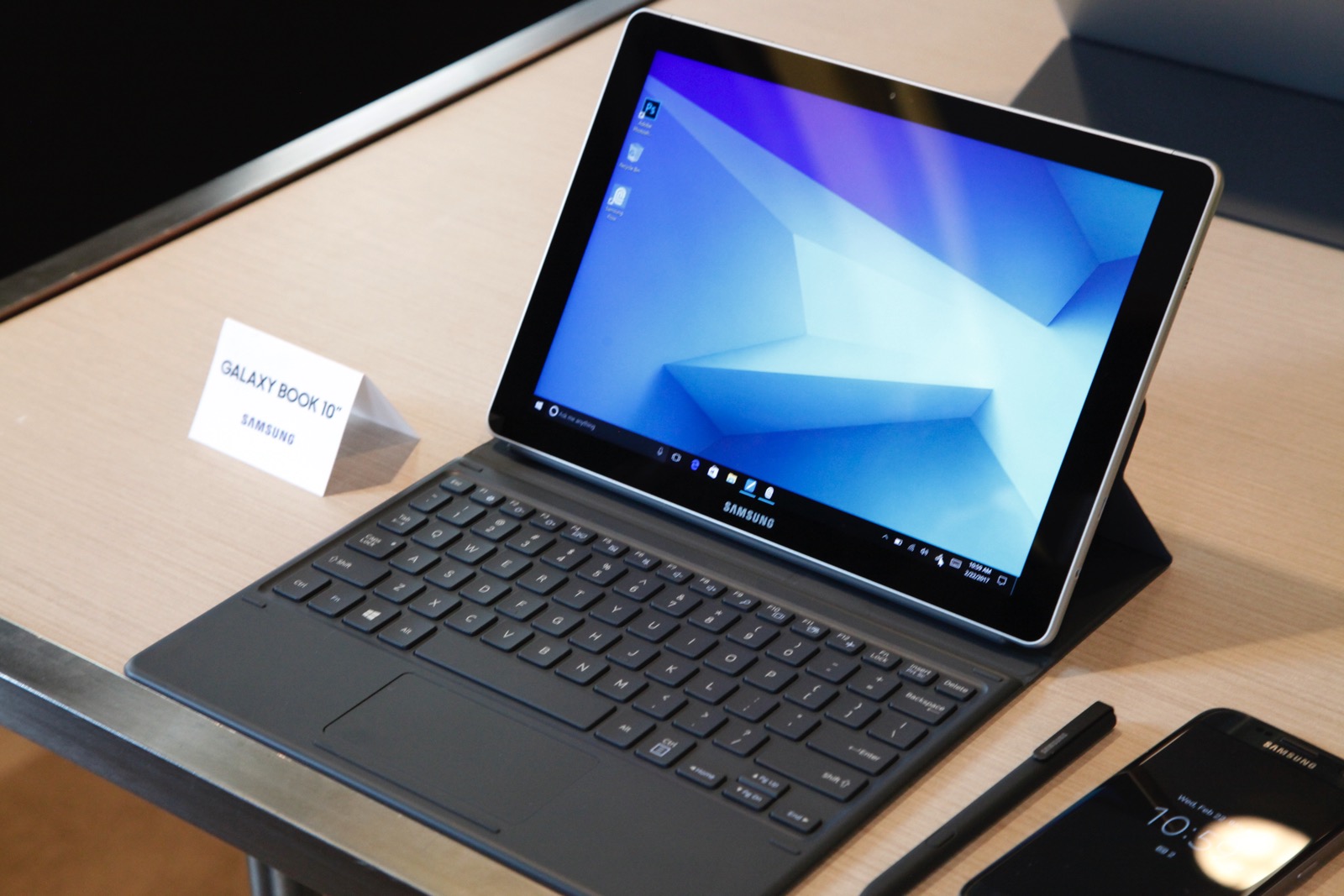 Next up is the Samsung Galaxy Book 10, the lesser of the two new Windows 10 devices Samsung unveiled on Sunday. It's a mid-range Windows 10 hybrid tablet that is docked in a keyboard cover, and it includes a Galaxy suite of software on top of Windows 10 that includes things like Samsung Flow — the company's response to Apple's Continuity features — as well as a few apps that make use of the S Pen. Again, Samsung's Galaxy Book devices feature support for the company's new S Pen, which is included in the box but is not stowed in any slot on the tablets.
The Galaxy Book 10 features a 7th-generation Intel Core m3 processor and a 10.6-inch LCD display with 1080p resolution. Other spec highlights include integrated 4G LTE connectivity, a 5-megapixel front-facing camera, 4GB of RAM, either 64GB or 128GB of internal storage, microSDXC support and up to 10 hours of usage per charge.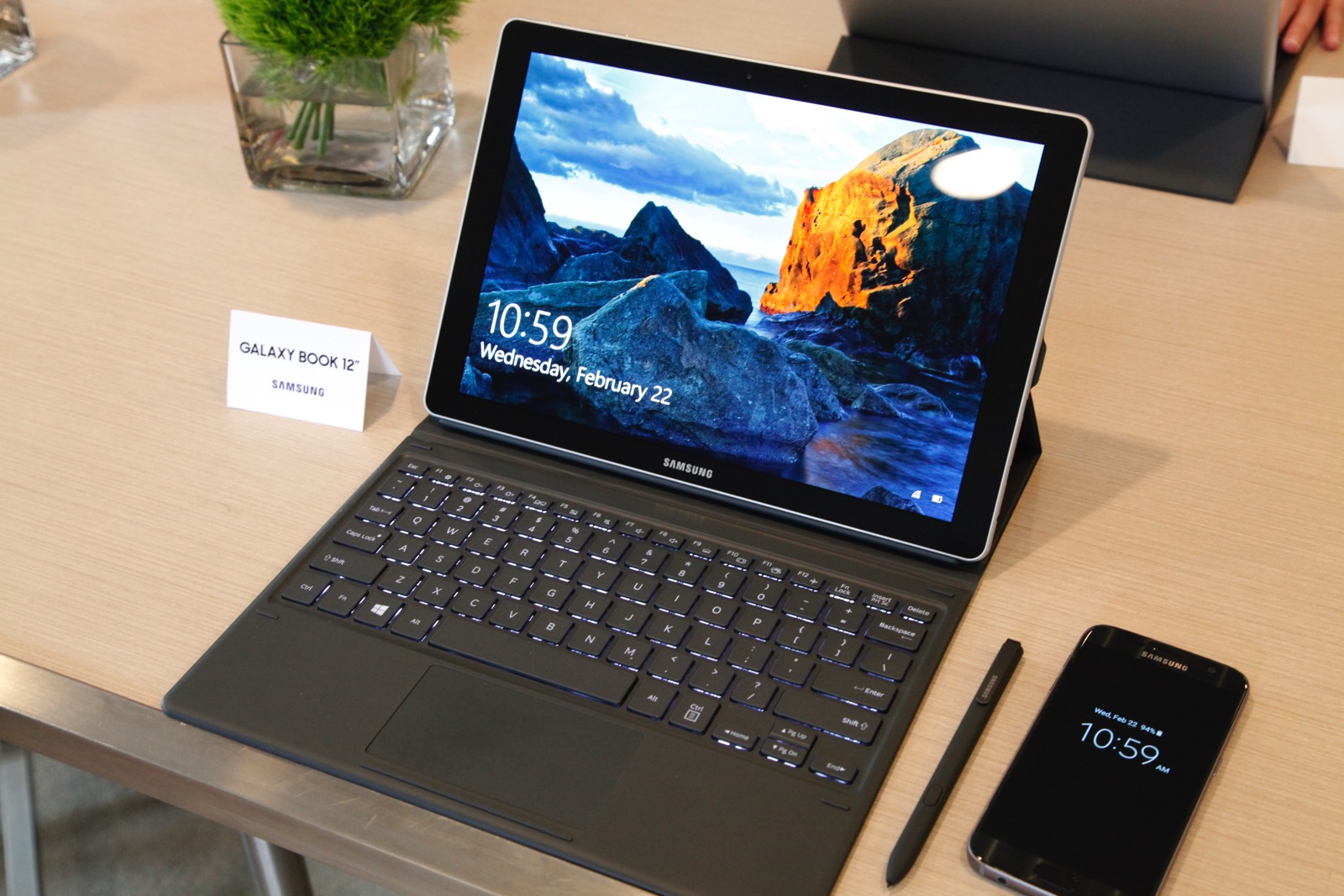 The higher-end Galaxy Book 12 features a 7th-generation Intel Core i5 processor clocked at 3.1GHz, an absolutely gorgeous 12-inch 3:2FHD+ AMOLED display with a pixel density of 216 ppi, a 13-megapixel rear camera, a 5-megapixel front-facing camera, either 4GB of RAM with a 128GB SSD or 8GB of RAM with a 256GB SSD, up to 10.5 hours of usage per charge, and a beautiful case that is just 7.4mm thick.
Of note, both Galaxy Book models support all of the S Pen features from the Galaxy Note 7.
Samsung's tablet lineup for the first half of 2017 is impressive indeed, and I'm looking forward to spending more time with them all once review units become available. Sadly, I have no idea when that might be — Samsung isn't announcing anything at this point with regard to pricing or release timing.