Ahh, the notch. If there's one trend that defines the current era of smartphone design, it's Apple's notch on the iPhone X. Apple wasn't the first company to cut a chunk out of the top of a smartphone display, of course. But now that it has, Android phone makers around the world are tripping over themselves to copy Apple's design. In fact, nearly every Android smartphone vendor out there is ripping off the iPhone X right now. Seriously, it's insane. In fact, two of the only big-name smartphone brands that didn't copy the iPhone X with their latest flagship phones are Samsung and Xiaomi, two of the most notorious Apple copycats in history!
Android fans really, really seem to hate the notch on Apple's iPhone X, which is why it's extra sad that all these Android companies are copying it so shamelessly. If you're an Android users who isn't terribly excited about having a notch on your next phone though, we have some good news for you.
Apple included a notch on the iPhone X for a very simple and sensible reason. The company wanted to maintain a uniform bezel around as much of the phone's display as possible, yet it needed room for the iPhone X's complex TrueDepth camera and sensors that enable Face ID. Neither of those things can be said of the Android clones that have stolen Apple's iPhone X design. They still have big "chins" on the bottom because they don't have the resources or the know-how to pull off Apple's folded OLED display design, and none of them have complex 3D facial recognition systems above their displays. Long story short, they're just trying to make their phones look like an iPhone.
Of course, the problem is that many people don't want an iPhone. This is especially true for hardcore Android fans, who tend to immediately dislike anything that has to do with Apple. Since most new flagship Android phones look like the iPhone X though — including new and upcoming phones from popular brands like LG, Asus, Huawei, and OnePlus — these people might have precious few choices if they hope to avoid the notch.
Thankfully, there's light at the end of the tunnel.
As noted in a post on the Xda-developers blog, a new app in the Google Play store is ready to address the issue. The appropriately named Nacho Notch — Notch Hider app does exactly what you might think: it hides the notch by making the background of the "ears" on either side of the notch black. Status information and notifications are still displayed, of course. And best of all, it's completely free.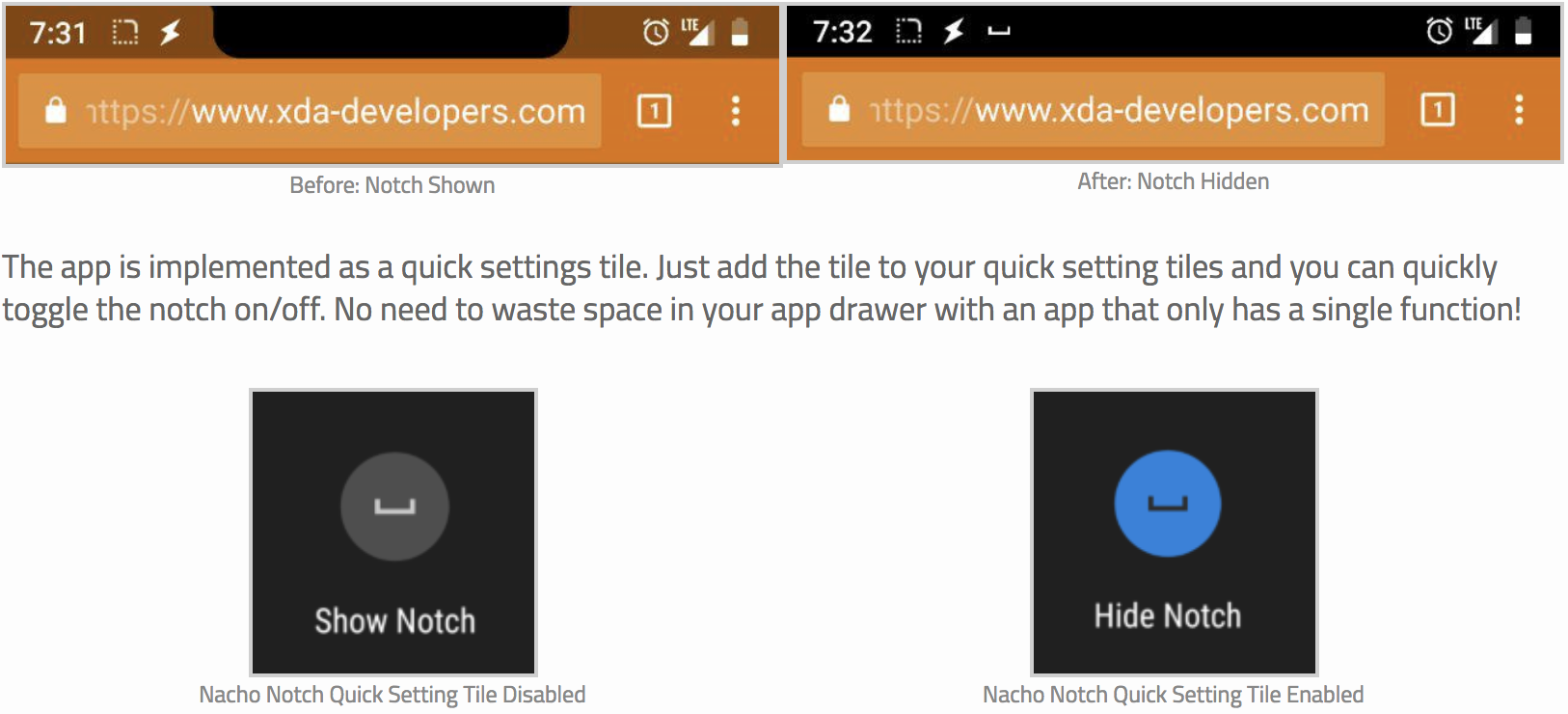 Here's the full description from the Play store:
Maybe you have a phone with a notch, maybe you don't. If you do, you might also be annoyed by having this black blob in the middle of a light-colored status bar most of the time.

If this description fits you, you probably want this app. Nacho Notch colors the status bar black while the device is in the portrait orientation, making it better fit with the notch (thereby "hiding" it).

Even if you don't have a notch, but still want a black status bar, you can use the app too. It dynamically finds the height of your statusbar, so you won't be dealing with too little or too much height, or finnicky manual sizing.

IMPORTANT:
There is no launcher icon nor activity! To enable, you simply need to add the Quick Tile to your notification center.

Idea by Mishaal Rahman of XDA Developers
GitHub: https://github.com/zacharee/NachoNotch