When RED founder James Jannard spoke about the Hydrogen One smartphone at a recent event, he just about managed to convince me that the device made sense. After all, this is the same guy who took on Ray-Ban and won. The same guy who made a camera that has been used to film massive blockbusters like The Hobbit and Guardians of the Galaxy Vol. 2. No matter the industry, he has always found a way to make an impact. But for as interesting as his company's phone is, I'm not sure if I would actually recommend it to anyone.
That might sound harsh, but I want to be clear that I don't dislike the Hydrogen One. Rather, it is the only smartphone from any company in recent memory that has actually surprised me, with a bold design and wild features that make it truly stand out as every other phone maker has basically settled on the same design.
The problem is that our expectations have been set far too high for RED to launch what feels more like a proof-of-concept than a flagship phone meant to compete against the likes of the Galaxy Note 9 and iPhone XS. Of course, RED might argue that it isn't aiming to snag a significant portion of the market share anyway, and that selling just a fraction of a percentage of the number of phones Apple sells would be a win, but mid-tier specifications coupled with one of the most eye-popping prices of any phone on the market will make the Hydrogen One a nonstarter for too many consumers. All but the most curious of Android fans won't find enough reasons to take the leap.
---
Hardware design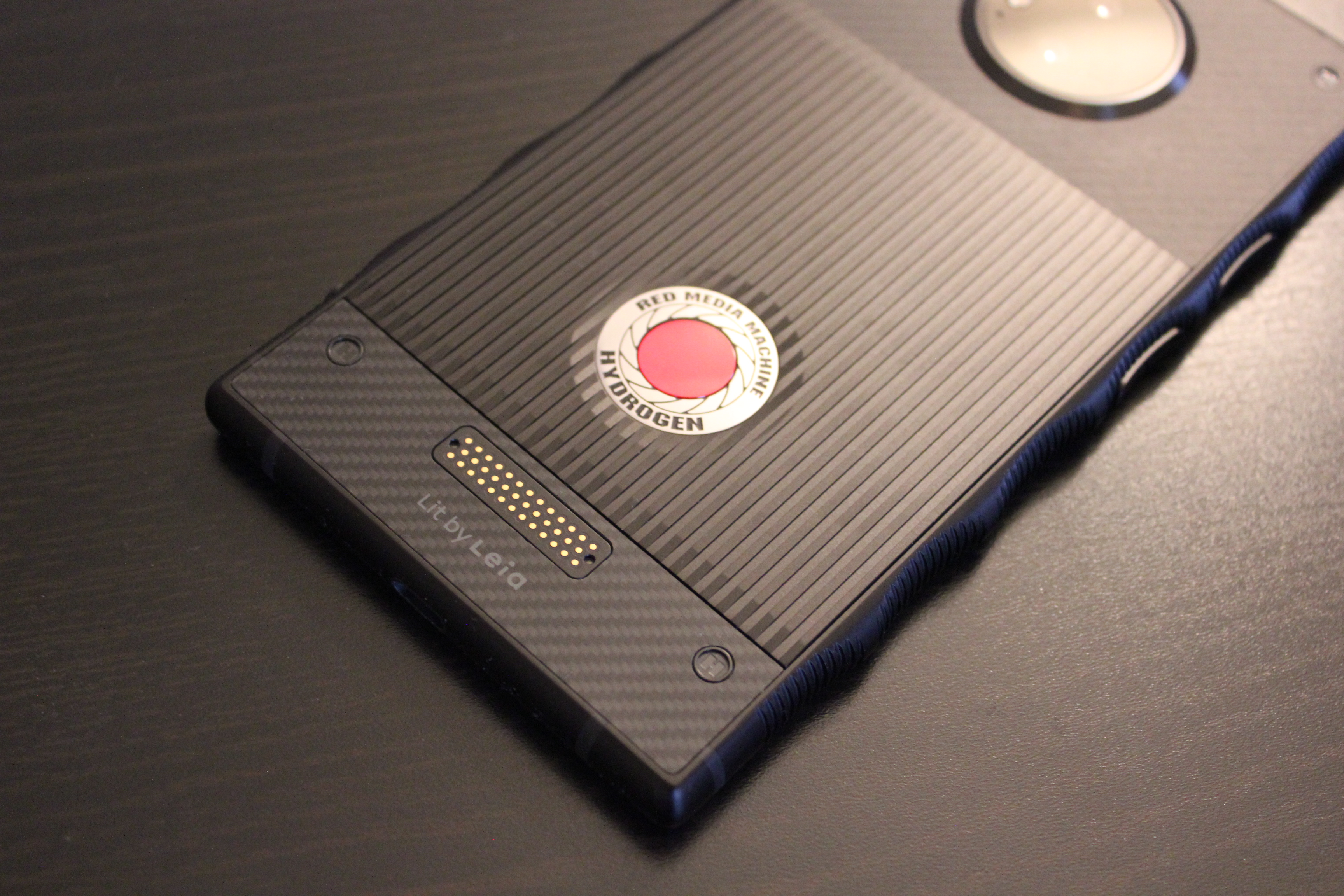 Nearly everything about the Hydrogen One is big. The phone itself is enormous, especially for a device with a relatively small 5.7-inch display. The camera module on the rear of the phone is massive, the branding is unmissable, and in an age when bezels are beginning to disappear altogether, the bezels here are almost comically huge. Then there are the grooved edges of the phone, which make it easier to grip and help ensure that you won't drop it. Within one of those grooves is the power button, which also doubles as a fingerprint scanner, and as a noted hater of the rear-mounted scanner, I was incredibly pleased with RED's solution.
All that bulk does serve a purpose though, as the phone's aluminum body, bolstered by Kevlar panels, is plenty tough enough to withstand a drop or two. The resulting look of the phone is one of functionality over style, but the design is certainly striking. You can decide if that's a compliment or not.
RED has also included support for modules with a pogo connector on the rear of the device, but I didn't get the chance to see any of these in action. RED says that the phone's first modules will begin to roll out next year, and that the number of modules built will be relatively limited, as the company is only interested in releasing modules that truly expand the capabilities of the phone.
---
4-View display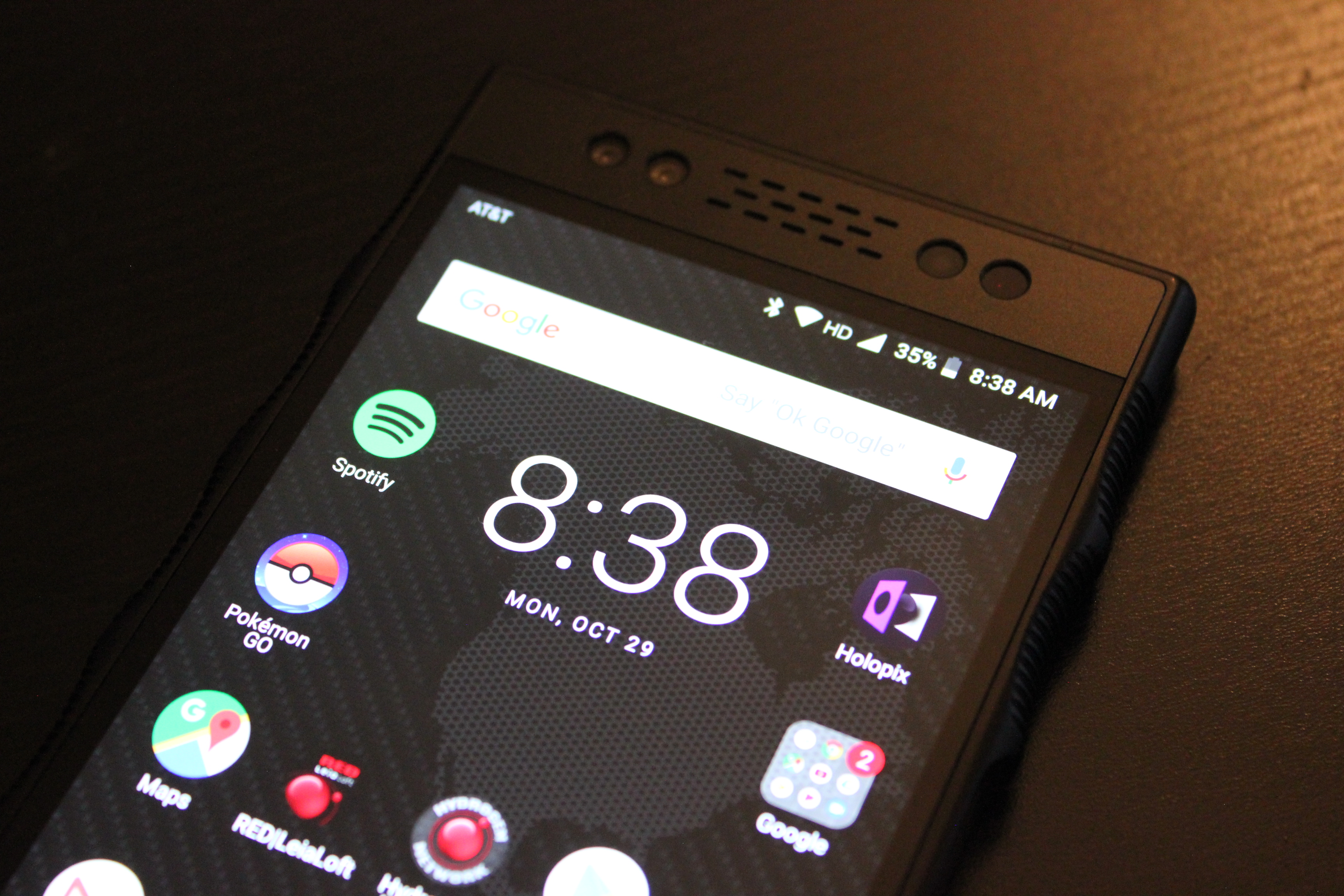 The headlining feature of the Hydrogen One is its 4-View holographic display, which is among the strangest gimmicks we've seen on a new smartphone in years. As the name suggests, the display support images which appear to pop off the screen without necessitating any additional hardware, like glasses or a headset. If you've ever used a Nintendo 3DS, you should have a decent idea of what the holographic images look like on the Hydrogen One.
The few people I've shown 4-View to have gotten a kick out of it, but I found it to be incredibly silly and altogether pointless. While testing something like this, you want to miss it the moment you go back to another device, but that simply wasn't the case with 4-View. In fact, shortly after the thrill (if you can call it that) of the feature wore off, I found myself forgetting to experiment with 4-View at all. The blurry holographic images are infinitely less clear than a standard 2D shot, so unless I wanted to show off the feature, there was no point in using it at all.
And the problem with having a unique feature like this (even if it was better executed than it is) is that there's no way to share it with anyone else unless they're standing right next to you or they own a Hydrogen One as well. As you might expect, 4-View images can only be viewed on the Hydrogen One's distinctive display, which means that when you send a photo to any phone other than a Hydrogen One, it will appear in standard 2D.
Of course, in addition to being able to view 4-View images, you can also capture them with the Hydrogen One's camera. And while you might not be able to send them to anyone on your contact list, you can share your photos on the Holopix app, which serves as a virtual gallery where Hydrogen One owners can upload their best 4-View captures.
Then there are the 4-View movies and videos, both free and paid, available on the Hydrogen Network app. Some of these are just short showcases for the technology, but RED has also announced that over 100 Hollywood movies will are set to launch in 4-View, with Warner Bros. expected to make up roughly half of the catalog both at launch and as the library expands.
---
Camera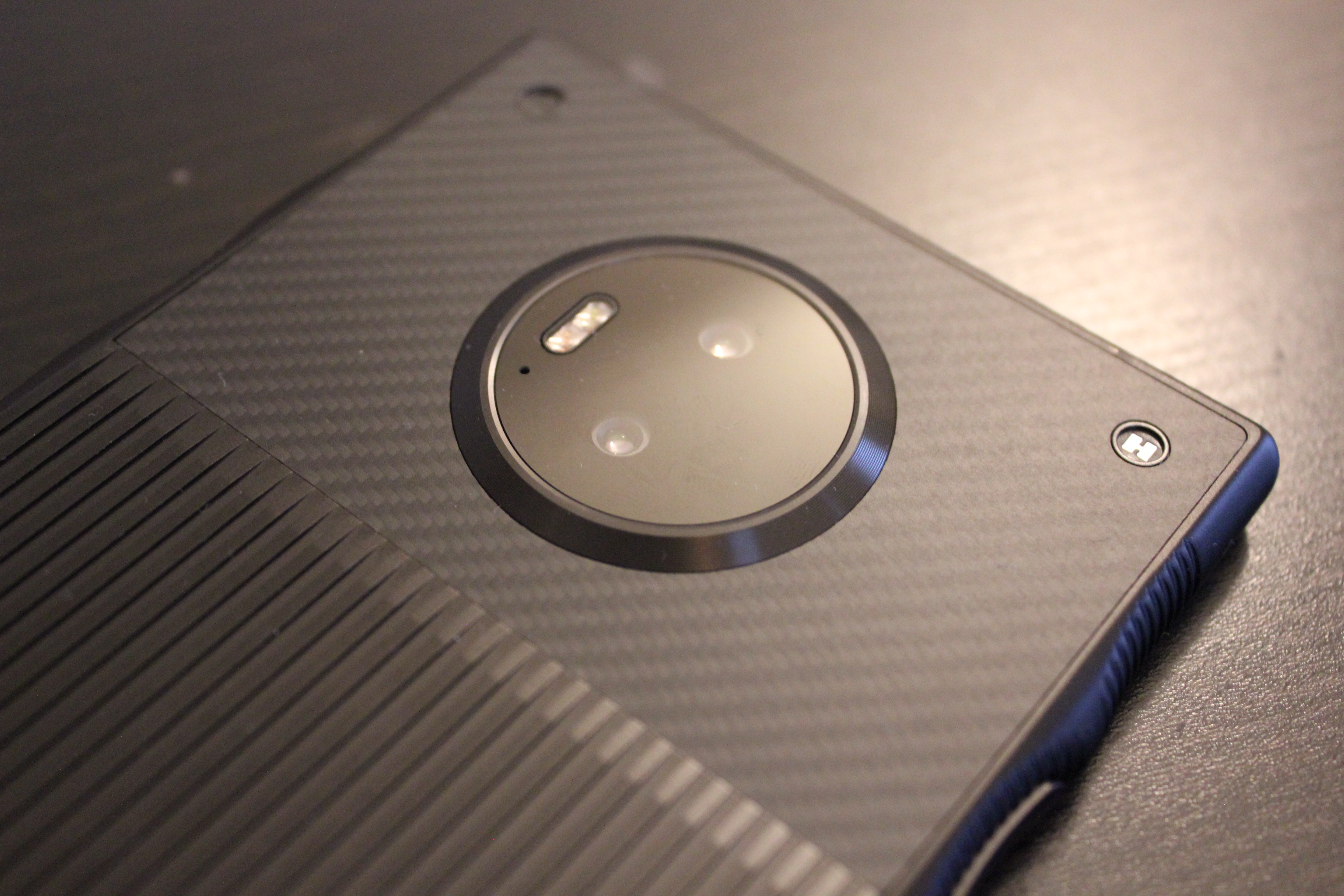 Speaking of the camera, it's worth noting that you aren't getting RED's award-winning sensors on the Hydrogen One. No, despite carrying the RED name, the Hydrogen One is a fairly run-of-the-mill camera phone, capable of capturing solid photos with good lighting, but struggling in less-than-ideal settings. It's not surprising that RED's first-ever phone can't compete with the likes of Apple or Google when it comes to capturing stunning images, but considering the pedigree and the price of the phone, it's hard to give RED any slack in this department.
It's also worth noting that you can only shoot 4V images in landscape mode with the rear cameras and portrait mode with the front cameras. Depending on which cameras you're using, if the phone isn't oriented the correct way, you won't be able to switch from 2D to 4V at all until you turn the phone.
There is an adequate suite of settings within the camera app, including a bokeh mode, flash, HDR, seven filters, and a manual mode which allows you to adjust ISO and shutter speed. There are also beauty settings, color adjustments, and panoramas, as well as a self-timer and the option to mute the camera noises. Finally, the Hydrogen One also has a dedicated shutter button which you can hold down to quickly access the camera app from anywhere.
---
Battery
Perhaps the only area where the Hydrogen One truly excels is in its battery life. With a whopping 4,500mAh battery, the Hydrogen One will last all day, even if you spend more time on your phone than the average smartphone owner. For comparison's sake, RED's battery is larger than that of the Galaxy Note 9, the Pixel 3 XL, or the iPhone XS Max. So if battery life is more important to you than anything else, the Hydrogen One might be worth a look.
---
Performance and OS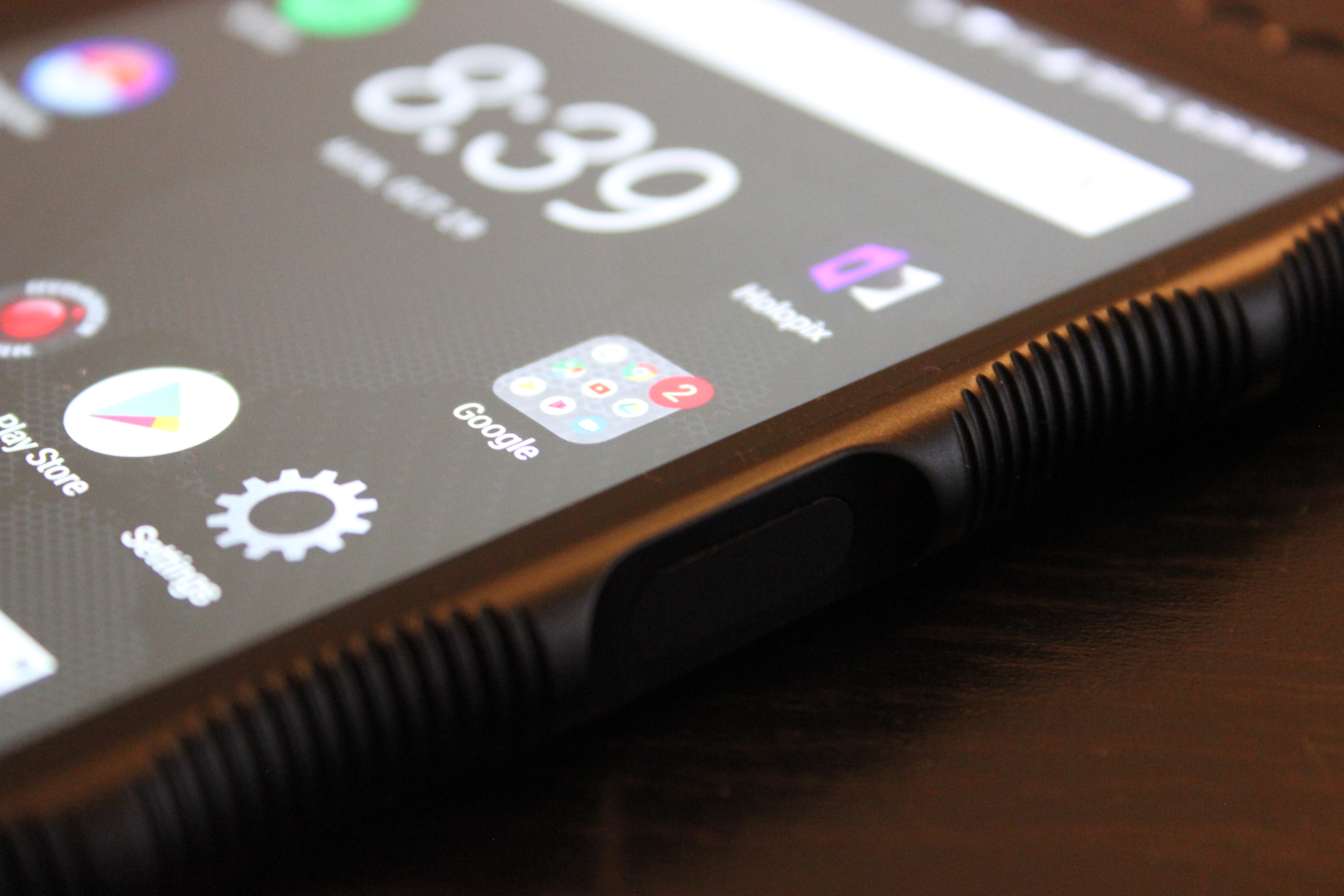 We'll take a deeper dive into the phone's specification below, but one of the most baffling decisions RED made was to give the Hydrogen One a Snapdragon 835 processor rather than the 845, which is featured in virtually every new flagship in 2018. The good news is that RED did spring for 6GB of RAM, and coupled with a relatively clean version of Android 8.1 Oreo, I was mostly satisfied with the speed of the phone.
Geekbench 4 came back with scores you might expect from a Snapdragon 835 phone: 1940 single-core score and 6592 multi-core score. A quick glance at Geekbench's Android Benchmark Chart shows that with that single-core score, the Hydrogen One slots squarely between the Galaxy S8+ and the HTC U11+, both of which launched in 2017 (though it does best both phones in multi-core, coming in just below the Razer Phone and OnePlus 5T).
The AnTuTu score was right in line with Geekbench, clocking in at 203118, topping the Galaxy S8 and basically tying the Galaxy Note 8. Once again, virtually any Android flagship in 2018 will eat the Hydrogen One's lunch when it comes to benchmarks, and RED's phone doesn't even come close to competing with the iPhone XS.
Finally, I was pleasantly surprised by how little junkware and how few pointless additions RED crammed into its phone. From a software standpoint, this is about as basic an Android phone as you're likely to find, save for the RED-specific apps like RED|LeiaLoft and Hydrogen Network.
---
Specifications
5.7-inch 4-View QHD LCD display (2,560 x 1,440 – 551ppi)
Snapdragon 835 processor
6GB of RAM
128GB of internal storage (256GB for Titanium model)
Android 8.1 Oreo
4,500mAh battery
Stereo rear cameras (12.3-megapixel)
Stereo front cameras (8.3-megapixel)
Modular expansion pogo connector
Power button & fingerprint scanner
Dual SIM & microSD card slot
3.5mm headphone jack
USB Type-C charger and data port
Rugged aluminum and kevlar construction
Deep cavity front facing speakers
Spatial surround sound
Available in Black or Shadow (Aluminum) and Titantium
---
Pricing and release date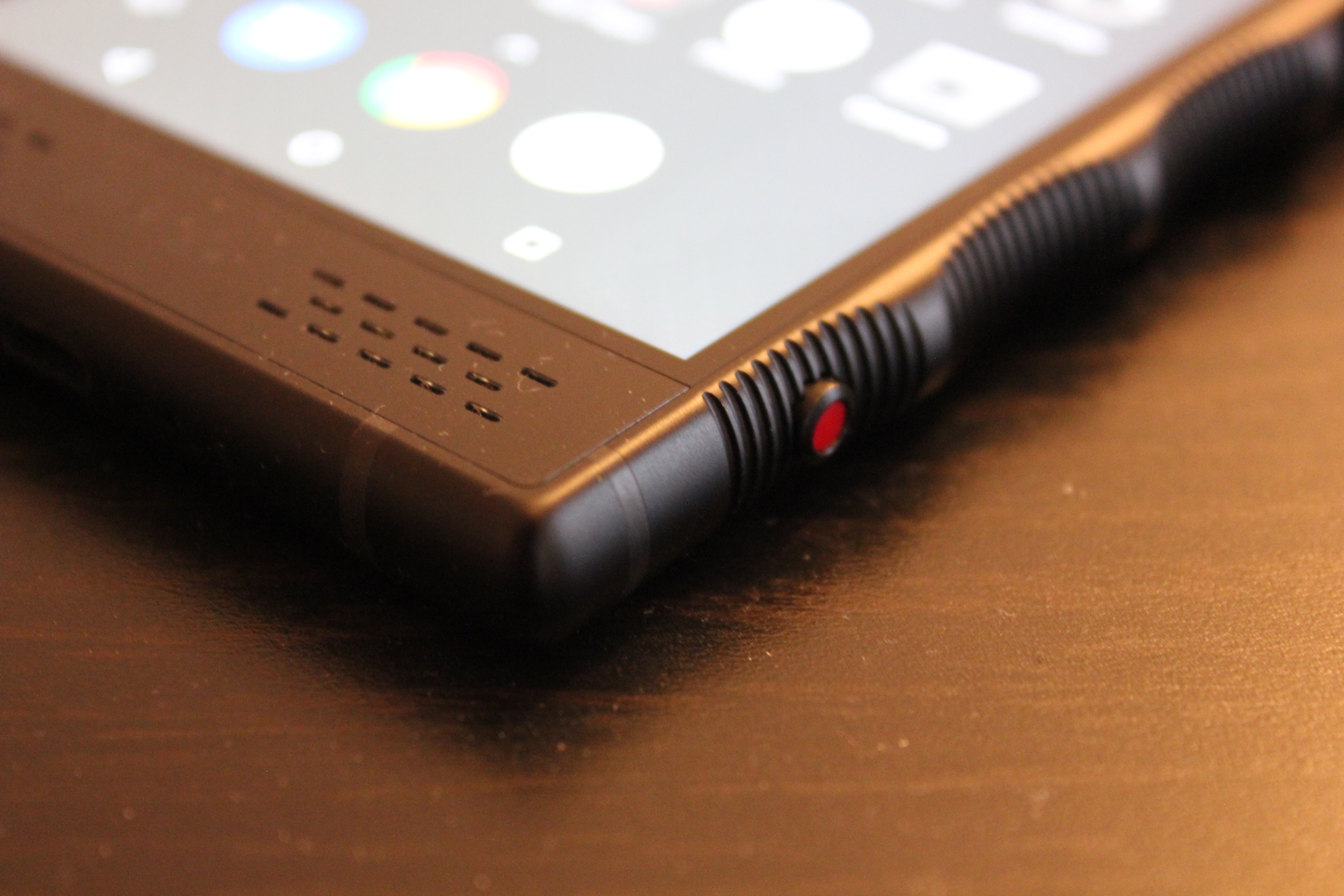 While some Android phone makers have attempted to build compelling value propositions by keeping prices low, RED opted to move in the opposite direction. The base aluminum model will cost $1,295, making the Hydrogen One one of the most expensive phones on the market. If you prefer a titanium body and 256GB of storage (set to launch in 2019), you'll pay an additional $300, bringing the price to $1,595.
To put those prices into perspective, both the Galaxy Note 9 and Pixel 3 XL models with 128GB of storage start at $999, while the brand new OnePlus 6T is expected to sell for under $600. To be fair, none of those phones have the same feature set as the Hydrogen One, but if the RED phone's features aren't especially attractive to you, it might be a tough sell at such a steep price.
RED will begin selling the phone through AT&T on Friday, November 2nd for $43.17 over 30 months with AT&T Next. Verizon will also have the phone for $53.95 a month for 24 months on Verizon Device Payment or $1,295 retail. The first 10,000 AT&T customers to purchase the phone and register an account with the Hydrogen Network will also receive Fantastic Beasts and Where to Find Them and Ready Player One in 4-View for free.