There I was, after weeks of gawking at the Las Vegas Sphere on social media, finally nudging my way through the selfie-takers and the evening crowd of onlookers milling around outside, all of us illuminated a bright yellow by the smiling emoji plastered across the Sphere's 1.2 million exterior LED lights. Traffic had been a nightmare, but at last I'd arrived — and while I was blown away by the size of this colossal orb next to the Venetian, I quickly glanced at my phone. No time for selfies; I had to find the entrance. The show was about to start.
No, not that show. U2's 36-night residency at the Sphere is the hottest ticket in town right now, but I've come tonight for a different reason. Curiosity brought me here — to the biggest spherical structure on Earth, with the biggest LED screen anywhere on Earth — because I wanted to watch a movie. Director Darren Aronofsky's Postcard from Earth, to be more specific, which from the publicity footage sort of looks like it's going to be a National Geographic kind of thing, splayed across the biggest IMAX screen you could possibly imagine. Eat your heart out, Bono.
I head inside and soon enough am craning my neck, like a tourist visiting New York City for the first time. I'm sure you've seen all the Instagram and TikTok videos of this preposterously massive $2.3 billion venue by now — which is good, because I'm not even sure I could find the right adjective to best convey what it's like to experience it in person.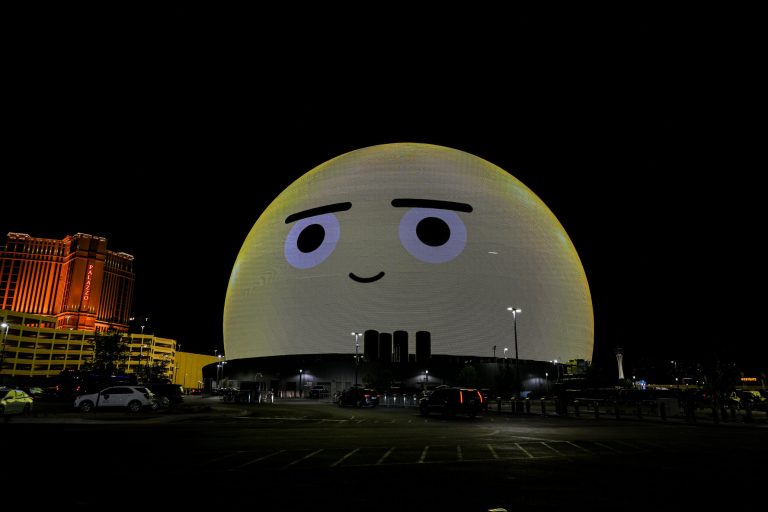 Wrapped around the outside of the Sphere are 580,000 square feet of LED panels, displaying everything from an Xbox ad to a silly emoji that's changed the skyline of the city in the most unserious and Las Vegas way possible. Inside, life-sized and human-like robots interact with visitors. There are holograms displayed on one wall. The vibe is shopping mall-meets-Star Wars.
I head up the escalators into the main atrium, pay too much for a slice of pizza, and now I'm settled into my seat, sufficiently riveted by the gigantism of the place, as I wait for Postcard from Earth to begin.
Before I describe the 50-minute movie, it's important to understand a few things first. To record footage for the Sphere's 16k screen that's the equivalent of four football fields, Aronofsky used a special camera that required something like 12 people to operate. What I also didn't realize, until the movie was well under way, is that the Sphere can produce 4D effects — blowing a gust of air around you when it's windy onscreen, for example. When giant animals like elephants and giraffes fill the screen, your seat vibrates as they walk. At one point, there's a scene where farmers pick what looks like oranges, and a citrusy scent wafts through the Sphere.
As for the content, Aronofsky's film is basically a love letter to Planet Earth. Its scenes of breathtaking grandeur, serene nature, and bustling cityscapes were shot on all seven continents. There's a cavalcade of tiny creatures and colossal beasts, beautiful women and ordinary men, music, nature, steel, and glass, and by the time the credits roll I've decided that I've just had the greatest cinematic experience of my life — right here, just off the Las Vegas Strip.
"Good morning – it's time to open your eyes…" The first words you hear are of a comforting voiceover addressing a crew of astronauts in quiet repose, sleeping in what looks like a Matrix-type vessel. Every detail on the Sphere's screen practically glistens. In fact, there's so much detail packed into every frame, thanks to the bigness of the screen, you almost don't know where to focus.
Those first words, by the way, are as much for the audience as they are for the characters. Time to open your eyes to something that'll make you never look at a movie theater the same way again.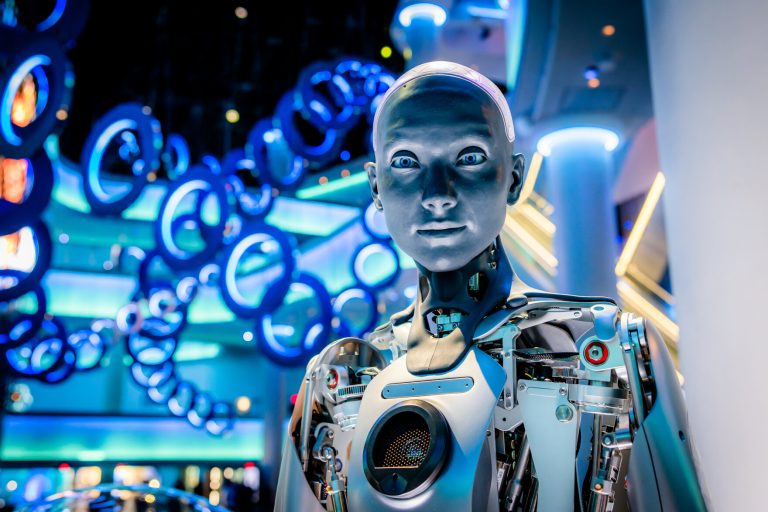 The story in Postcard from Earth is simple enough. The voyagers are headed to a new distant planet to basically start over. On their way to a new life, they — and, by extension, we — are shown a succession of video snapshots from Earth, which the voiceover describes as a "magnificent symphony, frozen in time." Giraffes lazily wander along, one of them looking down on you from the highest point of the Sphere's dome. Groups of fish and various other underwater sea life swim around you in dazzling color and expansiveness. At one point, you feel like you're soaring over snow-capped mountains (and here comes a well-timed cool breeze inside the Sphere).
Aronofsky's team also captured men and women in ordinary moments all over the world, from fields and farmland to the side of mountains, opera houses, and city sidewalks in the shadow of skyscrapers. I was immersed, enthralled, entranced.
In fact, while I joined the concertgoers attending one of U2's shows just two nights later, I came away from the Sphere feeling like I'd actually been the most immersed in the movie, not the concert — superlative as the latter was. The concert, to be sure, offers mind-boggling visuals all its own, but you're there, standing for 90 minutes with 18,000+ people holding smartphones aloft. The band is on stage, but you're constantly shifting your focus from the stage to the visuals on the giant screen. Which is to say, I felt like I was in the moment, and constantly getting snapped out of it.
Postcard from Earth was a different experience altogether. Not to say that one was better than the other, but there certainly weren't any obnoxious moviegoers around me blocking my view and dancing the dance of the inebriated while fawning over gorgeous visuals of the planet. By the time the movie was over, I found myself, among other things, wrestling with just one niggling question: How in the world does a person go back to their normal-sized cinema for a regular movie experience after this.