As quickly as technology evolves these days, it is fairly rare that any product can stand the test of time for six months, let alone several years. And yet the BackBeat Pro wireless headphones by Plantronics were named the runner-up just three weeks ago in our coverage of the best wireless headphones money can buy. Longtime readers of the site may recall that the same BackBeat Pro model was included in a post covering our favorite headphones two years ago in November 2014.
Plantronics did a tremendous job on these active noise cancelling over-ear headphones, and we have received a great deal of feedback from readers who have followed our advice and been happy that they did. Today, after two years, the company just unveiled a major upgrade to its original model and it's better in almost every way.
DON'T MISS: A month with the iPhone 7
The BackBeat Pro 2 feature a number of key upgrades compared to the original BackBeat Pro headphones. They look better, they feel better, they feature better active noise-cancelling technology, and they even sound a little better despite packing the same audio components as the original model.
Plantronics practically started from scratch in terms of the hardware design of the BackBeat Pro 2. The look has been completely redesigned, and the new model is also smaller and lighter than the original. It still maintains impressive battery life estimated at 24 hours of wireless playback time, and that's with active noise-cancellation enabled.
The BackBeat Pro 2 headphones did a great job of filtering out noise during our preliminary testing, but the company also has a nifty second use for the outside mics on these headphones. With the flip of a switch, "open listening mode" is enabled to let outside noise in. Why would you want to let outside noise in, you ask? There are plenty of use cases, but the most popular will undoubtedly be to hear announcements on an airplane without having to remove the headphones or interrupt playback.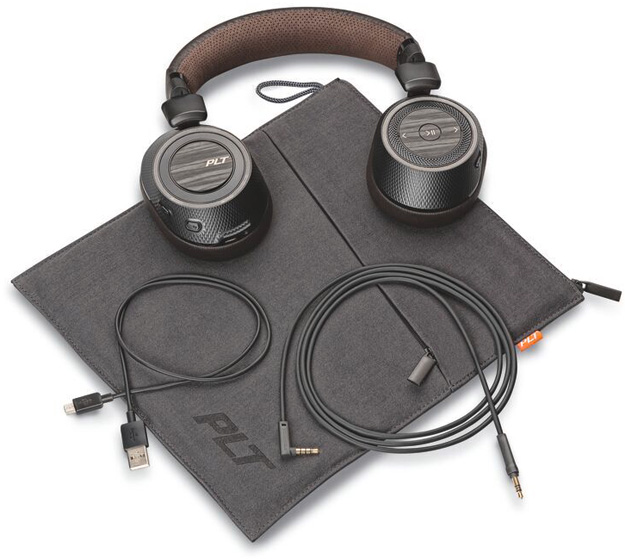 Another great feature is enabled by a special capacitive sensor in the right cup of the BackBeat Pro 2 headphones. Thanks to this sensor, music is automatically paused when you remove the headphones or simply lift the right cup away from your ear. If the headphones are connected to your phone when a call comes in, you can simply place the BackBeat Pro 2 on your ears and the call will be answered.
Wireless is the name of the game with these headphones, and the sound quality over wireless connections is still as impressive as it was with the originals, even when you're hundreds of feet away from your smartphone; the BackBeat Pro 2 headphones feature class 1 Bluetooth, which has a range of just over 330 feet. If your 24-hour battery somehow runs empty though, you can still connect with an included audio cable to keep listening.
Plantronics have done an impressive job of updating the original BackBeat Pro headphones. They're smaller and lighter so there is no fatigue whatsoever when wearing them for long periods of time, they look even more sleek and sophisticated, and the controls are simpler and more accessible. They still feature the same great sound and performance though, and they're still priced very competitively. In fact, the new BackBeat Pro 2 headphones are priced at $199.99, which is $50 cheaper than the original at launch.
The BackBeat Pro 2 headphones are available beginning today, October 18th, on the Plantronics website and on Amazon.