In just a few hours, Google will unveil the new Pixel 3 phones, but that doesn't mean the leaks have stopped coming in. Verizon mistakenly listed the Pixel 3's price on its website a few hours ago, but it wasn't the only retailer eager to kick off Pixel 3 sales. Over in France, where Google will also hold a local Pixel launch event on Tuesday, a local retailer did the same thing, revealing in the process the purported release date for the two phones.
The Pixel 3 and Pixel 3 XL will be the first Pixel phones to launch in France at the same time as the US, FrAndroid explains. The blog shared a screenshot taken from the online store of Boulanger, which reveals the 64GB Pixel 3 will cost €859 ($986) — mind you, French prices also include local tax: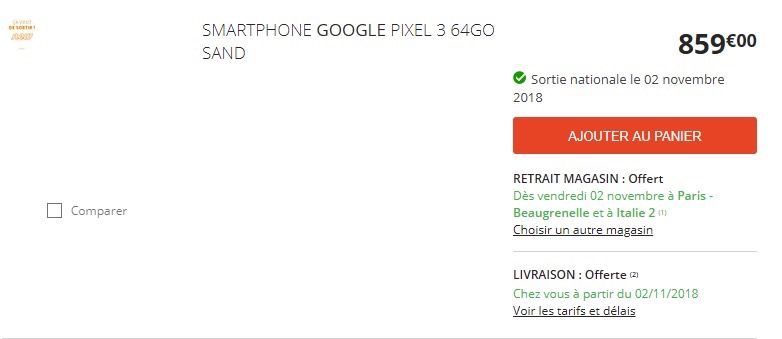 The 128GB version will cost €100 extra, the report says, which is the same price that French Android fans will reportedly pay for the 64GB Pixel 3 XL. The 128GB Pixel 3 XL, meanwhile, will sell for €1,059 ($1,215) in France. Buyers across the European Union can expect the same pricing structure for the Pixel 3 phones, assuming Boulanger posted accurate information.
The image above also lists November 2nd as the launch date for the phone. If accurate, that's when the Pixel 3 should be available in stores across the world. That's also when preorders should ship.
Previous leaks said the Pixel 3 would be available for preorder right after Google's event on Tuesday in all the countries where Google is holding local events, including the US, UK, and France, but also in other international markets.
Google's press event starts at 11 AM ET, and BGR will be on the ground to cover Google's events as they happen.