Just because it's Google's Pixel 3 day today, that doesn't mean the Pixel 3 leaks are done. Earlier this morning, we pointed out some brand new camera features that Google has developed exclusively for the Pixel 3 series, and now we have purported US prices, thanks to a Verizon slip-up.
A few days ago, a leak from Canada revealed that the Pixel 3 might be marginally more expensive than the iPhone XR that Apple will launch later this month. Now, a leak from Verizon suggests the Pixel 3 will cost just as much as this year's cheapest new iPhone.
Verizon will be the exclusive Pixel carrier for yet another year, but Big Red might have gotten a little too excited, as it already listed the Pixel 3 on its website, and though it was only up briefly, it didn't take long to get noticed. The Verge posted the following image that lists the $799.99 price for the 64GB model.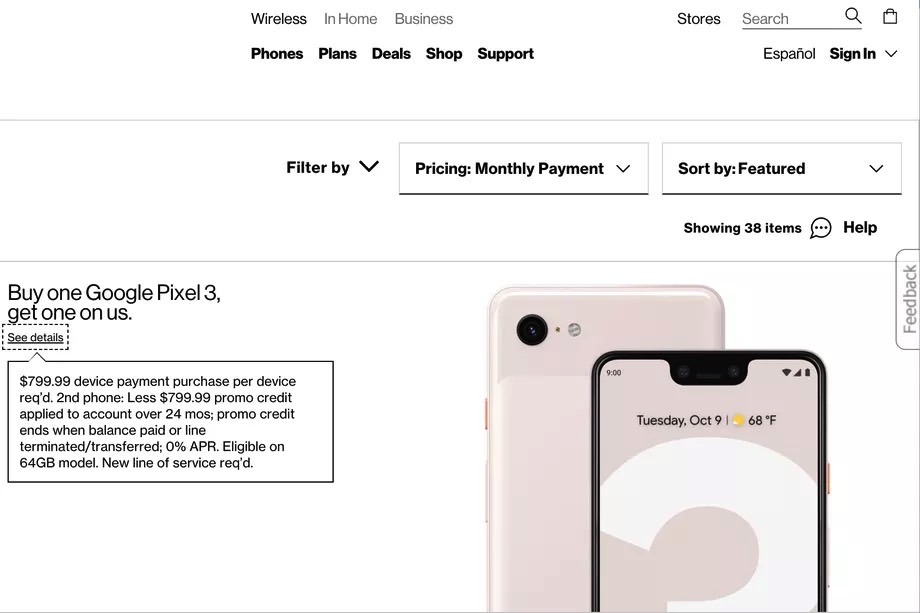 This happens to be $150 more expensive than the Pixel 2, which isn't great news. There's always a chance the price isn't right, and this is just a placeholder in preparation of Tuesday's event — Pixel 3 preorders are supposed to kick off immediately after the 11 AM ET press conference ends.
Also, while the image in the screenshot above features the Pixel 3 XL rather than the Pixel 3, it's unlikely that the Pixel 3 XL would cost $799.99, which would be $50 cheaper than last year. A second screenshot from the My Verizon app, posted on Reddit, notes the same price for the Pixel 3, $799.99, but also features a Pixel 3 XL image.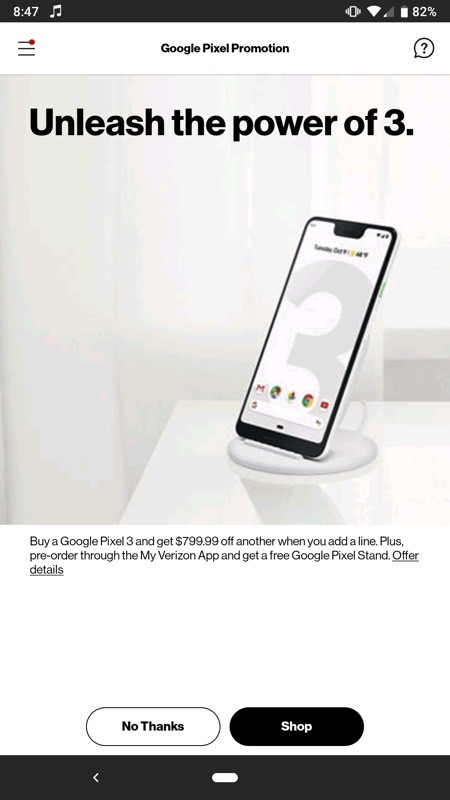 This image reveals that if you preorder the Pixel 3 through the My Verizon App, you'll get a free Google Pixel Stand, the wireless charging accessory we've seen in various leaks already. More importantly, Verizon will apparently host a buy-one-get-one (BOGO) deal on the Pixel 3 as soon as preorders start.
Assuming the price is accurate, the Pixel 3 XL might cost as much as $999.99 — last year's Pixel 2 XL was $200 more expensive than the Pixel 2.