A few days ago, I told you that the monster Pixel 3 XL leaks that we had just witnessed revealed a perplexing detail about Google's camera development process for the handset. The phone will have a single-lens camera on the back, which Google believes it's enough to deliver great photos, even if competing devices pack two or three lenses on the back. But to improve selfies, Google absolutely needs a second camera on the front. Now, a brand new leak tells us how serious Google is about the front-facing cameras of the upcoming Pixel 3 series.
We saw on Thursday a series of images showing the Pixel 3 phone, the smaller device that will not pack a notch like the iPhone X. That leak also listed specs for the handset, revealing the actual camera hardware for the selfie cams: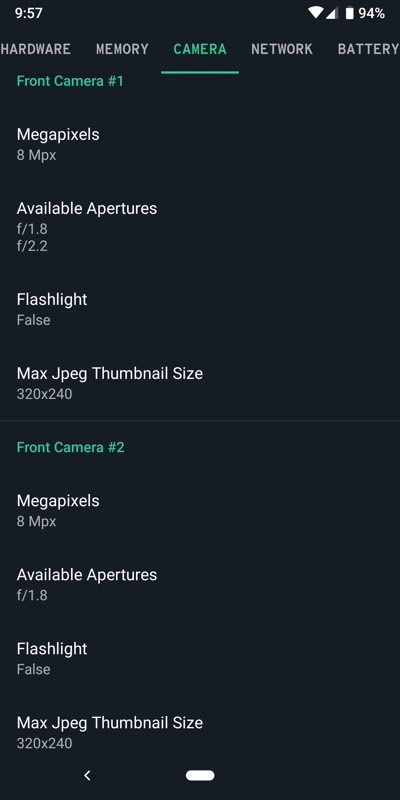 One of the two front cameras has an 8-megapixel sensor with two apertures, including f/1.8 and f/2.2. The second camera, also an 8-megapixel sensor, only has a single aperture, f/1.8.
If the variable aperture of that first camera sounds familiar, it's because that is a camera feature we already saw this year on Samsung's two flagships, the Galaxy S9+ and Galaxy Note 9. The variable aperture controls the flow of light and should improve low-light photography.
Both the Pixel 3 and Pixel 3 XL will have the same camera hardware, including dual-lens camera setup on the front. Google has been adamant that it offers the same features on both Pixels, and that will for the most part be the case this year. So if this new leak is accurate, then the Pixel 3 XL will also have a dual-lens selfie cam with a variable aperture on one lens.
Google is expected to launch the Pixel 3 phones and other hardware on October 9th in New York, according to a recent leak.