Google's Pixel 3 leaks season has been disastrous. It's not like Google was able to keep any previous Pixel or Nexus phone secret, but the Pixel 3 and Pixel 3 XL were leaked in full months ahead of the October 9th press conference, and we already have extensive hands-on reviews out there. So it's not a surprise that the Pixel 3 and Pixel 3 XL press renders leaked again, complete with wallpapers that are very much in line with Google's recent teasers.
Well-known leaker Roland Quandt posted the new images over on WinFuture. The press renders show both phones from all angles, and tell the same story.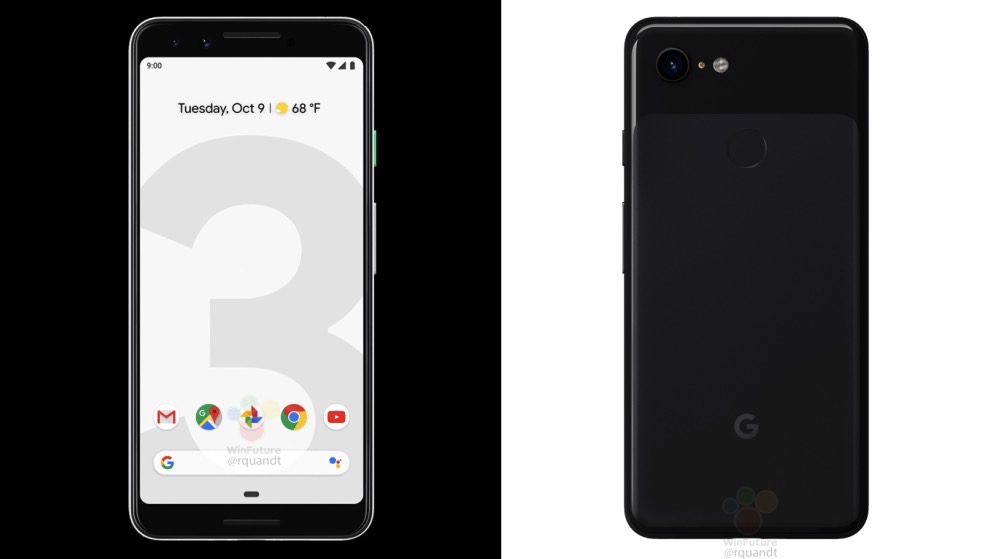 The Pixel 3 XL will have the biggest screen-to-body ratio of the two, and that's because it's the only one to feature a notch design. Both handsets retain the bottom chin, which houses a bottom speaker. Both phones also have top speakers as well, which explains why the Pixel 3 XL's notch is so big, compared to other notches.
Both phones also feature dual selfie cams and single-lens main cameras, as well as glass-sandwich design. Even if the back is all glass, you'll still find the same dual-finish design that's iconic for the Pixel phones.
The phones are also expected to feature identical hardware setups: Snapdragon 845 processor, 4GB of RAM, and 64GB and 128GB flash memory configurations.
As you can see from the images above, the press renders use the "3" wallpaper Google posted on a Pixel 3 teaser page a few days ago, which comes in black and white. Also, the calendar date on the phone is October 9th, which is when Google will hold press events in New York and Paris to unveil the new Pixels.