Google on Wednesday took the wraps off of its next-generation flagship smartphones, the Pixel 2 and Pixel 2 XL. Well, the wraps were already off thanks to months of leaks and rumors, but the phones were made official. As is the case with all leaks, they didn't really do a good job of painting a complete picture of Google's new premium smartphone lineup, which features a sleek new look that refines last year's design in a number of key areas. The glass panel on the back is far less offensive this year, for example, and the antenna lines have been hidden by a coating on top of the Pixel 2 and Pixel 2 XL's aluminum housing.
The new Pixel phones are sleek devices indeed. They also look much less like iPhones than last year's models, which is obviously a good thing. Google still has iPhones on its mind, however, and a huge focus of Google's marketing strategy with the Pixel 2 and Pixel 2 XL is getting people to ditch their iPhones and buy a new Pixel phone instead.
The early response to Google's Pixel 2 and Pixel 2 XL has been overwhelmingly positive, and for good reason. The new phones represent the best of what Android has to offer, both in terms of hardware and software. Software is key, of course, since Google's apps and services are the real draw for Android. What's more, Google's Pixel phones are the only high-end devices that have immediate access to new Android OS updates as soon as they're released.
At first glance, the Pixel 2 and Pixel 2 XL look like the best Android phones in the world right now. It seems like Google is well aware of this because, because it's marketing the new phones as though Apple's iPhone lineup is Google's only competition.
Visit the Pixel 2 section on Google's site, and you'll find tons of information on switching from the iPhone to a new Pixel 2. In fact, there's a whole tutorial right on the Pixel 2 landing page.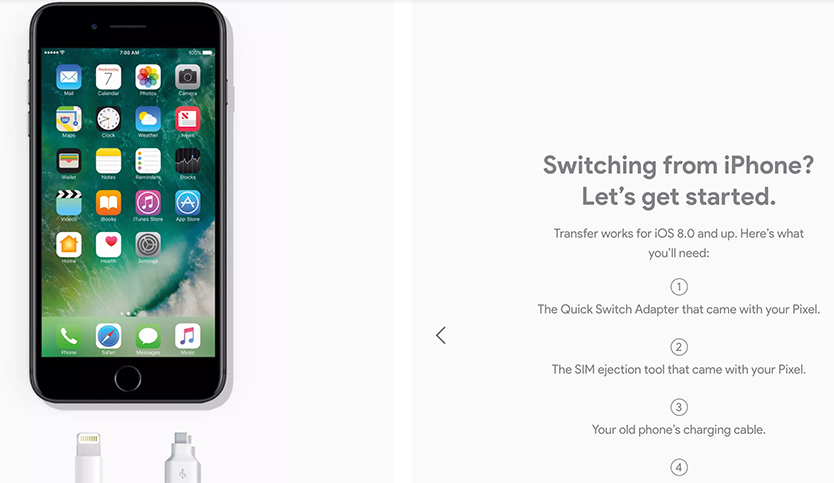 As an aside, did you catch item #1 in the screenshot above? The Pixel 2 and Pixel 2 XL both ship with a special adapter that has one purpose and one purpose alone. It's a USB-A to USB-C adapter that allows you to connect your iPhone to the new Pixel phones using your iPhone's Lightning cable so that you can transfer your data.
Beyond the tutorial seen front and center on the Pixel 2 site, Google also hired a bunch of Millennial "YouTube stars" to promote the Pixel 2 and Pixel 2 XL to their fans. Here's one example featuring a YouTuber named Weylie:
https://www.youtube.com/watch?v=VFn2aDkfnrM
Google's Pixel 2 and Pixel 2 XL will be released on October 17th. Pre-order inventory is already sold out on the Google site, but Google's exclusive carrier partner Verizon will likely have stock on launch day.