We expect better battery life from every new phone that launches going forward, and the OnePlus 6T will be no different. A new report reveals the upcoming flagship will pack a significantly bigger battery than its predecessor. Moreover, OnePlus 6T renders based on CAD designs have also recently surfaced.
OnePlus will unveil the OnePlus 6T on October 17th, and the company has already confirmed the handset's main features. The phone will have an in-display fingerprint sensor, and it'll lack a headphone jack. The hardware likely remains the same, as there are no mobile chips better than the Snapdragon 845 on the market currently, and the Chinese vendor is already going all-in on RAM and offering plenty of built-in storage on the OnePlus 6.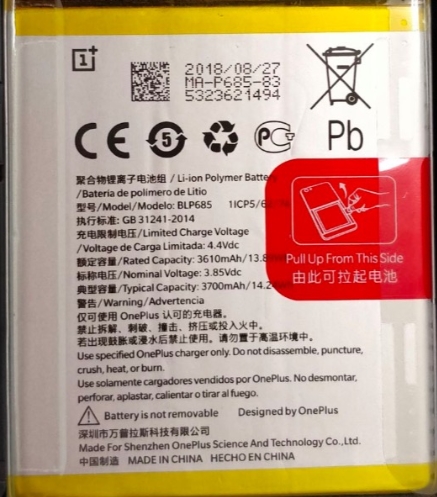 According to CNBeta, the OnePlus 6T will have a 3,700 mAh battery (above), which is 400 mAh bigger than the OnePlus 6 battery. Of course, that shouldn't really be surprising. After all, OnePlus co-founder Carl Pei did say a few weeks ago that the removal of the headphone jack will help the company improve battery life.
"By removing the jack we've freed up more space, allowing us to put more new technology into the product," the exec said. "One of the big things is something our users have asked us for, improved battery life."
Pei did not specify at the time how battery life will be improved, but the image above says it all. Increasing the battery capacity is what OnePlus is going for. The Oppo R17 Pro, which is the phone the OnePlus 6T is based on, also features a 3,700 mAh battery. Finally, the video below gives us a great look at the handset's design:
Yes, the OnePlus 6T in this render looks just like what we expected, given the various OnePlus 6T leaks out there. The clip comes from the same sources that often posts videos based on CAD designs, @OnLeaks and MySmartPrice.